chocolate cherry oat bites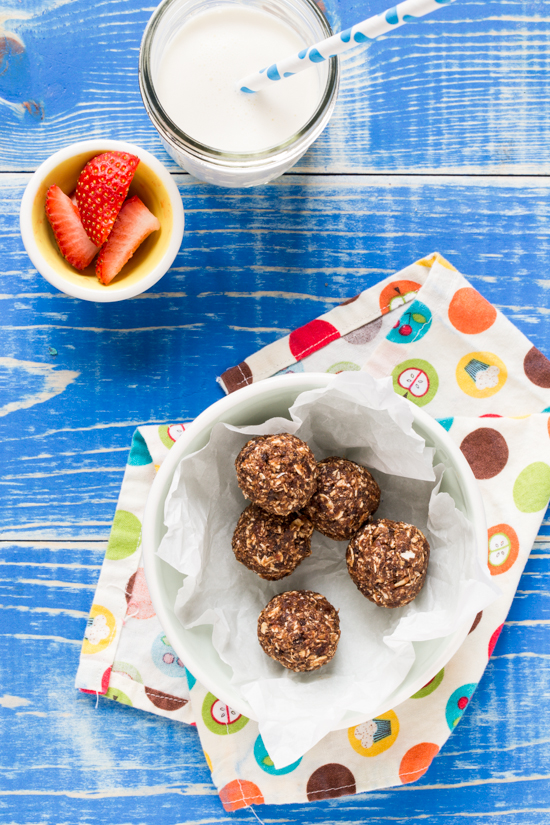 Having a child with a peanut allergy can be a challenging thing. It's not that it has to be a big deal, it just takes a little more thought when trying to whip up treats and snacks – especially snacks that traditionally include nuts. While the Baby is allergic to only peanuts, we follow recommendation of her allergist to keep her away from all nuts as well as items that are processed with peanuts, for fear of cross-contamination. Her peanut allergy is strong enough to warrant the concern.
Well, I've been having a little love affair with LARABARs (specifically the Cherry Pie) lately, wanted to try to make my own at home. The problem is, I don't like making snacks – or anything that could even masquerade as a treat – unless I can give it to the Baby, too. It breaks my heart to tell her I made a scrumptious treat that everyone can eat but her. So, I really just avoid it whenever possible.On occasion, I will make something containing nuts (although never peanuts) and then make a similar nut-free version. Unfortunately, one great substitute for nuts are seeds, such as pumpkin or sunflower. I say that this is unfortunate because it is extremely difficult to find seeds that aren't processed with nuts! In these parts, every package or label on the bulk food bins say 'processed in a plant that processes peanuts, tree nuts..etc.'. This is insanely frustrating when you are buying these items for the sole purpose of avoiding nuts. Frustrating, I tell ya.
Recently, I have come across a few online resources that carry peanut free seeds and nuts: Peanut Free Planet and Gerbs Gourmet Seeds. I am in the process of ordering pumpkin seeds and sunflower seeds in order to make some awesome, nut free granola. I am excited to have these resources, especially now that the holidays are approaching and my baking will ramp up a bit.
Anyway, back to the LARABARs. I wanted to make some, but the bulk of the bar is made up from some type of nut, typically cashews, and while I can keep cashews in the house, I can't feed them to the Baby. So, I set out to come up with a similar LARABAR style treat that my kids could enjoy.
And with my order of pumpkin and sunflower seeds yet to arrive from Gerbs, I turned to my trusty old fashioned rolled oats and was beyond pleased with the results. They gave great body and texture to these little snack bites. I had some tart dried cherries on hand and knew that a chocolate cherry version would be amazing. My kiddos gobbled up these Chocolate Cherry Oat Snacks and kept asking for more. Plus, I felt good about feeding them a little snack that tasted like a dessert but that was made with great, wholesome ingredients. Plus, they are crazy easy to put together.
I will most likely be experimenting with many more flavor combinations, and sharing my new favorite homemade LARABAR recipe very soon!
What is your favorite homemade snack?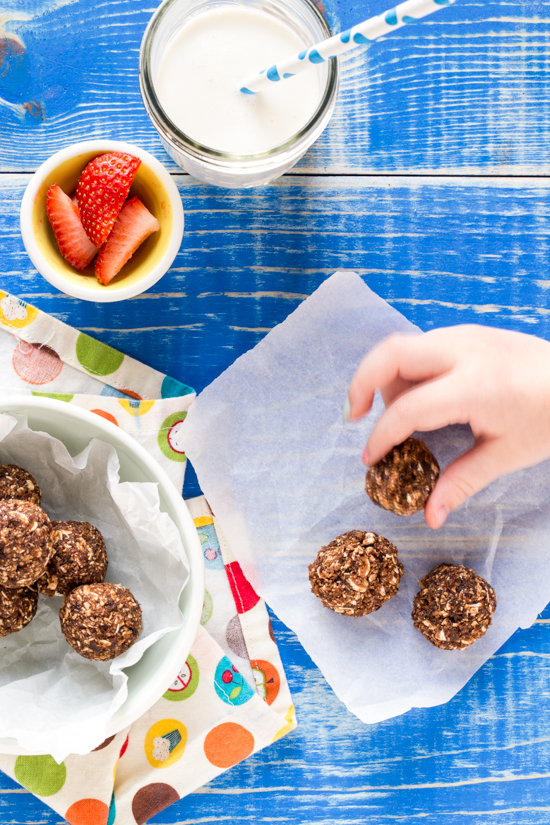 Happy Monday!!
Chocolate Cherry Oat Bites
Yield: 20 snacks
Prep Time: 5 minutes
Cook Time: 10 minutes
Total Time: 15 minutes
Ingredients
2/3 cup packed dates, pitted
1/3 cup tart, dried cherries
1/4 dark chocolate chunks (milk free to keep recipe vegan)
1/2 teaspoon pure vanilla extract
2/3 cup of rolled oats
pinch of sea salt
1/2 - 1 tablespoon water
Directions
Place dates, cherries, oats, chocolate, vanilla and salt into the bowl of a food processor. Process until ingredients are well combined and evenly sized. Add water as needed to allow ingredients to process easily.
Scoop 1/2 tablespoons of mixture into your hand and roll into a ball. Repeat with remaining mixture.
enjoy immediately or chill snacks for 5-10 minutes or until firm. Extra snacks can be stored in an airtight container in the refrigerator to keep them firm.
Enjoy!!
Recipe Source: Jelly Toast