thursday thoughts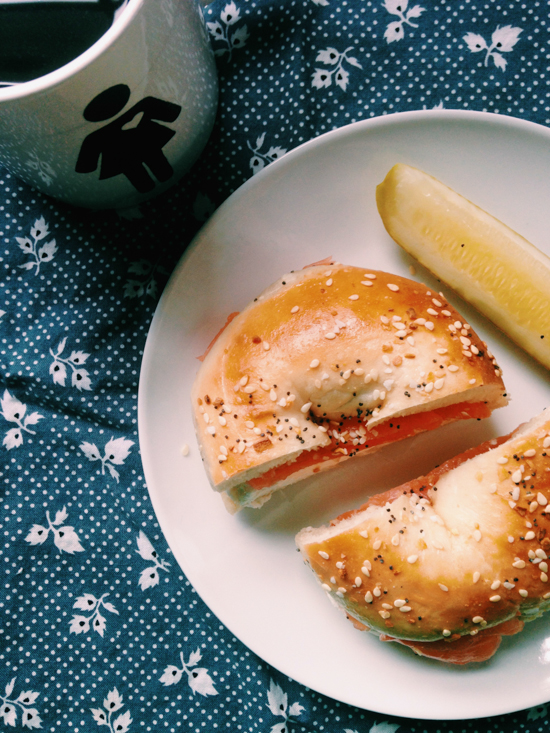 I had an awesome after church treat last Sunday: a bagel with lox and cream cheese from the best local bagel shop around – Barry's. I've been thinking about it every since.
Another thing I've been loving is that September is here and I finally feel like we're in a groove for school. Speaking of school, I'm a little obsessed with packing fun school lunches. I've been studying my Kindle version of Weelicious Lunches, planning different treats and bites to mix up the Buddy's school lunches.And speaking of packing lunches, I am going crazy over these mason jar drinking lid adaptors from Provisions at Food52. They also have these cute canning jar lunchbox adaptors for packing salads and they make me wish that I had to pack my own lunch everyday.
I went out and picked up some Butter London Royal Navy to see what all the hype was about – turns out it's a pretty beautiful polish. I did get a chip or two on the first day, which was frustrating considering the high price tag, but after a touch up, it's been holding up great. We'll see how it continues to perform. Do you have a long lasting nail polish recommendation? I would love to hear it!
Tomorrow we're throwing the Buddy's big camping birthday party. We're going simple on the food, but fun on the atmosphere. There'll be hot dogs, beans, s'mores and lots of camping style fun – including these adorable Coleman LED String Lights and a tent shaped piñata. My kids are insane with excitement over the piñata. Apparently they make the party. Who knew?
And to leave you with a little something amazing for the weekend, here is the trailer for season 4 of Downton Abbey! I may have squealed when I saw it. I don't think I can wait until January.
Happy Thursday!
**This post contains Amazon Affiliate Links which just means that I would receive a few pennies if a purchase is made through a link**