chocolate dipped sweet potato chips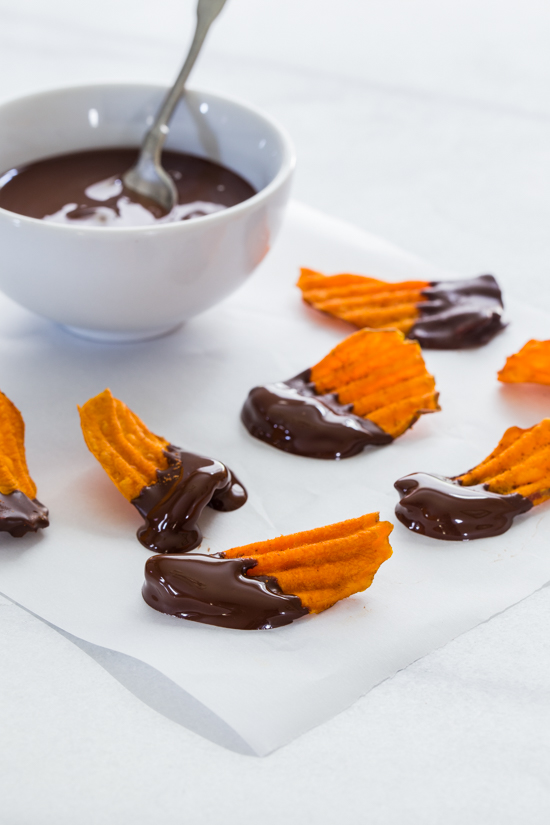 This is one of my favorite non-recipes of all time. It's two ingredients. To call it a recipe would just false advertising. So, let's call this more of a "serving suggestion". I'm fairly obsessed with sweet potato chips, especially those Terra chips. Man, I love those things. I always want to pronounce them "tarot" chips but I'm always wrong. Whatever, you know the chips I'm talking about. And if you don't, you can use whatever type of sweet potato chips you'd like. Homemade if you're feeling unnecessarily ambitious.
The thing about using homemade chips with this method though, is that it immediately becomes a recipe and is no longer a non-recipe. And the Tuesday before Thanksgiving, I'm pretty sure that you've got enough recipes floating around your brain that you don't need to worry about making your own sweet potato chips for what will essentially be the snack that gives you the energy to flip your turkey after you see a YouTube video that cooking your turkey upside down was the new thing. Well, not new, but new to you (read: me) at least.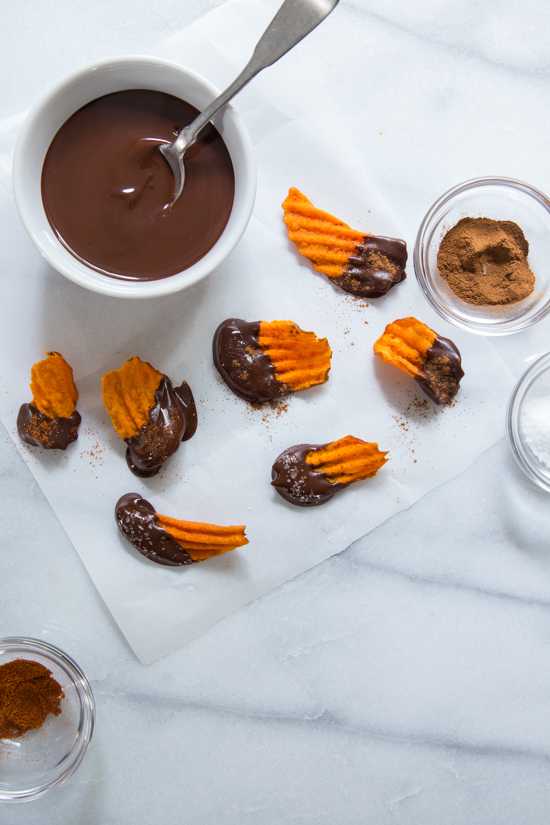 Have you seen that? I've heard great things about this upside down roasting method, but flipping a giant, partially cooked bird seems like it has "Thanksgiving Fail" written all over it. At least it would in my kitchen. But that's just me. My mind tends to run through all of the horrific possibilities of any given scenario. For instance, if I locked myself in the bathroom on accident, would I be able to talk my kids through calling for help? Or if there was a fire blocking my bedroom door, would I be able to leap through the flames to rescue the kids?
How did we get to leaping through flames from chocolate dipped sweet potato chips? You can never quite tell how these things came about, but we'll just go with it.
In conclusion, (I've always wanted to write that because it reminds me of some cheesy college essay and it makes me giggle) you need to make these chips. Melt some chocolate, dip some chips, and sprinkle with some extra flavor, like salt, cayenne pepper or cinnamon. You won't be sorry.
But if you do decide to roast the upside down bird, be sure to let me know how it goes.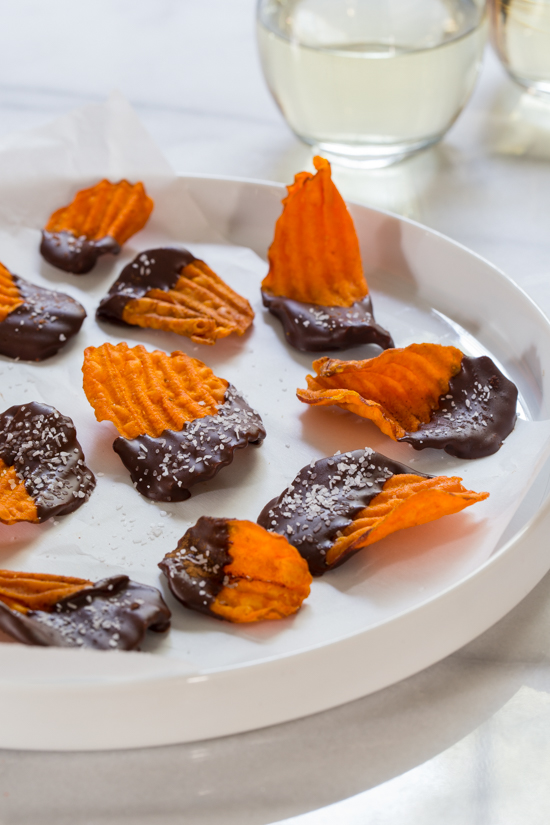 Happy Tuesday, my friends!
Chocolate Dipped Sweet Potato Chips Recipe
Prep Time: 10 minutes
Total Time: 10 minutes
Ingredients
1 cup dark chocolate chips (I used Ghirardelli 60% Baking Chips)
1- 6 ounce bag high quality sweet potato chips
Optional Flavor Sprinkles: course sea salt, cayenne pepper, ground cinnamon
Directions
Line a baking sheet with parchment paper and set aside.
Place Ghirardelli 60% Cacao Bittersweet Chocolate Baking Chips in a microwave safe bowl. Microwave on medium power (50 percent) for 1 minute. Remove and stir. If chocolate is not melted, return to microwave and repeat heating step, stirring every 30 seconds taking care not to burn the chocolate. Stir until smooth.
Dip sweet potato chips, one at a time, half way into the melted chocolate. Place dipped chips onto prepared baking sheet. Sprinkle wet chocolate with a pinch of salt, cayenne pepper or cinnamon (if using). Allow chocolate to set before serving. Chips can be refrigerated briefly to help speed up the setting process.
Chips should be stored, covered in a cool, dry place.