Campfire Cinnamon Cream Cheese Pudgy Pies + a Video!

This post, Cinnamon Cream Cheese Pudgy Pies, is sponsored on behalf of Challenge Dairy who's cream cheese and butter are a staple in our fridge all year round. Thank you for supporting the brands and partners that I love and that help make Jelly Toast possible! xoxo Emily
I didn't grow up in a camping family. In fact, I didn't camp for the first time until both of our kids were born. While I'm still a relative camping newbie, my husband grew up camping and has taught me much of what he knows. Since the first time we camped out in our backyard to our more elaborate destination camping trips, I've been hooked. I love sleeping outside with the sounds of nature surrounding me.
It's incredibly peaceful.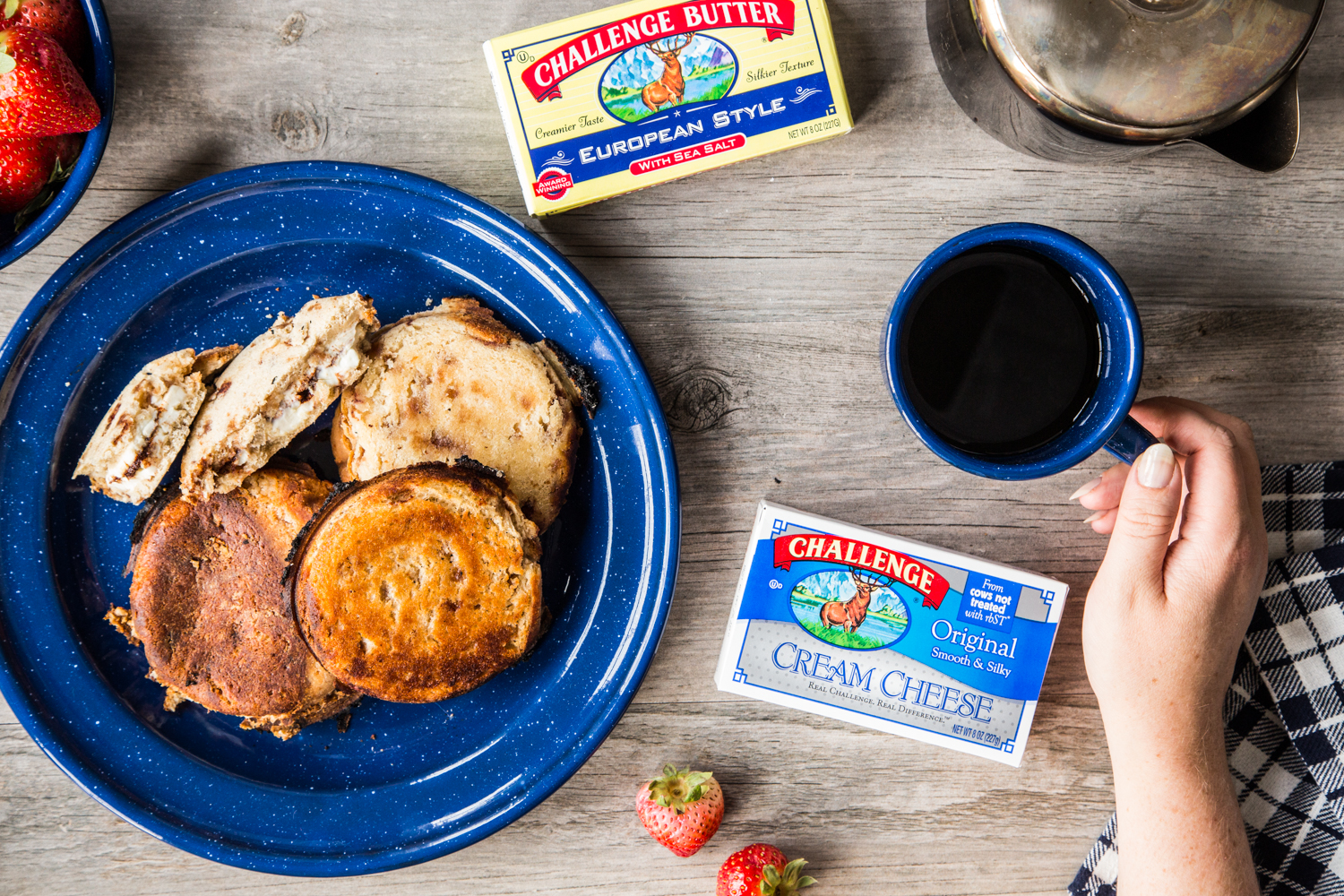 Sleeping in a tent isn't the only thing that I love about our good old fashioned camping adventures. You guys know I adore campfire recipes (hello, Campfire Breakfast Burgers!) and I'm back today with these super fun cinnamon cream cheese pudgy pies. Like all pudgy pie recipes (like my S'mores Pudgy Pies), it's a simple treat to put together, but oh so satisfying, especially when you're gathered around a campfire with your family and friends. You just need some pie irons and a few simple ingredients.
Check out my new video to see just how easy these are:
Told you that was simple!
I've struggled trying to decide whether this is a breakfast recipe or a dessert recipe. It starts with cinnamon swirl bread that gets a generous spreading of rich, creamy Challenge Cream Cheese. This is by far my favorite cream cheese and my fridge is always stocked with at least a brick or two. The texture is beautifully velvety and spreads like a dream! Because we often eat cream cheese at breakfast, I am leaning toward this being a breakfast item?
But then we have the cinnamon sugar with the light spreading of the flavorful Challenge European Style Butter with Sea Salt. This makes it seem dessert-y in some ways, but I think ultimately, it's like a breakfast pastry. Totally acceptable in the morning, but sweet enough to be a nice little dessert in the evenings.
Especially when paired with a cup of campfire coffee, obviously.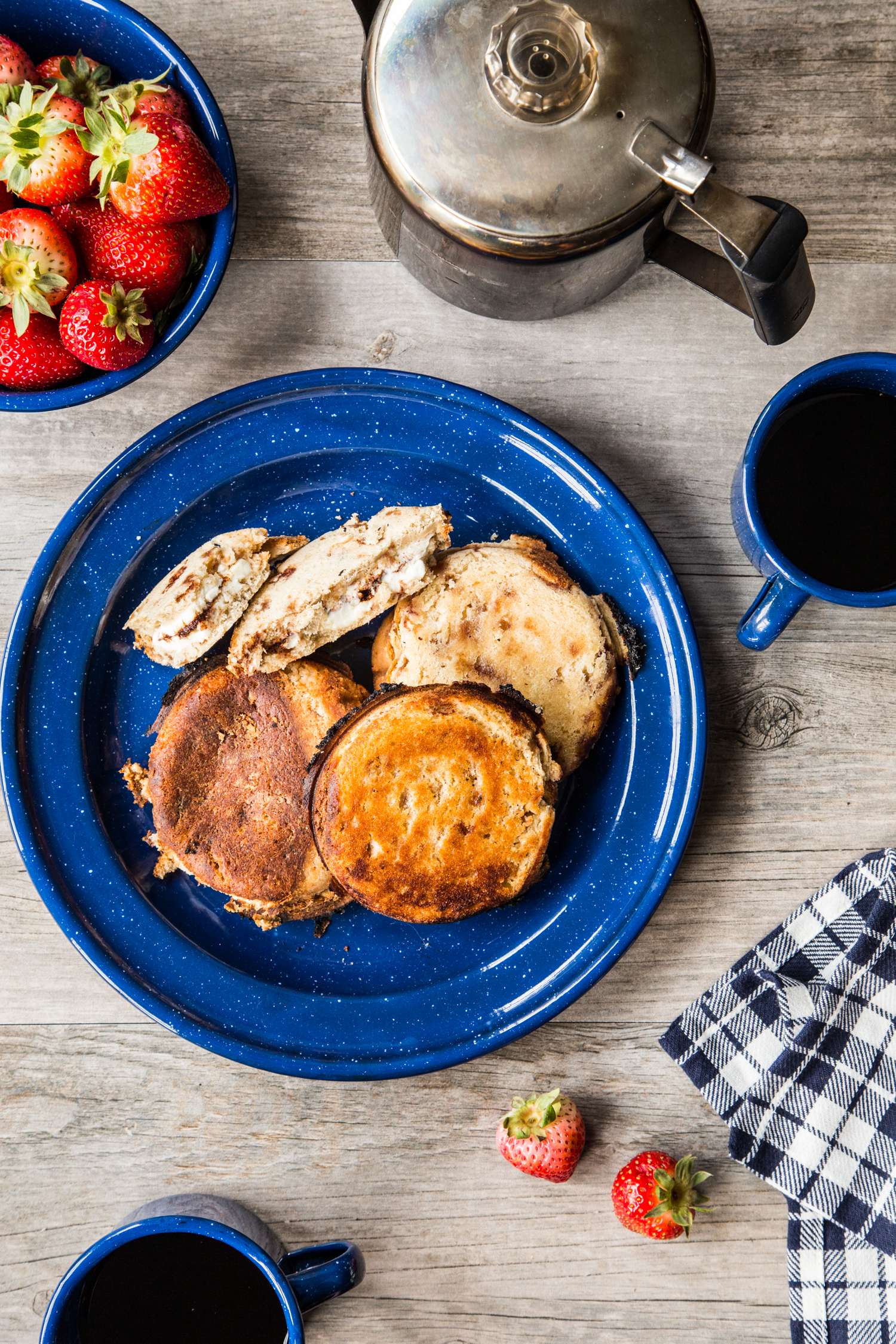 Camping is not just a summer-time activity in our family, it's something that we enjoy all the way through fall. So, when planning your next camping trip, be sure to grab some swirl bread and some Challenge Cream Cheese for the ultimate breakfast/dessert Cinnamon Cream Cheese Pudgy Pies. I know I will <3
Happy Thursday!
Campfire Cinnamon Cream Cheese Pudgy Pies
Yield: 4 pies
Prep Time: 5 minutes
Cook Time: 3 minutes
Ingredients
2 Tablespoons cane sugar
1 Tablespoon ground cinnamon
8 slices cinnamon swirl bread
4 ounces Challenge Cream Cheese
2 Tablespoons Challenge European Style Butter with Sea Salt
Directions
In a small bowl, mix together sugar and cinnamon. Set aside
Place two pieces of cinnamon swirl bread on a work surface. Spread 1/2 an ounce of cream cheese on each slice of bread. Sprinkle 1 teaspoon of the cinnamon sugar mixture over the cream cheese on one slice of bread. Sandwich the second piece of bread on top. Spread the outside of the sandwich with 1/2 Tablespoon of butter.
Place cream cheese sandwich inside pie iron, remove any extra crust, and roast over the campfire for 1-2 minutes on each side. Carefully remove the cinnamon cream cheese pudgy pie and enjoy!