Sopapilla S'mores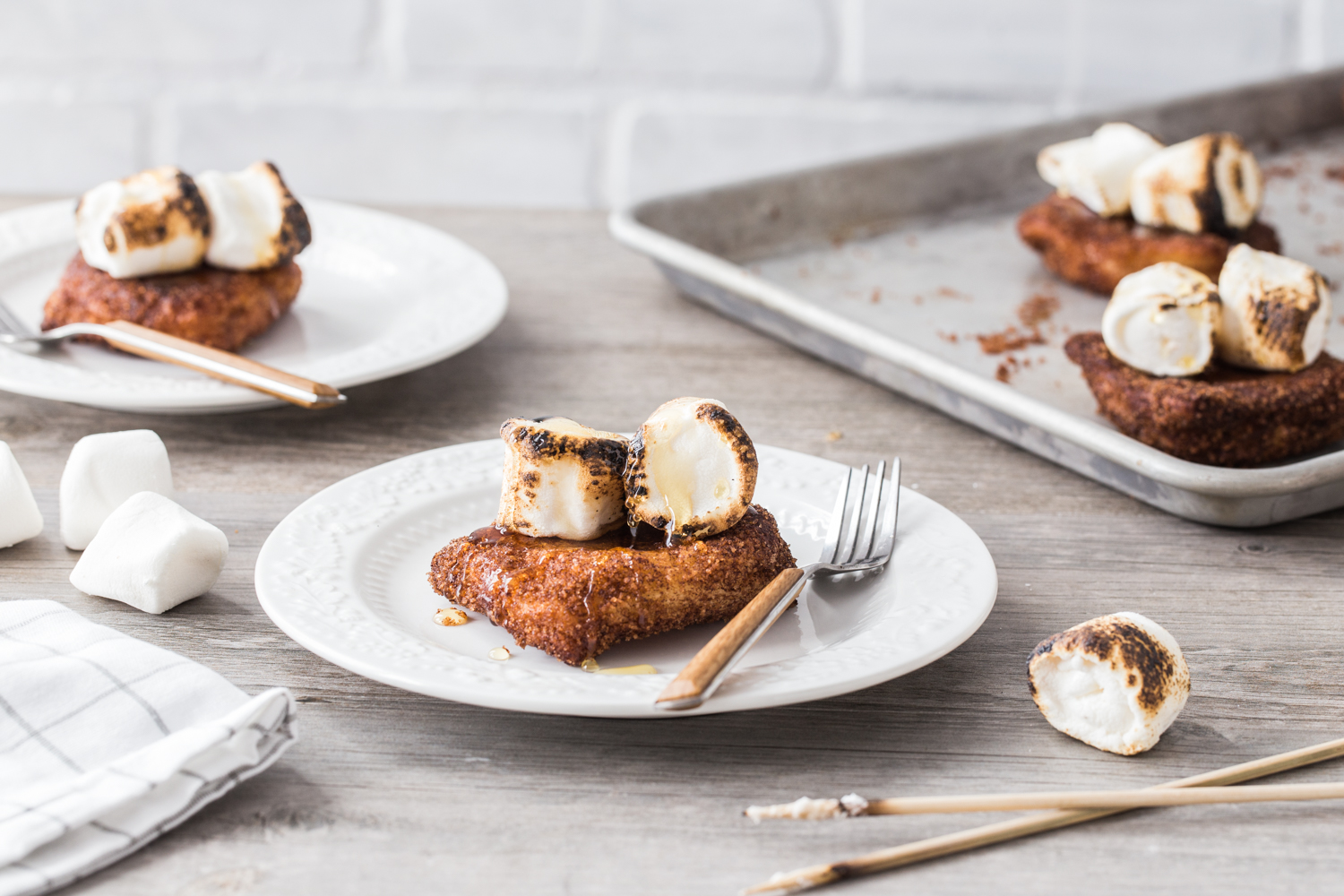 This post, Sopapilla S'mores, is sponsored on behalf of Campfire® Marshmallows. All opinions are my own. Thank you for supporting the brands and partners that I love and that help make Jelly Toast possible.
There is a little Mexican restaurant down the street from us that has become one of my family's favorite spots to go grab a bite to eat. For some reason, we typically end up there for lunch after the kids' Saturday golf lessons. We often opt to share a giant platter of fajita nachos and a few quesadillas rather than ordering all of our own food. I guess my motto is "families who share nachos together stay together"? Idk.
When we go to this restaurant for lunch, we don't usually consider getting dessert but recently we ended up there in the evening for dinner which is a different story entirely. After our waitress offered us a plate of sweet Sopapillas we just couldn't resist. Their version was round and cut into triangles and lightly fried (like a tortilla chip). After it was fried, the pieces were sweetly dusted with a generous amount of cinnamon and sugar before being topped with honey, chocolatey sauce, and a bit of whipped cream.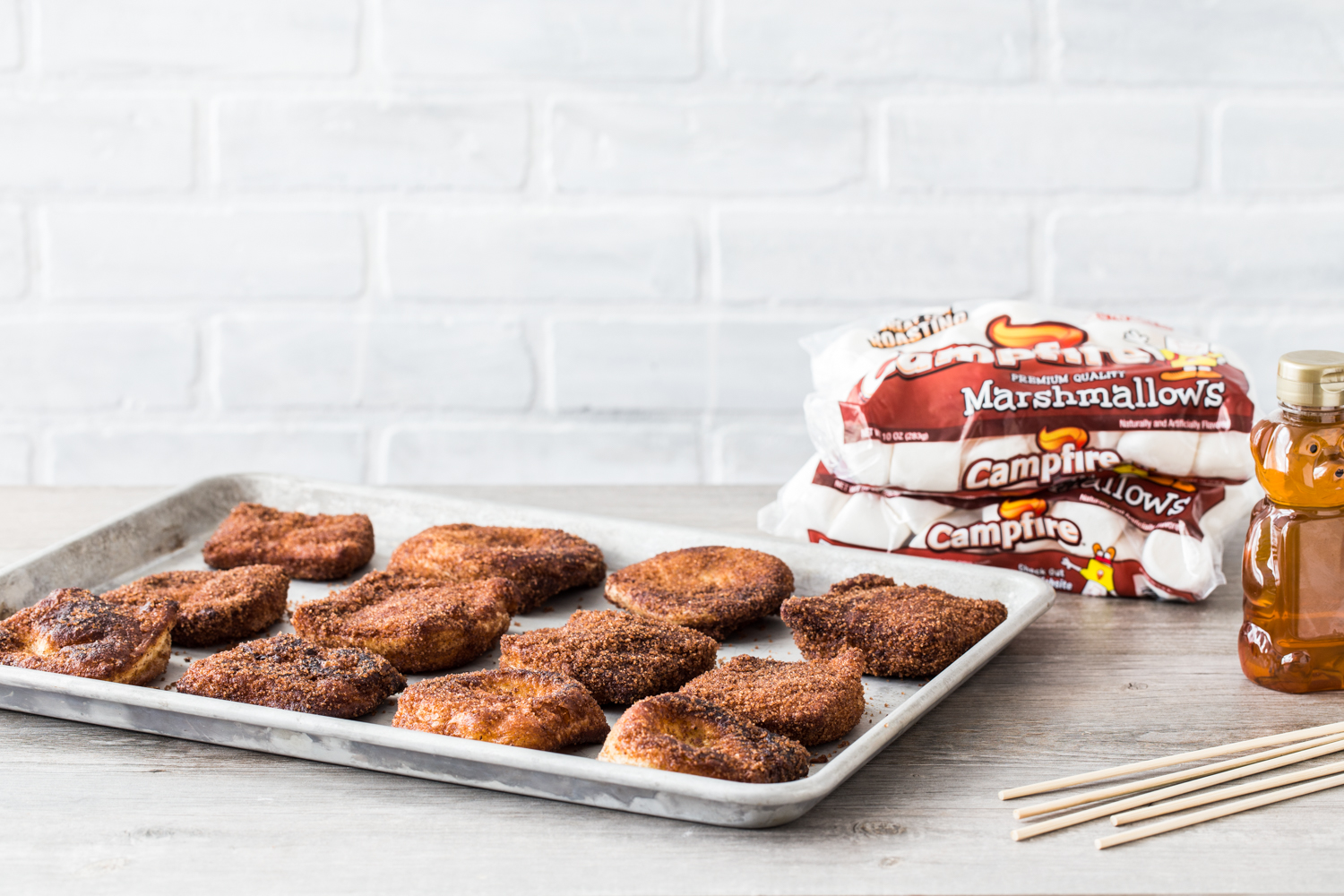 This was a new-to-me dessert that satisfied my sweet tooth in a way that hadn't happened in a while. I loved that they tasted slightly like a donut/pastry but had a satisfying flaky crunch. When I got home I hit the computer to look up a little bit more about these desserts. After about 30 minutes down a rabbit hole of the internet I came away with the conclusion that there are likely as many different definitions (and spellings) of sopapillas as there are people in this world. Seriously, so many discussions of sopapillas being a savory treat, a sweet treat, hailing from Mexico, originating from New Mexico – frankly it was exhausting and I decided to stick with my inspiration dessert from the restaurant.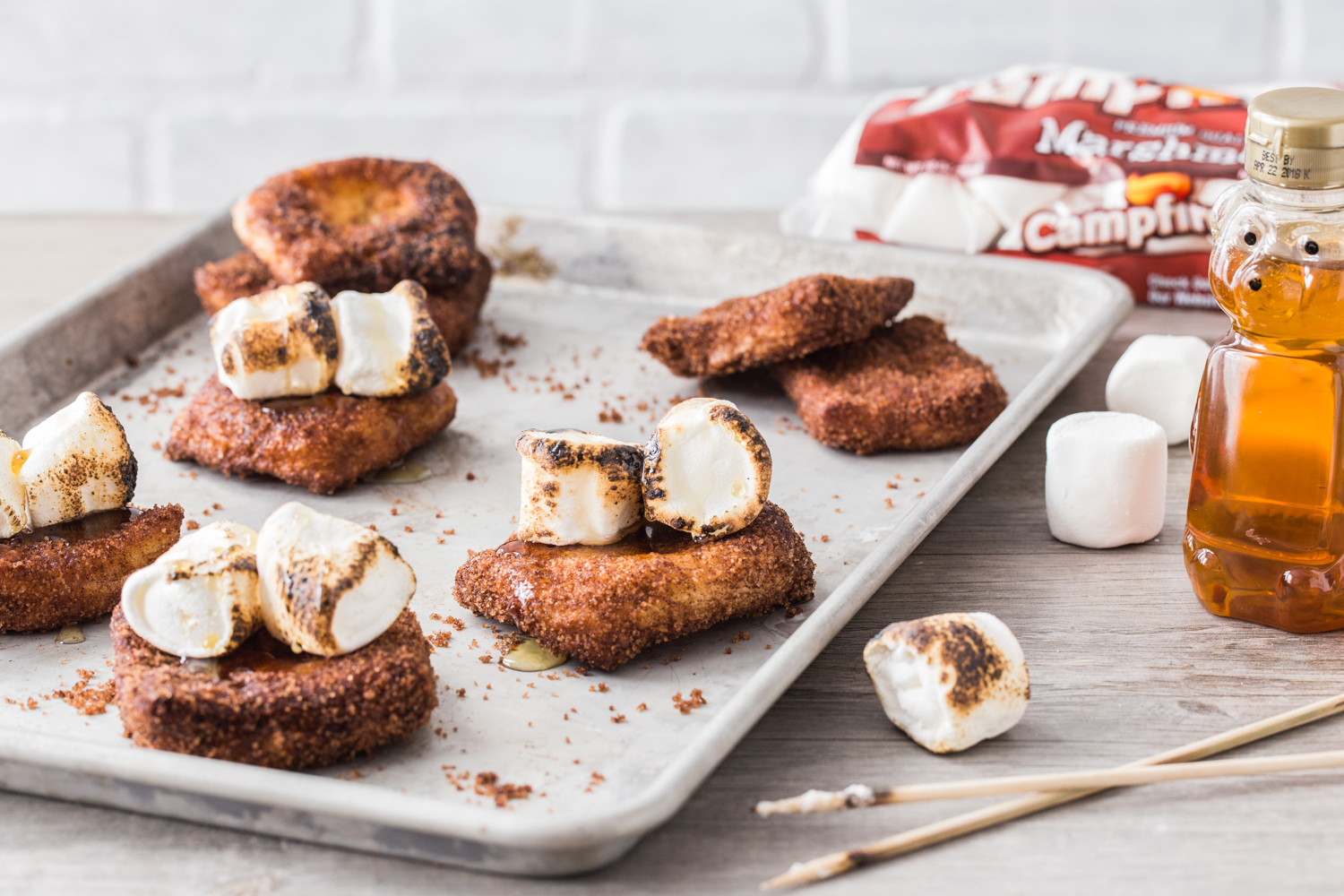 Today I want to share my version with you, in s'mores form. Because I am a lover of a short cut dessert, I looked to some refrigerated crescent roll dough to use for the base. Cut into squares and lightly fried, they provided the perfect flakey, cinnamon sugar vehicle to serve up my roasted marshmallows. I used my favorite Campfire® regular marshmallows for this s'mores but you could easily use one of theirGiant Roasters® if you're feeling extra marshmallowy, like I was with my roasted berry s'mores.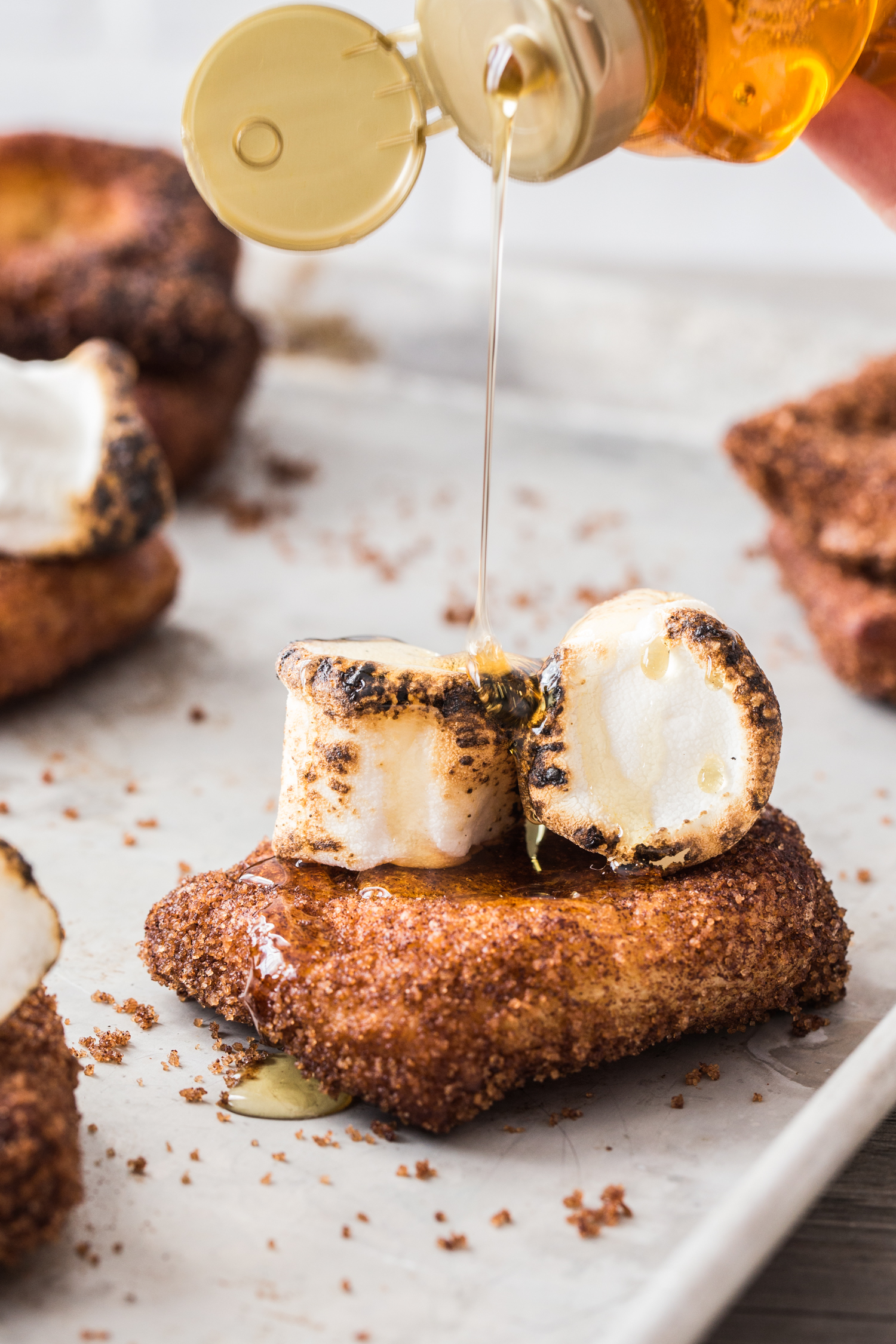 After topping the sopapillas with the marshmallows, thus creating the Sopapilla S'mores, I drizzled it all with a touch of honey, but not too much. I decided to leave the chocolate out of my version (even though the restaurant served it up with chocolate sauce) as I really was digging the lovely combination of cinnamon-sugar and honey.
I know, I'm shocked that I left out chocolate, too. But it's your s'mores your way so feel free to drizzle with some chocolate sauce if you so desire.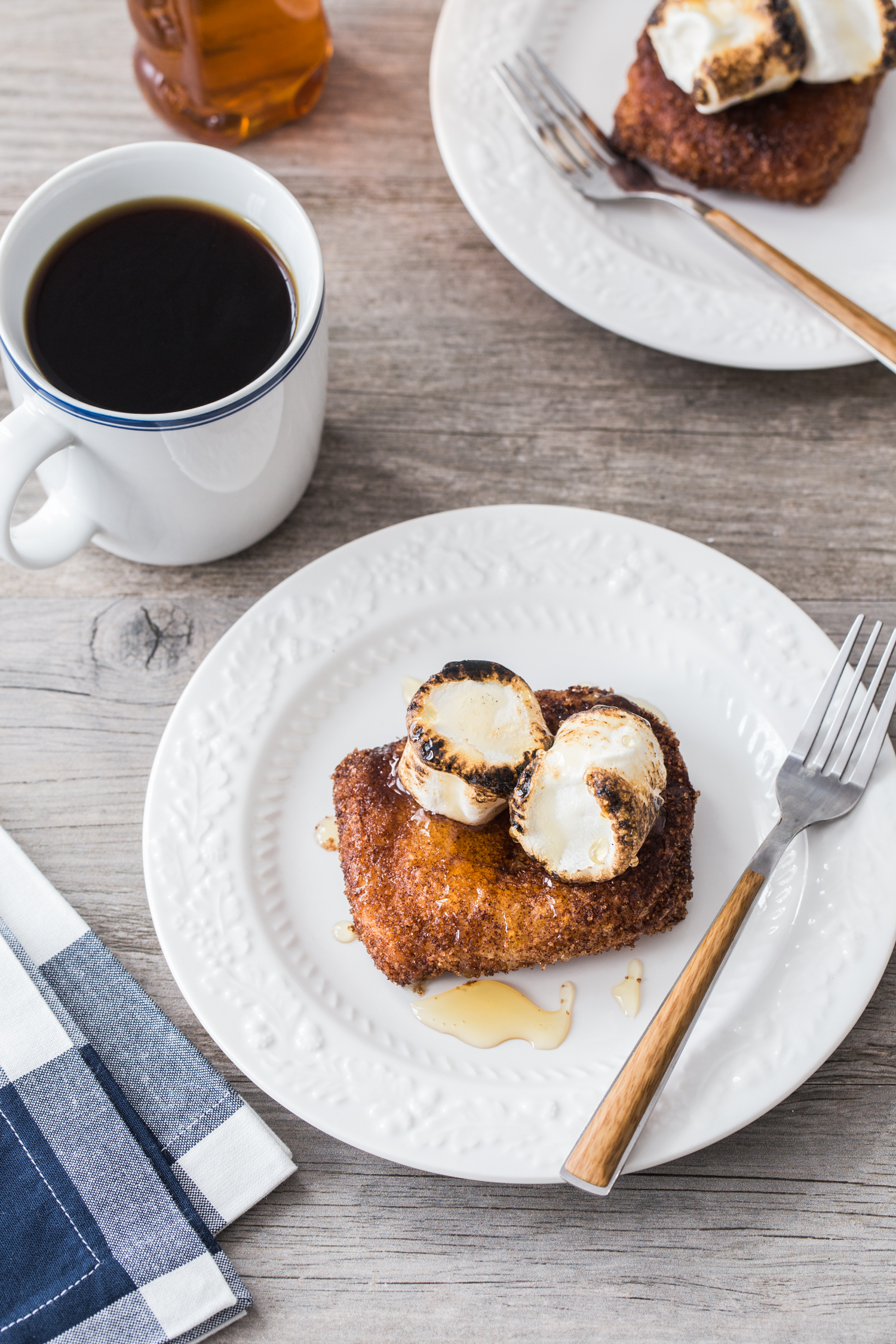 You guys know I love an untraditional s'more (remember the banana cream pie s'mores incident?) These Sopapilla S'mores are right up my alley and I hope you'll love them, too! I know I have shared a lot about Campfire® over the past couple of years but they truly are the most delicious marshmallows you'll taste plus the Campfire® folks themselves are simply awesome. They came out with some exciting new fall flavors that I'm really looking forward to sharing with you! For more information about them, check them out on their Facebook page. They are always sharing fun and simple recipes as well as new product updates.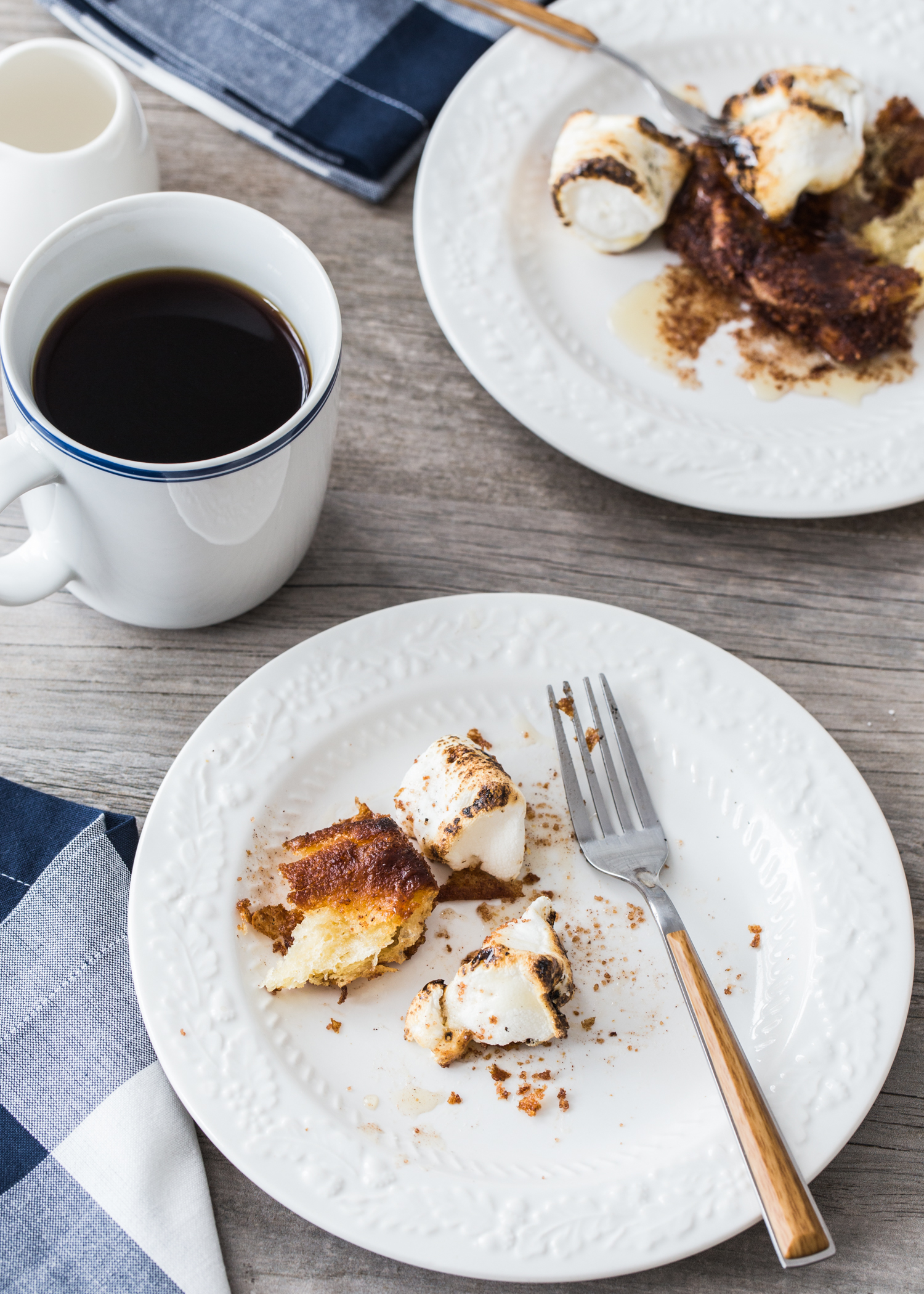 Until next time, friends! Have an awesome Thursday <3
xoxo Emily
Sopapilla S'mores
Yield: 12 s'mores
Prep Time: 5 minutes
Cook Time: 15 minutes
Total Time: 20 minutes
Ingredients
1 can refrigerated crescent roll dough (the full sheet if available)
vegetable oil for frying (1-2 cups)
1/4 cup granulated sugar
1 Tablespoon ground cinnamon
24 Campfire® Marshmallows, regular size
honey
Directions
Unroll crescent roll dough on a work surface. Use a knife or pizza cutter to cut dough into 3 strips length wise. Cutting across the strips, divide the dough into fourths creating 12 squares of dough. Set aside.
Add enough oil to a deep skillet that it reaches 1 inch up the side of the skillet. Heat over medium heat to about 325°F. The oil will be shimmering. Working in batches, use a wire spider or tongs to carefully place dough into the hot oil. Fry for about 30-60 seconds on each side, watching carefully to avoid burning. Remove fried dough to a paper towel lined baking sheet to drain. Repeat with remaining dough.
Place sugar and cinnamon in a large zip top bag. Place 2-3 pieces of fried dough into the bag, seal it, and shake to coat with the cinnamon sugar mixture. Repeat with remaining fried dough. Place finished sopapillas back onto baking sheet in a single layer.
Roast your marshmallows over an outside campfire or carefully over the flame of a gas stove. Place two marshmallows on top of each sopapilla then drizzle with 1-2 teaspoons of honey.
Serve immediately and enjoy!