Creamy Vanilla Berry Popsicles
This post, Creamy Vanilla Berry Popsicles, is sponsored on behalf of The National Milk Life Campaign. Thank you for reading Jelly Toast and supporting the brands and partners that I love and that help make Jelly Toast possible.
Summer is chugging along, my friends. Here we are sliding into the last week of July and I'm desperately trying to squeeze every last minute of fun into the next few weeks. This is difficult at times because by nature, I am someone who needs to know what the plan is ahead of time. I dislike being on the spot to make a decision or pick up and head out the door without really thinking through exactly what we'll be doing. I'm just not a good-fly-by-the-seat-of-my-pants kind of girl.  My kids will ask me if they can do a million and one different things in a day and these things tend not to be typical at home things around the house that they can do on their own. They are things like, "can we go to the zoo? Can we go swimming? Can we do a craft that involves something hot or sharp? Can we go camping? Can you teach me how to sew?" Then I am usually left standing there going, "um…well, let me see…um…" while desperately trying to formulate a plan for the day and still work in meals and bedtime etc.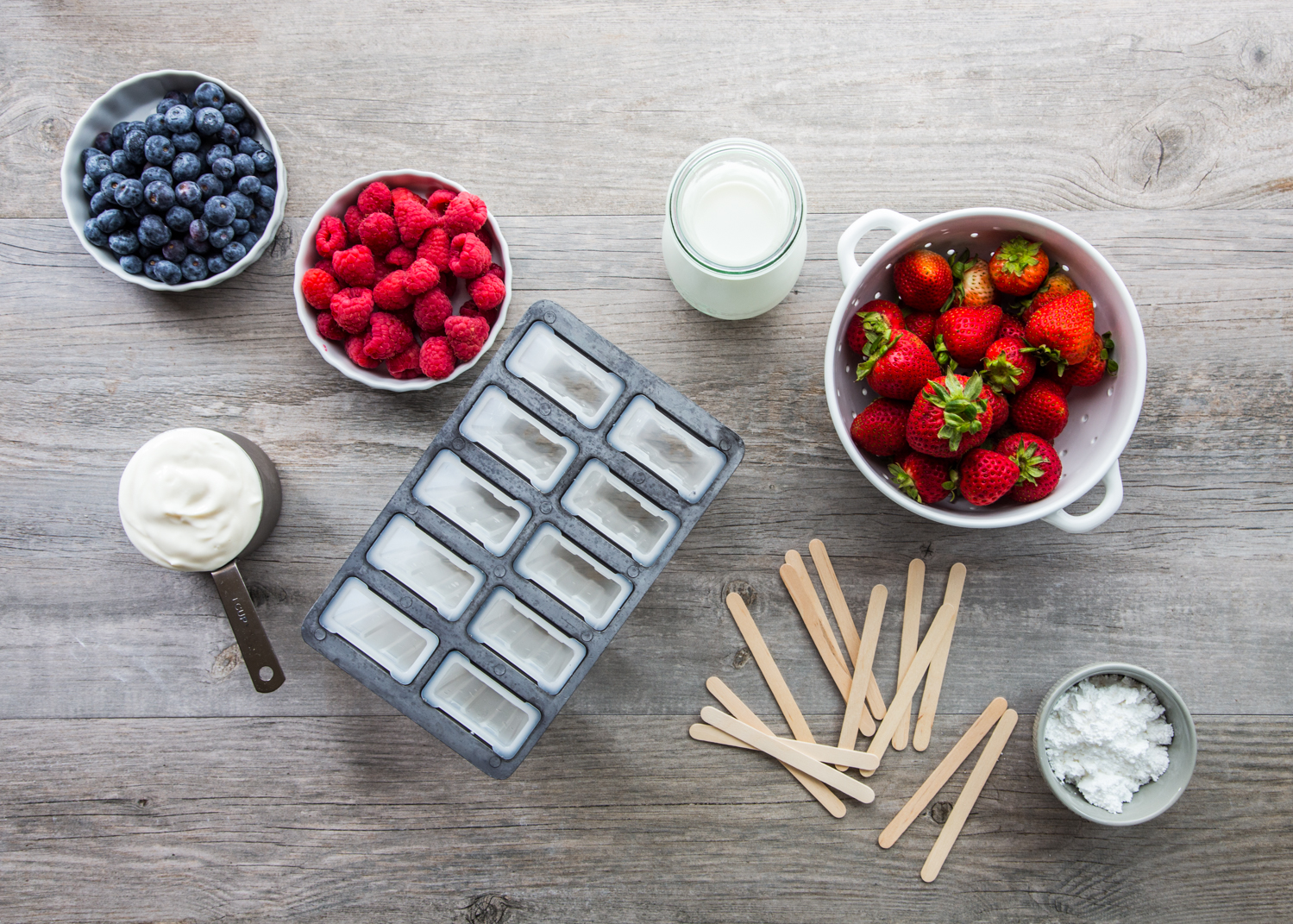 This is a major struggle that often leads to me saying, "well, let me think about it" or "maybe tomorrow" which is just about the lamest thing a mom can say to her kids. Well, with summer whizzing by at the speed of light I am trying to be open to saying "yes! we can do that right now" and not worrying about what we'll have for dinner (I can figure that out later) or how I'll have time to finish that list of emails I need to send. Summer is a precious time that I know will be over too soon.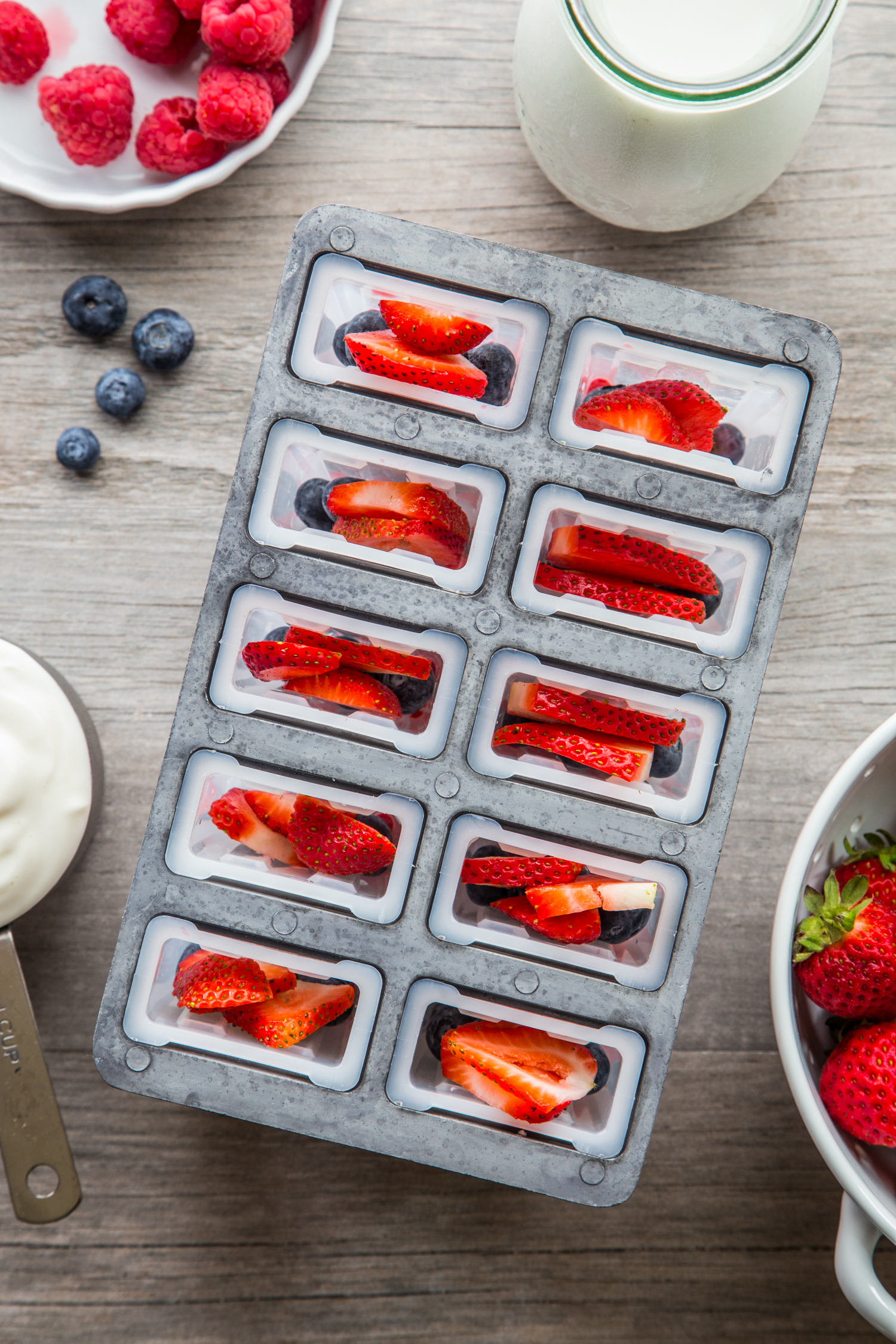 This brings me to one of the things my kids have been asking all summer: can we make popsicles? It's a pretty simple request in the grand scheme of things, but still often makes me hesitate while mentally running down an inventory of our fridge and pantry to see what we have that can be turned into a popsicle.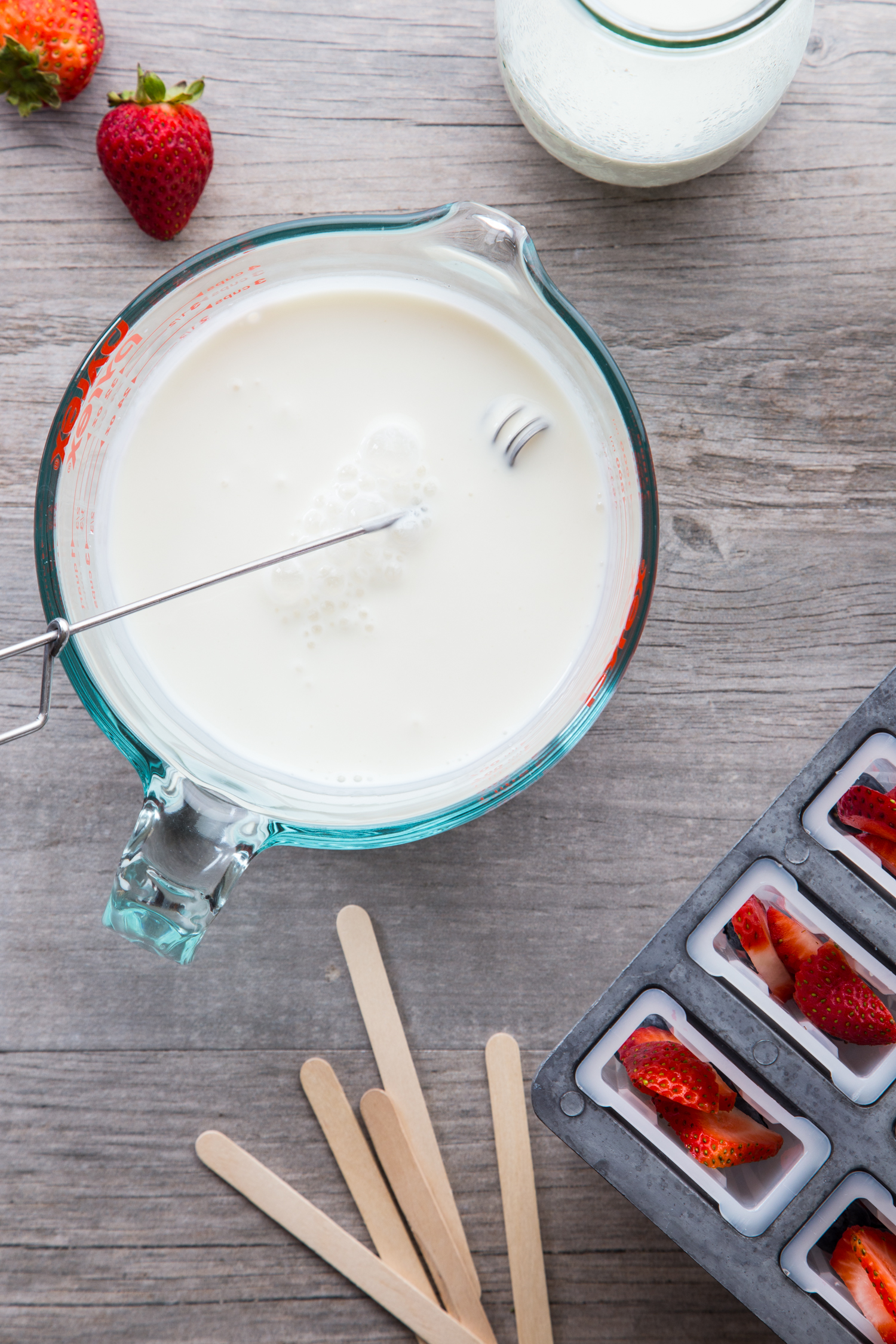 I got this question again last week and in the spirit of not wanting to put off such a simple activity that I knew they would love, I said, "yes". I knew we had some berries in the fridge as we'd just been to the store the day before. Also, knowing that we always have 2 gallons of milk in the fridge I thought quickly on my feet (for once) and decided to make simple Creamy Vanilla Berry Popsicles,. They took just a few simple ingredients and after a little trial and error to figure out how much fresh fruit we could put in we came up with a pretty fantastic version made with wholesome milk, vanilla Greek yogurt, berries, and a touch of powdered sugar.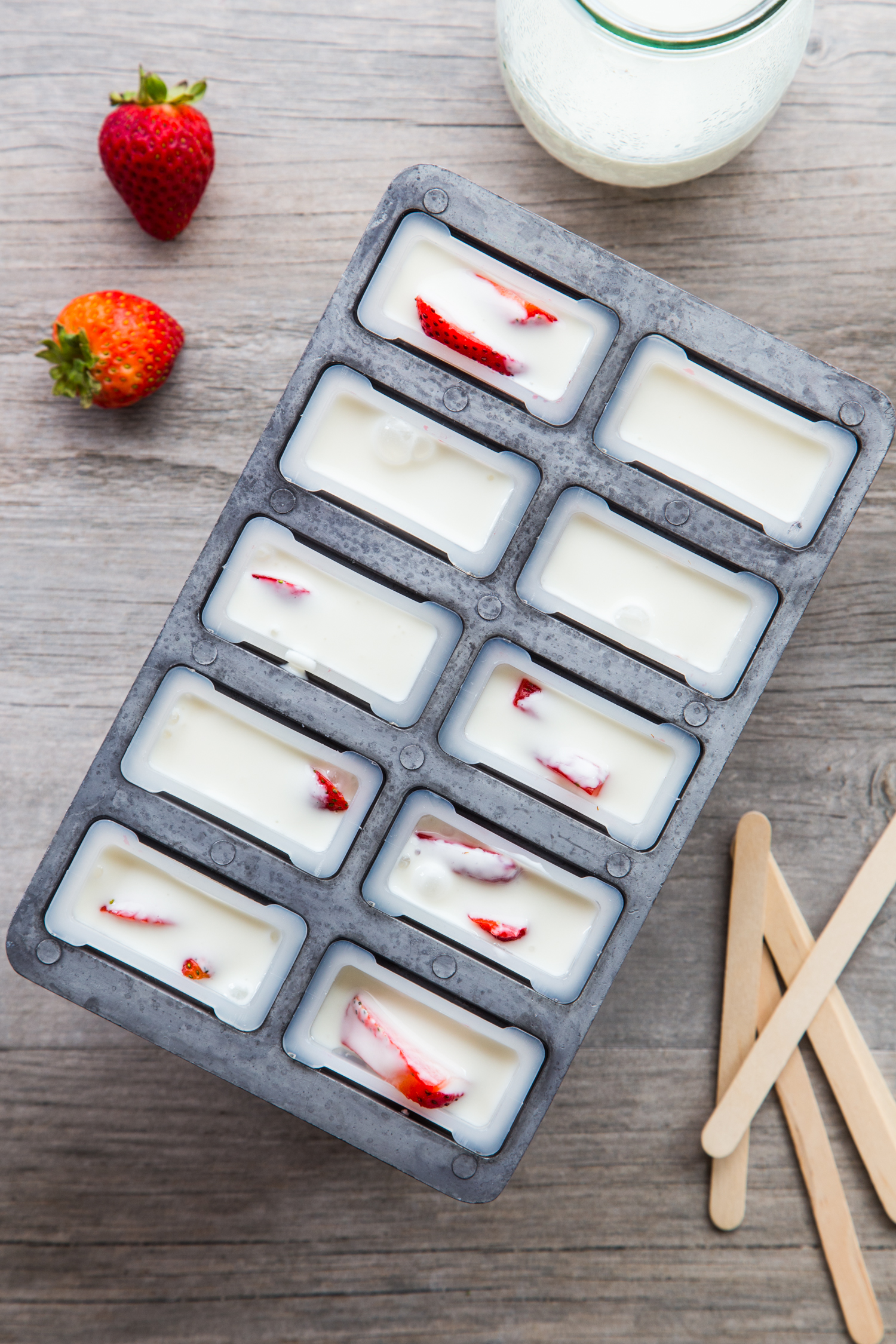 Milk is always something that I have on hand, and while the berries are seasonal right now, the fruit can be swapped out throughout the year to fit what I have on hand. Peaches, plums, cherries, mango – so many options! Plus at the end of it all, we ended up with a treat made with wholesome milk and other real food ingredients. I like knowing that my kiddos are enjoying a treat made with milk, which in itself is such a simple, fresh ingredient that is naturally nutrient-rich. There are no unpronounceable ingredients in milk – it's just pure milk. I love that!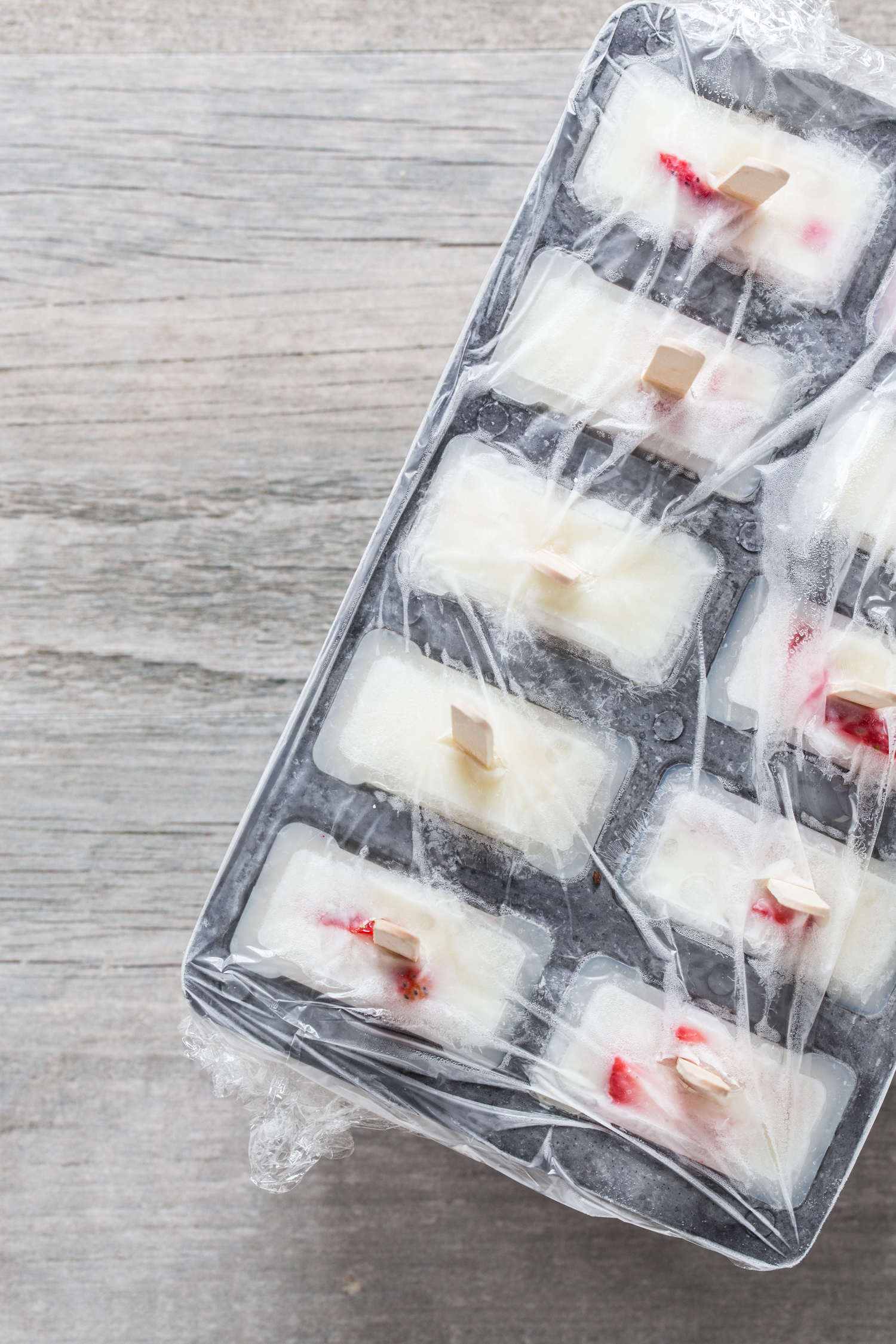 When the popsicles were completely frozen, we ran the molds under water and wrapped them all individually with plastic wrap before placing them back in the freezer. That way when it's time for a treat, we can just pull one out of the fridge without wrestling with the popsicle mold every time. When the weather is in the mid-90's and humid, no one has time to wrestle with anything – we just want that cool, creamy popsicle!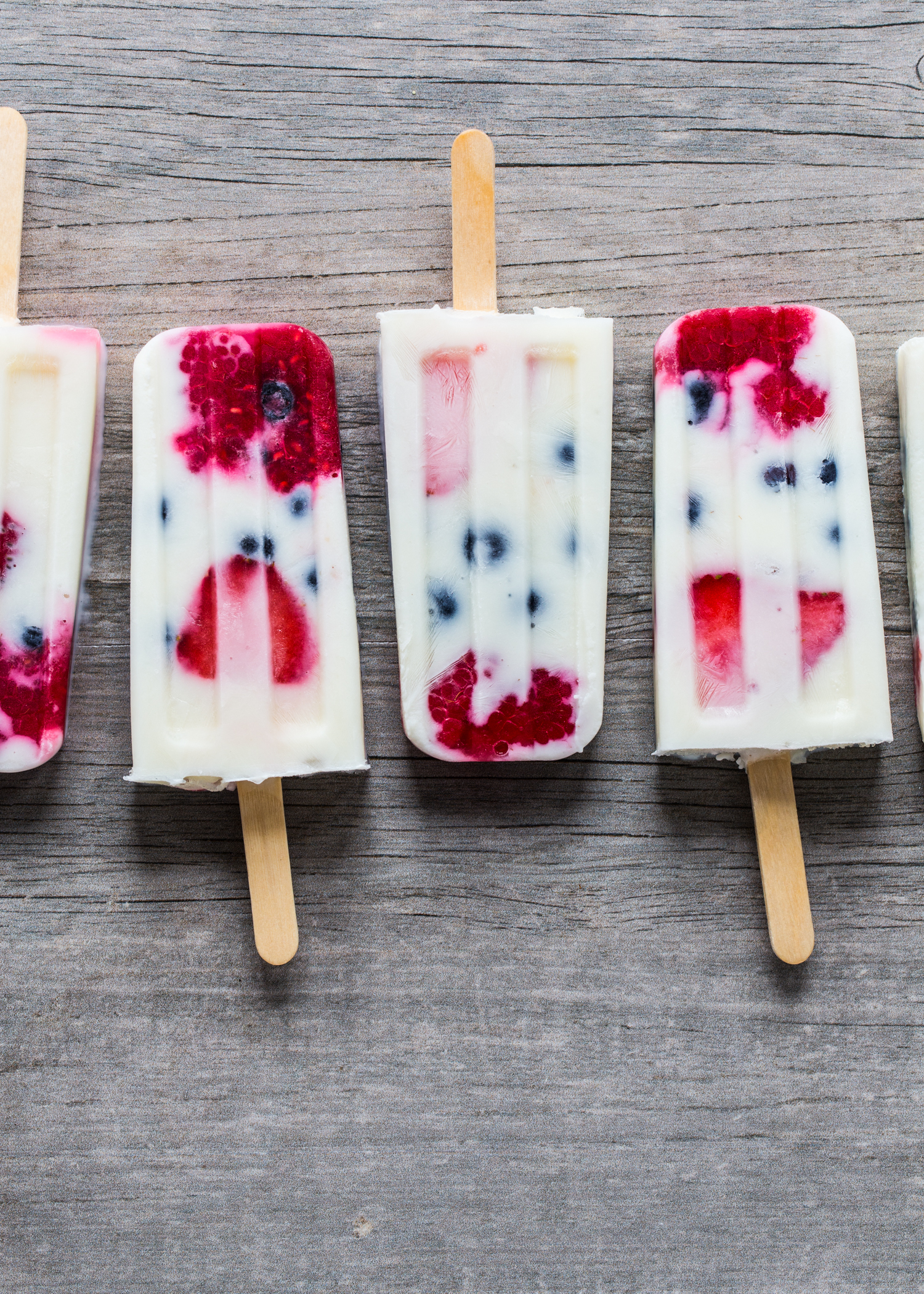 The kids had so much fun helping make these Creamy Vanilla Berry Popsicles that it just further cemented in my mind that I need to be better about being open to the simplest, spontaneous activity and enjoy the moment. If you are looking for a simple, no pressure treat to make with your kiddos this summer, definitely give these Creamy Vanilla Berry Popsicles, a try and for more information about how milk can help power your day as well as other awesome milk and dairy recipes, visit MilkLife.com and visit them on Facebook, Twitter, Pinterest, and Instagram.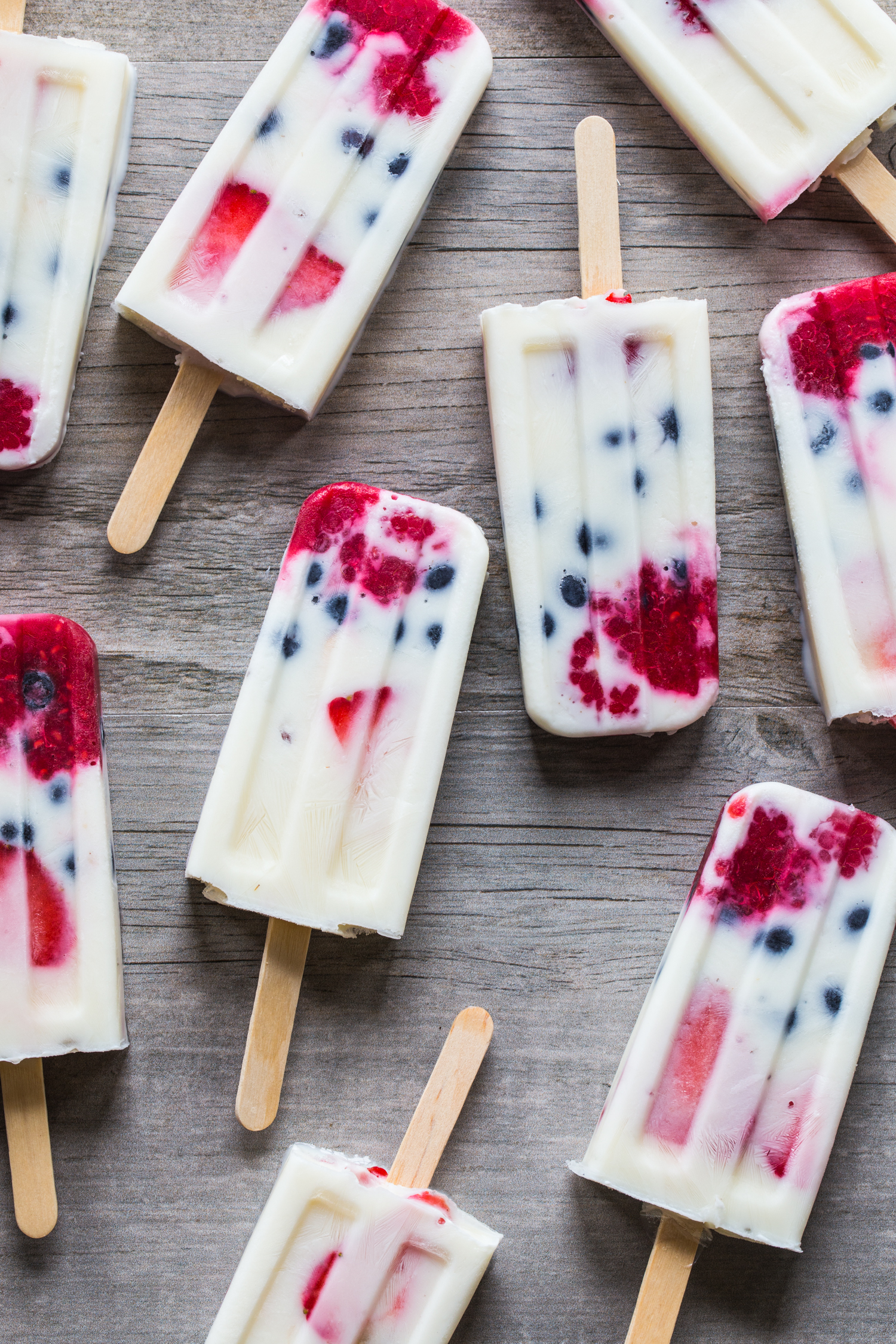 Happy Friday!
Creamy Vanilla Berry Popsicles
Ingredients
1 cup fat-free milk
1 cup non-fat Vanilla Greek Yogurt
3 Tablespoons confectioners sugar
1/2 cup fresh raspberries (about 2.5 ounces or 20 berries)
1/2 cup fresh blueberries (about 2.5 ounces)
5 strawberries, sliced into 4 slices each
Directions
In a medium size bowl, whisk together milk, yogurt and confectioners sugar. Set aside.
Place 2 raspberries in the bottom of each of 10 popsicle molds. Divide blueberries evenly among the popsicle molds. Place two strawberry slices in each popsicle mold.
Carefully pour milk mixture over fruit, dividing it evenly among the molds. Gently tap the popsicle molds on the counter to release any air bubbles. Place in popsicle sticks and freeze for 6-8 hours or overnight. Run popsicle molds under warm water to release the popsicles. Enjoy!