Slimer S'mores Sundaes + Video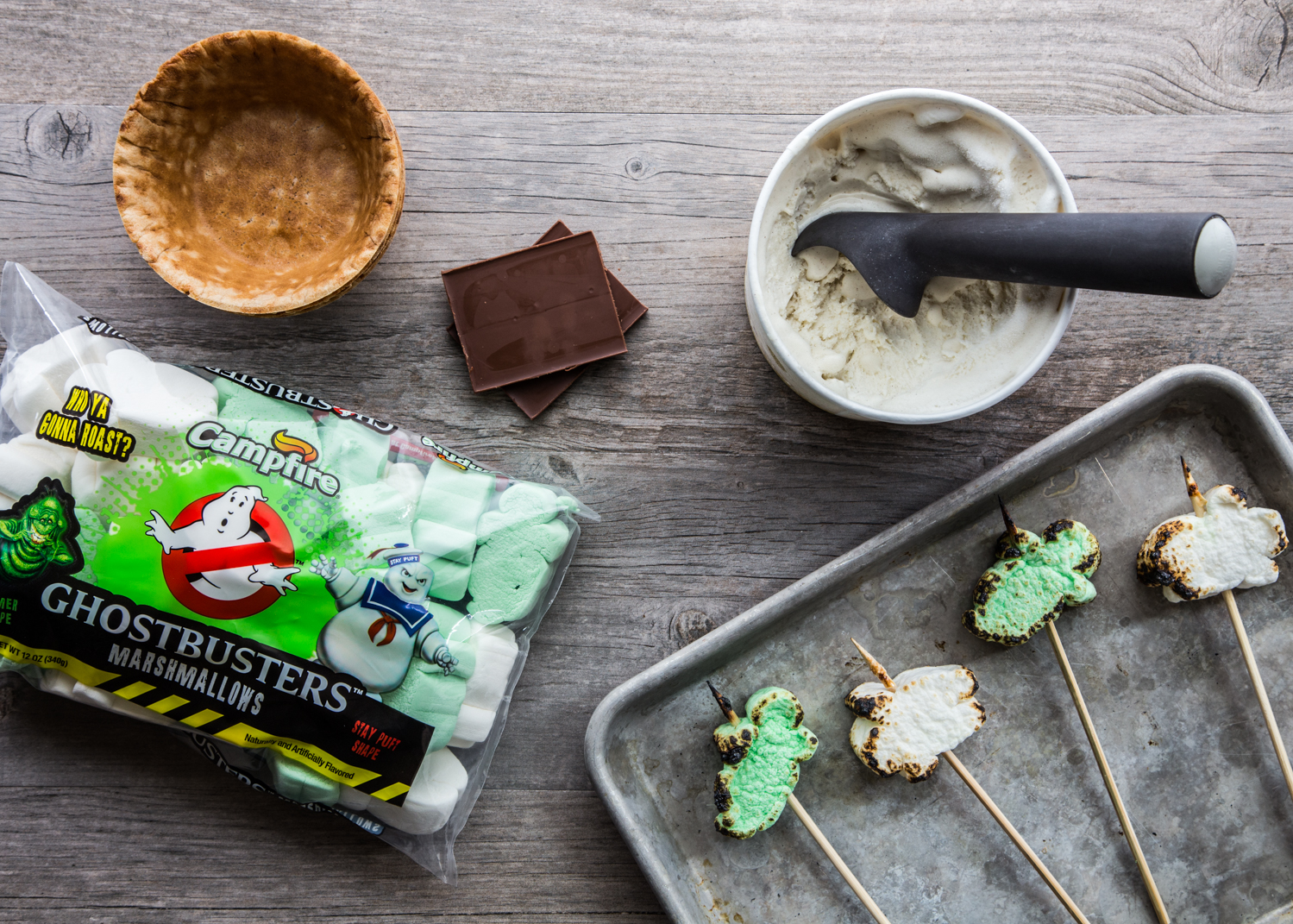 This post, Slimer S'mores Sundaes, is sponsored on behalf of Campfire® Marshmallows. All opinions are, as always, my own. Thank you for supporting the brands and partners that I love and that help make Jelly Toast possible. xoxo Emily
Remember the S'mores Pudgy Pies that I shared a few days ago? Well those were from our recent backyard campout but we didn't stop at that. The next night we roasted up some of these new Campfire® Ghostbusters™ Marshmallows to make these fun Slimer S'mores Sundaes! They're made with waffle bowls, a square of chocolate, a roasted Stay Puft Man and some vanilla ice cream topped with chocolate sauce (or magic shell) and a roasted Slimer marshmallow. These guys were too cute not to turn into a fun summer sundae.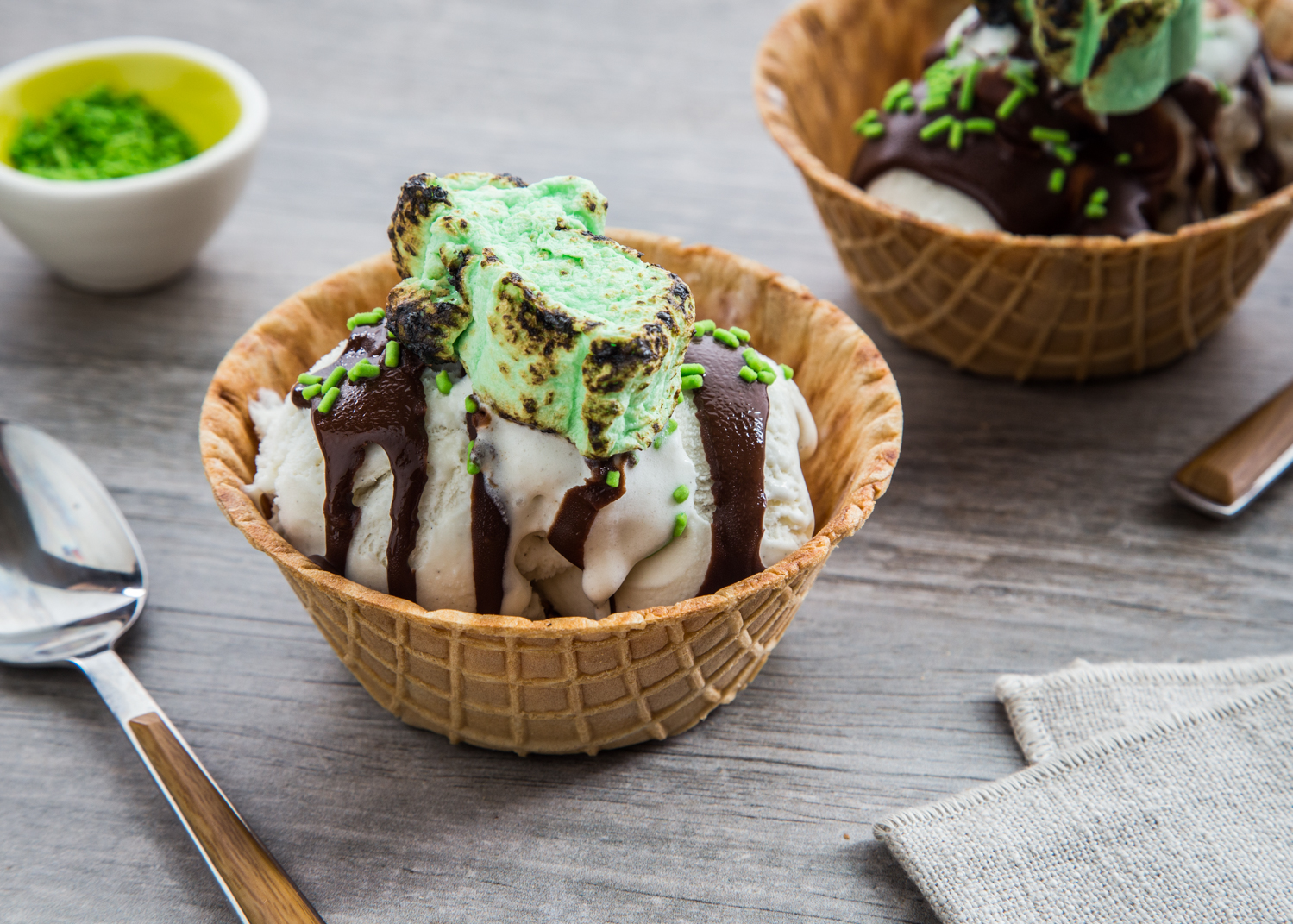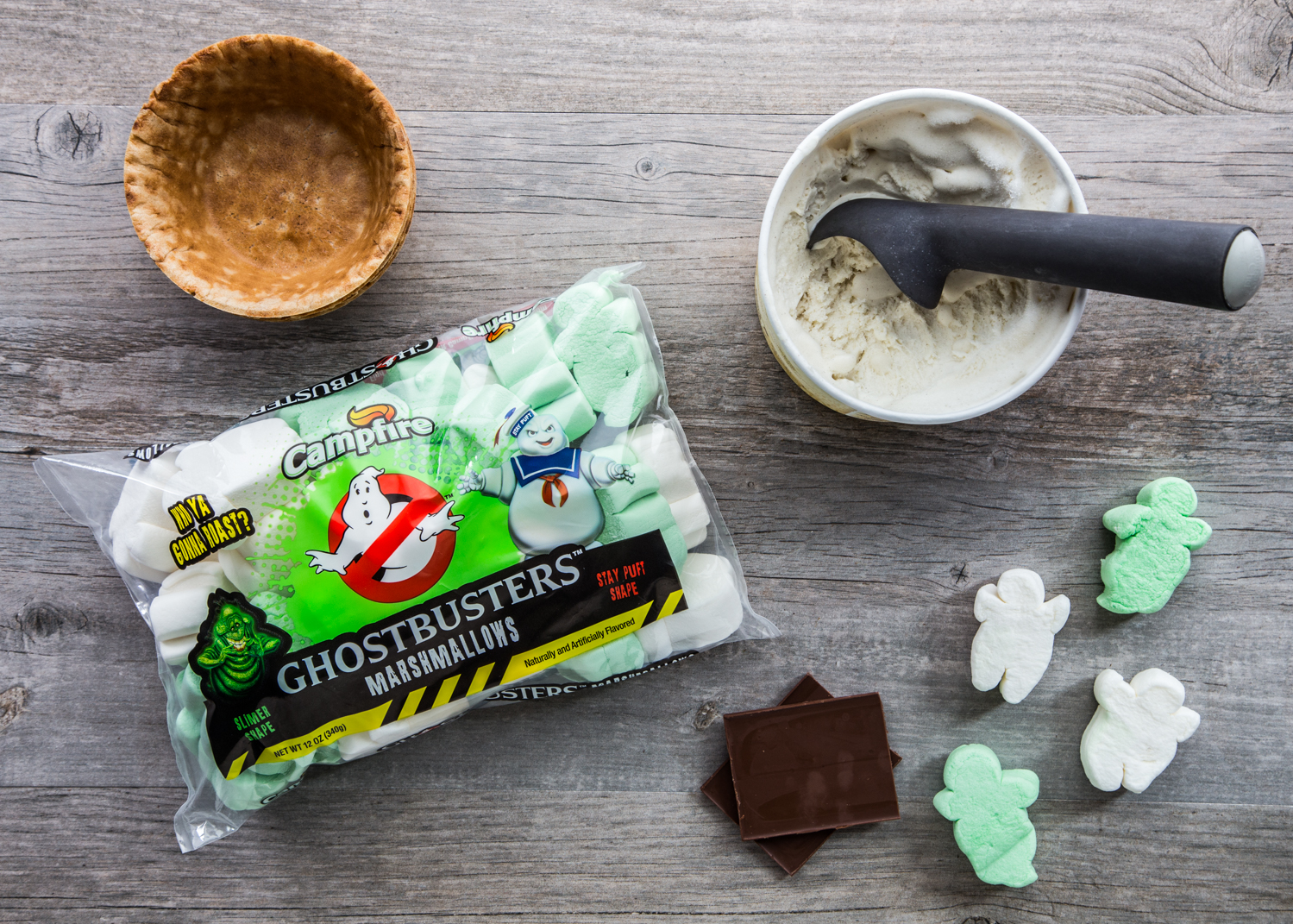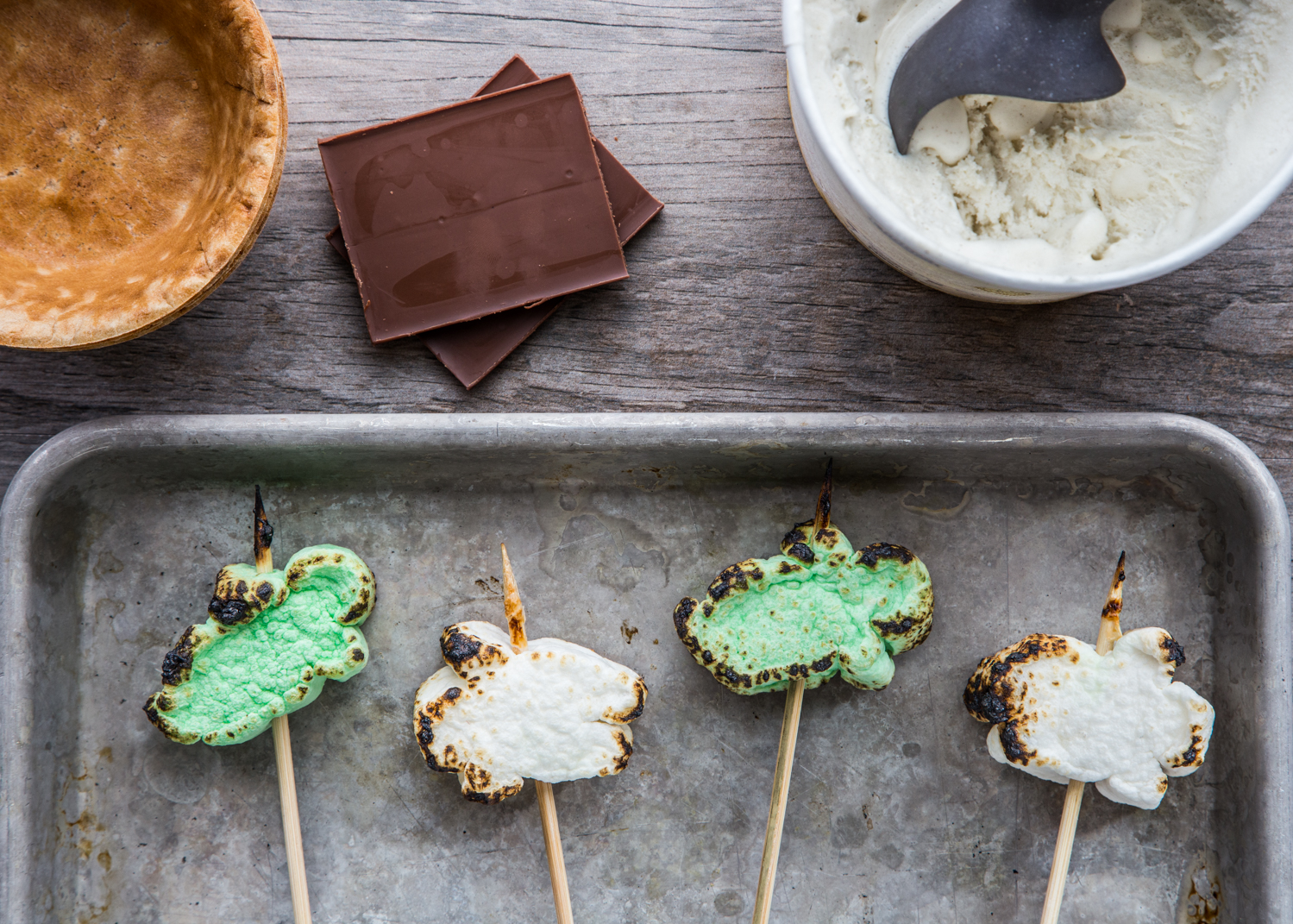 You guys, I grew up with the original Ghostbusters™ movies and am geeking out over all of the new Ghostbusters™ stuff. My little brother was obsessed and had all of the gear: ghost blaster, the ghost trap, and of course, the stylish tan jumpsuit. When I heard that my friends at Campfire® were teaming up with the new movie to put out these awesome marshmallows I was so excited! These marshmallows are big, fluffy and shaped like Slimer and the Stay Puft Man. They are amazing for roasting as evidenced in my new video of us making these Slimer S'mores Sundaes:
We had such a great backyard camping weekend making all of our marshmallow treats. These Slimer S'mores Sundaes were definitely a highlight of the weekend. I have some more camping recipes coming up soon, so be sure to be on the lookout.
Also, I have some fun news! Campfire® is hosting a "Who Ya Gonna Roast" recipe contest featuring their new Ghostbuster™ marshmallows. How cute is that contest name?!
The contest is based on the Campfire® Facebook page. Be sure it head over and check out the details because the grand prize is a Family Movie Night Out for 1 year! How fun is that? So be sure to pick up a bag and get roasting!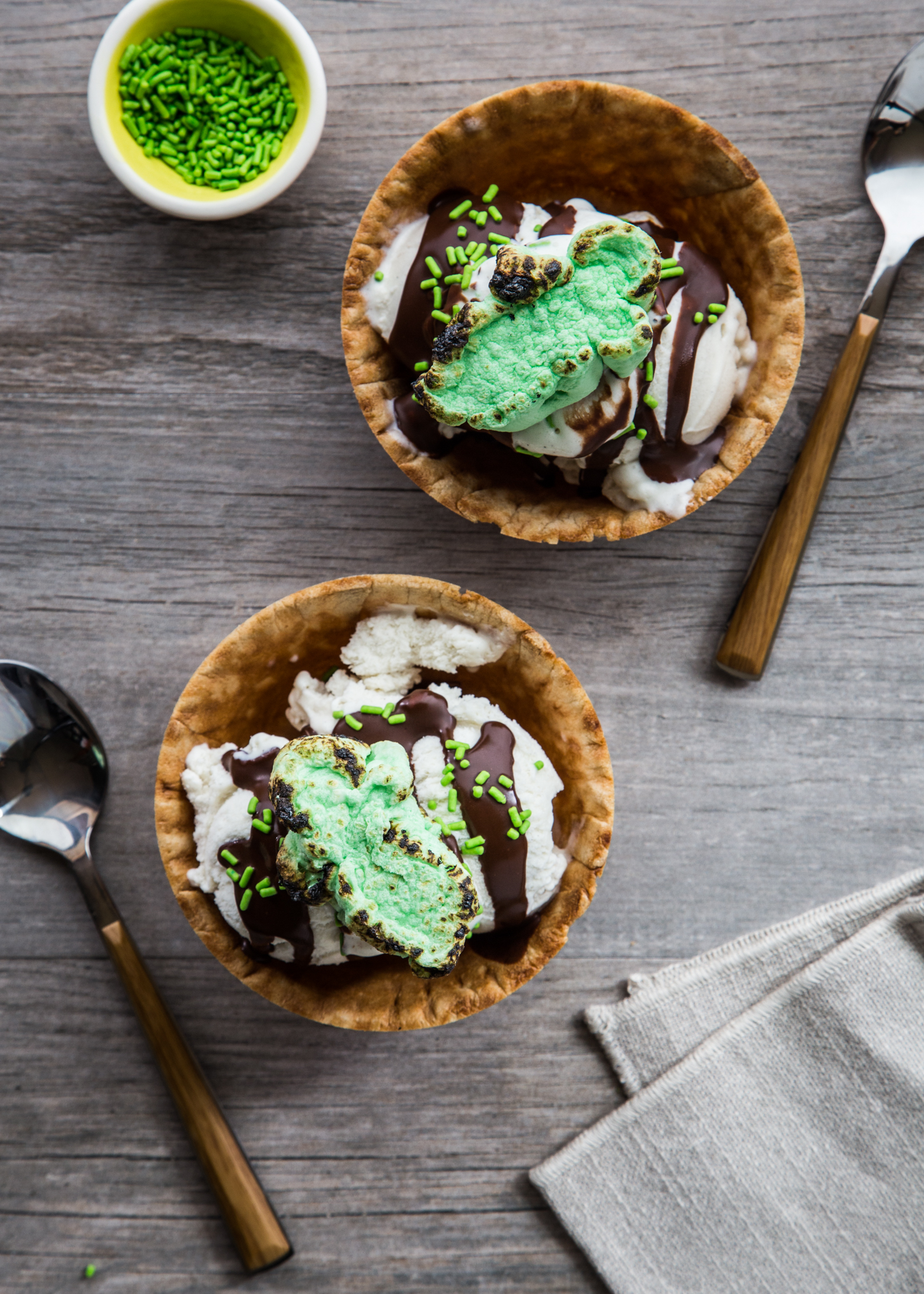 Happy Thursday, friends!
Slimer S'mores Sundaes
Yield: 1 sundae
Prep Time: 5 minutes
Cook Time: 5 minutes
Total Time: 10 minutes
Ingredients
1 waffle bowl
1 square chocolate
1 Campfire® Ghostbuster™ Stay Puft Man marshmallow, roasted
2 scoops vanilla ice cream
2 tablespoons chocolate sauce
1 Campfire® Ghostbuster™ Slimer marshmallow, roasted
Directions
Place waffle bowl on a plate and layer ingredients in the order listed. Serve immediately and enjoy!