cucumber corn salad
This simple and lovely Cucumber Corn Salad comes together in minutes and showcases seasonal, fresh sweet corn and vibrant green cucumbers. A simple and sweet vinaigrette finishes off this light, summer salad.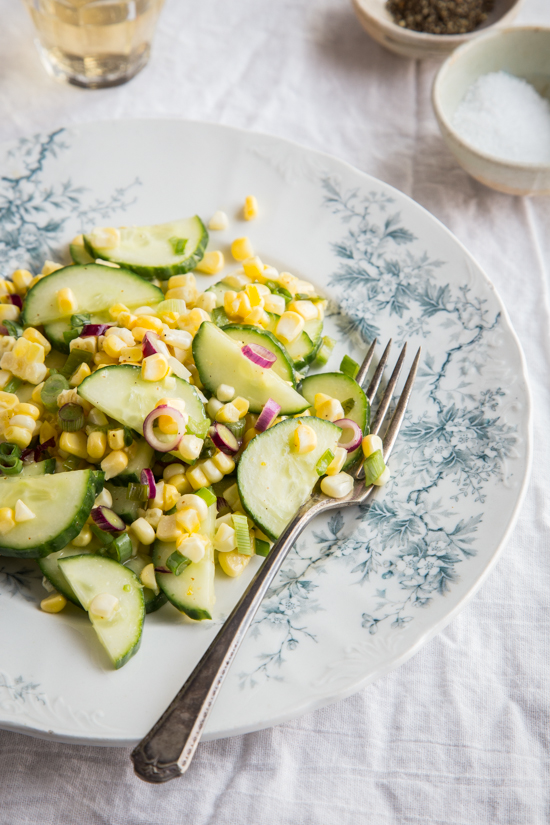 The last few weeks, our CSA basket has been overflowing with goodies. The sweet corn has tasted like candy and I've been cutting it off the cob and slipping it into just about every meal we've eaten. It's too good not to.
The thing about joining a CSA is you have zero control over the produce that you end up with for the week, minus the extras boxes at pickup. That the farmer's put out with crops that weren't quite plentiful enough to divide among the shares, but are fabulous none the less. I've scored some seriously beautiful cucumbers which is how this salad got started in the first place.
The thing is, I have no problem with the element of the unknown. Some week's I'm better about getting creative with the new-to-me veggies, and other weeks, they all get grilled or roasted. Either way, it's been adventure trying things like broccoli leaves and kohlrabi (which is fabulous, by the way).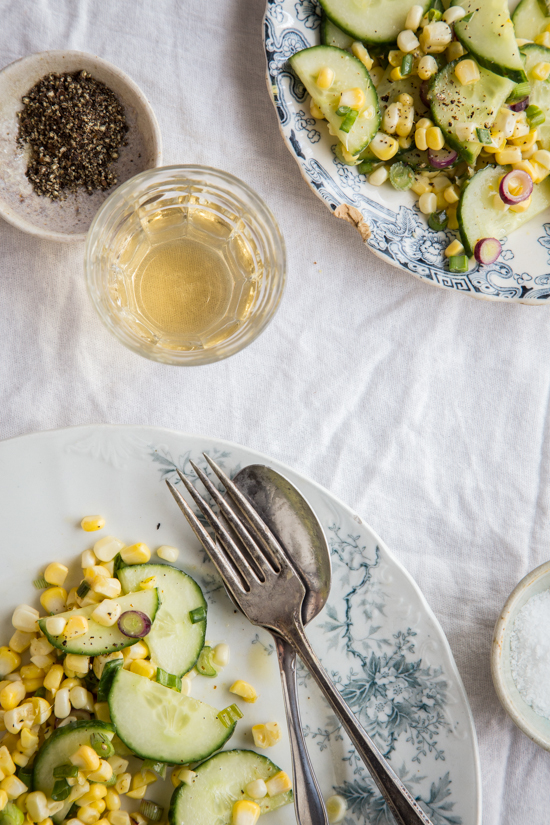 A couple of weeks ago, I was craving a salad but fresh out of lettuce, as I'd been too lazy to hit up the store and we hadn't gotten any lettuce in our basket that week. Who said salads had to have lettuce? Not this girl. A little rummaging in the fridge turned up several CSA cucumbers, some ears of sweet corn and these amazing purple onions that I am totally in love with. I get so excited every week when we get another bunch of these vibrant bunching onions.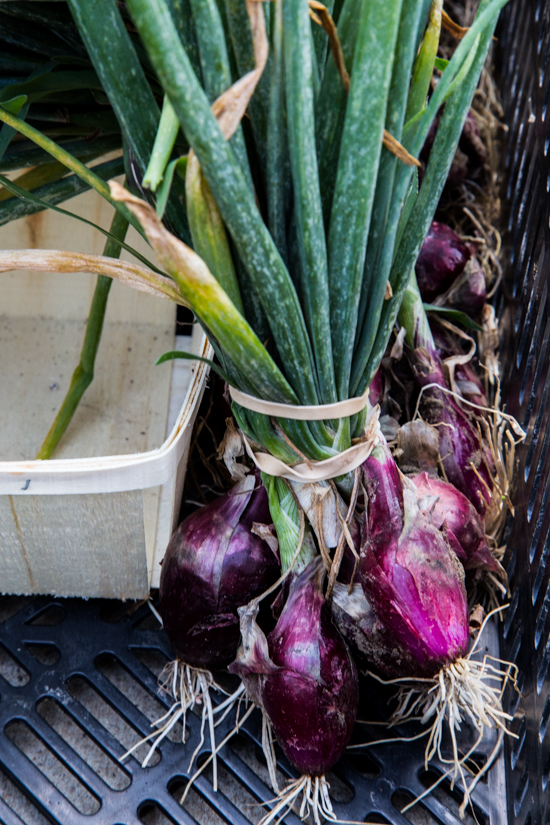 The combination of cucumber, corn and onion all drizzled with a little leftover sweet apricot vinaigrette from my Cherry Kale Panzanella salad was fabulous. I ended up making it again a few days later with English cucumbers that I picked up at the store (after I got over my moment of laziness) and it was just as delicious. I still had some purple onions, but traditional scallions or green onions would work perfectly.
This salad is the perfect simple salad that shouts summertime freshness and, while I'm not a fan of these warmer months, all of the beautiful seasonal vegetables go a long way to making it a wonderful season in it's own right.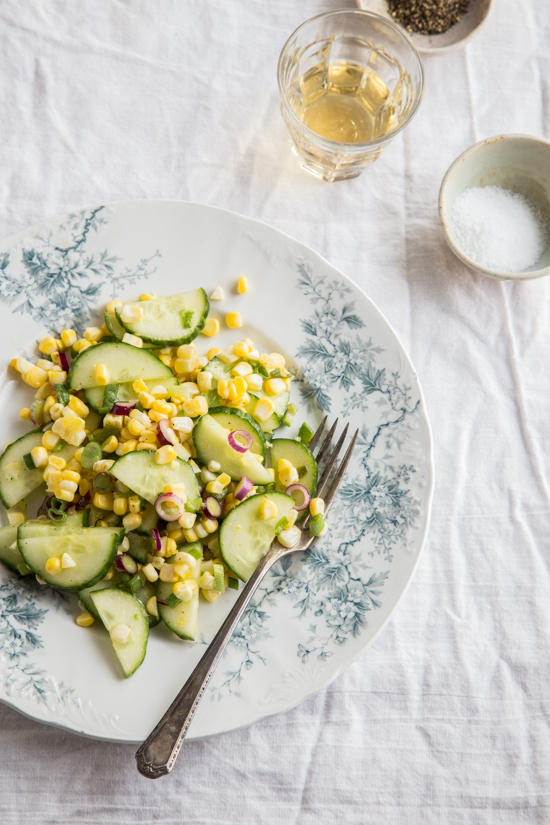 Happy Tuesday!
Cucumber Corn Salad Recipe
Ingredients
2 ears sweet corn, kernels removed
2 English cucumber, halved length wise and sliced
4 scallions, sliced (I used purple, but you can use whatever you'd like)
1/4 cup extra virgin olive oil
1/4 cup white balsamic vinegar
1 tablespoon apricot jelly or orange marmelade
1 1/2 teaspoons honey
1 teaspoon whole grain mustard
salt and pepper to taste
Directions
Toss corn, cucumbers and scallions in a large bowl. Place the remaining ingredients in a blender and blend until smooth and incorporated. Drizzle dressing over vegetables and toss to coat. Taste and adjust for seasoning. Serve!
Notes:
This salad can be made ahead of time and refrigerated overnight.
August 12th, 2014