French Toast Waffles with Tart Cherry Syrup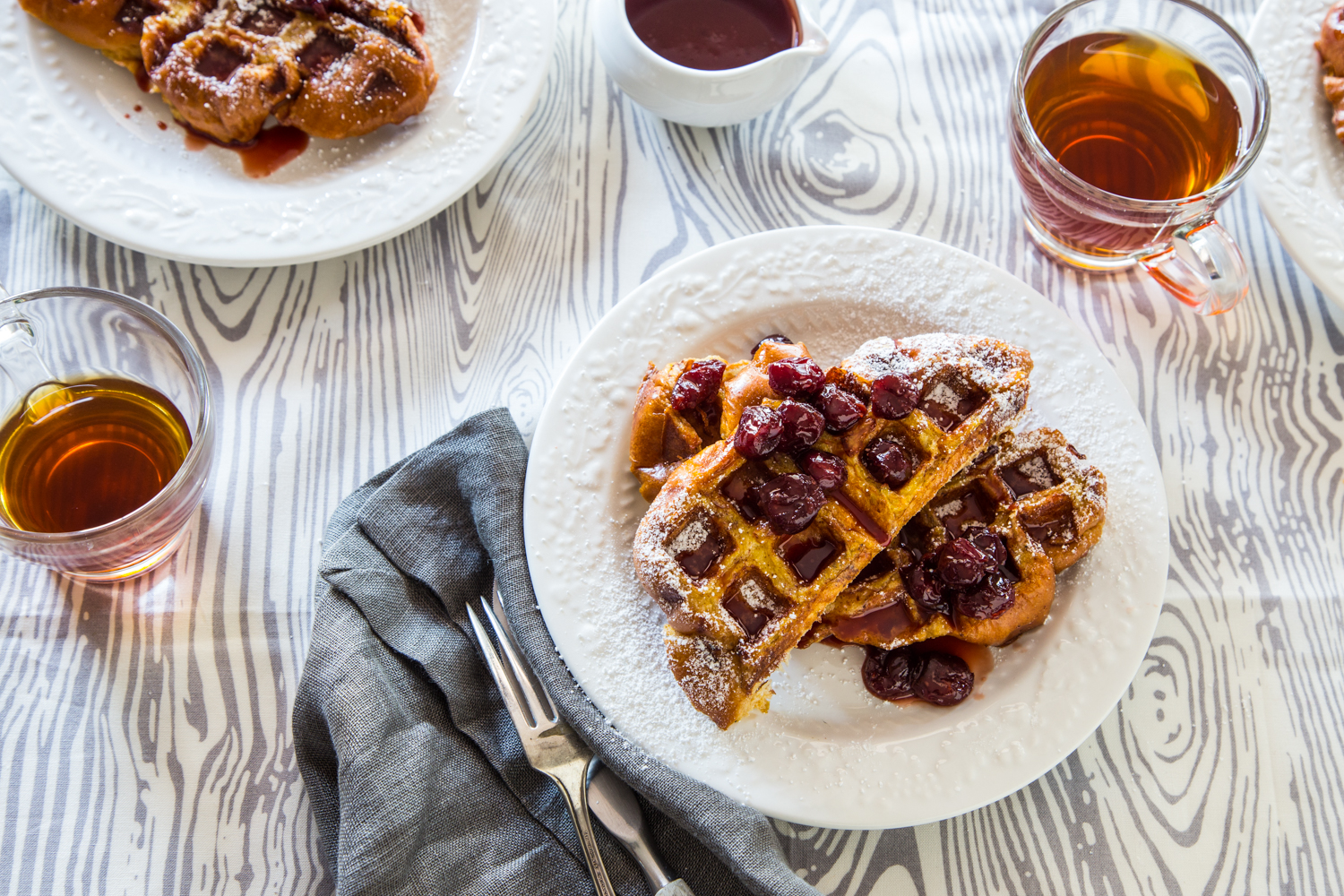 This post is sponsored by Cherry Marketing Institute. All opinions are 100% my own.
It's National Waffle Day! I am having a hard time thinking of a better way to kick off the second week of the school year than celebrating with a big pile of waffles. These are not your typical waffles, though. These waffles are actually thick pieces of French Toast cooked to perfection in the waffle iron.
Growing up, my mom made us waffles from time-to-time, but what she was really known for (at least in our kitchen) was her French Toast. I love my mom's French Toast recipe! It's fairly simple but for some reason it took me years as an adult to achieve the same flavor and texture as her's. I vividly remember calling her as a newly wed and asking her how she made her French Toast. I am pretty sure she laughed at me because she thinks nothing of making it, but luckily for me she was happy to share her secrets.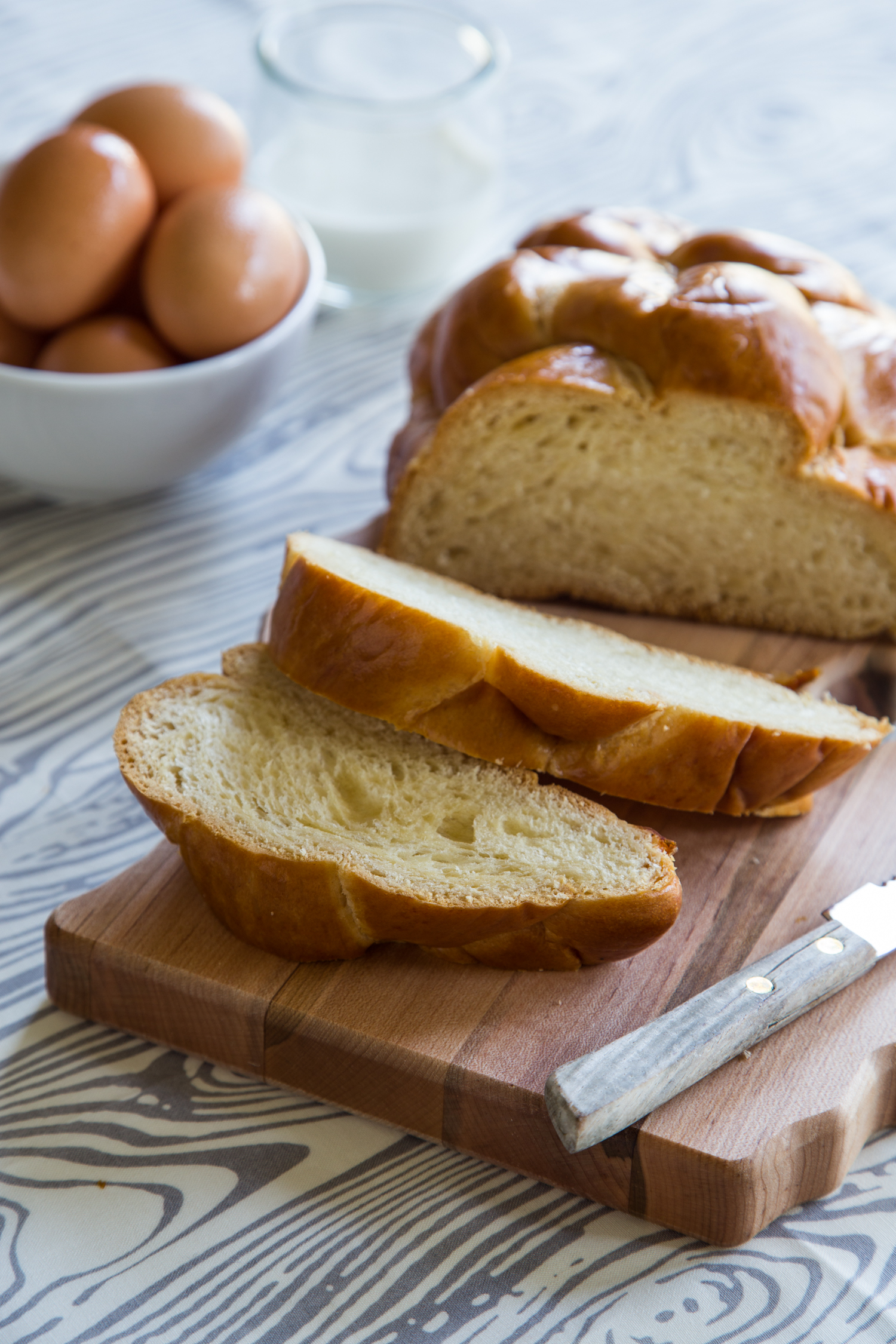 I am happy to report that over the years, I have finally been able to perfect the French Toast recipe. So much so, that I have become comfortable experimenting with a variety of toppings. You know you are in a good rhythm with a recipe when you can start to improvise. For me, the perfect stack of French Toast  will always have nice, crunchy golden brown edges and lots and lots of syrup.
This is why turning my mom's French Toast recipe into French Toast Waffles with Tart Cherry Syrup for National Waffle Day is a pretty great plan. Trust me.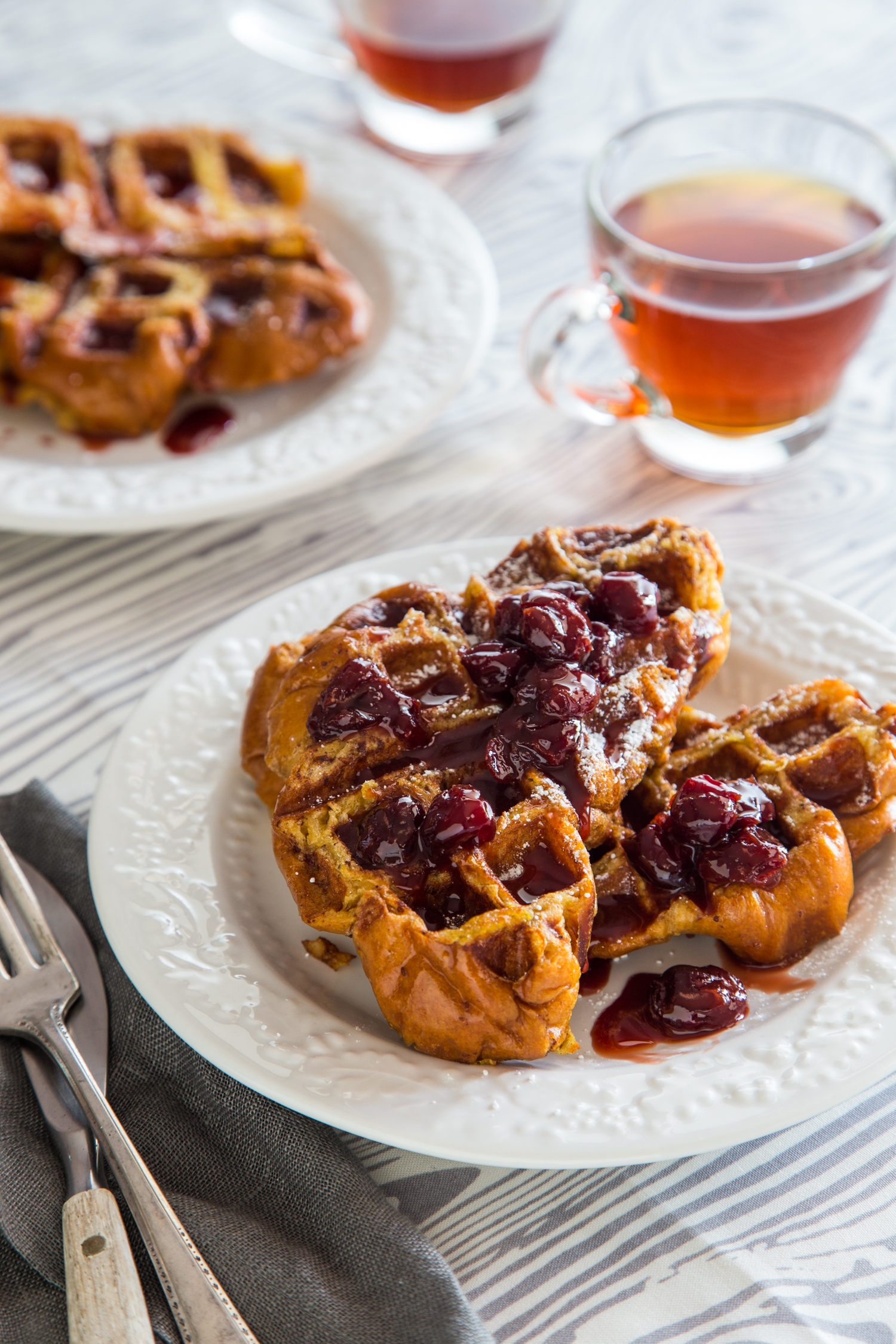 First of all, you get all the pockets of crunchy golden deliciousness to go along with the classic French Toast flavors. Then you make a simple and slightly sweet tart cherry syrup to drizzle over the top. The pockets in the waffles hold the syrup perfectly. The tart sweetness from the tart cherries hits your tongue makes your mouth water for more – it's incredible when combined with the sweet waffled French Toast pieces. Finish the whole thing off with a generous dusting of powdered sugar and I call that one successful National Waffle Day.
A couple of weeks ago, I had the pleasure of visiting Traverse City, Michigan and experiencing the awe-inspiring beauty of the area, as well as learn even more about my beloved tart cherries. I will be sharing some fun stories from that trip very soon (I have a LOT of images to finish going through!) but for now, join me in a giant plate of waffles, won't you?
For more information about tart cherries including their health benefits, be sure to check out ChooseCherries.com or check them out on Facebook , Twitter and Pinterest.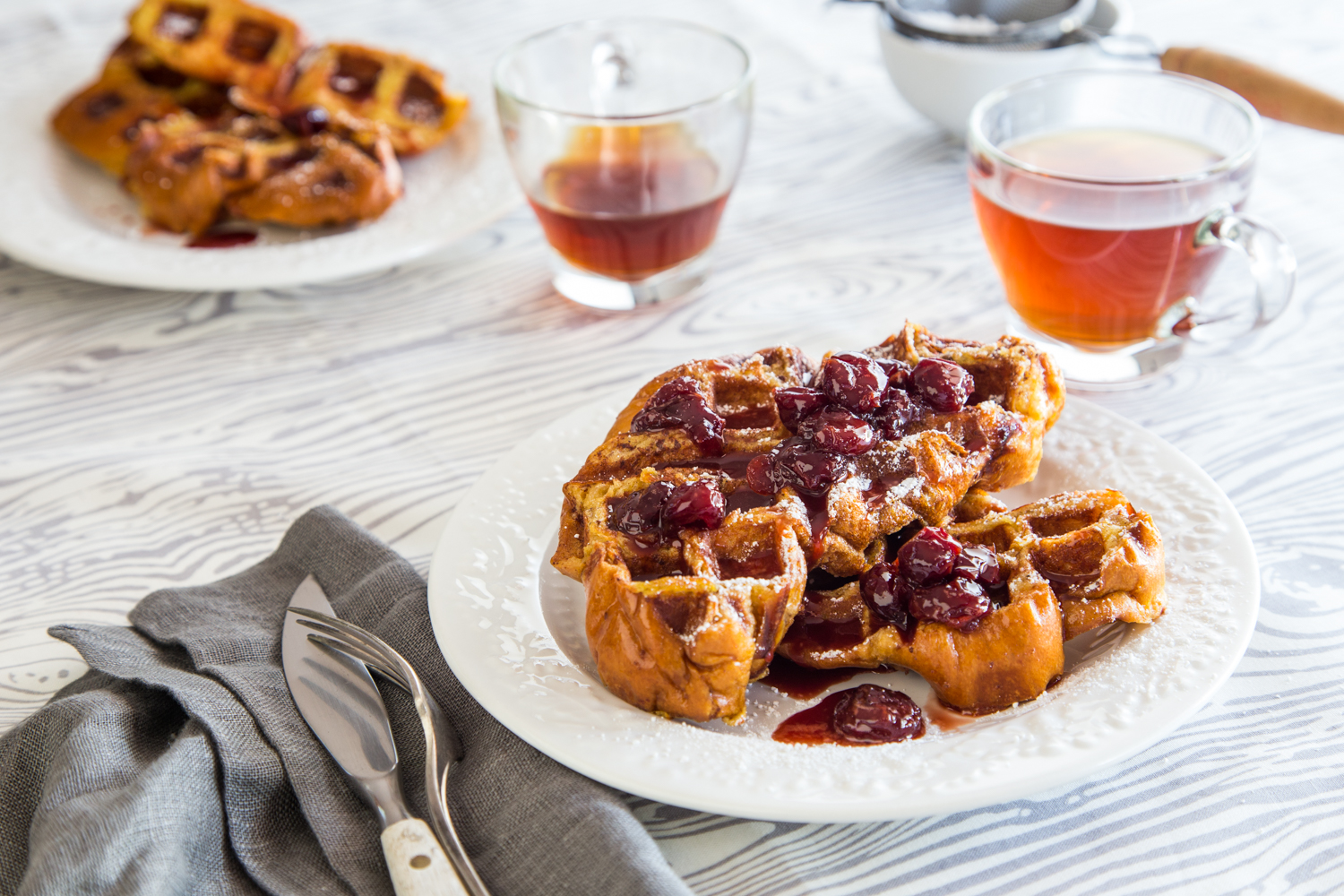 Happy National Waffle Day!
French Toast Waffles with Tart Cherry Syrup Recipe
Yield: 4 servings
Prep Time: 15 minutes
Cook Time: 10 minutes
Total Time: 25 minutes
Ingredients
Tart Cherry Syrup
3/4 cup tart cherry concentrate
3/4 cup frozen tart cherries
1/2 cup sugar
French Toast Waffles
1 loaf of Brioche or Challah bread (both work beautifully!) cut into 8 thick slices
4 eggs
3/4 cup whole milk
1 teaspoon vanilla extract
3 Tablespoon sugar
1/2 teaspoon cinnamon
1/4 teaspoon nutmeg
pinch of salt
powdered sugar for serving
Directions
Make the Tart Cherry Syrup
Combine tart cherry concentrate, frozen tart cherries, and sugar in a small sauce pan and set over medium heat. All mixture to come to a low boil, stirring frequently. Reduce heat to low and all syrup to simmer for 2-3 minutes. Remove from heat and let cool.
Make French Toast Waffles
Preheat waffle iron according to manufacturers instructions. In a shallow dish (or square baking dish) whisk together eggs, milk, vanilla, sugar, cinnamon, nutmeg and salt. Dip both sides of one piece of bread in the egg mixture and place in waffle iron. Add a second slice to the iron if space allows. Close waffle iron and cook according to manufacturers instructions (my iron took about 3-4 minutes, but watch closely). Repeat with remaining bread.
Serve French Toast Waffles with Tart Cherry Syrup and powdered sugar, if desired.
Enjoy!