fruity marshmallow popcorn bars
Fruity Marshmallow Popcorn Bars are sweet and oh, so gooey. Full of Campfire® Fruit Swirler marshmallows, air popped popcorn and coated in white candy and rainbow sprinkles these treats are any little one's fantasy dessert. Or at least my little one's!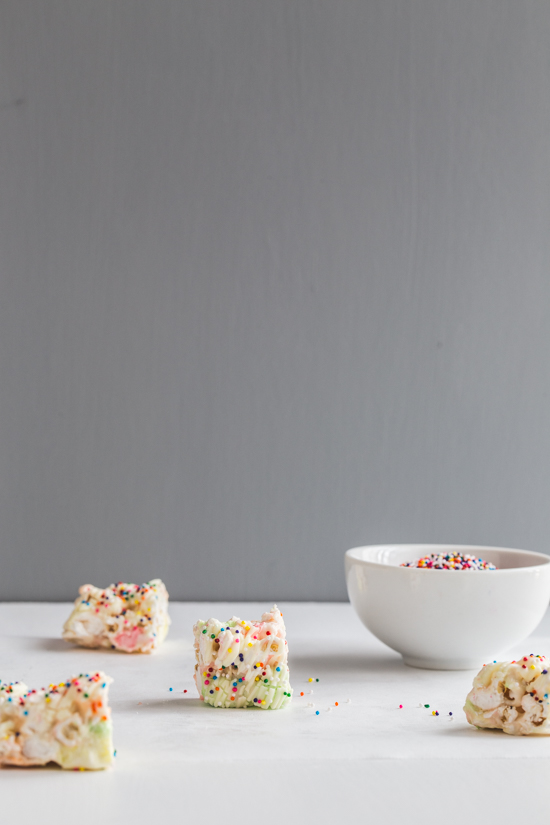 I'm having a week. You know the kind I'm talking about. The kind of week where it feels like you can never get ahead. As soon as you feel a slight internal feeling of accomplishment you're slammed with the realization that you still haven't figured out what you are going to get for your soon-to-be seven year old, who's birthday is on Thursday (yes, tomorrow).
All I can say is thank goodness for Amazon Prime.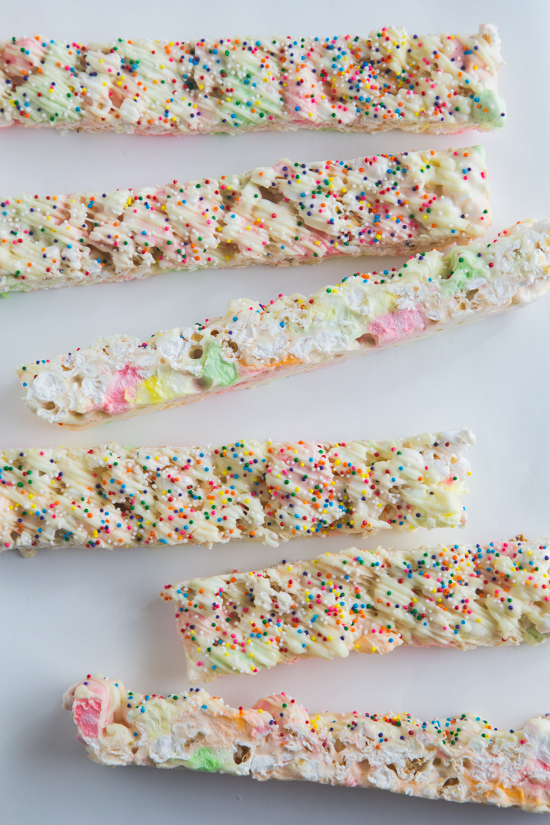 Now, before you write me off as a completely forgetful parent, it's not that our life hasn't been consumed with birthday preparations. We are throwing his very first friend party – ever – and I am more than a little anxious to make sure I don't drop the ball on the plans.
But then I go and forget to order his gift until 3 days before his birthday. The irony is not lost on me, believe me.
Now, in the midst of all of this Buddy-centered preparation, there is my little baby girl (who's 4 but will always be my baby girl) being as sweet as can be and *hardly ever* complaining that she gets dragged along to events of her older brother's.
I looked at her in the middle of one of my near panic attacks and she was sitting there, happily coloring on her rock collection with her Sharpie markers without a care in the world. Let me tell you, my heart melted a wee bit – and it made me want to do something just for her. Because she's my sweetie and I adore that she's as easy going as she is, especially in times when I feel like I'm losing my mind with forgetfulness.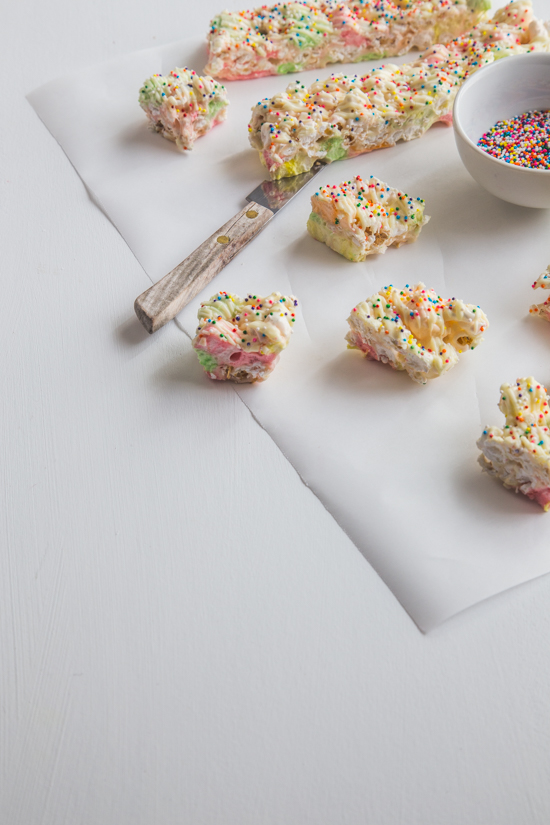 That is when these Fruity Marshmallow Popcorn Bars were born. These little ooey gooey treats are everything that my little lady loves – fruity flavor, marshmallows, popcorn, candy and sprinkles. Yes, they are a bit over-the-top but in the most delightful way.
These treats are more about these amazing fruity Campfire@ Fruit Swirlers than they are about the popcorn. You may remember the awesome egg shaped variety of these mallows from back in the Spring.
Each bag of Fruit Swirlers include four different flavors: strawberry, lime, orange and lemon and I wanted to keep the integrity of each flavor. So, instead of melting them all together, I made a marshmallow popcorn bar with Campfire® mini white marshmallows, and then folded in the halved Fruit Swirlers. That way there are nice big dollops of marshmallows in the middle of the delightful popcorn. The finished bars are soft, fruity and all around fabulous.
A drizzle of candy coating and some rainbow sprinkles sealed the deal. These are the new very favorite treat of my little lady. I asked her if there was anything that she would change about these and she assured me that they were perfect just the way there were.
So in a week that is pretty much about my little guy, I am reserving a little something just for her. I'm feeling so sentimental today.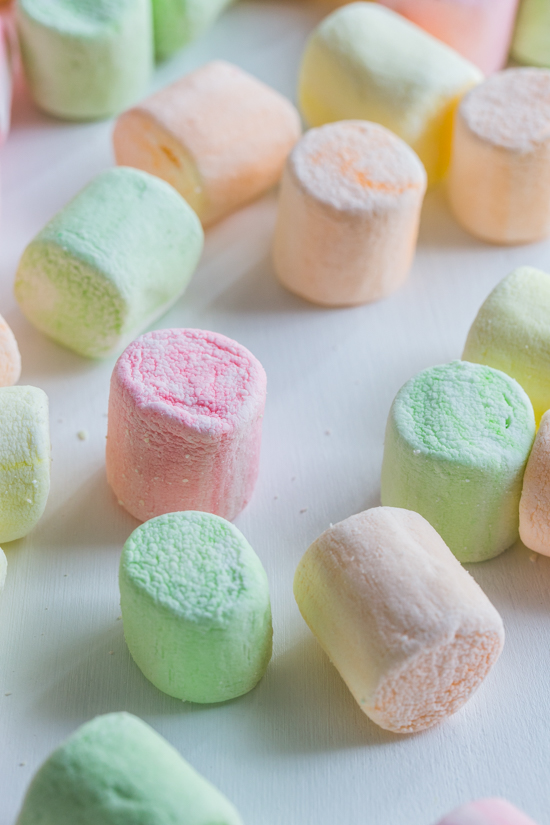 As you may remember from my Marshmallow Snack Mix post (with video!!), I'm partnering with Jamie from My Baking Addiction (check out her new Pumpkin Spice Marshmallow Treats – they are out of this world!) and Campfire® Marshmallows to bring you tons of great seasonal marshmallow recipes throughout the year.
We have a Marshmallow Madness Pinterest board going and it is stocked full of marshmallow awesomeness.
For more information about Campfire® Marshmallows, check them out on Pinterest and Facebook.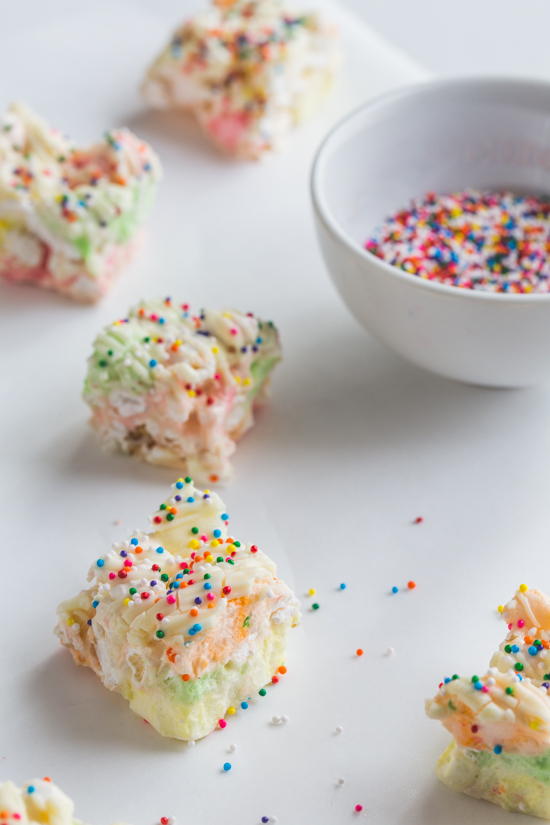 Happy Wednesday!
Fruity Marshmallow Popcorn Bars Recipe
Yield: 24 bars
Prep Time: 5 minutes
Cook Time: 10 minutes + cooling time
Total Time: 15 minutes + cooling time
Ingredients
1/4 cup unsalted butter
1 - 10.5 package Campfire® mini white marshmallows
8 cups air popped popcorn
1 - 8 ounce package Campfire® Fruit Swirlers, cut in half
1/2 cup white candy melting wafers
rainbow sprinkles for garnish
Directions
Grease a 9x13 inch glass pan with cooking spray and set aside.
Melt butter in a large heavy bottomed pot over medium heat. When butter is melted, add the mini white marshmallows and stir until completely melted. Remove from heat. Add popcorn and stir to coat. Allow mixture to cool slightly (2 minutes) and then stir in Campfire® Fruit Swirlers.
Spread mixture in prepared baking pan and chill until set.
Melt candy wafers according to package instructions. Drizzle melted candy over set marshmallow popcorn bars. Sprinkle with sprinkles and chill until candy is set. Cut and serve!
September 10th, 2014
Disclosure: This post is part of an ongoing partnership that I have with Campfire® Marshmallows. I was compensate for this post as a part of that partnership. All opinions are, as always, 100% my own.