ghirardelli small bites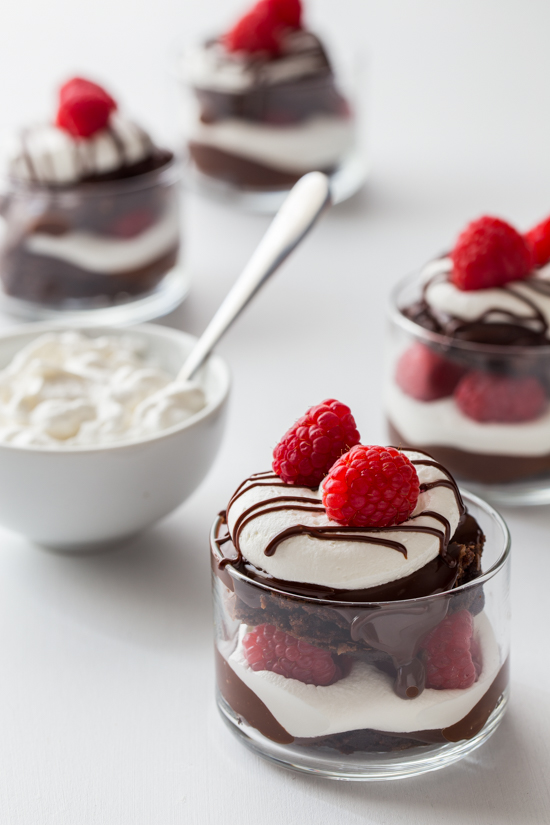 Remember a few weeks ago when I mentioned that I had several 'behind the scenes' projects going on in an attempt to explain why perhaps I haven't been as present here? Well, I want to share with you another one of the projects that has seemed to take up a bit of my time – in a fabulous, chocolatey way.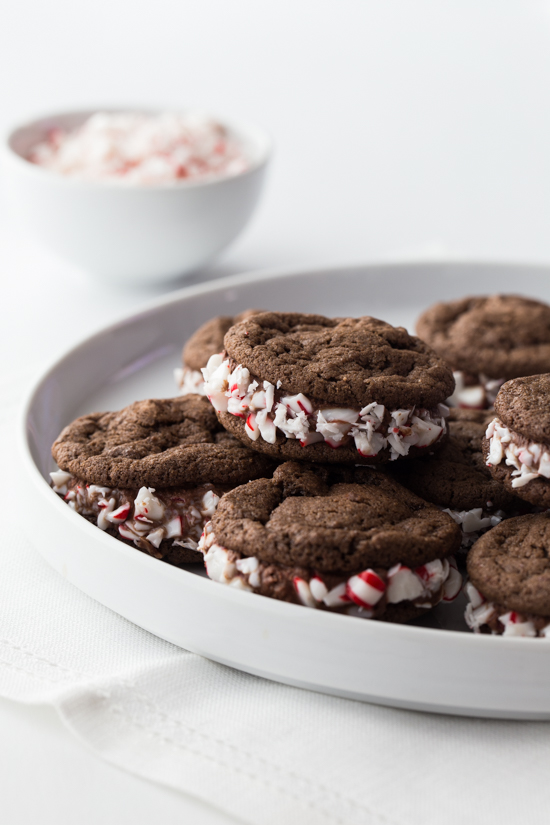 (Triple Chocolate-Peppermint Sandwich Cookies: recipe)
My friend Jamie, from My Baking Addiction, and I have been working with Ghirardelli for the last few months to develop some simple, holiday recipes for their Small Bites campaign. It's been a big project, developing, styling and photographing recipes for the Ghirardelli website, but the project isn't quite over. In fact, it will all wrap up with a live streaming event in NYC tomorrow.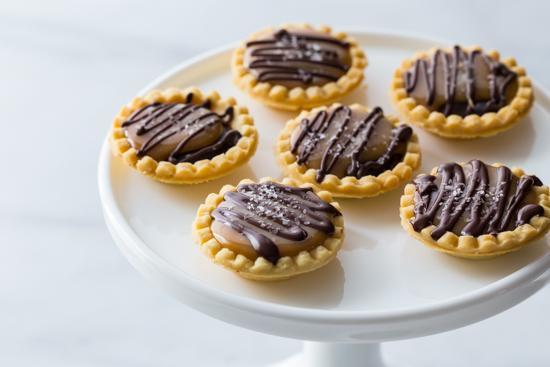 (Mini Salted Caramel Chocolate Pies: recipe)
Yes, a live stream event. As in, I will be on a video, along with Jamie and the extroidinairy Mary Nolan from Bon Appetit. The three of us will be cooking up a storm, sharing several of the recipes that Jamie and I developed, as well as a few of Ghirardelli's favorite recipes from their site.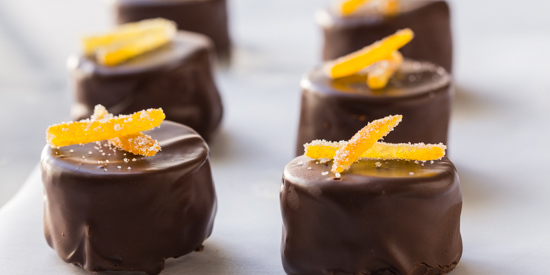 (Chocolate-Orange Brownie Bites: recipe)
Have I mentioned before how camera shy I am? As a girl who was always on stage crew and never on stage, this is pretty foreign territory. Needless to say, I'm a giant bundle of nerves. These recipes are all amazing though, so I'm hoping if I can focus on the deliciousness of all the chocolate, I'll avoiding tripping, dropping or spilling anything. please please please…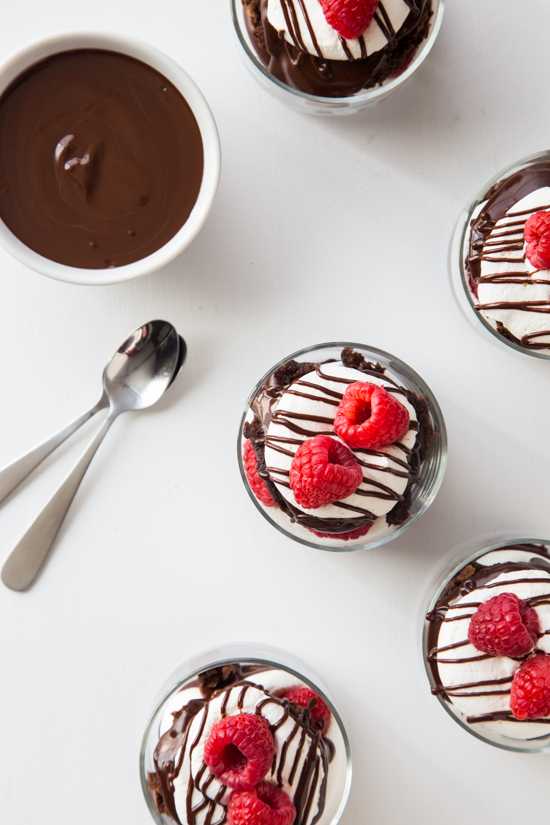 (Mini Chocolate Raspberry Brownie Trifles: recipe)
Luckily, we'll be surrounded by people who do this every day and are kind enough to take us under their wing. It should actually be a blast, as long as I can remember my own name.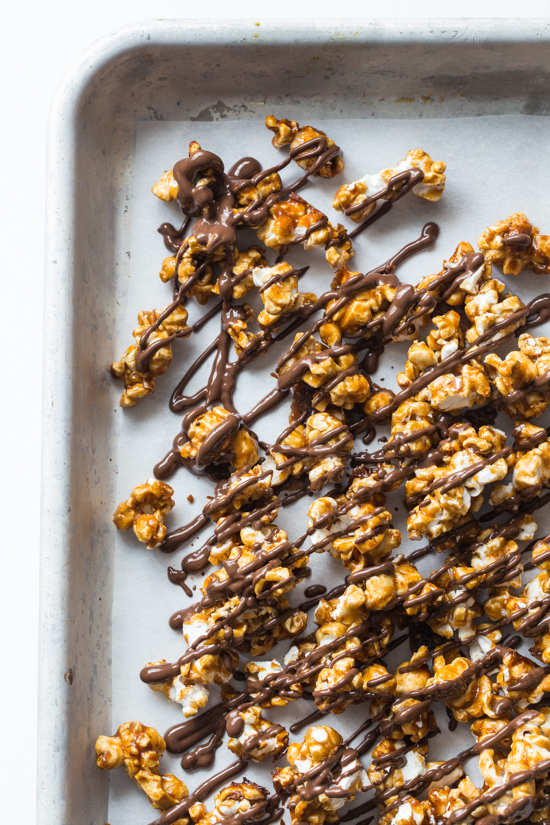 (Autumn Spiced Caramel Corn with Candy Drizzle: recipe)
So, if you're up for some entertainment tomorrow afternoon, not to mention some pretty serious, but simple and easy, chocolate recipes, be sure to stop by Bon Appetit's website and tune into the live stream event. You'll be able to find it here.  The program will run from 11:00 am – 2:00 ET tomorrow, November 15th and we'll be sharing 7 different recipes, some that are featured here and a few new ones.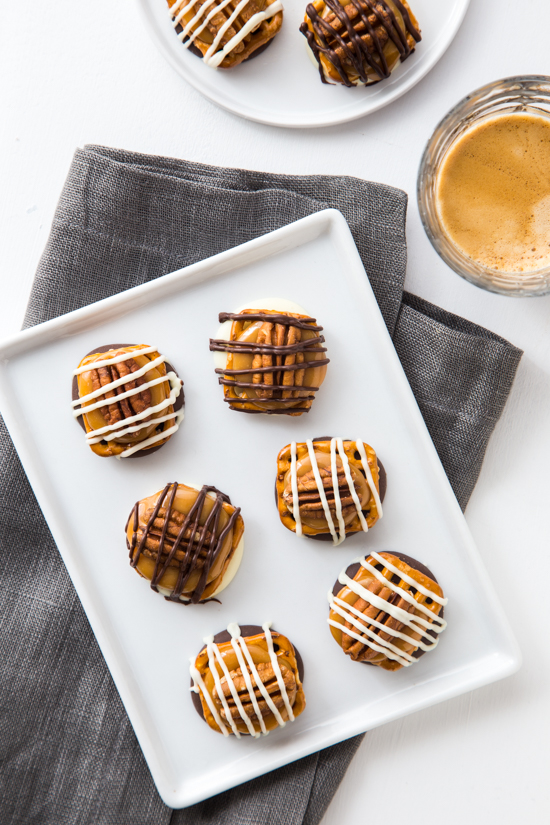 (Turtle Pretzel Candy Clusters: recipe)
All of the recipes in this post were developed and photographed by Jamie and I and can be found on the Ghirardelli Small Bites page. I've added direct links below each image so that you can find them easily. I hope you all have a wonderful weekend, and if you have a chance, be sure to tune in! Also we'll be answering questions from the audience so feel free to send in your baking questions on Twitter using the #ICanBake hashtag.
Hope to see you tomorrow!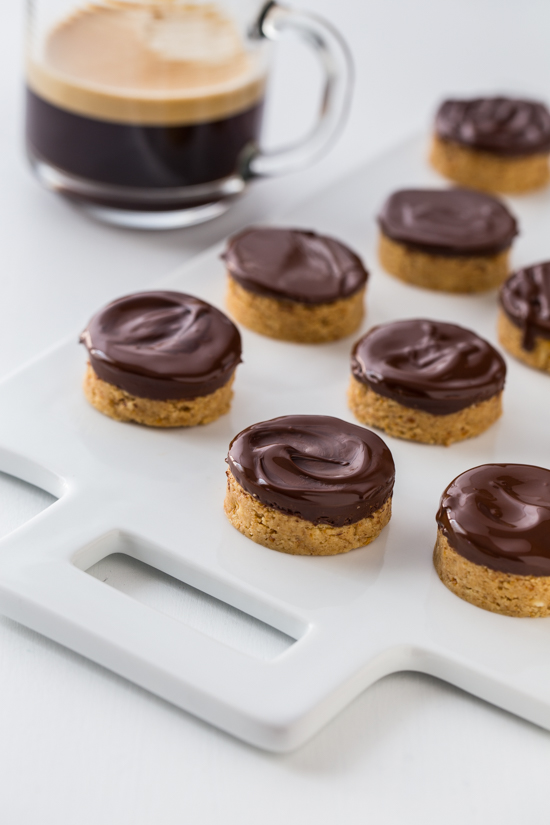 (Sweet and Salty No Bake Peanut Butter Bars: recipe)
Happy Friday!!
PS – I have a great cocktail in mind for next Friday, so stay tuned!