thanksgiving marshmallow roundup + a twitter party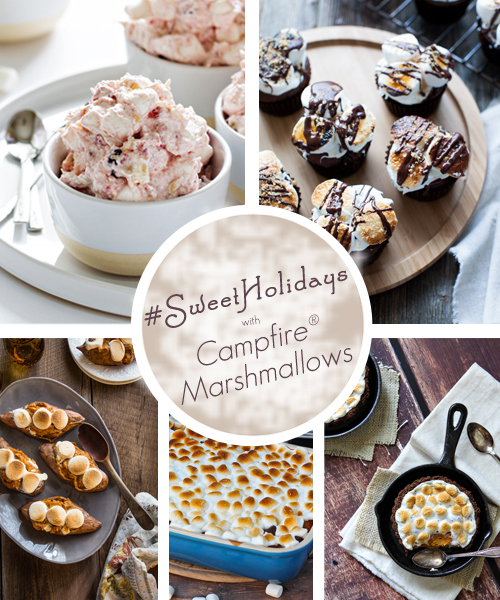 I am a proud Campfire® Marshmallows ambassador and this post is part of that partnership.
I'm going to let you in on a little secret: I'm boycotting stressful holiday cooking this year. So many years, I will get overwhelmed with recipes and what to make and how much to make and blah blah blah. Well, I'm calling an end to all that nonsense. For Thanksgiving (and all the holiday celebrations, really) I'm going to make what I want to make and just have fun. Because in the end, for as much as I love food, the conversation and closeness with my family is what sticks in my head. Not the fact that the mashed potatoes turned out a little too dry.
Not that they're ever too dry.
Anyway, my point is, I'm going to make time for conversation and fun. And with that desire to chat and visit, I want to invite you to join me at the #sweetholidays twitter party sponsored by Campfire® Marshmallows. I'll be there along with Jamie, Julie, Katie and Rachel chatting about our favorite holiday cooking and baking memories, food and stories.
That's not even the best part! Two participants will be picked to win $50 VISA gift cards and marshmallow prize packs curtesy of Campfire® Marshmallows. So be sure to stop over to Twitter tomorrow night November 19th ant 8pm ET, follow Campfire® and use the #sweetholidays hashtag to participate in the fun, and possibly win a prize!
In addition to the Twitter party tomorrow night, Campfire® Marshmallows is also hosting Sweet Holiday recipe contest where you can submit your favorite holiday recipe using Campfire® Marshmallows for a chance to win a $500 grand prize. Find out more information about the contest on the Campfire® Marshmallows Facebook page.
Also, be sure to check out these delightfully delicious marshmallow Thanksgiving recipes:
Cranberry Fluff from My Baking Addiction
Chocolate Pumpkin S'mores Cupcakes from The Little Kitchen
Mini Sweet Potato Tarts with Gingersnap Pecan Crust and Toasted Marshmallows from Good Life Eats
Sweet Potato Bread Pudding with Marshmallow Topping from Rachel Cooks
Twice Baked Sweet Potatoes from me 🙂
So, let's kick stressful cooking to the curb and enjoy some friendship and laid back food instead. Hope to see you tomorrow night!
Happy Tuesday!!