gift guide for cookbook collectors + a giveaway!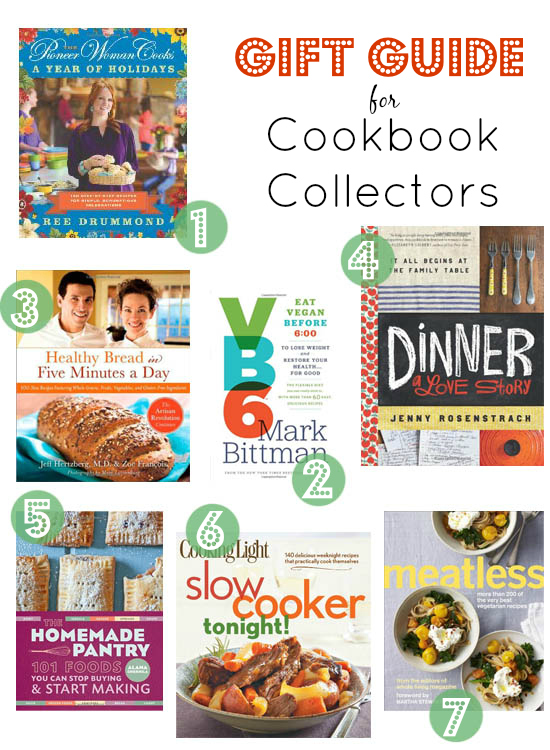 Welcome back to the week of gift guides and giveaways! Today, I'm sharing my Gift Guide for Cookbook Collectors, which includes all of my favorite cookbooks. Well, not all of them. If I were to dive into my cookbooks we'd be here all year. To narrow down my favorites, I settled on my favorite go-to cookbooks for any occasion – holidays, everyday, healthy, vegan, meatless, pantry stocking and bread baking (more Bread in 5! I told you I'm in love with this concept!). Any cookbook lover on your gift list would love adding any number of these books to their collection. 
1. The Pioneer Woman Cooks: A Year of Holidays by Ree Drummond – This is Ree's newest book and it's all about holidays! And not just the winter holidays. Ree covers every holiday (or pretty close) throughout the year with fun and easy recipe ideas that are true to Ree's accessible, delicious style.
2. VB6: Eat Vegan Before 6:00 by Mark Bittman – This book has really changed the way I think about food! While I'm not vegan, I have adapted many concepts that Mark talks about in the book. Eating more plant based foods will not only help your health, but also the environment. This is a great choice for anyone wanting to know more about the benefits of vegan eating, but still wants to maintain eating meat and animal products some of the time.
3. Healthy Bread in Five Minutes a Day by Jeff Hertzberg and Zoe Francois – Monday I shared The New Artisan Bread in Five Minutes a Day, and this book by the same authors provides an entire book full of bread recipes that are packed full of whole grains. My favorites (besides the master recipe) include the whole wheat brioche and the rye bread. Although, I love everything in this entire book!
4. Dinner: A Love Story by Jenny Rosenstrach – This book simply makes me happy! It's full of great stories of Jenny and her family, including her dinner journal where she has been writing down what she has eaten for dinner every night, for years on end. She has a very approachable cooking style and the book is full of everyday dinner ideas that are perfect for families.
5. The Homemade Pantry by Alana Chernilla – This is the book that convinced me I could make things like crackers and pop tarts. Alana has a sweet writing style and has tackled many pantry staples like granola, pancake mix as well as many others. There is something empowering knowing that you made items from scratch that you had only ever bought from the store previously. She also doesn't guilt you about not having everything homemade all the time, which I appreciate. Who has time for that all the time? I certainly don't, and I love hearing that Alana doesn't either. But her recipes are beautifully written and it's a great resource when you're looking for some homemade pantry goodies.
6. Cooking Light: Slow Cooker Tonight! – This is new to my collection and I am loving the variety of light recipes that can be made in my slow cooker! This time of year, my slow cooker is parked on my counter and I rely on it nights that we have to go to soccer or I'm on my way to YMCA for my Zumba class. Yes, I'm taking Zumba – if you've never tried it, it's ridiculously fun, and perfect for someone with no exercise attention span.
Anyway, I literally have the Pork Loin with Port Wine and Plums in my crockpot as we speak and it smells heavenly. The best part is I don't have to scramble at the end of the night when the Buddy is getting home and we're all trying to get homework and whatnot finished. Dinner is ready to go, which is  a lifesaver. Plus, again, it's Cooking Light which I totally need this time of year. I need to balance out the cookies, am I right?
7. Meatless by Martha Stewart Living – With the trend of Meatless Monday growing, this Meatless book from Martha Stewart Living is fabulous. It's full of simple, and approachable recipes that highlight meatless dishes that the entire family will love. Plus it's got the feel of Everyday Food which I still miss terribly…*sob*. Anyway, Meatless is great for any family!
The Giveaway is Closed – Congratulations, Julie!
Cookbook Collectors Giveaway!
For today's Cookbook Collectors Giveaway, I'm giving one lucky winner their choice of 1 cookbook from my Cookbook Collector's Gift Guide. That's right the winner gets to choose one of the cookbooks featured above! Winner's choice, is what I say 🙂
Simply enter a comment below (on this post) telling me what cookbook from the collection above that you would like to receive, and you will be entered to win! You have until 6:00 pm on Friday, December 13 to enter to win.
**DETAILS – PLEASE READ BEFORE ENTERING**
I will be drawing one winner to receive their choice of one cookbook from the Cookbook Collector's Giveaway. To enter, you must currently reside in the USA. If you have won a prize from Jelly Toast in the last 12 months, you are not eligible to win. Only one entry per person. To enter, leave a comment on this blog post telling me what cookbook you'd like to receive. When signing in to leave your entry comment, please be sure to enter in your current email address as that is how I will be contacting the winner. The prize will be shipped directly from Amazon.com.
This giveaway is not sponsored in any way shape or form. I am purchasing the prize directly with my own money and sending it to the winner. I am in no way associated any of these cookbooks or authors. I just really love them and wanted to share them with you!
You have until 6:00 pm EST on Friday, December 13, 2013 EST to enter your comment! Winner will be chosen at random and contacted via email. The winner will also be announced here tomorrow. 
Good Luck and Happy Thursday!!