Ginger Chicken Stir Fry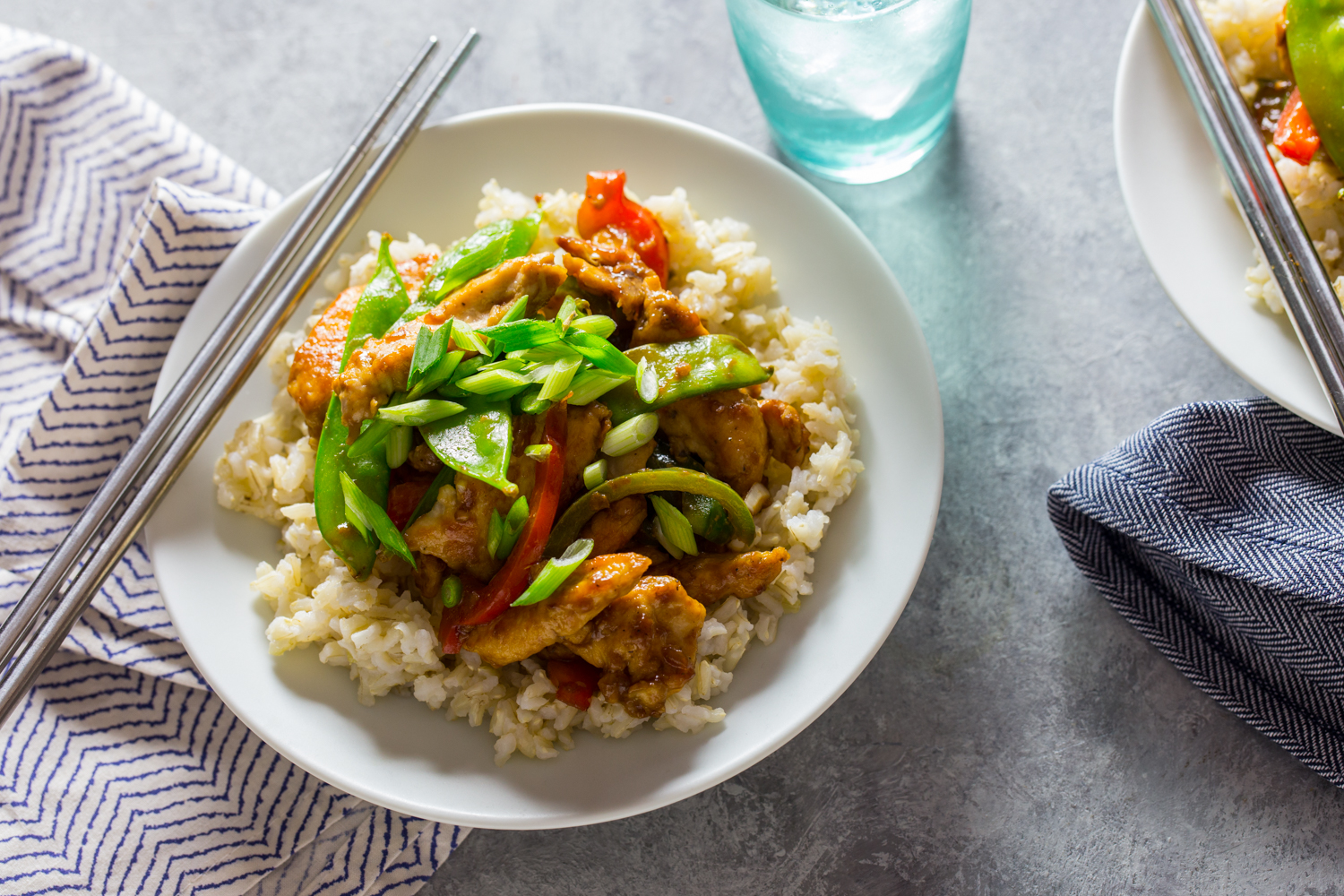 This post, Ginger Chicken Stir Fry, is sponsored on behalf of Kroger. All opinions are my own. Thank you for reading and supporting the brands that I love and that make Jelly Toast possible.
There are several things in life that I have a maximum thirty minute attention span for: working out, cleaning, and cooking dinner on a weeknight. My reasons are fairly obvious for the first two items on my list – I participate in these activities out of necessity only. The cooking is a little bit of a different story. I love cooking, but like anyone, some nights it's done out of pure necessity, and not for the joy of experimenting with flavors. There are nights that between homework, Kindergarten exhaustion, piano lessons, and attempting to keep everything together, dinner needs to be on the table and fast.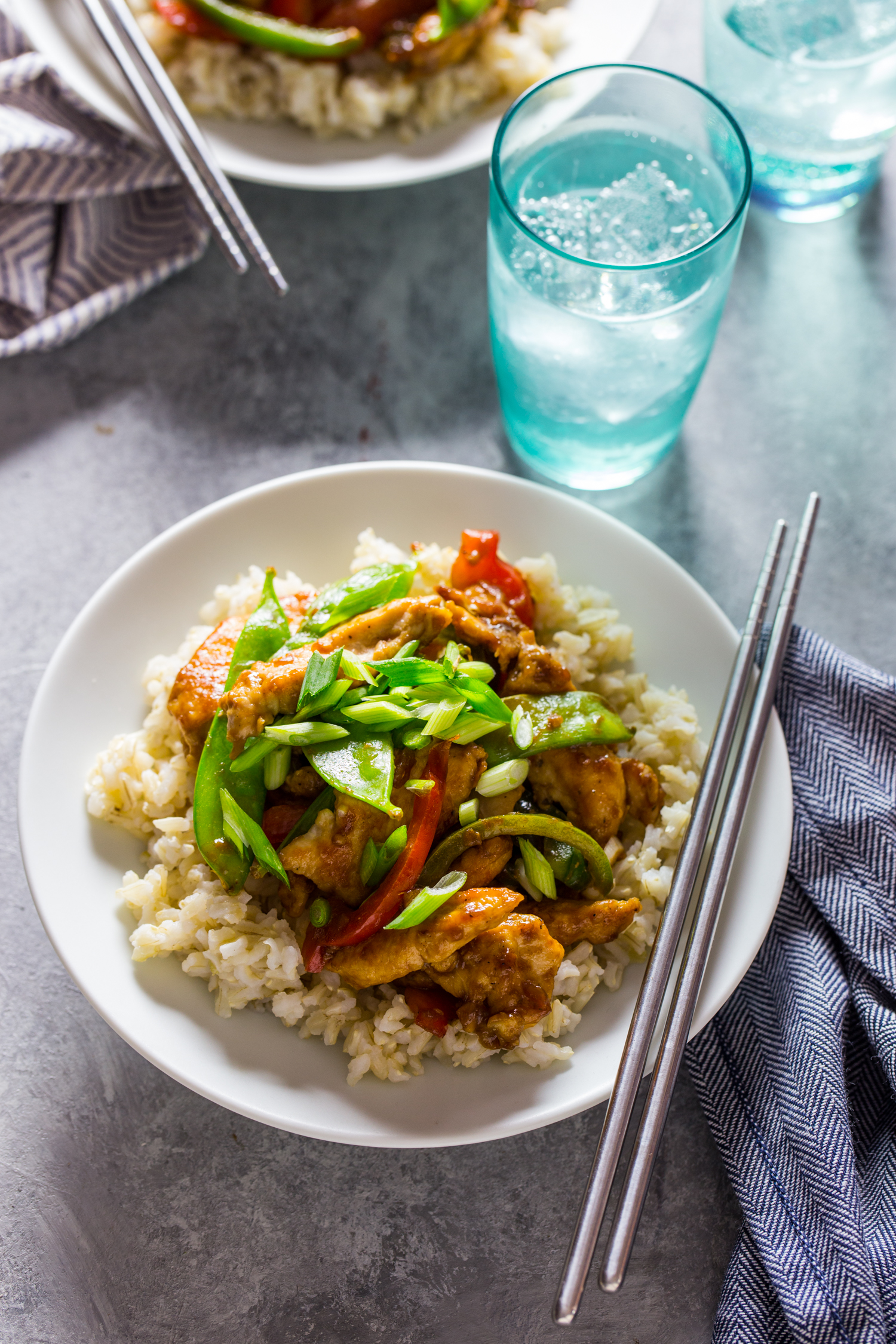 Luckily, I have several types of meals that are good go-to meals that are perfect for these quick nights, and that don't fall into the category of boxed mac and cheese. I usually have some sort of vegetables in the fridge that are appropriate for a stir fry, and often some chicken. Nights like this, I will throw together a stir fry in less than 30 minutes. It's simple, satisfying, and packed full of flavor. This Ginger Chicken Stir Fry is very simple, and with a few quick tips will have your family asking for more.
A good friend of mine recently taught me the trick of stirring corn starch into stir fry dishes to keep meet tender and juicy. I have made more than one stir fry in my life where the meat has turned out tough and rubbery, but that was before I adopted my friend's technique. To get silky, tender chicken all you have to do is season your thinly sliced chicken before coating it with corn starch. The corn starch seals in the juices of the chicken making it almost impossible to overcook.
This chicken, paired with quickly cooked bell pepper and snow peas, and a simple sauce full of soy sauce and fresh ginger, is one of my family's favorite stir fry dinners. Serve this Ginger Chicken Stir Fry with brown rice for a complete, and quick meal that will make any night of the week feel like a victory.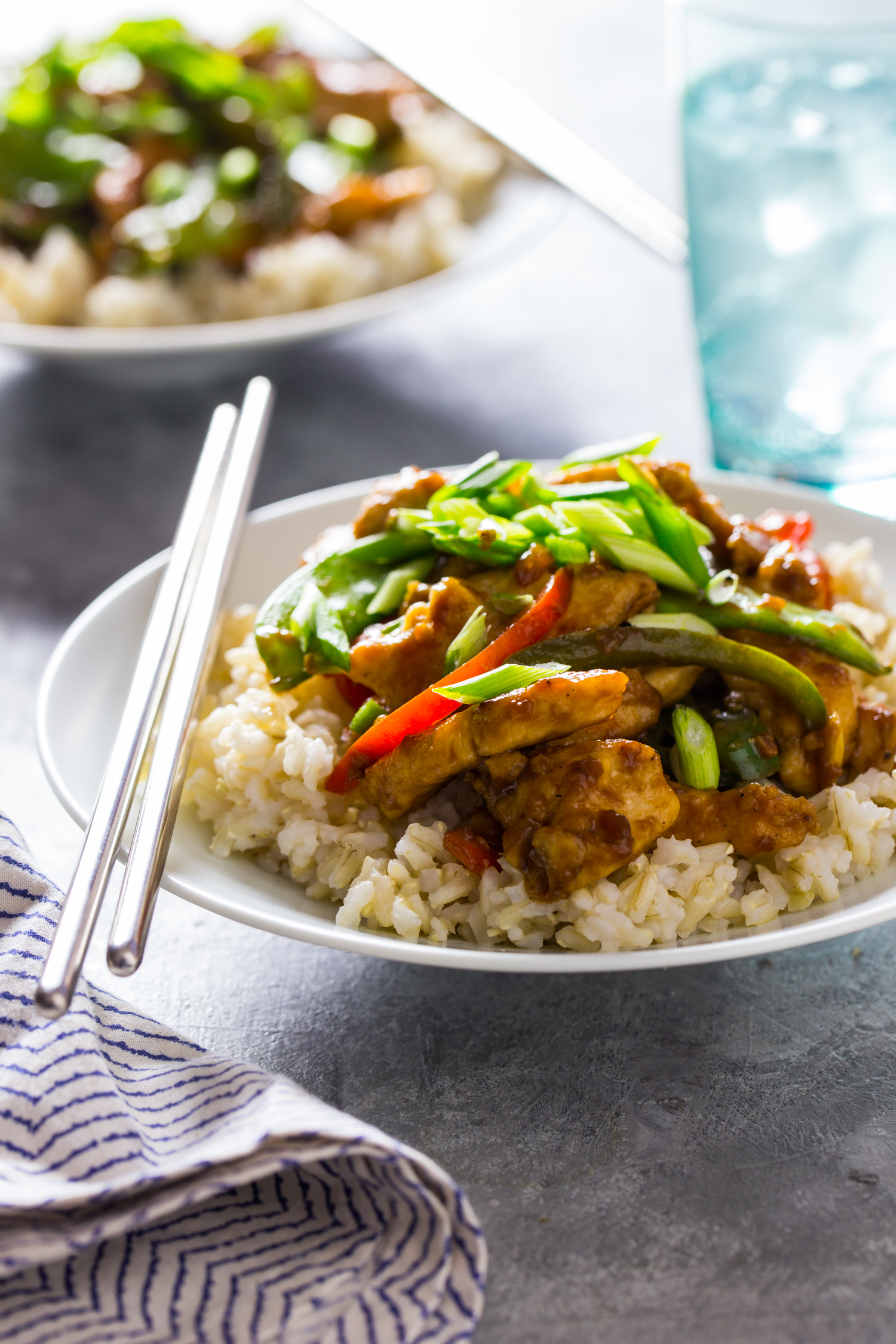 Happy Wednesday!
Ginger Chicken Stir Fry
Yield: 4 servings
Prep Time: 10 minutes
Cook Time: 20 minutes
Total Time: 30 minutes
Ingredients
1.3 lbs Simple Truth® Organic chicken breasts, cut into small strips
1/2 teaspoon kosher salt
1/4 teaspoon black pepper
1/2 teaspoon chicken broth powder (optional)
1 teaspoon low-sodium soy sauce
2 Tablespoons corn starch
1 Tablespoon vegetable oil
1 red bell pepper, thinly sliced
1 green bell pepper, thinly sliced
2 cups snow peas
Ginger Soy Sauce
1/4 cup low-sodium soy sauce
2 inch fresh ginger, minced
1 clove garlic, minced
2 Tablespoons water
1 teaspoon chicken broth powder (optional)
Juice from 1 small lime
Slurry
1/4 cup water
1 Tablespoon corn starch
Simple Truth® Organic Brown Rice, cooked, for serving
Directions
In a large bowl, stir together chicken, salt, pepper, broth mix (if using), and 1 tsp soy sauce. Add corn starch and stir until chicken is well coated; set aside. Whisk together Ginger Soy Sauce ingredients in a small bowl; set aside.
Heat vegetable oil in a large skillet over medium high heat. Add chicken and cook, stiring until chicken is browned and just cooked through, about 5-7 minutes. Remove from skillet. Add bell peppers and snow peas to the skillet and stir briefly. Add 2-3 tablespoons of water to the skillet and cover. All vegetables to steam until crisp tender, about 2 minutes. Remove lid and add chicken back to the skillet.
Pour Ginger Soy Sauce mixture into the skillet and stir into vegetables and chicken. In a small dish, whisk together corn starch and water to create a slurry. Pour into skillet and stir, cooking until mixture thickens. Remove stir fry from heat and serve with cooked brown rice. Enjoy!
This content was created in partnership with Kroger Family Stores using free products provided by Kroger.