Maple Blondie Crispy Treats & a Video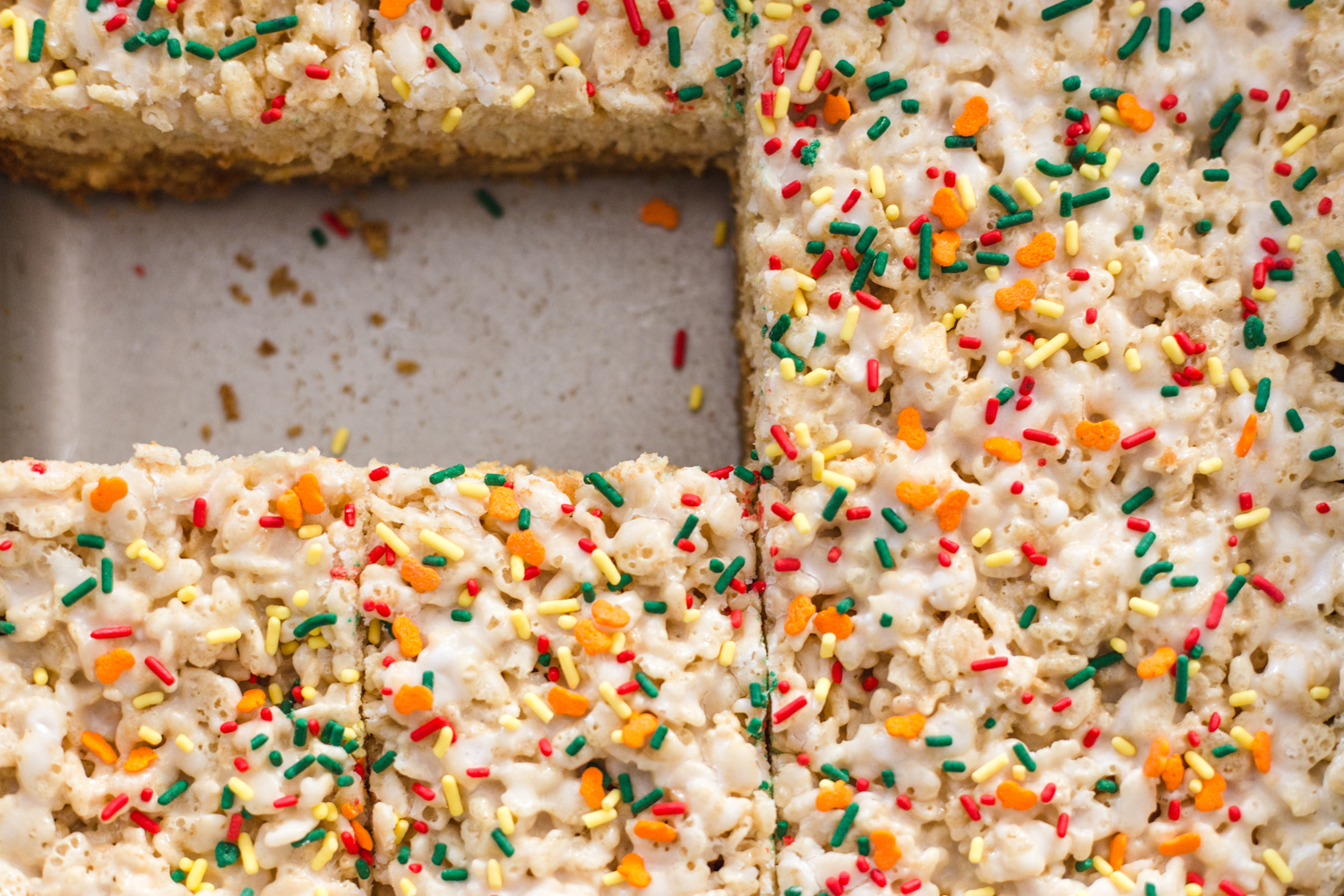 This post, Maple Blondie Crispy Treats, is sponsored on behalf of Campfire® Marshmallows. All opinions are, as always, my own.
If you are a regular here at Jelly Toast then you know that I have a soft spot for simple desserts. A treat that takes only pantry staples and a bowl or two to pull together. These are the kinds of desserts that can be made with no advanced planning. The kind of treat that you make when your kids ask to bake something together on a school night when time is tight but it's hard to say no to that little request.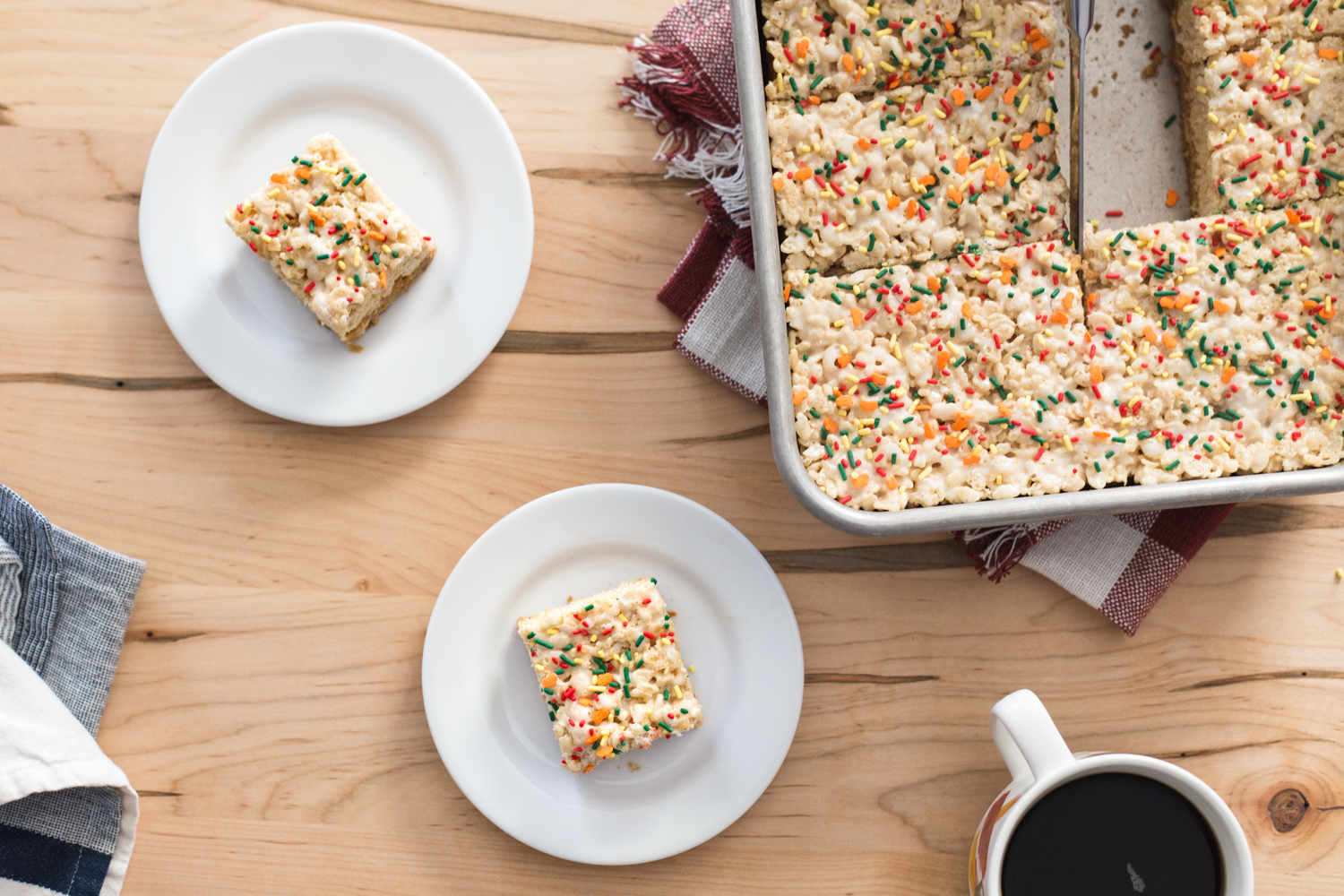 My Maple Blondie Crispy Treats check all of those boxes. The blondie layer takes only 1 bowl to mix together (and no mixer needed). While those bake, I washed up the bowl to use for the crispy treat layer. A few sprinkles on top hint to the fall nature of the Campfire® Maple Roasters.
Campfire®'s Maple Roasters are quite possibly my favorite seasonal marshmallow. They are the perfect size for roasting (hence the name) when sitting around a fire on a crisp fall night. But they are also perfect for melting and creating lovely, maple flavored treats like these Maple Blondie Crispy Treats.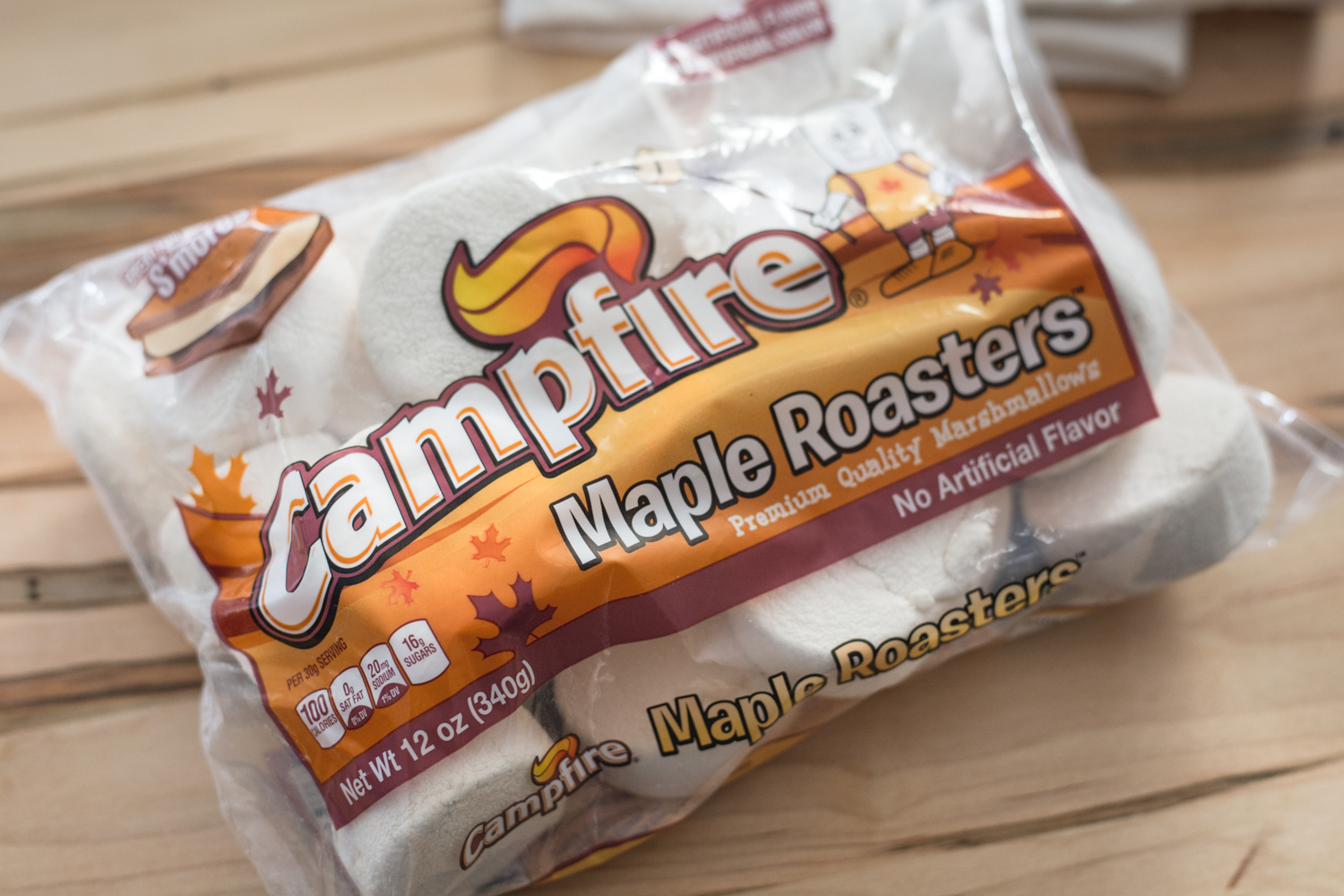 A couple of years ago, I shared a similar recipe with a brownie layer (Brownie Krispy Treats) and Campfire®'s HallowMallows. Those were such a hit with my kids, C took them in for a birthday treat that year for her class. Now, this year, she has requested another batch of these maple blondie crispy treats to take and share with her friends.
I love having a kid with an October birthday!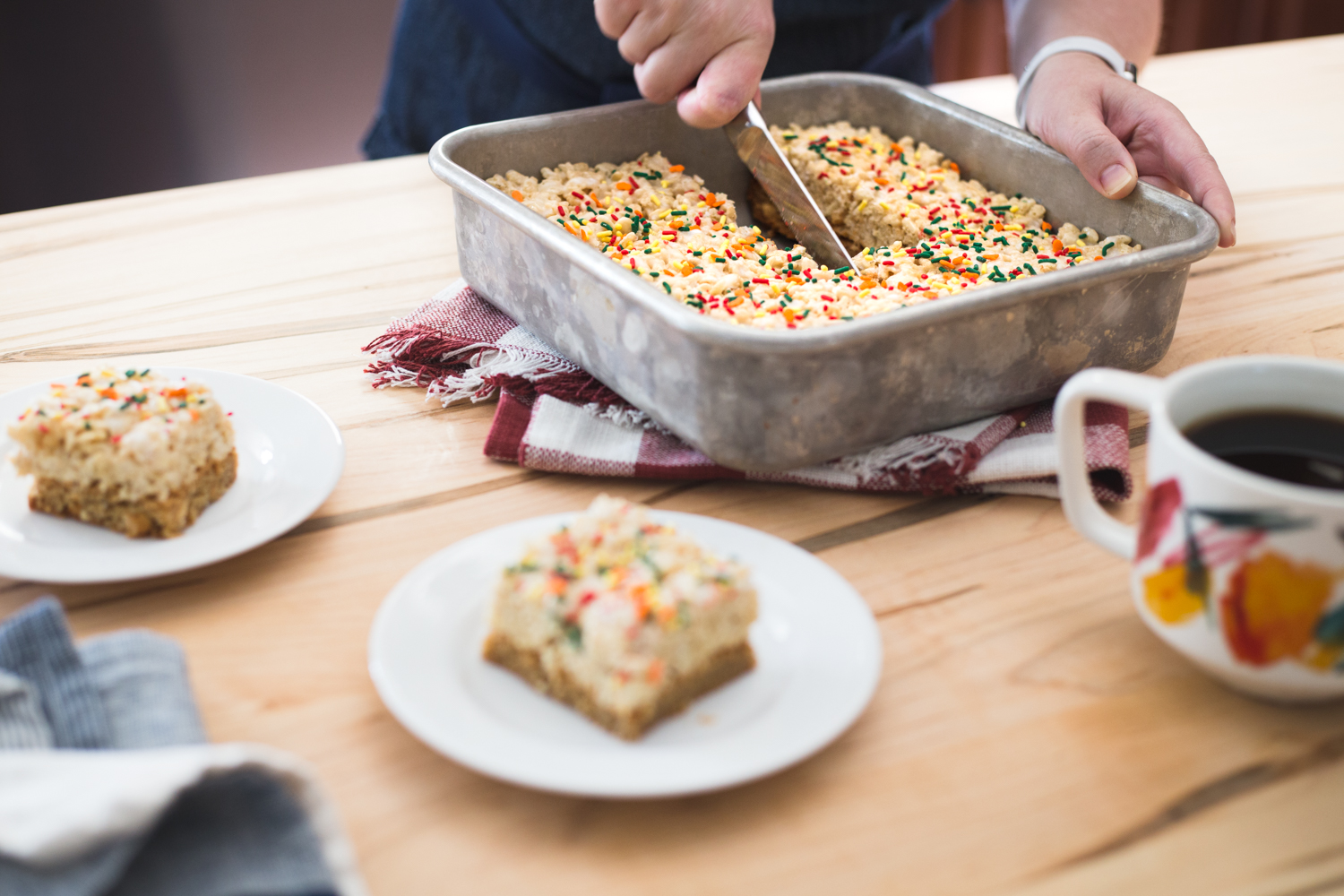 So, for nights that you are feeling like making a little something sweet or you want to spend a little time baking with your kiddos, give this recipe a try.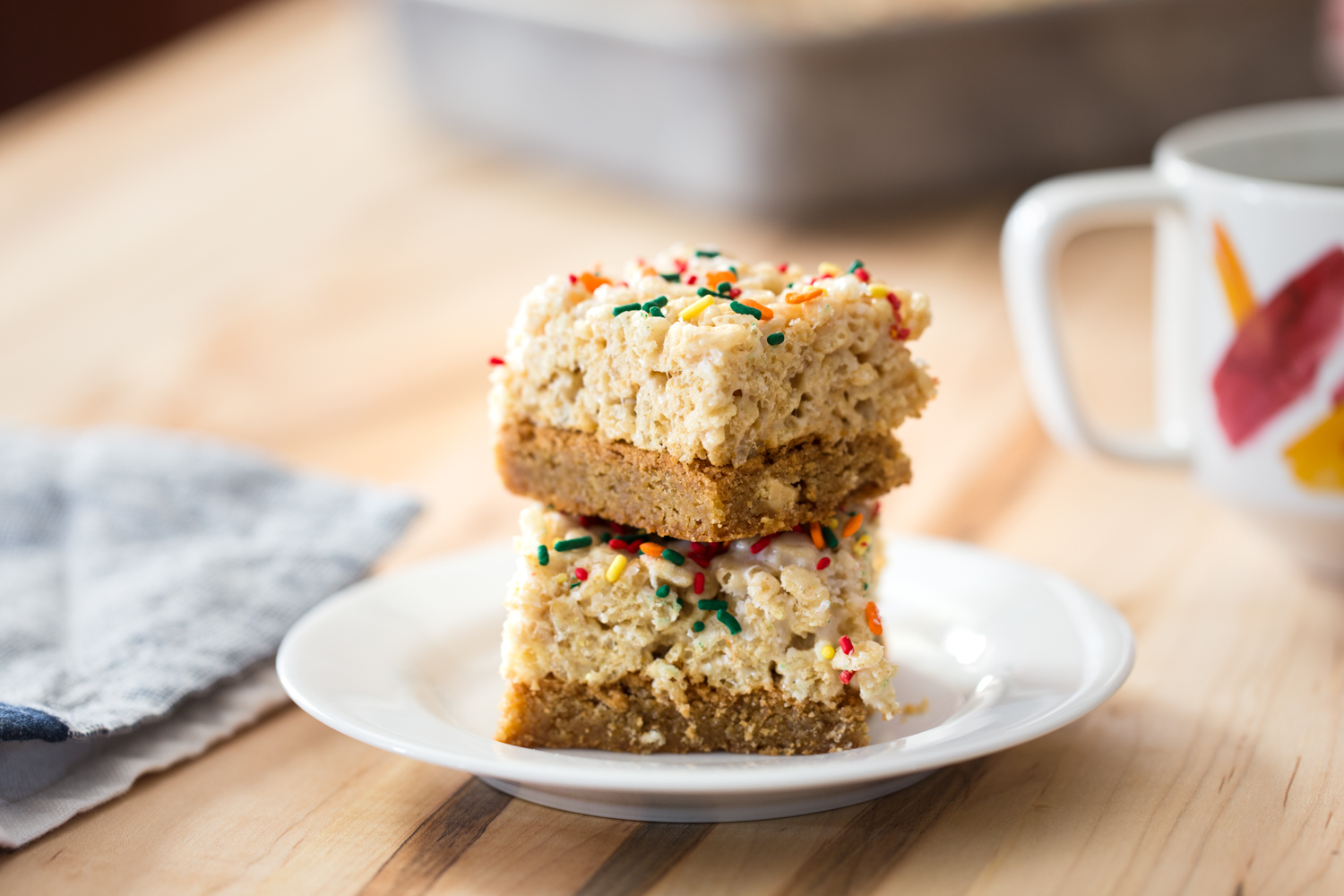 For more fall marshmallow recipes, be sure to visit our Marshmallow Madness Pinterest Page!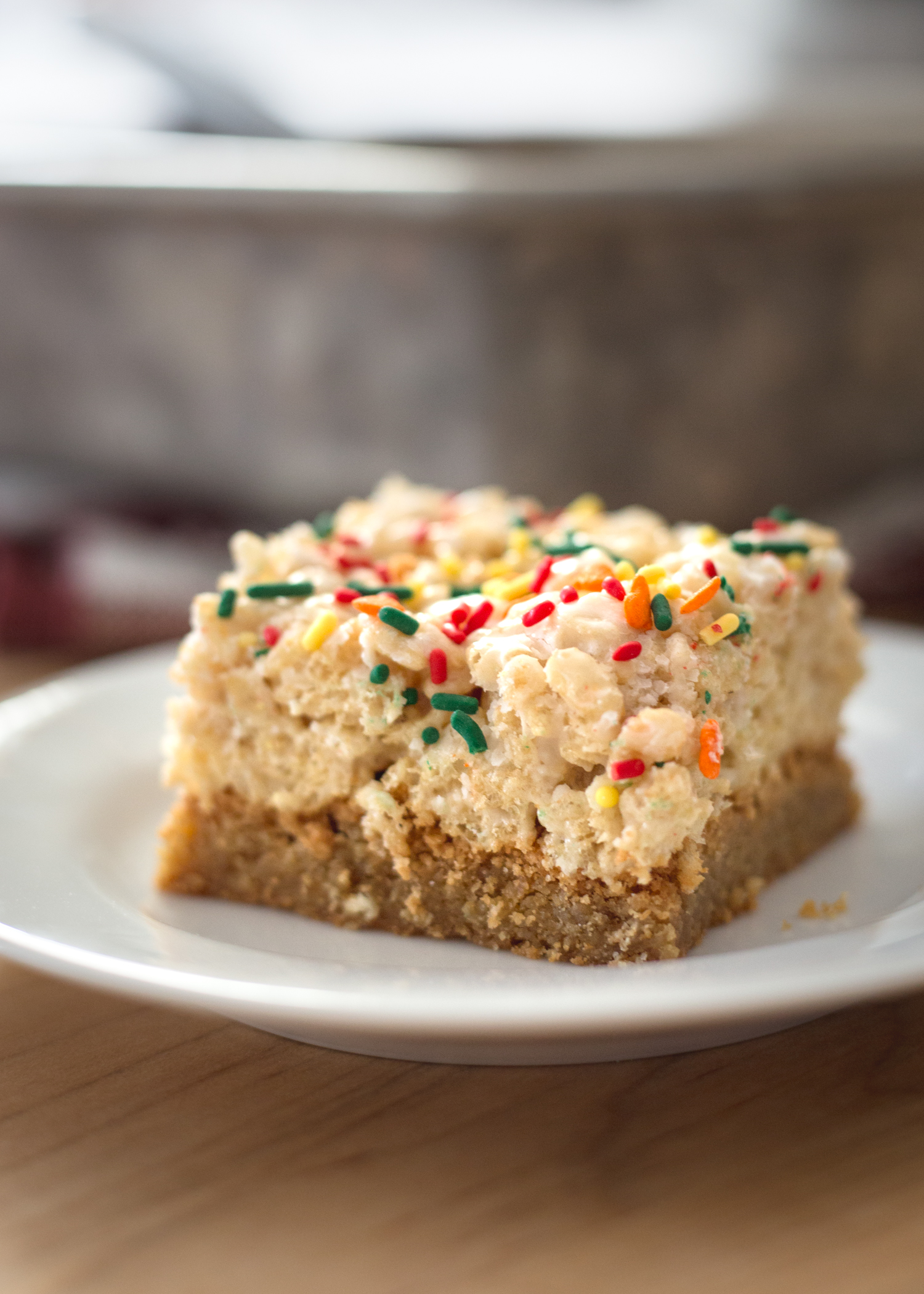 Happy Thursday, Friends!
Maple Blondie Crispy Treats
Yield: 12-16 servings
Prep Time: 15 minutes
Cook Time: 25 minutes
Total Time: 40 minutes
Ingredients
For the Blondies Layer
1 stick unsalted butter, melted
1 cup light brown sugar
1 egg, lightly beaten
1 teaspoon vanilla extract
1 cup all-purpose flour
1/2 teaspoon baking powder
1/8 teaspoon baking soda
pinch of salt
1/3 cup white chocolate chips
For the Crispy Treats Layer
1/2 bag Campfire® Maple Roasters
3 Tablespoons unsalted butter
4 cups crisp rice cereal
1/4 cup powdered sugar
1-2 teaspoons milk
seasonal sprinkles (optional)
Directions
Make Blondie Layer
Preheat oven to 350°F. Spray an 8x8 baking dish with non-stick baking spray (or spread with butter) and set aside.
Place butter in the bottom of a large microwave safe bowl. Microwave for 1-2 minutes or until melted. Add brown sugar, egg, and vanilla and whisk until smooth. Add in flour, baking powder, baking soda, and salt and stir to combine. Fold in white chocolate chips.
Spread blondie mixture into prepared baking dish and bake for 25-27 minutes or until a toothpick comes out clean. Allow to cool.
Make the Maple Crispy Treats Layer
Place Maple Roasters and butter in the bottom of a large microwave safe bowl. Microwave on high for 1 minute or until butter is melted and marshmallows are puffed. Stir until mixture is smooth. Fold in cereal until evenly coated in marshmallow. Spread over blondie layer and use damp fingertips to press smooth.
Mix together powdered sugar and milk (a little at a time) to make glaze. Drizzle glaze over crispy treats layer and sprinkle with seasonal sprinkles if desired.
Notes:
This is the blondie recipe I used, however, any batch of blondies will work as the base for these crispy treats.
Blondies recipe adapted from Simply Recipes.