Pecan Pie Cheesecake
This post is sponsored on behalf of the American Pecan Council. All opinions are, as always, my own.
What a delicious, pie-filled week this has been! I'm a little sad to see it come to an end. To wrap up this week of pecan pies (don't forget about the classic pecan pie and the bourbon bacon pecan pie) I bring you possibly the biggest twist on the classic yet: Pecan Pie Cheesecake.
If you are someone who is intimidated by making cheesecake, let me tell you that I'm right there with you. I used to be flat out scared to make a cheesecake. I would buy all of the ingredients, go to the effort of mixing and baking, only to end up with a dry cracked cheesecake.
Womp, womp.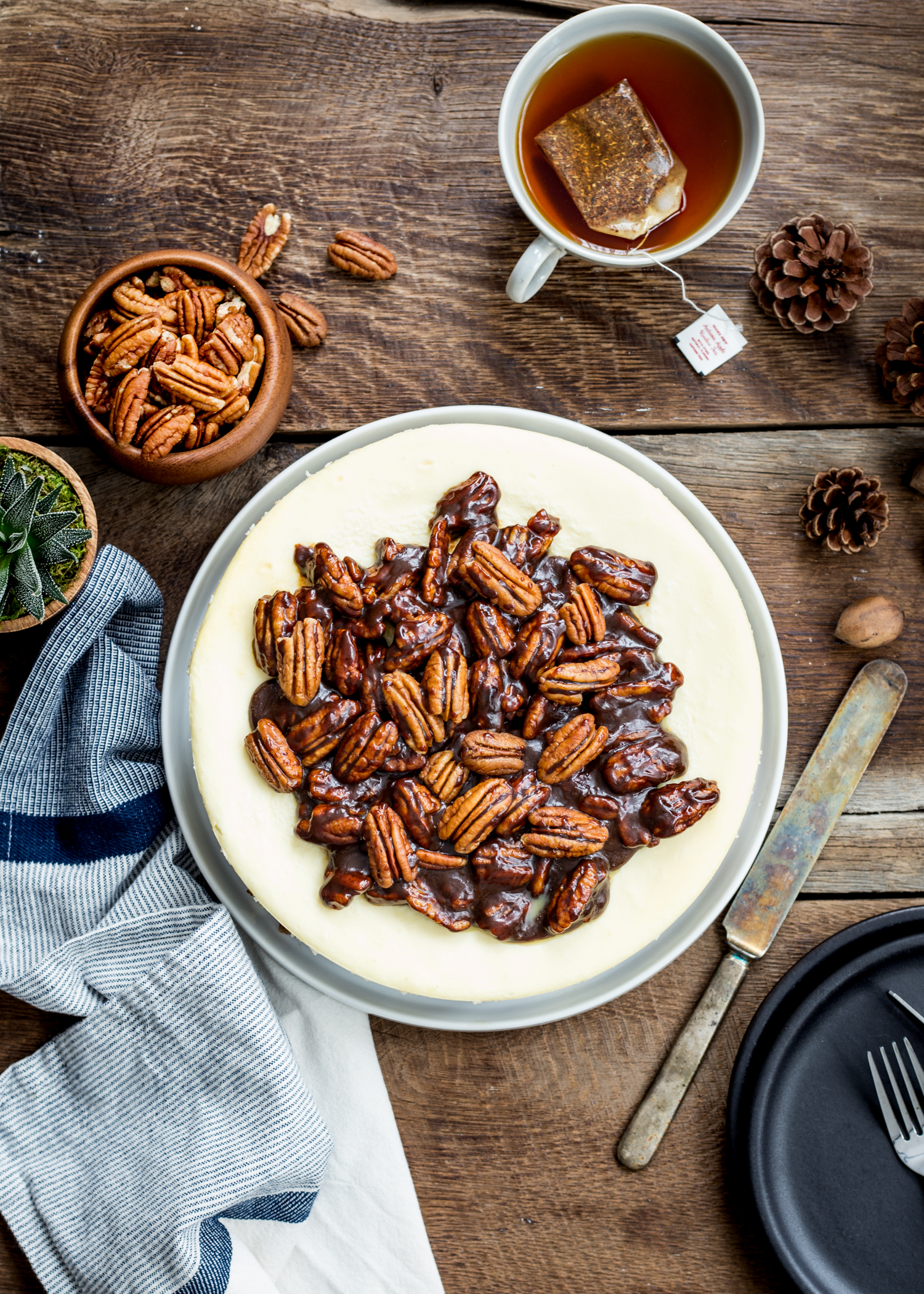 Well, thanks to my friend Jamie and her no-fail cheesecake baking method, all of that has changed. She showed me how to create a water bath (as seen in her pumpkin cheesecake) using a roasting pan, several layers of foil, and the secret weapon – a slow cooker liner, to create a moist environment for the cheesecake to bake but also ensure that no water seeps into the cake itself.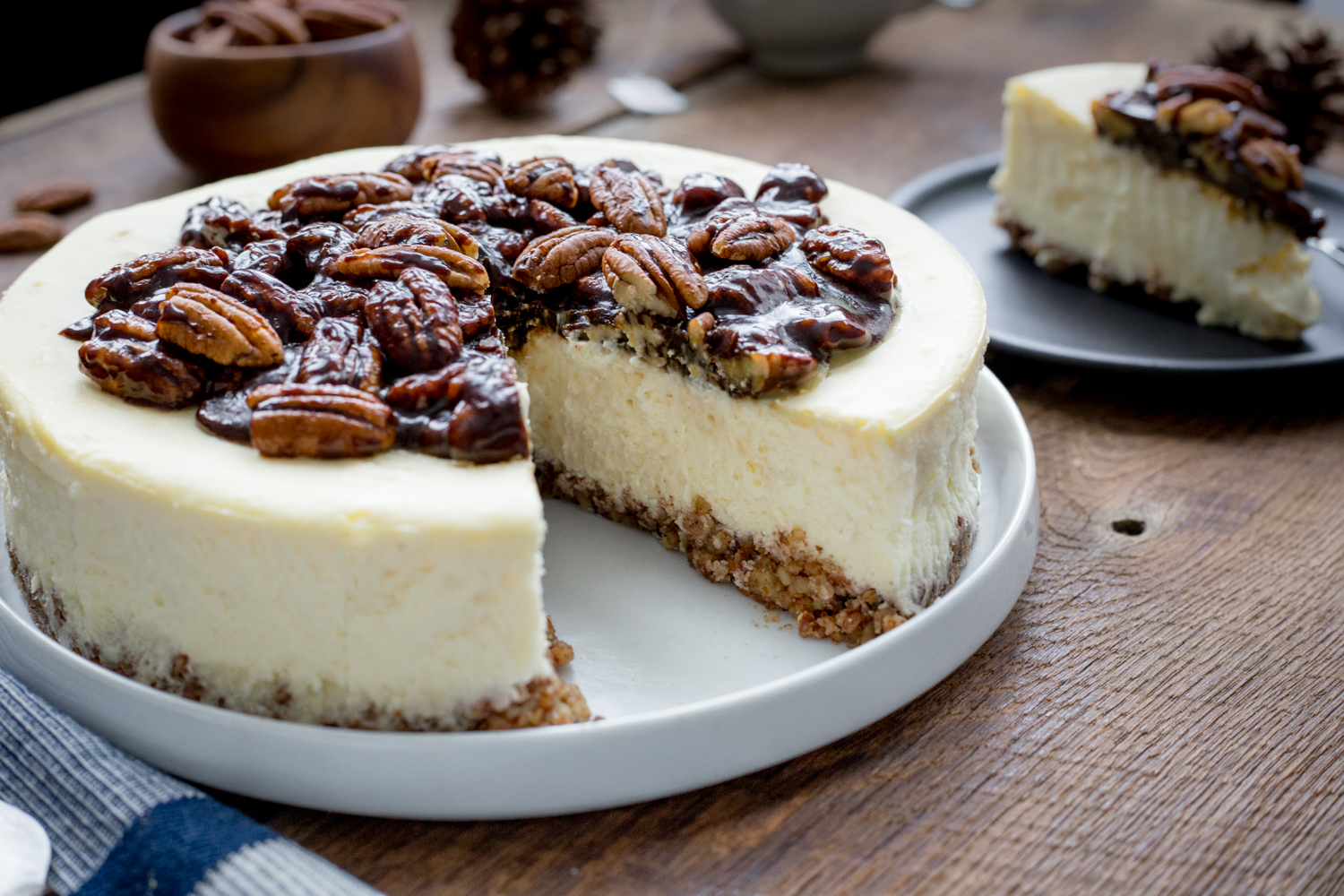 This cheesecake baking method can be used for any cheesecake recipe you have, including my pecan pie cheesecake. This pecan pie cheesecake is a twist on the classic and has double the pecans – which also means double the pecan nutrients. It's nice to know at least one of these delicious ingredients is nutrient dense – a handful of pecans – about 19 halves – is a good source of fiber, thiamin, and zinc, and an excellent source of copper and manganese – a mineral that's essential for metabolism and bone health. Pecans also contain heart-healthy unsaturated fats and protein.
The crust is made from finely chopped pecan pieces. The sweet taste and buttery texture of the pecans makes an incredible crust for these cheesecake. The filling of the cheesecake is pretty classic and made with cream cheese and a little sour cream.
Topped off with a caramel-y pecan topping, you will be the hit of your Thanksgiving dinner if you show up with this beauty.
Now tell me, what is your favorite version of pecan pie?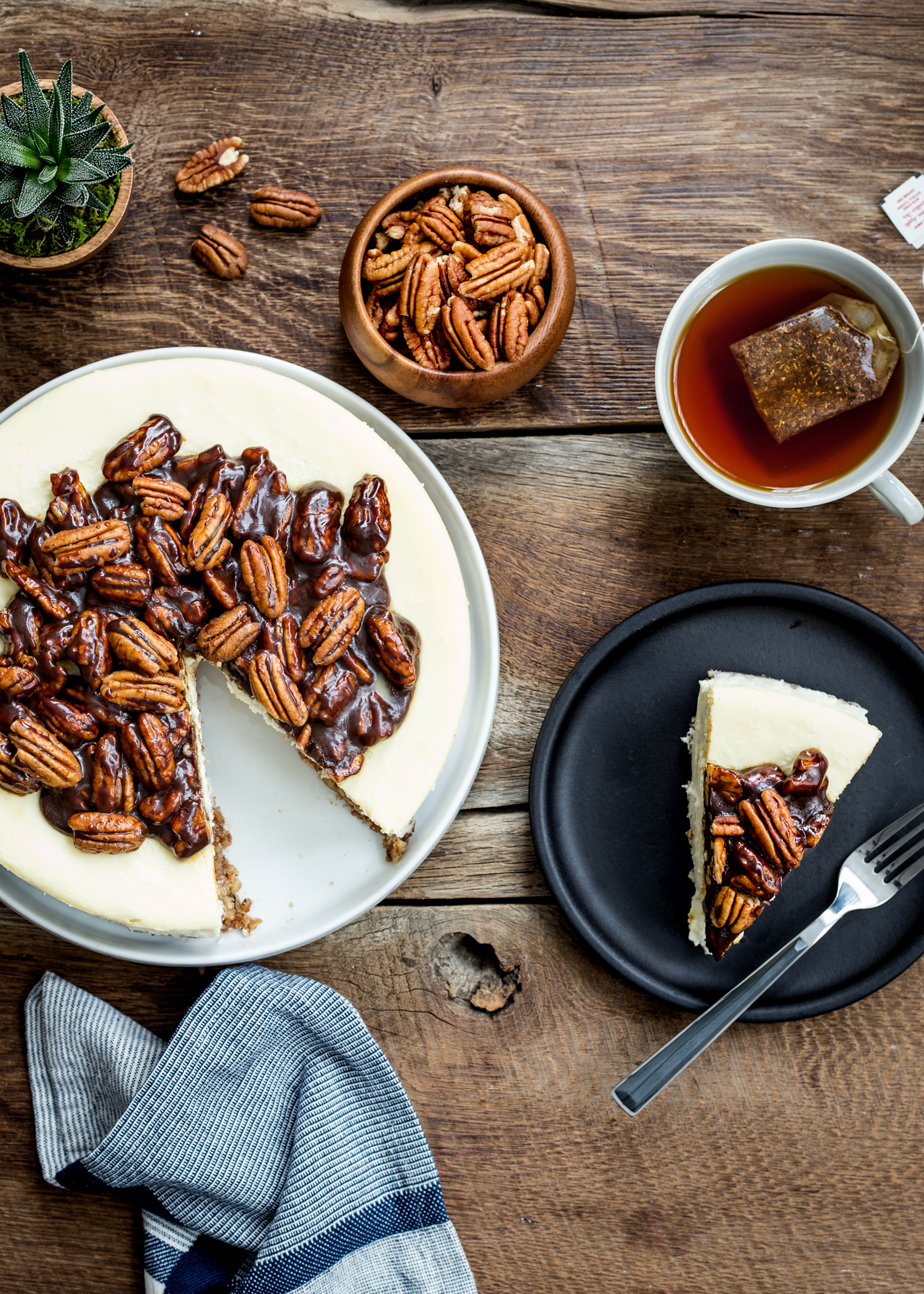 Happy Friday!
Pecan Pie Cheesecake Recipe
Yield: 10-12 servings
Prep Time: 20 minutes
Cook Time: 2 hours
Total Time: 2 hours 20 minutes
Ingredients
For the Crust:
2 cups pecan pieces
1 Tablespoon granulated sugar
4 Tablespoons unsalted butter, melted
For the Filling:
4 - 8 oz packages of cream cheese, room temperature
1 cup granulated sugar
1/3 cup sour cream, room temperature
4 large eggs, room temperature
2 teaspoons vanilla extract
For the Topping:
4 Tablespoons unsalted butter
1/3 cup light brown sugar
1/2 teaspoon ground cinnamon
pinch of salt
1 cup pecan halves
Directions
Preheat oven to 350°F. Line the bottom of a 9-inch springform pan with foil and place ring onto bottom and secure the latch. Spray the inside of the pan and foil lined bottom with non-stick baking spray. Wrap outside of the bottom and sides of pan with two more layers of foil. This is to help ensure water does not seep into cheesecake during baking. Set aside.
Place pecan pieces, sugar, and melted butter into the bowl of a food processor. Process in pulses until pecan pieces are very small pieces and mixture is evenly moistened. Be careful to not over process which can turn the pecans into pecan butter.
Press pecan mixture evenly along the bottom of the pan using your fingers or the bottom of a measuring cup. Bake crust for about 10 minutes or until set. Remove pan from oven and allow to cool.
In the bowl of a stand mixer, beat cream cheese for several minutes until light and fluffy. Add sugar and beat for an additional 2-3 minutes until full creamed together. Add eggs, sour cream, and vanilla extract and beat on medium speed, stopping to scrape down the sides several times, until the cream cheese mixture is smooth, creamy, with no lumps.
Bring a kettle of water to boil and have ready. Take slow cooker lining bag and place it in a large roasting pan, open side up. Place spring-form pan with par-baked crust down into the slow cooker liner, keeping liner open at the top. Carefully pour cheesecake filling on top of crust. Place roasting pan on the oven rack and pour boiling water into roasting pan on the outside of the slow cooker liner. Close oven door and bake for 60 minutes.
Turn off oven and crack oven door, leaving the cheesecake in turned off oven for an additional 60 minutes.
Remove cheesecake from oven and allow to cool completely on a wire rack. Refrigerate cheesecake overnight.
Make Topping:
In a small sauce pan, mix together butter, brown sugar, cinnamon, and salt. Place over medium low heat and stir constantly until sugar is melted into the butter. Allow mixture to bubble for about 1 - 1 1/2 minutes. Remove from heat and fold in pecan halves.
Allow mixture to cool slightly before pouring over the top of cheesecake. Allow topping to set slightly before slicing and serving.
Store cheesecake tightly wrapped in the refrigerator for up to 5 days.