moroccan fish skewers with barramundi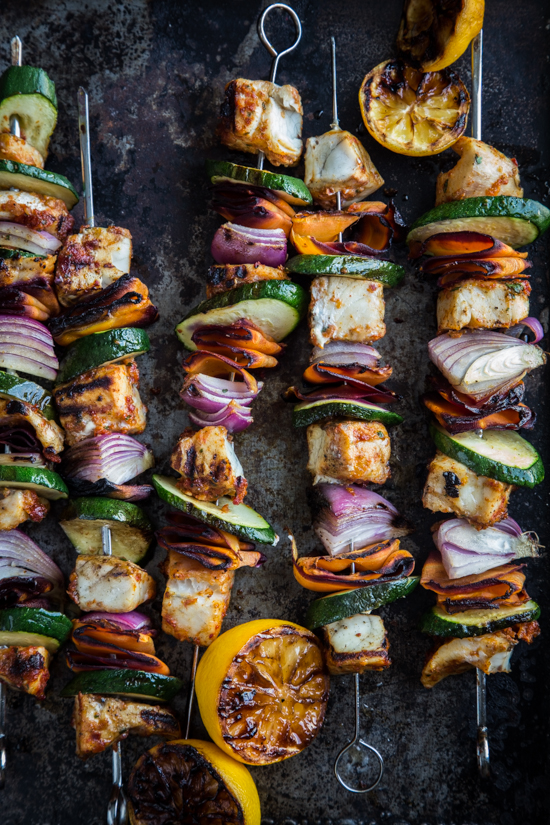 Moroccan Fish Skewers with barramundi are flavorful, spiced and incredibly delicious! Serve these skewers over a bed of couscous with a dollop of mint yogurt sauce for dipping.
It's Spring – or so the calendar says – and while we've still been receiving occasional dustings of snow and mornings with temperatures in the low teens, my seasonal urge to grill is here. And it will be here until the pumpkins ripen on the vines.
I love grilling and am always looking for something a little different to grill up. Last week, when the urge to throw on my parka and dust off the old grill hit me, I turned to my new favorite fish, barramundi, for some inspiration.
Barramundi is high in Omega-3 and is a fantastic, sustainable seafood option. The meatiness of barramundi and it's firm, white flesh stand up to any flavors you throw at it. So far, I have kept the flavors light and fresh with my barramundi en papillote and crispy skinned barramundi recipes, but this time I wanted to put it to the test. I wanted to surround barramundi with strong, spicy flavors and see how it held up.
I was not disappointed. Not. At. All. 
The idea for my Moroccan Fish Skewers came from a restaurant that I went to over the holidays with my family. The restaurant is a favorite of my sister-in-law's and her family and it truly was fantastic. The walls of the dining room were surrounded with upholstered benches and each small round table had several low ottomans around it for additional seating. The kids got a kick out of the atmosphere, and I absolutely adored the food.
We ordered an incredible eggplant salad and when it came, it was nothing like I expected. First, it did not resemble any type of salad I had ever seen, and looked more like a plate full of stewed tomatoes and spices. The eggplant wasn't immediately evident and I wasn't even sure how exactly to start eating it. So, we just picked up some pita bread and dug in.
Oh, my. That was a combination of flavors that I won't soon forget. It was spicy, but not too hot with a hint of sweetness that I absolutely couldn't stop eating. While I was having a hard time placing the main flavor, it was my niece who pinpointed the sun dried tomatoes. It was a thick, rich sauce full of sweet, sun dried tomatoes and Moroccan spices. It was these flavors that I wanted to capture in my Moroccan Fish Skewers.
For this recipe, I marinated the barramundi in a Moroccan-spiced sun dried tomato sauce and paired it with zucchini, onion and thin ribbons of carrot for a unique take on grilled fish skewers. A quick mint yogurt sauce made for a cool, refreshing dip for these spiced skewers.
These Moroccan Fish Skewers were a hit with the entire family and I will be making them again very soon!
Hopefully next time, I can leave my parka inside.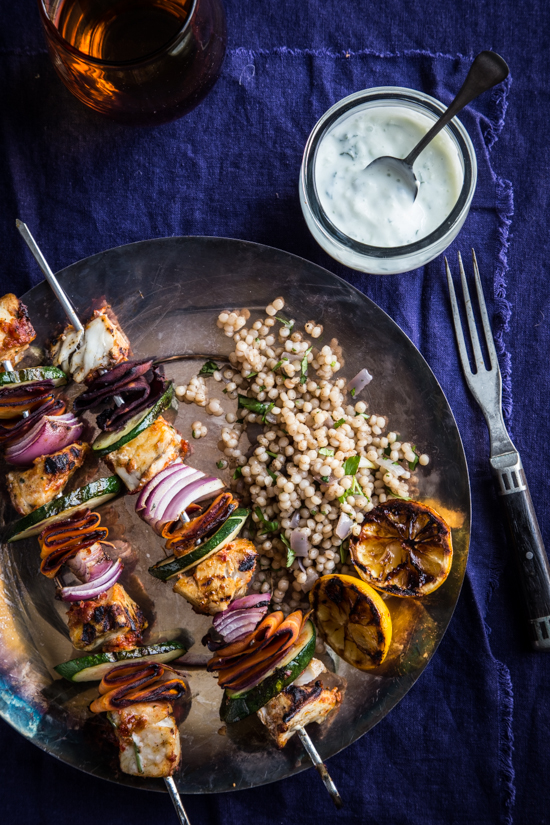 Happy Wednesday!
[cft format=0]
Disclosure: This is a sponsored post via NoshOn.It Publishing Partners Program by a leading Barramundi producer. All opinions are, as always, 100% my own.