rotini with roasted vegetables and olives + a giveaway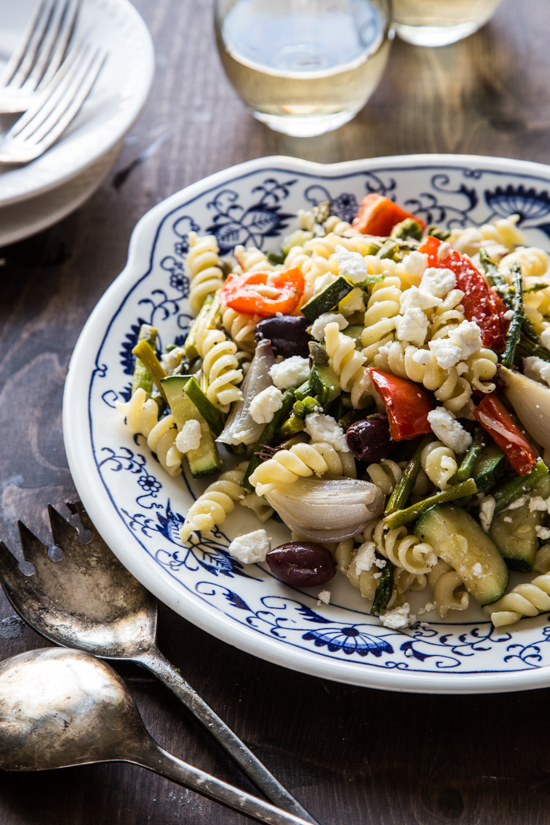 Meatless, hearty and flavor-packed, this Rotini with Roasted Vegetables and Olives is simple enough for any night of the week. 
For the last few weeks and from what I can surmise, the next several weeks to come, I am seeking out transitional recipes. Recipes that take my family from Winter to Spring and that offer comfort in these early, crisp days of Spring but that shed the heaviness and richness of traditional Winter fare. Recipes that bridge the gap between Winter and Spring and leave us feeling satisfied and content.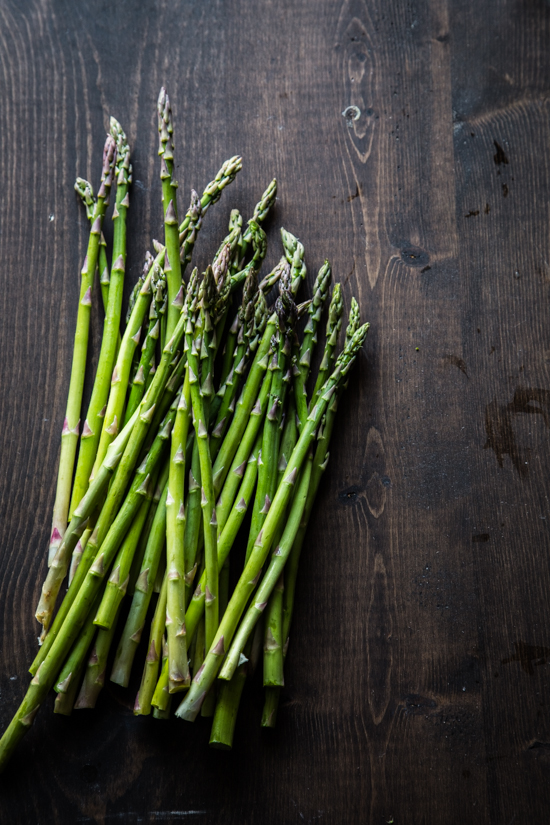 Pasta is a food that is so often connected with the idea of heavy comfort food, but simple changes can take it from feeling weighty to feeling light and healthy. Especially when you add a mountain of colorful, roasted Spring vegetables and use a healthy, fiber rich pasta like Dreamfields. The combination is intensely satisfying while leaving you feeling revitalized after a Winter of decadent food.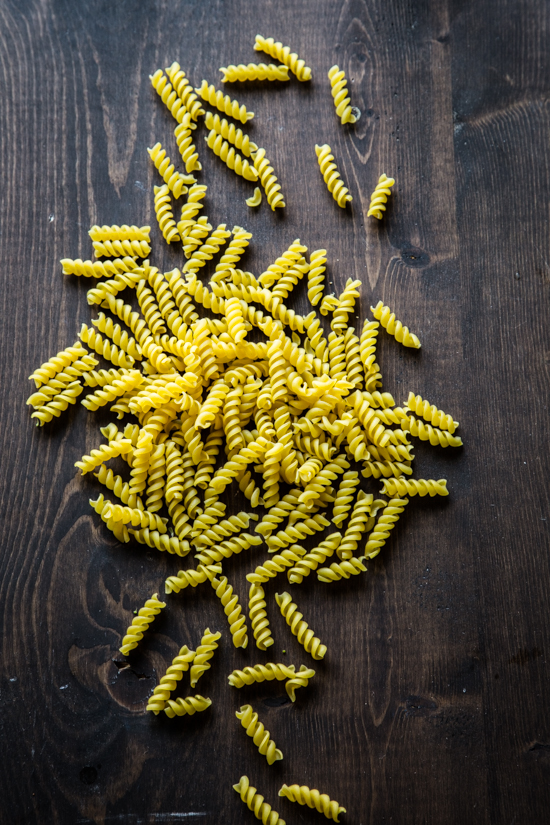 I was first introduced to Dreamfields back in November when I attended the Mixed conference. Dreamfields hosted a delectable pasta bar lunch that proved to be my favorite meal of the conference. Although, I'm a fan of most pasta, I felt delighted by the fact that this plate full of pasta was also full of fiber, something that I have come to realize is essential to maintaining a healthy weight and overall good feeling.
I may have helped myself to seconds.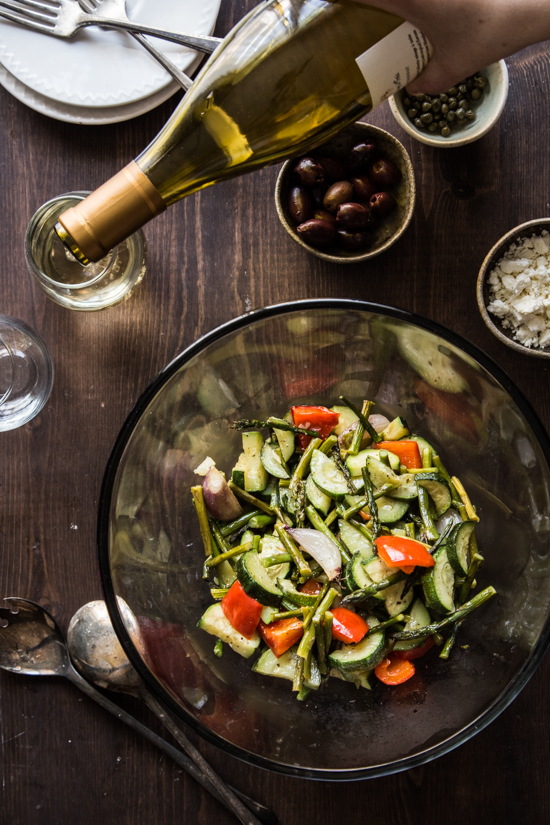 For this Rotini with Roasted Vegetables and Olives, I wanted to take some of my favorite Spring vegetables and roast them to bring out their sweetness. The asparagus, bell pepper, zucchini and shallots become beautifully golden and their flavors intensify during the roasting process.
These roasted vegetables get tossed with Dreamfields rotini pasta, briny olives and capers then finished off with a sprinkling of tangy feta cheese and bright lemon zest. This recipe is a perfect, meatless meal for these early days of Spring. Perhaps when the days grow longer and the temperatures spike, I will create a chilled salad version of this recipe that would be perfect for a Summer time picnic. But for now, these roasted vegetables make this a foolproof, transitional recipe.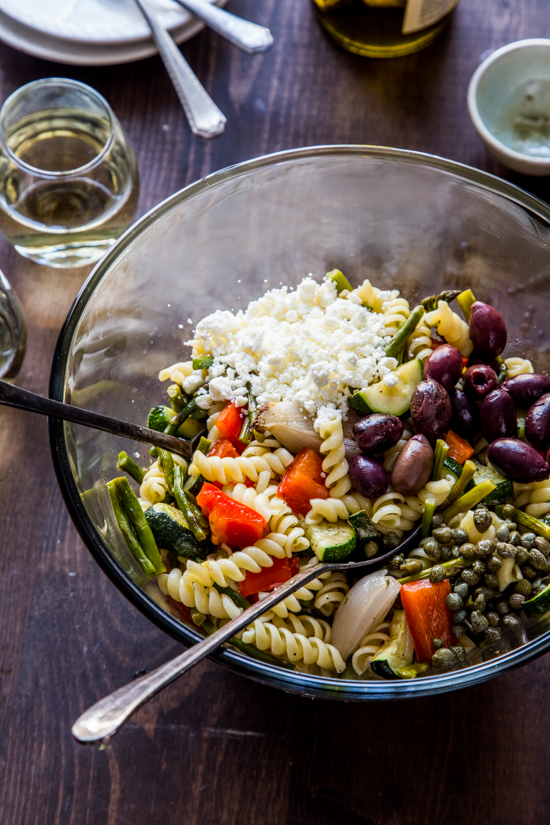 To go along with this recipe, Dreamfields is generously giving away a case of pasta to one lucky Jelly Toast reader. Use the widget below to enter for your chance to win 1 case of Dreamfields Pasta – and scroll down for my complete Rotini with Roasted Vegetables and Olives recipe!
**If you have trouble seeing the contest entry widget below, try refreshing the page**
Visit the Dreamfields website, Facebook and Twitter to learn more about their delicious, healthy pasta.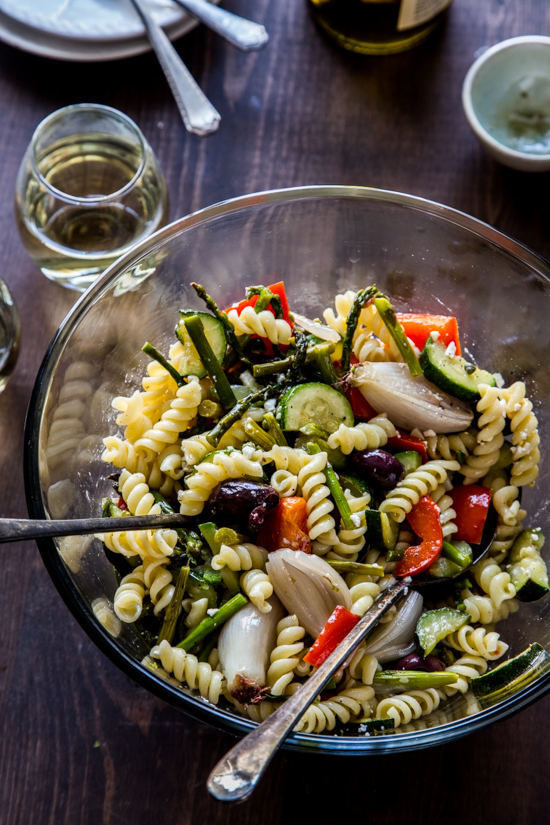 Happy Monday!
Rotini with Roasted Vegetables and Olives Recipe
Yield: 4 servings
Prep Time: 10 minutes
Cook Time: 25 minutes
Total Time: 35 minutes
Ingredients
1 lb asparagus, trimmed and cut into 2 inch pieces
1 medium zucchini (or two small) cut into half moons
1 red bell pepper, chopped into 1 inch pieces
4 shallots, peeled and quartered
1 Tablespoon extra virgin olive oil
1/2 teaspoon kosher salt
black pepper to taste
1/4 cup white wine (I used chardonnay)
8 oz Dreamfields Rotini pasta, uncooked
2 Tablespoons capers
1/4 cup Kalamata olives, pitted and cut in half
1/4 cup feta cheese, crumbled
1 Tablespoon lemon zest
1 1/2 Tablespoons white wine vinegar
Directions
Preheat oven to 450 degrees. Spread asparagus, zucchini, bell pepper and shallots on a rimmed baking sheet. Drizzle with olive oil and season with salt and pepper. Roast for 15 minutes. Remove baking sheet from oven and drizzle vegetables with white wine, and toss to coat. Roast for an additional 7-10 minutes or until veggies are golden and tender.
In the mean time, bring a large pot of water to a boil and cook pasta according to package directions (for me, it was about 8 minutes, but check your pasta starting at 8 minutes and be careful not to overcook). Drain the pasta and pour into a large bowl. Add roasted veggies, capers, olives, feta, lemon zest and vinegar. Toss to coat and serve.
Enjoy!
*Disclaimer: This post was made possible by Dreamfields. Dreamfields provided me with pasta and compensation for my time. All opinions are 100% my own.