peanut-free butterfingers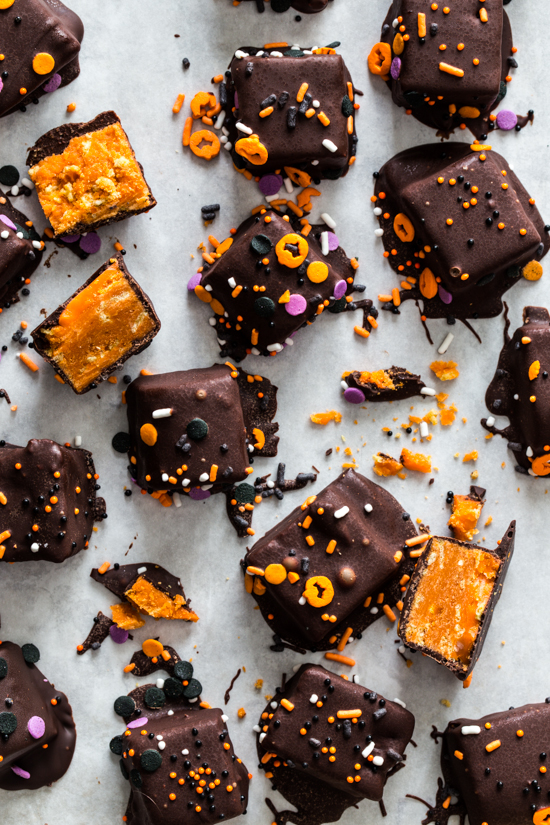 Today, my Baby turns 4. She told me that she was looking forward to being four so she could know how it felt to be a big girl. Because being three is such baby stuff, after all. She assured me that I could still call her 'Baby' even when she is 33, which made me feel a lot better. She's growing up fast enough as it is, I certainly don't want to ever have to stop calling her my baby. That would break my heart just a wee bit too much. I wanted to share these peanut-free butterfingers bites today, in honor of my little peanut-free birthday girl. I love me some butterfingers, but haven't had one in years due to the whole peanut allergy thing. I've just gotten in the habit of staying away from peanuts in general, even when the Baby isn't around.
Anyway, I have lots of fond memories of butterfingers. In sixth grade, I used to go ice skating at a nearby park with my friends. Every time we went, I would order a cup of steaming hot chocolate and an extra large butterfinger. For some reason the combination was utter perfection. I would sit stirring my butterfinger into my hot chocolate; enjoying my snack a whole lot more than I enjoyed the ice skating.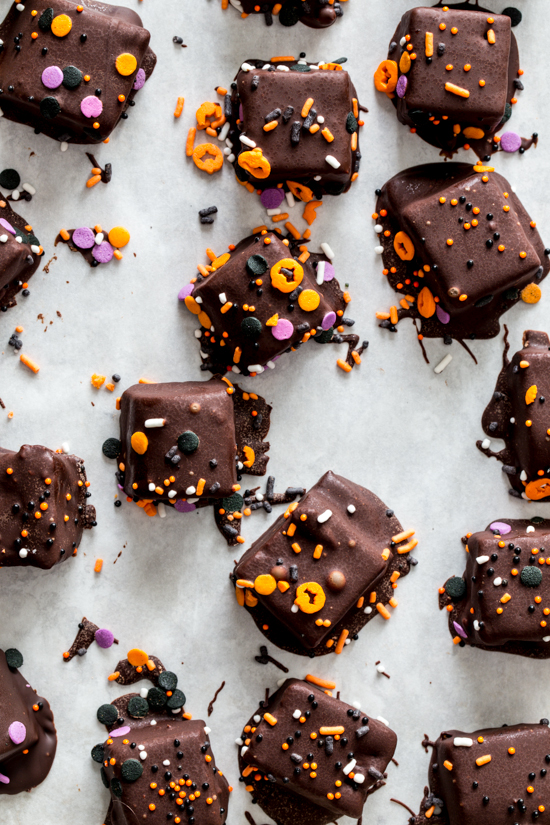 When I saw tons of homemade butterfinger recipes floating around, I knew that using my favorite Wowbutter in place of the peanut butter could be the key that would make it possible for us to have some peanut-free butterfingers in our lives. I also added some crushed up corn Chex to up the crispiness of the treats.
These peanut-free butterfingers turned out incredibly delicious! The flavor was so similar to an actual butterfingers it was bizarre. Now a few notes about these:
– store them in the fridge, because when they are cold, the texture is much more butterfinger-like.
-I used dark chocolate to dip the candies in, but milk chocolate will give you a more accurate butterfinger flavor. I just happen to be obsessed with dark chocolate and use it in everything. Seriously.
– To keep these absolutely peanut-free, be sure to use candy corns that aren't processed in plants with peanuts (aka – no Brachs candy corns, unfortunately).
The Baby was not disappointed in these peanut-free treats and I couldn't ask for anything more.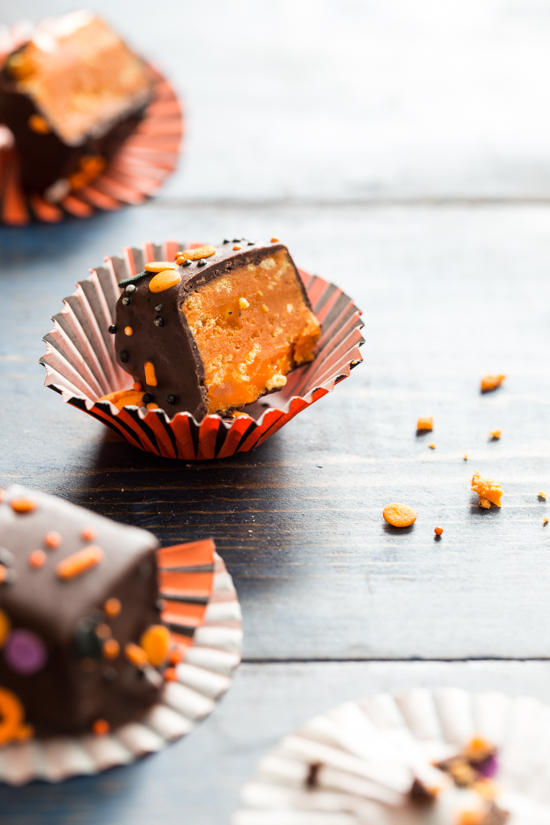 Happy Birthday, Baby Girl!
Disclosure: This post contains Amazon Affiliate links. If items are purchased via these links, Jelly Toast will receive a small commission. 
Peanut Free Butterfinger Recipe
Yield: 64 pieces
Prep Time: 15 minutes
Cook Time: 10 minutes
Total Time: 25 minutes
Ingredients
4 cups candy corn
1 1/2 cups Wowbutter, creamy
1 cup corn cereal, crushed (I used corn Chex)
18 oz dark chocolate chips, melted
Directions
Slightly spray an 8x8 inch metal baking pan with non stick spray; set aside.
Place candy corn in a large microwave safe bowl. Microwave candy corn on high for 60 seconds. Stir and microwave again in 15 second intervals, stirring each time. Repeat until candy corn is melted. Stir in Wowbutter and crushed cereal. Work quickly because candy corn will firm up quickly.
Spread candy corn mixture evenly into baking pan. Chill for 20 minutes or until firm.
Cut firmed candy corn mixture into 64 pieces. Dip pieces in melted chocolate and place on parchment lined baking sheets. Chill until chocolate is set.
Notes:
For best texture results, keep candies chilled until time to serve.