peanut free butterscotch haystacks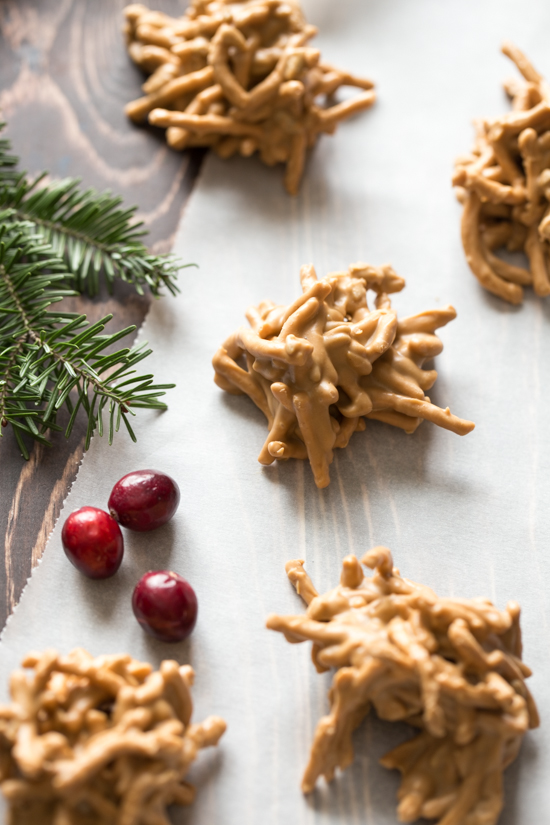 Butterscotch Haystacks are a classic in my family. My Grandma Scheuer would always make them around Christmas time and they were never missing from a Christmas cookie platter. I haven't made them in years, but this year I was craving them. The problem is, her recipe calls for peanut butter, so I decided to experiment with some Peanut Free Butterscotch Haystacks, and I was very pleased with the results.
In place of the peanut butter, I decided on sunflower butter (I used SunButter). My grandma's recipe had peanut butter and peanuts in it, so I figured a good substitute would be sunflower seed butter and sunflower seeds. See where I'm going with this?
Anyway, I turned to my resident mini taste testers, who are always happy to indulge me in my experiments, and they were a resounding hit! My big taste tester loved them, too. In fact, the next morning he came down wondering if there were any 'butterscotch thingies' left. There were only a few left, unfortunately.
These salty, sweet Peanut Free Butterscotch Haystacks are awesome for any cookie tray. The only thing I would do differently next time, is make them a little smaller. I had them in about 2 heaping tablespoon amounts and they were a bit difficult to bite into. So, when scooping these out, less is more.
You can always go back for seconds, right? Maybe make two batches just to be on the safe side.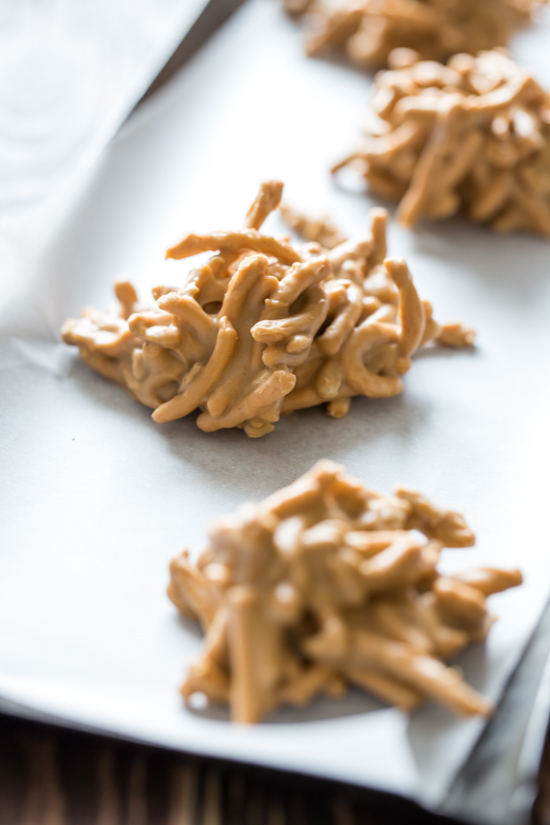 Happy Monday!
Peanut Free Butterscotch Haystacks
Yield: 1-2 dozen
Prep Time: 10 minutes
Cook Time: 15 minutes
Total Time: 25 minutes
Ingredients
11 oz butterscotch chips
1/2 cup of sunflower seed butter
1/3 cup unsalted, shelled sunflower seeds
5 oz can of chow mien noodles
1/2 teaspoon kosher salt
Directions
Place butterscotch chips and sunflower seed butter in a medium bowl. Microwave on high for 30 seconds, then stir. Microwave in 15 second intervals, stirring between each time, until mixture is melted together.
Add sunflower seeds, chow mien noodles and salt - stirring gently to coat. Drop mixture by the tablespoon on parchment lined baking sheets. Chill until set.
Notes:
If you use salted sunflower seeds, reduce salt to 1/8-1/4 teaspoon.