gift guide for winter + a giveaway!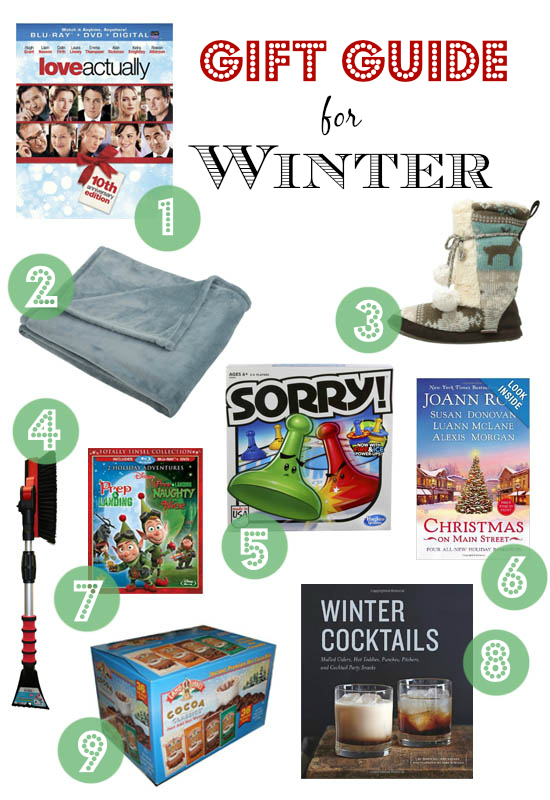 It's a bittersweet end to one of my favorite weeks here on Jelly Toast. Here is my last gift guide and giveaway of the holiday season, and I have to say, it was inspired by the many inches of snow we received in Ohio this weekend. Which was glorious, if you ask me!
Today, I'm sharing with you my ultimate gift guide for winter that is full of ideas that are perfect for spending chilly days at home, whether it's with your family, your special sweetheart or just a great night home by yourself.
Don't worry, I've got you covered!
1. Love Actually – This movie needs no explanation as to why it's on my ultimate gift guide for winter. This movie is one of my absolute favorites and it's one of the best movies to watch when curled up on the couch with a hot cup of cocoa. Seriously, it doesn't get better than this.
2. Pinzon Velvet Plush Throw – And, if you were looking for the perfect soft and warm blanket to snuggle under while watching Love Actually, this is the one. Big, soft and it comes in a bunch of colors (see below). This makes the perfect Christmas gift!
3. Muk Luks Frosty Slipper Bootie – So, on super snowy days when you have no intention of leaving the house, you need a warm, festive pair of slippers. Slippers make a great gift, too, because everyone wants snuggly feet. I am loving these wintery Muk Luks Frosty Slipper Booties! Too cute!
4. Pivot Head Snow Brush – You don't want to be stuck in a snowstorm without a snow brush and be forced to wipe your windows off with a reusable shopping bag…er…not that I have any idea about that. Lets just say that one of these would come in handy.
5. Sorry – This is one of our family's favorite games to play together. It's easy enough for the kiddos to play, but my husband and I can get on board with it, too. Get it? Get on 'board'? Anywho, it's a great family gift!
6. Christmas on Main Street – Ok. My secret is out. I LOVE cheesy romance novel collections. I've been reading them for years and have about 20 to my personal collection. I always seem to pick up one or two every year and start reading them around Halloween. They're the literary version of my Hallmark Christmas movies. Just oh, so good. This is a new collection this year, that I have to admit that I haven't read, but trust me when I say that it's on my list for my Christmas vacation.
7. Prep and Landing (Totally Tinsel Collection) – These movies are too stinking cute and great for the whole family. Little covert elves prepping the houses for Santa and running into a whole lot of mischief. These movies (Prep and Landing + Prep and Landing: Naughty vs. Nice) are classics in our house, and this combo disc of Blu-Ray and DVD makes a great gift for any family.
8. Winter Cocktails – Yes, I'm still talking cocktails, but I love this collection of winter cocktails that scream 'Christmas Vacation' drinking. Whip up a buttered rum or a spiked eggnog and you're bound to have a nice cozy night, despite all the chill outside.
9. Land O Lakes Cocoa Classics Collection – These individual flavored hot chocolate pouches from Land O Lakes make great stocking stuffers. There is a variety of flavors (which are all sensational) suited for everyone's tastes. Who doesn't love fun hot chocolate in the winter time?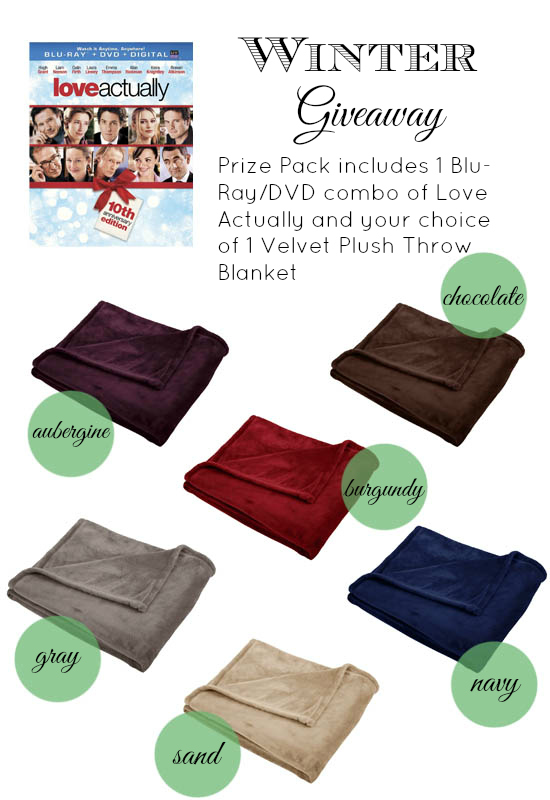 Giveaway is closed! Congratulations, Susie!
Winter Giveaway!
As the last giveaway in my week of holiday giveaways, I'm giving away 1 Winter Prize Pack that includes 1 copy of Love Actually (includes Blu-Ray and DVD) and your choice of 1 Velvet Plush Throw in your choice of color (see pic above). These two items go hand in hand if you ask me. Add a mug of cocoa or, better yet, a winter cocktail and you've got yourself a fabulous winter night!
TO ENTER: Simply enter a comment below (on this post) telling me what color of Velvet Plush Throw you'd like to receive, and you will be entered to win! You have until 10:00 pm on Monday, December 16, 2013 to enter to win.
**DETAILS – PLEASE READ BEFORE ENTERING**
I will be drawing one winner to receive one Winter Prize Pack that includes (1) copy of Love Actually and (1) Velvet Plush Throw in your choice of colors (see above pic for options). To enter, you must currently reside in the USA. If you have won a prize from Jelly Toast in the last 12 months, you are not eligible to win. Only one entry per person. To enter, leave a comment on this blog post telling me what color throw you'd like to receive. When signing in to leave your entry comment, please be sure to enter in your current email address as that is how I will be contacting the winner. The prize will be shipped directly from Amazon.com.
This giveaway is not sponsored in any way shape or form. I am purchasing the prize directly with my own money and sending it to the winner. I am in no way associated any of these companies or brands. I just really love them and wanted to share them with you!
You have until 10:00 pm EST on Monday, December 16, 2013 EST to enter your comment! Winner will be chosen at random and contacted via email. The winner will also be announced here tomorrow. 
Good Luck and Happy Winter!!