rum glazed pecans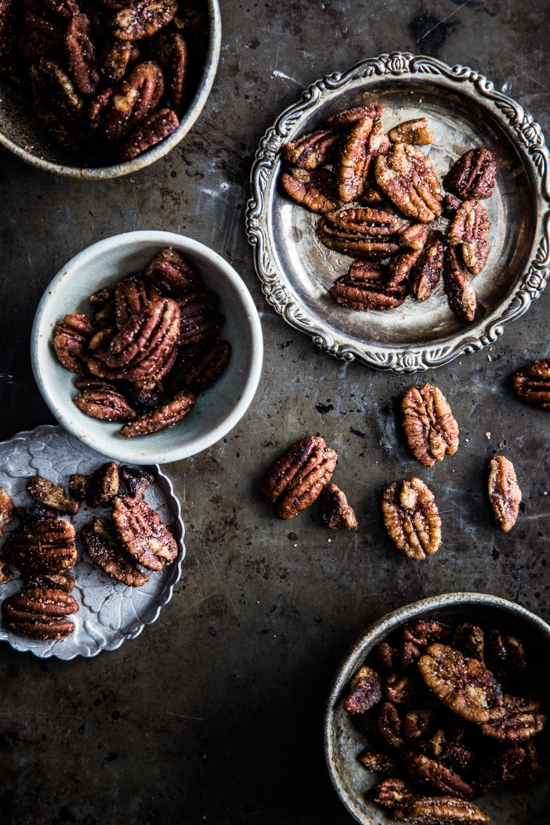 It's a week before Christmas and the festivities are fully underway. My shopping is just about done (thank goodness for Amazon Prime, am I right?), the kiddos have their school Christmas parties, and this Saturday is our big family get together with my side of the family. Ever since my brothers and sister and I have gotten married and had our own kids, our big group get together fluctuates. It's never quite the same every year, but we always make sure to carve out a little time together – to have a meal and exchange gifts and just plain be together for a time.
With schedules being busy, it doesn't seem to matter that we all live 15 minutes away from one another because we will go weeks between visits. The not having a chance to see each other more often is crumby, but it just makes me look forward to our Christmas celebration even more. This year, we're eating pizza and everyone is bringing snack or dessert to share. My plan is to bring these gorgeous Rum Glazed Pecans. Throw in a cocktail and that is my kind of party.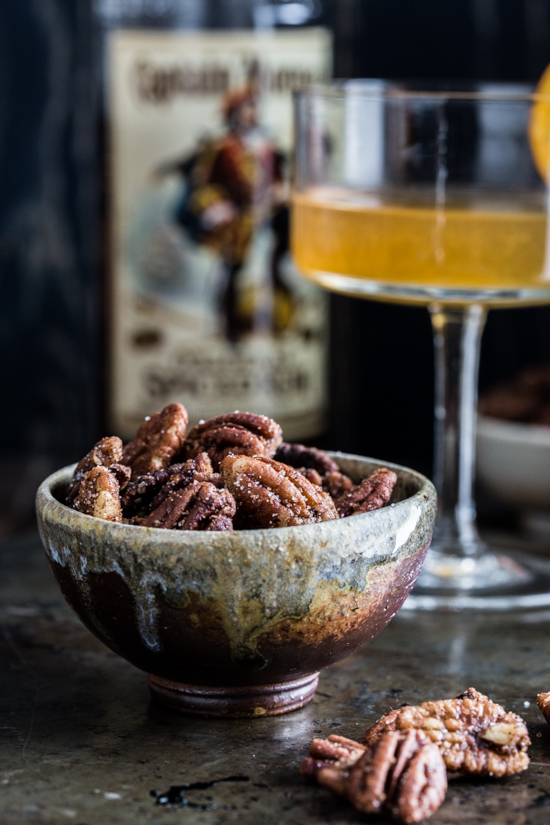 I wanted to come up with a little nibbly bite to accompany a fantastic clementine rum cocktail (recipe coming Thursday!) and an awesome slice of Greek pizza (which I'm holding out that you're getting, right Mom?) and thought these Rum Glazed Pecans would be a great sweet/salty snack. There is a slight sweetness from a touch of sugar, but the complex spice blend coupled with the intense flavors of the Captain Morgan Black Spiced Rum takes these pecans way beyond any typical candied pecan. Beautiful rounded spice with just a hint of sweetness. Perfection!
These rum glazed pecans not only make great cocktail party finger food, but also decadent holiday gifts, as well. Package them in little mason jars tied with ribbon and a lovely tag for an instant hostess gift.
**This recipe is part of my holiday submission for the Captain's Table Challenge. Throughout the end of January, Captain Morgan will donate $1 to WhyHunger every time the hashtag #CaptainsTable is used across social media. So if you whip up any rum infused goodies or cocktails, be sure to share them with the #CaptainsTable hashtag to help fight hunger this holiday season!**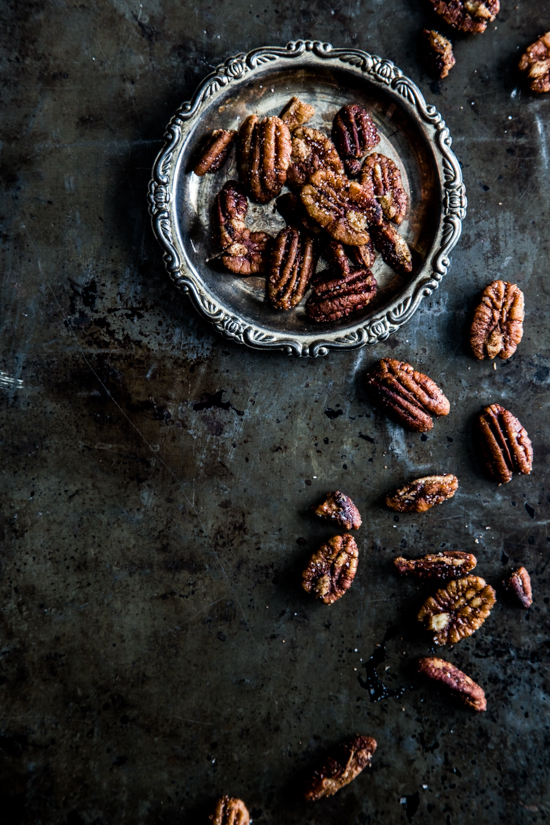 Happy Tuesday!
**Disclosure: This post is part of a challenge sponsored by Captain Morgan. While I wasn't paid for this post, I received some product and ingredient reimbursement to create recipes for the Captain's Table Challenge. 
Rum Glazed Pecans Recipe
Yield: 6 - 2oz servings
Prep Time: 10 minutes
Cook Time: 1 hour
Total Time: 1 hour 10 minutes
Ingredients
12 oz pecan halves, toasted
Spice Mixture
2 tsp granulated sugar
1/2 tsp cinnamon
1/4 tsp ground allspice
1/4 tsp ground cloves
1/8 tsp cardamom
1/4 tsp kosher salt
Rum Glaze
3 Tbs Captain Morgan Black Spiced Rum
2 tsp pure vanilla extract
1 1/2 tsp granulated sugar
1 1/2 tsp light brown sugar
2 tsp unsalted butter
Directions
Line a baking sheet with parchment paper and set aside.
In a small bowl, combine spice mixture ingredients (2 teaspoons granulated sugar, cinnamon, allspice, cloves, cardamom and salt) and set aside.
To a small saucepan, add Captain Morgan Black Spiced Rum, vanilla, remaining granulated sugar, light brown sugar and unsalted butter. Bring mixture to a simmer over medium heat and allow to simmer for 1 minute. Add toasted pecans and toss to coat. Allow mixture to bubble gently until liquid is almost gone. Remove from heat and sprinkle spice mixture over glazed nuts, tossing to coat evenly.
Spread nuts out on prepared baking sheet and allow to dry completely. Nuts can be stored in an air tight container at room temperature.