pumpkin bread pudding with maple rum raisin syrup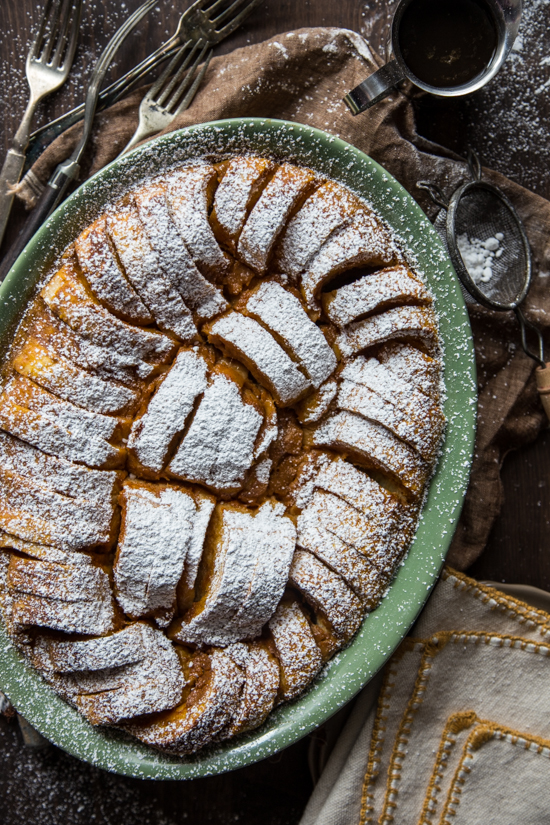 Seeing how it is the Tuesday before Thanksgiving, I'm confident that most of you have a handle on what you will be preparing for your big Thanksgiving Dinner. Perhaps there are a few details left to decide, such as, "do I make brussels sprouts or green beans" or "should I make one batch of sausage filling or two", but the main menu is probably well established. The answers to those questions, by the way, are most definitely brussels sprouts and two batches of sausage filling. Trust me on this.
Now that you're completely finished planning your Thanksgiving dinner menu, I am here to help you with your Thanksgiving breakfast menu. I don't often make large elaborate breakfasts, but, on the holidays I love to have something special for my family on those chilly mornings when we're all home together to celebrate.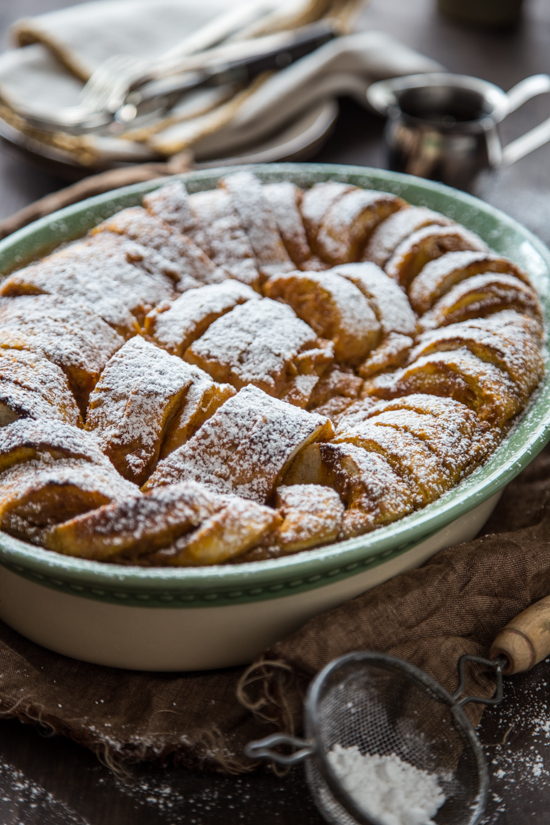 On Thanksgiving, when there are so many other dishes to make, I am all about this make ahead Pumpkin Bread Pudding with Maple Rum Raisin Syrup. This decadent breakfast is my first recipe for the Captain's Table Challenge and I couldn't be more excited about it. It's full of flavor from the pumpkin, Captain Morgan Original Spiced Rum, maple syrup and sweet raisins.
You might be thinking, "I thought bread pudding was a dessert…" and yes, you could actually serve this as an alternate dessert at your Thanksgiving dinner, but I love that bread pudding is so reminiscent of my mom's French toast. She always soaked her bread in a rich and spiced custard mixture, fried it up in the griddle and topped it with a liberal sprinkling of powdered sugar. If it makes you feel better to call this 'baked French toast' that is fine by me. I actually struggled a bit trying to decide whether to call this French Toast or Bread Pudding, but in the end, not matter what you call it, it's an awesome breakfast – especially for the holidays!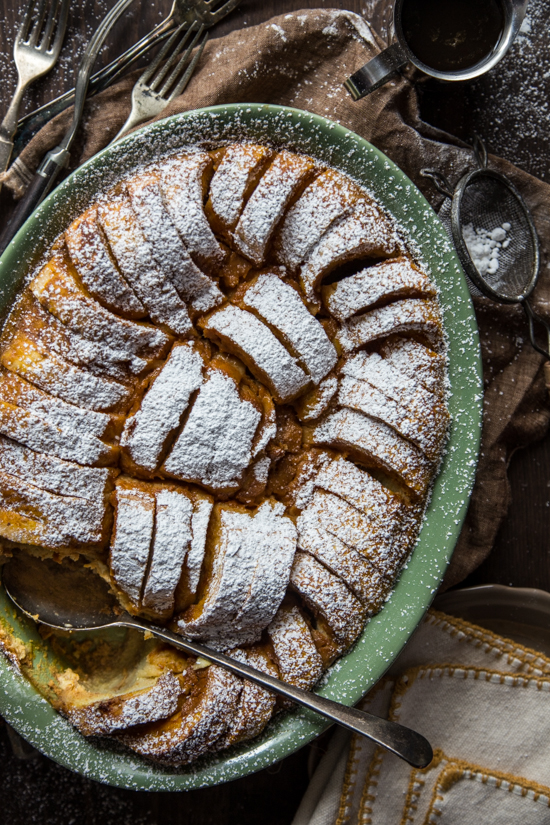 This pumpkin bread pudding can be assembled the night before, allowing the bread to soak up the pumpkin and rum infused custard, then baked first thing in the morning. If your oven space is completely booked for Thanksgiving day with turkey and pies, make this pumpkin bread pudding entirely the day before – baking and everything. Then just reheat single servings of the sweet bread pudding in the microwave as needed. Just don't forget to top each plate with a drizzle of the warm Maple Rum Raisin Syrup and a sprinkling of powdered sugar.  Super easy.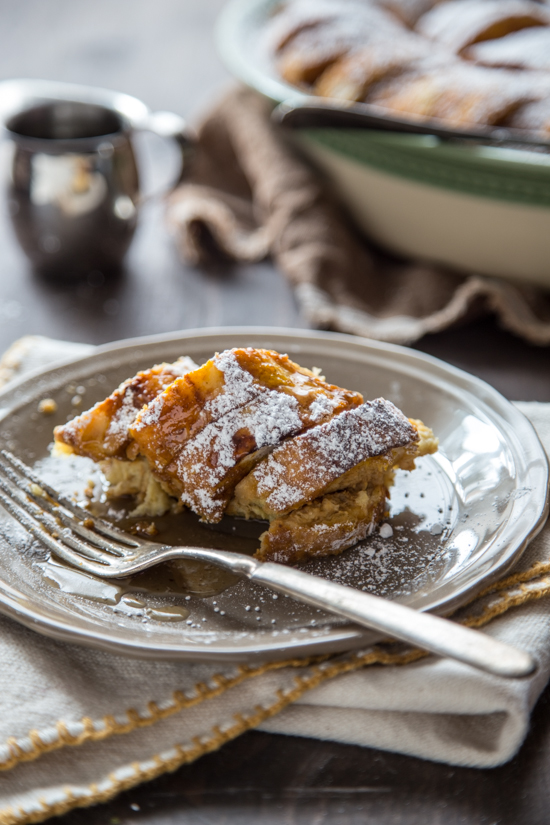 I have all my ingredients to make this on Thursday morning, and when I announced to the Buddy that I was making bread pudding for Thanksgiving, you'd have thought that I said that Santa was coming early. I'm not kidding, his little face lit up with a smile and he said, "I LOVE bread pudding…". And he is my discerning mini foodie, so if he gives it a stamp of approval, I know I've done something right.
So, Thanksgiving morning, we'll be curled on the couch with cups of coffee and hot chocolate and a big ol' plate of Pumpkin Bread Pudding doused in Maple Rum Raisin Syrup watching the Thanksgiving Parade. And that my friends, is pretty much my perfect morning.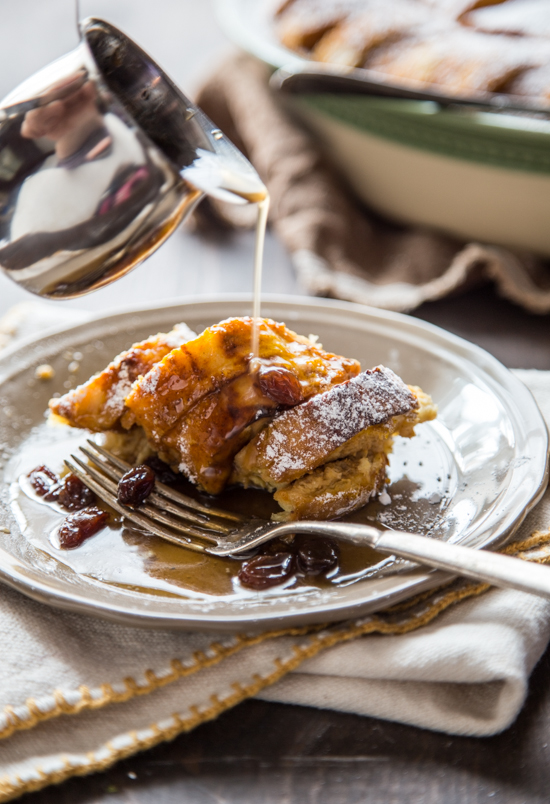 Don't forget, if you whip up any rum infused food or drinks this holiday season, be sure to share them! Captain Morgan will donate $1 to WhyHunger for everytime the hashtag #CaptainsTable is used across social media during the holiday season. How awesome is that?
**Disclosure: This post is part of a challenge sponsored by Captain Morgan. While I wasn't paid for this post, I received product and ingredient reimbursement to create recipes for the Captain's Table Challenge. 
Happy Tuesday!!
Pumpkin Bread Pudding with Maple Rum Raisin Syrup
Yield: 12 servings
Prep Time: 15 minutes active time + 3 hours inactive time
Cook Time: 45-55 minutes
Total Time: about 4 hours
Ingredients
18 oz loaf of day old bread (I used an Italian loaf)
6 large eggs
2 1/2 cups whole milk
1 cup of heavy cream
1/2 cup brown sugar
1/4 cup white sugar
1/4 cup of Captain Morgan Original Spiced Rum
1 15oz can of pumpkin puree
1 tsp ground cinnamon
1 tsp ground ginger
1/4 tsp ground cloves
1/4 tsp ground nutmeg
For Serving: Maple Rum Raisin Syrup (recipe follows) and powdered sugar
Directions
Pumpkin Bread Pudding
Cut entire loaf of bread into 1 inch cubes and spread evenly into 3 quart baking dish. Bread can alternately be sliced into 3/4 inch slices and arranged neatly into the baking dish as seen in the photos.
In a large bowl whisk together eggs, milk, cream, brown sugar, white sugar, Captain Morgan Original Spiced Rum, pumpkin puree, cinnamon, ginger, cloves and nutmeg until well combined. Gently pour mixture over bread pieces in the baking dish. Gently press bread down with your hands to encourage custard mixture to soak into the bread. Cover dish and refrigerate for at least 3 hours or over night.
Preheat oven to 350 degrees. Uncover baking dish and allow to sit at room temperature while oven heats up. Using a spoon, gently stir bread and custard mixture to ensure that the liquid is distributed well throughout the dish. Bake in preheated oven, uncovered, for 45-55 minutes or until bread pudding is set. Serve bread pudding warm or at room temperature topped with Maple Rum Raisin Syrup (recipe follows) and powdered sugar.
Notes:
Maple Rum Raisin Syrup:
3/4 cup pure maple syrup
1/2 cup raisins
3 tbs Captain Morgan Original Spiced Rum
1 tbs unsalted butter
In a small saucepan, bring maple syrup, raisins, 3 tablespoons of Captain Morgan Original Spiced Rum and unsalted butter to a low simmer. Allow mixture to simmer, stirring frequently, for about 3-5 minutes or until butter is melted and raisins are plumped. Serve over Pumpkin Bread Pudding. Leftover syrup can be store in the refrigerator and reheated before serving.