pumpkin eggnog martini #CaptainsTable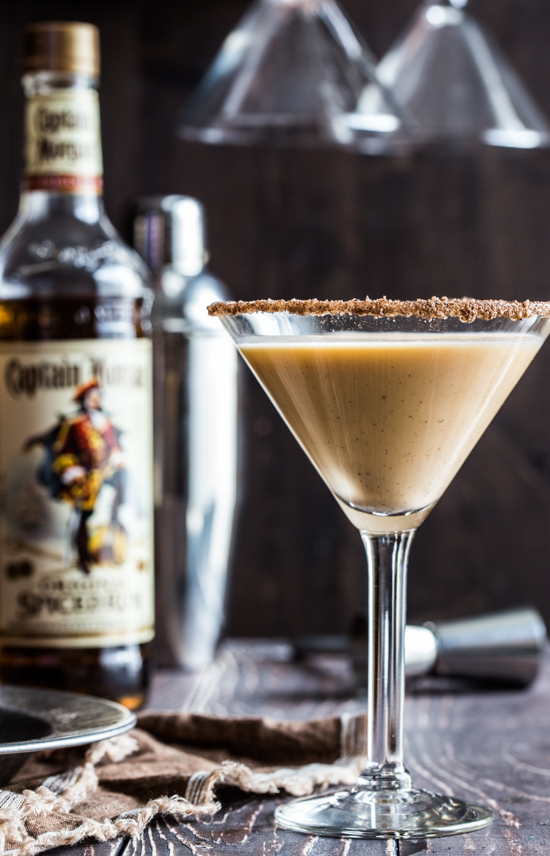 Thanksgiving is over, and it's officially safe for me to talk about Christmas! So why am I sharing a Thanksgiving cocktail? Well, this Pumpkin Eggnog Martini was way too good not to share. It's better late than never (says the girl who is perpetually 20 minutes late to everything in life – ever).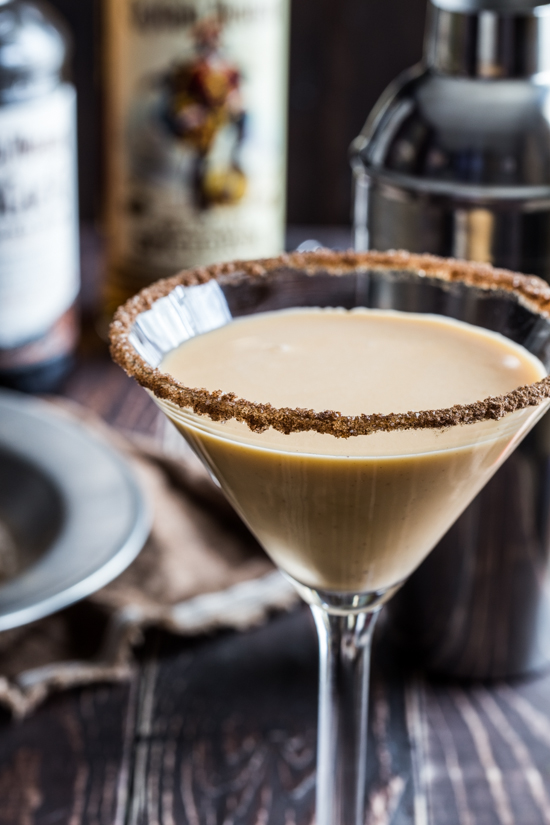 For Thanksgiving this year, my family ate Pumpkin Bread Pudding with Maple Rum Raisin Syrup while watching the parade and then we got together at my brother and sister-in-law's house for dinner. We ate, drank and generally had a pretty fantastic time.  After that, our weekend was a blur of fun, hanging out with my niece and nephews, finally going to see the new Hunger Games movie (it was ah-mazing!) and putting up our Christmas decorations. Somewhere in the midst of all the excitement, my husband and I found a bit of time to hang out and sip on some incredibly delicious Pumpkin Eggnog Martinis.
It was a pretty great weekend.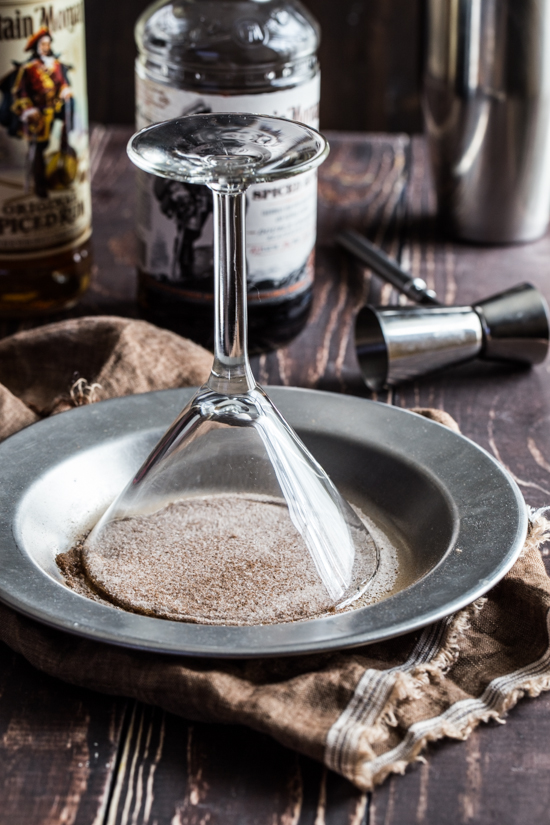 Now, I'm typically not a big eggnog fan, although my husband is. I think it must be the consistency of eggnog that I don't like because anything eggnog flavored I'm all about. A few weeks ago, however, I came across an incredibly decadent Pumpkin Eggnog at the grocery store and I couldn't resist trying it out.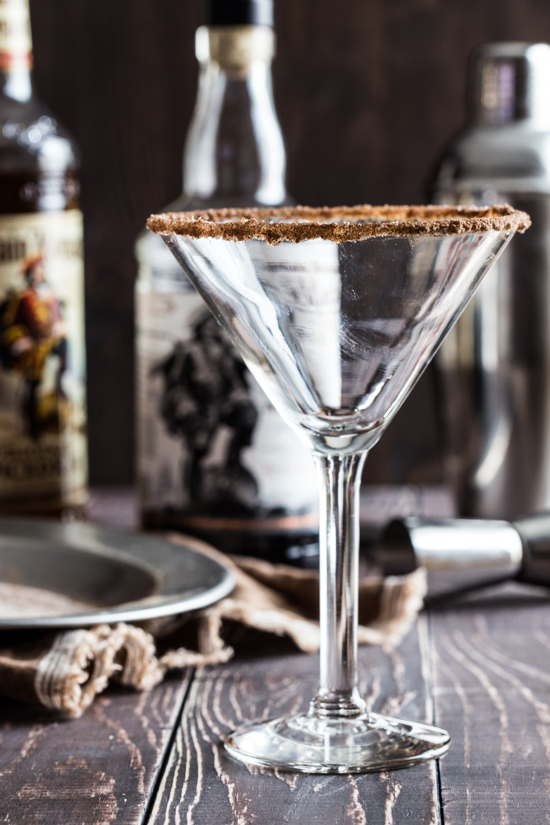 It turns out, Pumpkin Eggnog is pretty darn fantastic. It's sweet, and with the addition of the pumpkin flavor, the very creamy consistency didn't bother me…too much, at least.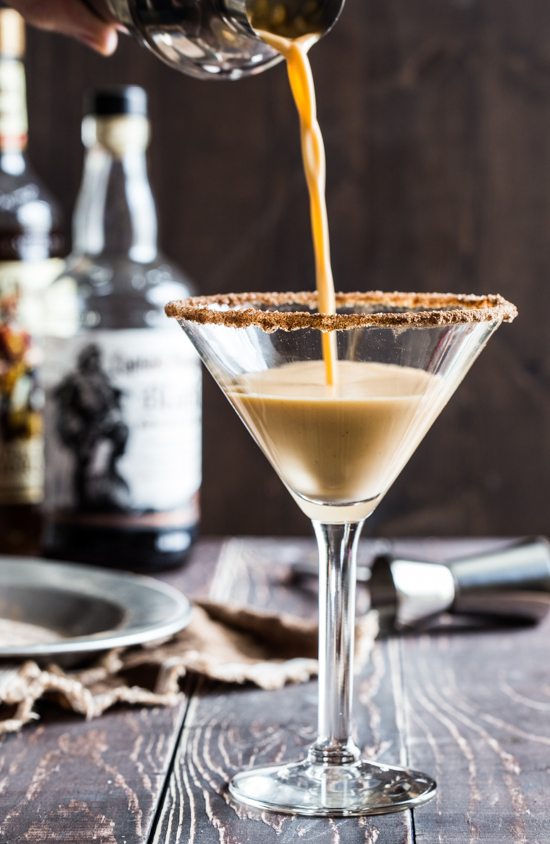 I decided I wanted to turn this luscious pumpkin eggnog into a sweet and spiced martini, which is perfect for my Thanksgiving cocktail for the Captain Morgan Captain's Table Challenge. It's got pumpkin eggnog, Captain Morgan Original Spiced Rum and Captain Morgan Black Spiced Rum with a splash of vanilla vodka for good measure.
I know I'll be sipping on this cocktail well into the Christmas season and am positive the entire concoction would be fabulous made with plain old eggnog, too. The spiced rum mellows out the consistency of the eggnog, making it incredibly smooth and delicious.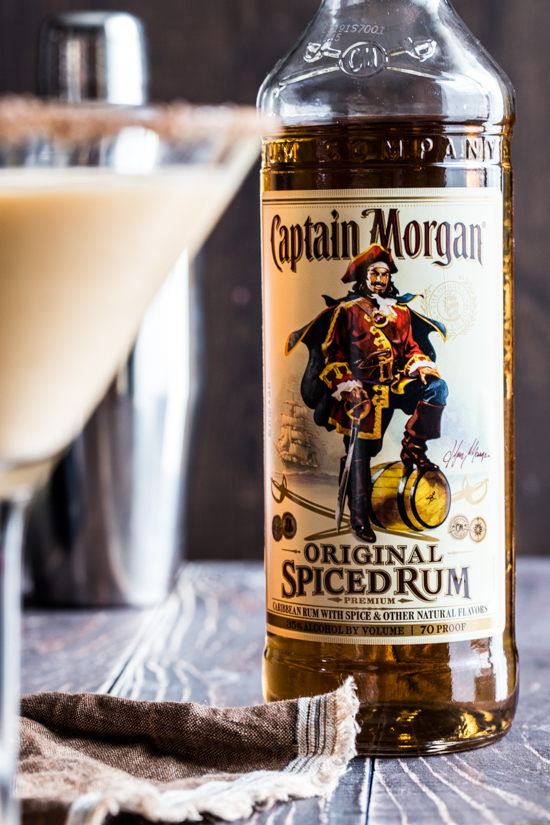 If you are an eggnog lover (or even if you're not) you've got to try this Pumpkin Eggnog Martini. And don't forget to share it with the #CaptainsTable hashtag if you do! Remember, every time the hashtag #CaptainsTable is used over social media this holiday season, Captain Morgan will donate $1 to WhyHunger, which is definitely something to smile about!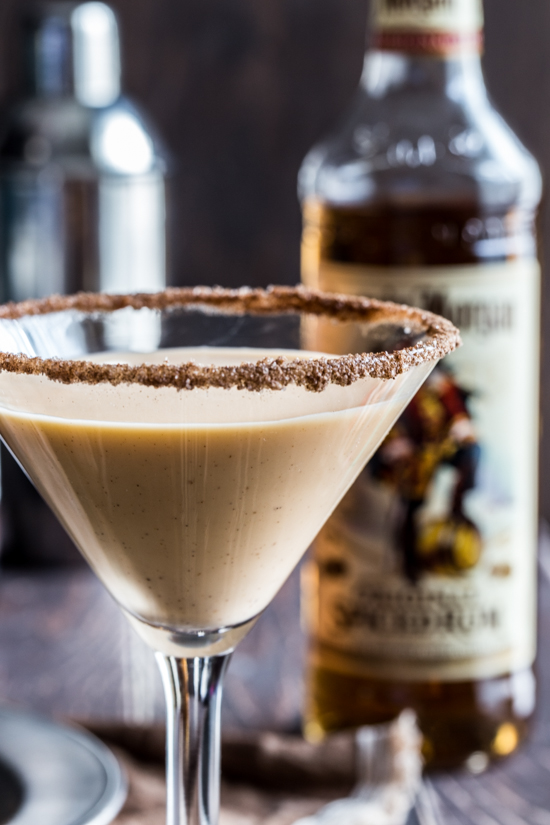 **Disclosure: This post is part of a challenge sponsored by Captain Morgan. While I wasn't paid for this post, I received product and ingredient reimbursement to create recipes for the Captain's Table Challenge. 
Happy December!
Pumpkin Eggnog Martini
Yield: 1 cocktail
Cook Time: 5 minutes
Total Time: 5 minutes
Ingredients
1 oz Captain Morgan Original Spiced Rum
1/2 oz Captain Morgan Black Spiced Rum
1 oz vanilla vodka
3 oz pumpkin flavored eggnog
1 tablespoon sugar
1 teaspoon pumpkin pie spice
Directions
Mix sugar and pumpkin pie spice together and spread on a plate. Dip the rim of a martini glass in water and then into the sugar mixture and set aside.
Fill a cocktail shaker with ice and pour both rums, vodka and pumpkin eggnog into the shaker. Replace top and shake vigorously until chilled. Strain cocktail and pour into rimmed martini glass.
Enjoy!