Slow Cooker Pork Ramen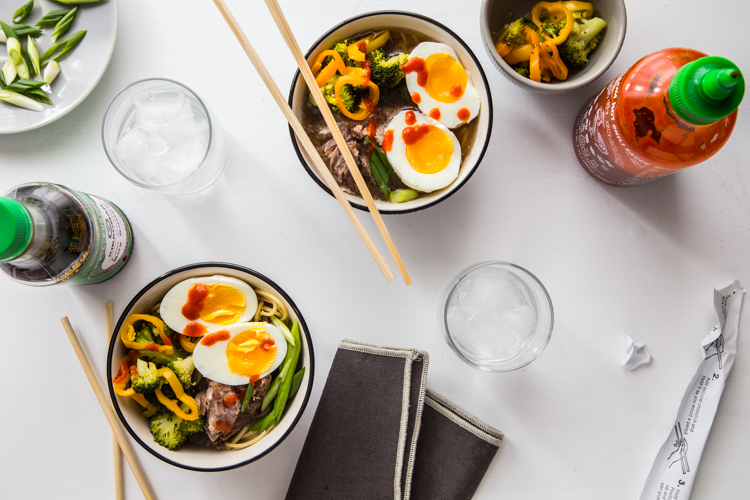 This is the start of a wonderful week, my friends. Today, Wednesday and Friday my friends Melanie, Courtney and I are sharing some awesome soup recipes just in time for the Big Game. In fact, we're calling our big week 'Soup-er Bowl'. Cute, right? All of the recipes that we'll be sharing this week are going to be perfect for a crowd and just down right delicious. To make things even better, we're offering up an incredibly giveaway: A Le Creuset 5 1/2 Quart Round French Oven! Plus, the winner get's to pick the color of their choice. A week of soup and a Le Creuset French Oven? Yes, this is pretty much the best week ever. But let me tell you a little about my inspiration for this slow cooker pork ramen.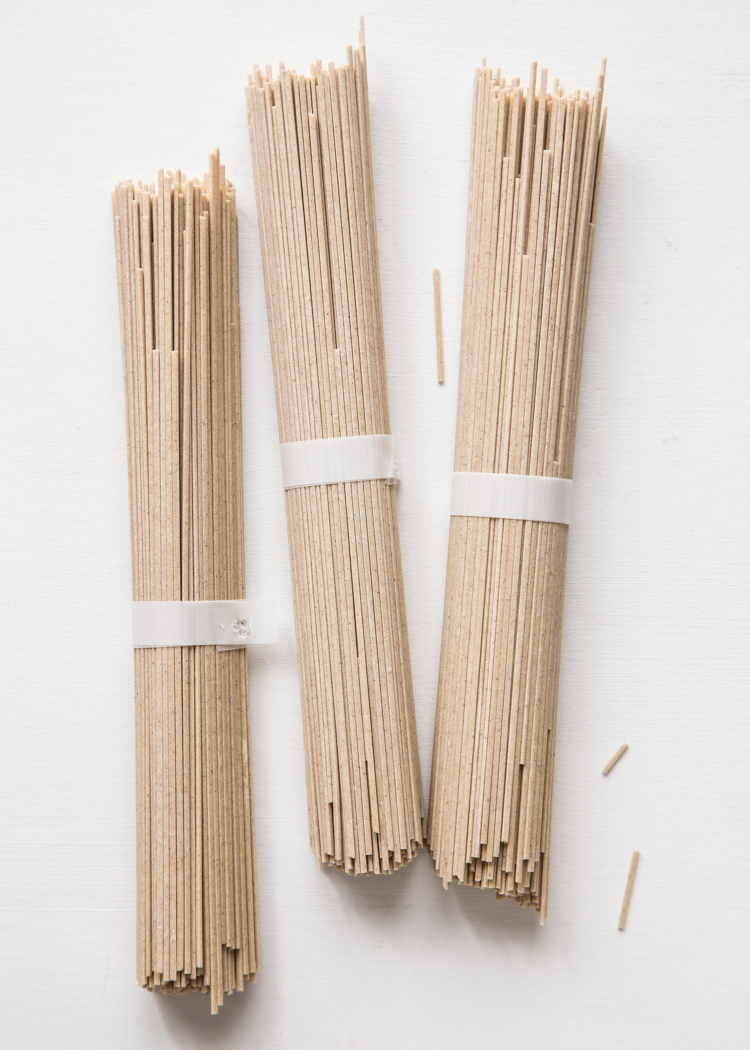 Two weekends ago, my husband and I went to a new-to-us restaurant called Social and had an amazing time. The cocktails featured unique combinations like maple, salt and house infused vodkas that were out of this world. For dinner, I ordered the traditional ramen and was blown away. The rich broth, noodles, broccoli and soft boiled egg totally hit the spot. It was interesting and zippy with a splash of sriracha over the entire bowl. It was a big bowl of comfort and I knew I wanted to make my own version of it for Soup-er Bowl week.
In my version I use the slow cooker to extract maximum flavor from the pork shoulder roast, but you can definitely do a quick version on the stove top, in your trusty Le Creuset French oven, in fact. What's wonderful about ramen recipes is that they are totally adaptable. I put a splash of sriracha on my husband's and my bowl, but left it off the kiddos. The eggs can be cooked to order – runny yolks for those who love them, and something a little more set for those who don't. Don't have broccoli? No problem. Use whatever veggies you've got: asparagus, mushrooms, onions, peppers. Start with the basic pork, broth and noodles and then customize to your tastes.
You can't go wrong.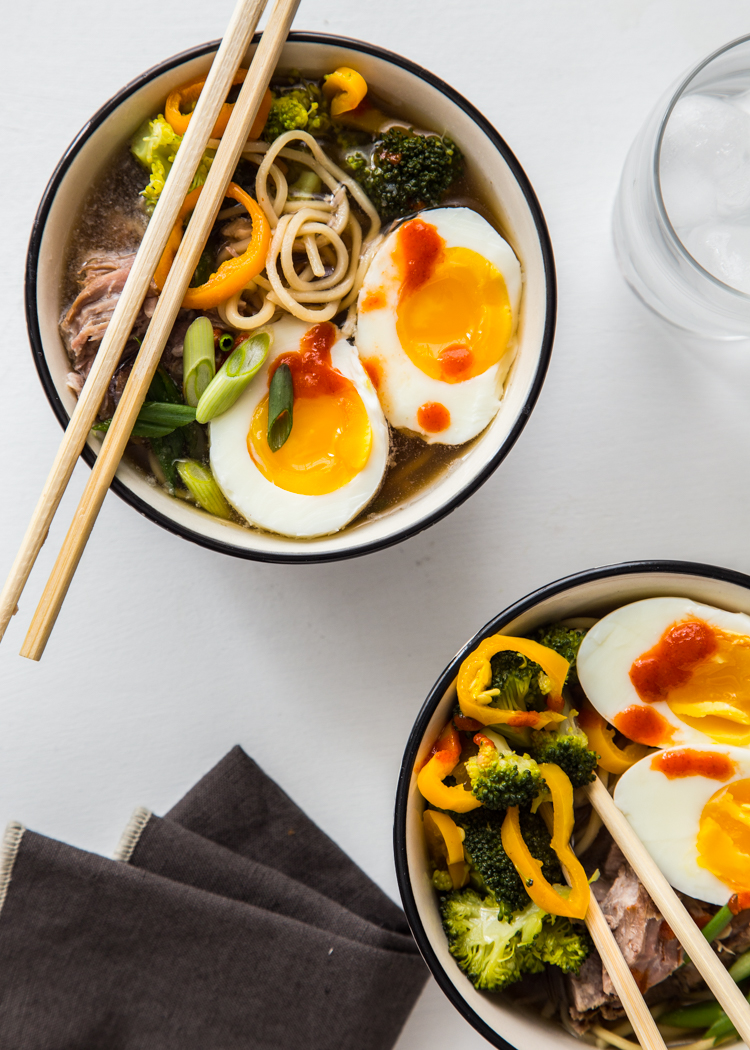 Now for the giveaway! Enter the rafflecopter widget below with your information to enter for a chance to win your very own Le Creuset French Oven. Be sure to head over and check out Melanie's Chipotle Chicken Lime Soup and Courtney's Slow Cooker Bacon Cheeseburger Soup. My mouth is watering thinking about all this soup…
Plus, don't forget to enter my Le Creuset Sugar Pink Heart Cocotte Giveaway that is going on through tomorrow. This item is extremely limited so I'm thrilled to be able to offer this giveaway. What can I say? Le Creuset is awesome <3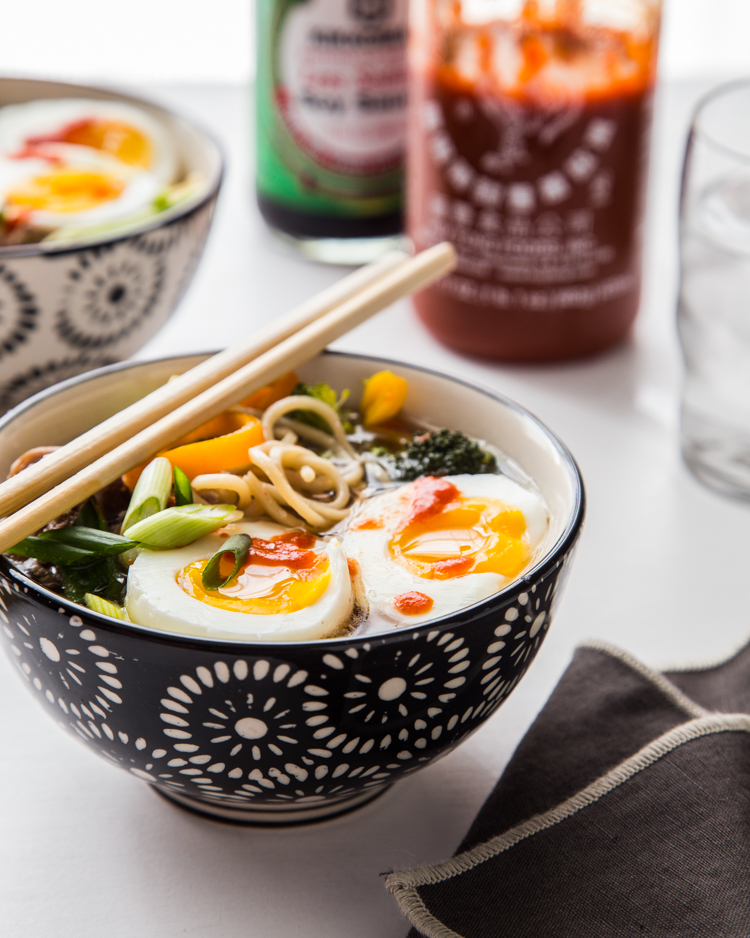 Happy Monday!
Slow Cooker Pork Ramen Recipe
Yield: 8-10 servings
Prep Time: 15 minutes
Cook Time: 8 hours
Total Time: 8 hours 15 minutes
Ingredients
For the Broth
2 tablespoons vegetable oil
2-3 lb pork shoulder
salt and pepper
6 cups low sodium chicken broth (or vegetable or pork)
2 cups water
2 inch piece of ginger, peeled and sliced
1 onion, roughly chopped
1 stalk celery, cut in half
1 carrot, peeled and cut in quarters
1/4 cup white miso
1/4 cup low sodium soy sauce
3 garlic cloves, peeled and cut in half
1 tablespoon peppercorns
For Serving
ramen noodles, cooked (can use instant but discard the seasoning package)
steamed broccoli (or other veggies)
soft boiled eggs
sliced green onions
sriracha
soy sauce
Directions
Make the Broth
Heat oil in a cast iron skillet over medium high heat. Sprinkle pork shoulder with salt and pepper. Sear pork in cast iron skillet for about 2-3 minutes per side. Place pork in slow cooker. Add remaining broth ingredients. Cook on low for 7-8 hours until the pork is extremely tender and falling apart. Remove pork and shred. Strain broth to remove all the solids.
Build the Bowls
Prepare the toppings while the broth is cooking. To build a bowl, place noodles in the bottom of a bowl and ladle broth on top. Top each bowl with a shredded pork, broccoli, soft boiled eggs, sliced green onions and a splash of sriracha and soy sauce. Serve and enjoy!