Slow Cooker Pumpkin Butter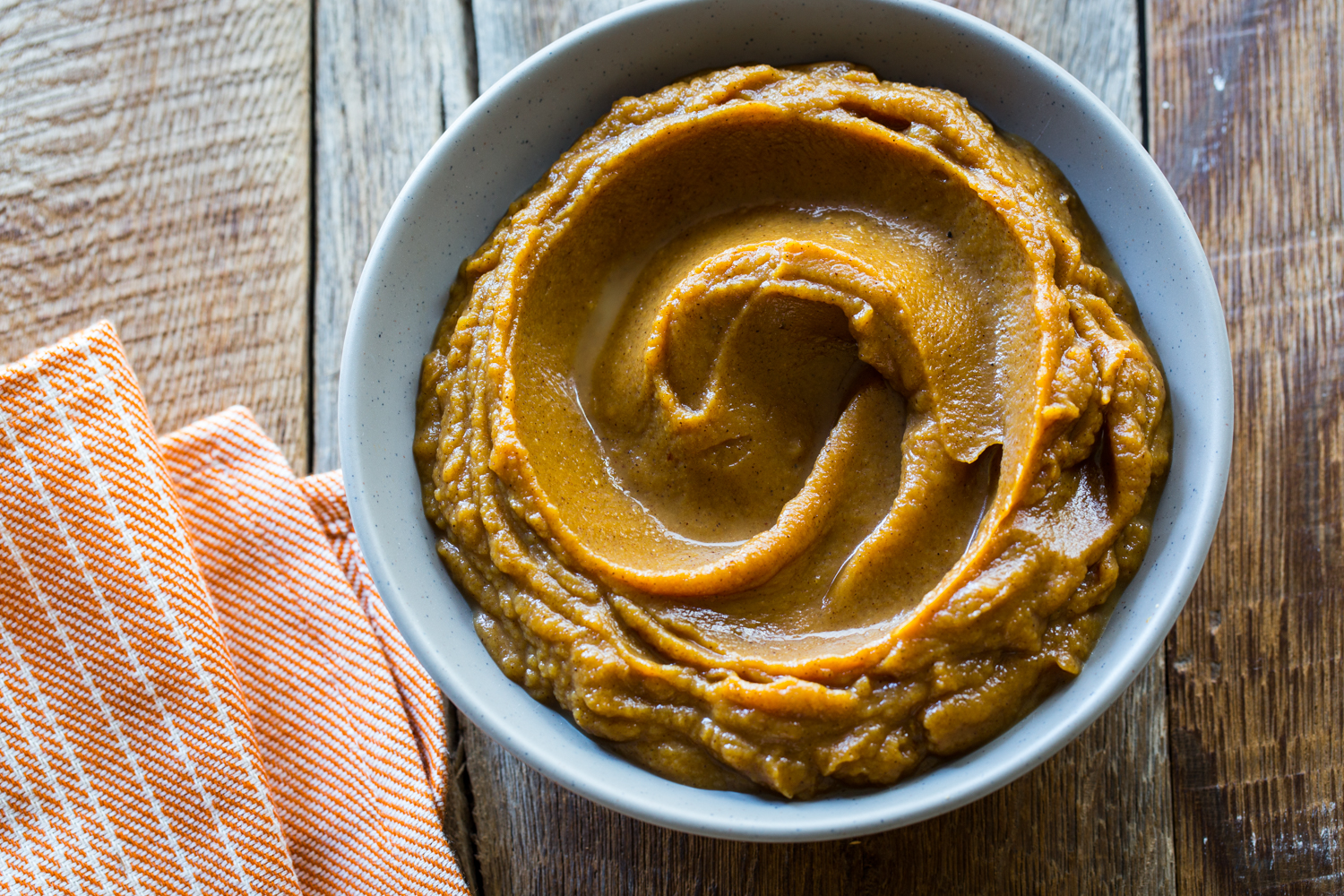 I have been wanting to post this recipe for quite some time. Have you tried pumpkin butter? This slow cooker pumpkin butter recipe is similar to my slow cooker apple butter recipe but with squash. Pumpkin butter is great on toast, muffins, and even stirred into a latte for a homemade pumpkin spice latte. That will be a recipe I'll share here soon, that's for sure.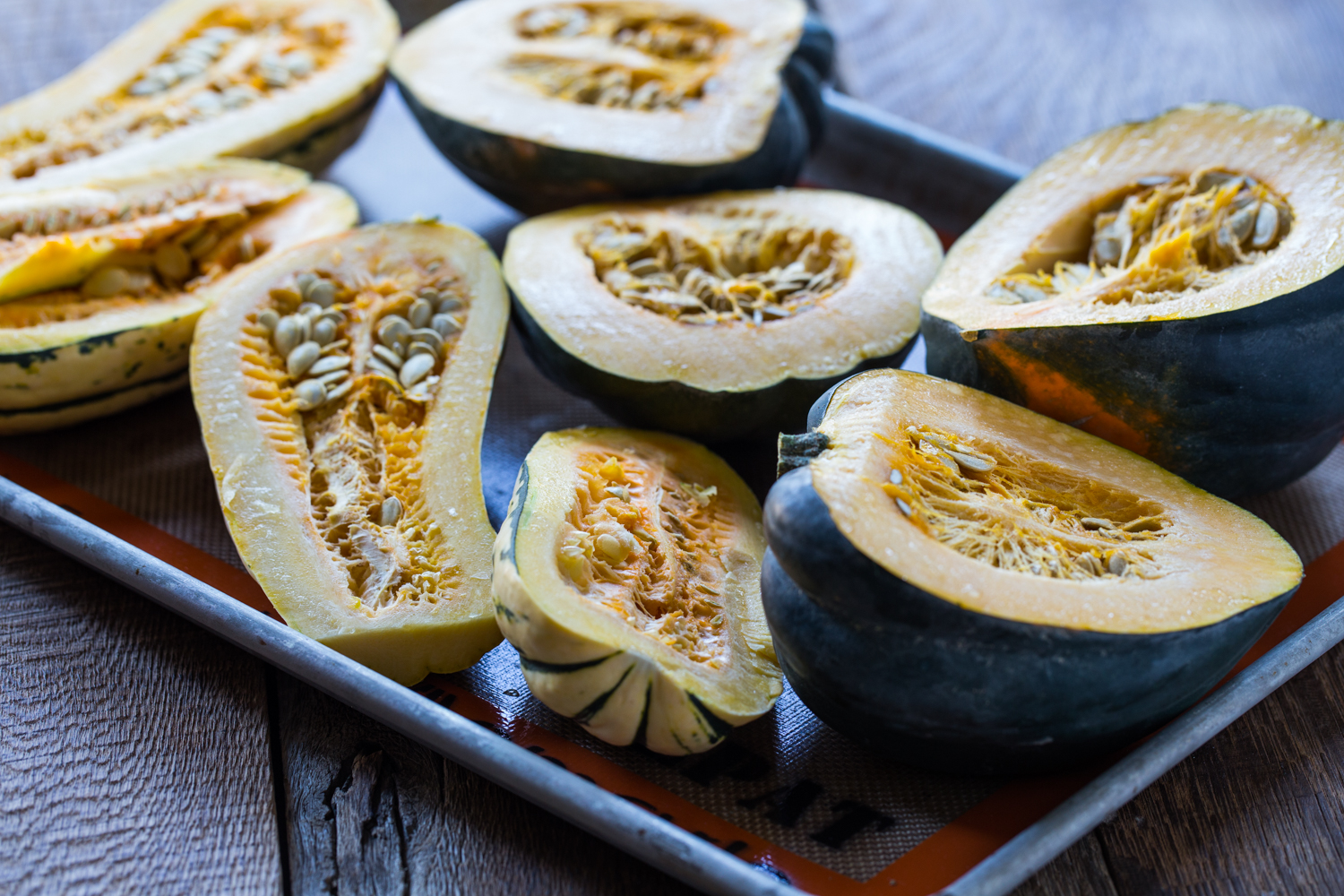 Before last week, I had always made my pumpkin butter with canned pumpkin. It's easy and quick and honestly tastes great. I came across a pumpkin butter recipe on Food52 that used a variety of roasted winter squash in place of the canned pumpkin. I figured it was worth a try seeing if the roasted squash tasted as luscious and rich in my slow cooker method as the canned.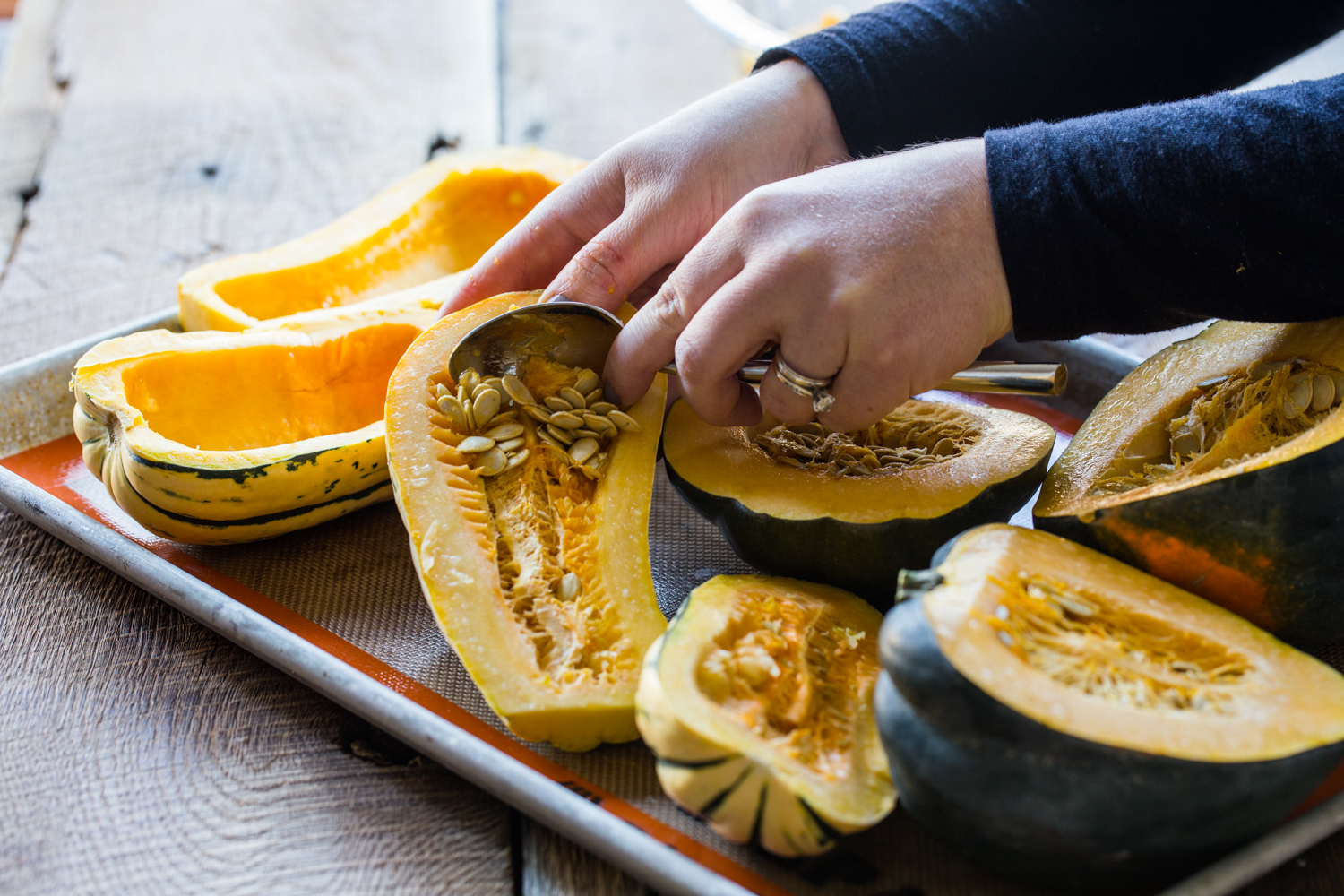 The results were pretty great. The flavor was a bit different than the traditional pumpkin, but you can by all means use pie pumpkins if that is the squash you have on hand. Don't have any winter squash on hand? Don't worry – just use canned pumpkin. I know that is what I will be doing next time my counter tops are not overflowing with gourds.
The method is pretty simple. Halve the squash and remove the seeds. Rub with oil and place them cut-side-down on a Silpat lined baking sheet. This makes for super quick cleanup! Roast them in the oven at 400°F for about one hour or until tender. Let the squash cool and scoop out the flesh.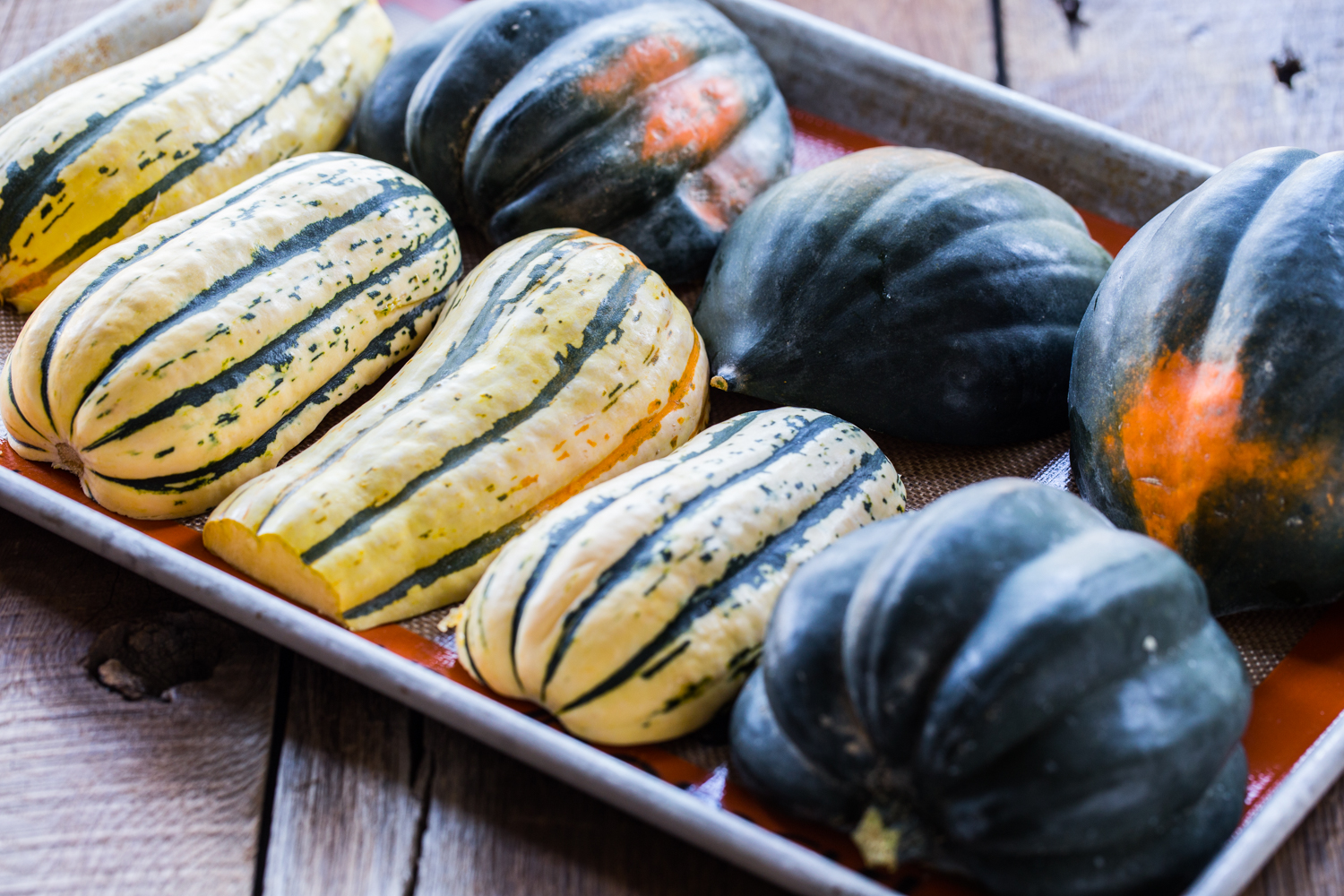 The roasted squash gets added to the slow cooker with all of the brown sugar, apple cider and spices. Cook on low for 7 hours covered, and then 30 minutes with the lid off; stirring occasionally during the last 30 minutes. The butter gets lush and dark in color and makes your entire house smell like pumpkin pie. Beats any air freshener, that's for sure, because last time I checked, you can't eat an air freshener.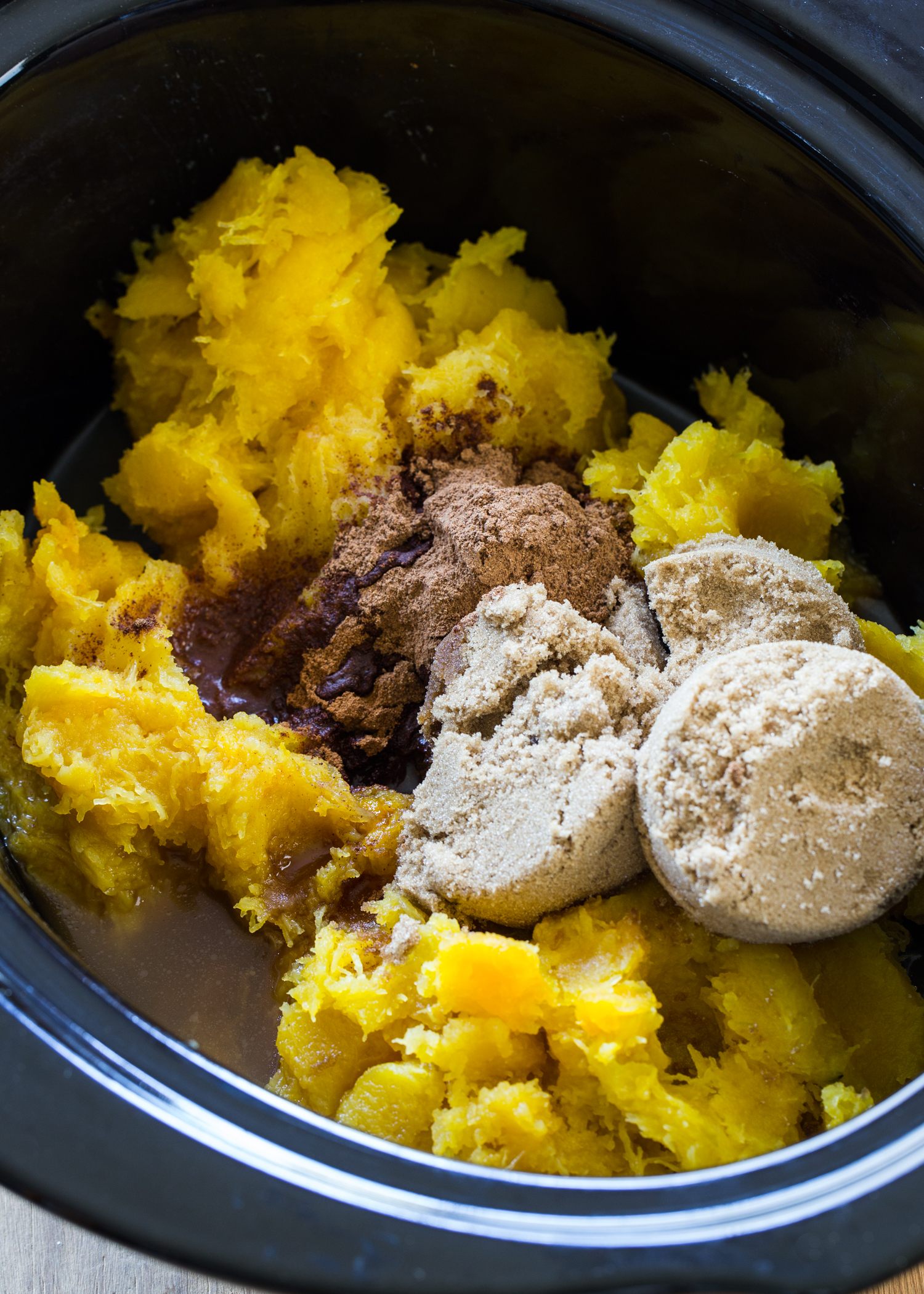 This is a great spread for toast in the fall and next week I will be sharing my favorite combination of pumpkin butter on toast that I learned from my mother-in-law several years ago. This slow cooker pumpkin butter recipe makes a big batch, so put it in jars and pass it out to your friends and family. That's a pretty great way to ensure that your friends and family will have a comforting breakfast this fall.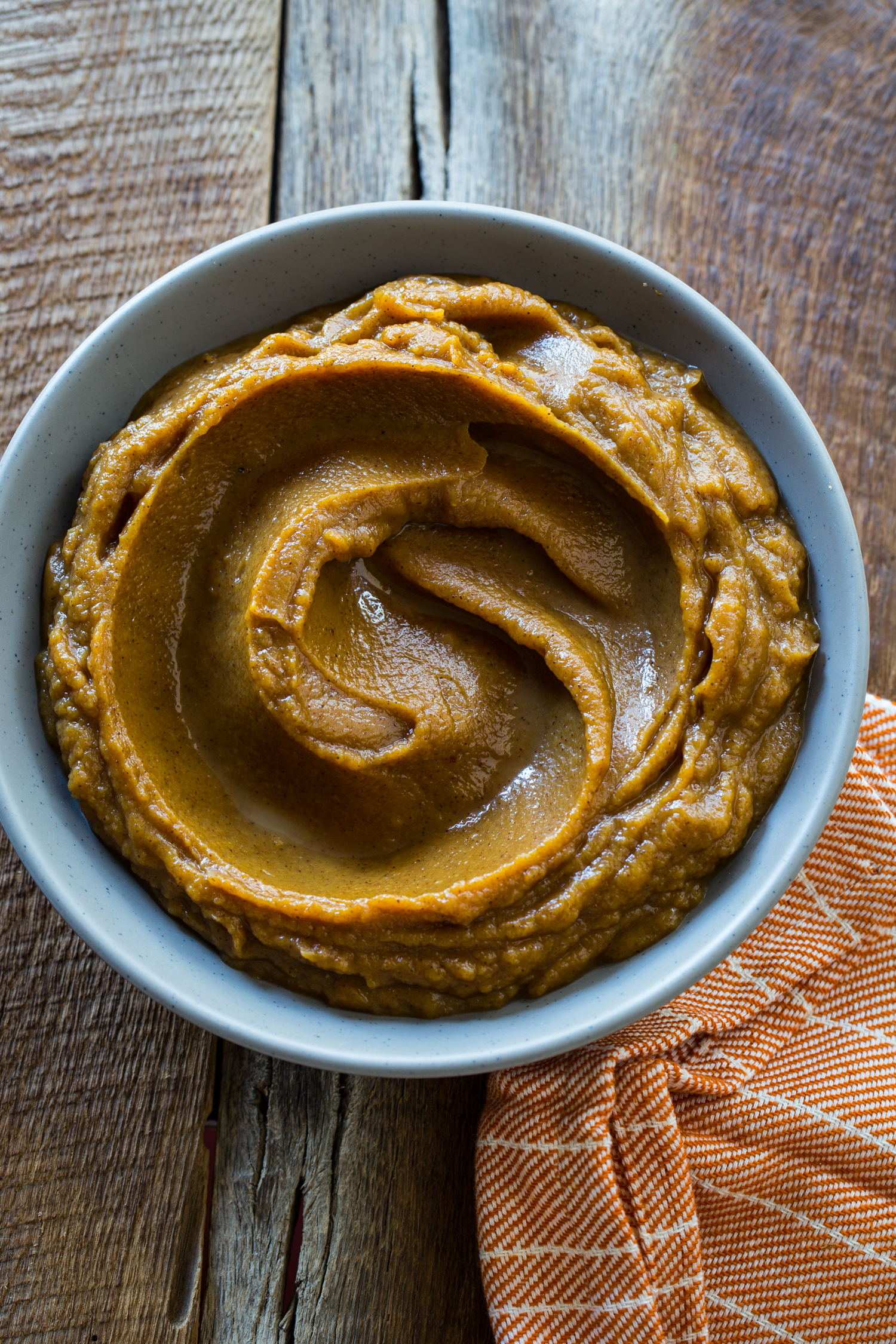 Happy Monday!
Slow Cooker Pumpkin Butter
Yield: 6 cups
Prep Time: 5 minutes (unless roasting your own squash)
Cook Time: 7 hours 30 minutes
Total Time: 7 hours 35 minutes
Ingredients
6 cups canned pure pumpkin (or roasted squash such as acorn, delicata, or butternut)
3/4 cup light brown sugar
1/2 cup apple cider
1 1/2 tablespoons pumpkin pie spice
1/2 teaspoon vanilla extract
Directions
Place all ingredients in the slow cooker and stir together. Cook on low for 7 hours. Remove lid, stir, and cook uncovered for 30 minutes; stirring occasionally.
Transfer Pumpkin Butter to a blender or food processor and process until smooth. Keep pumpkin butter refrigerated.