spiced carrot salad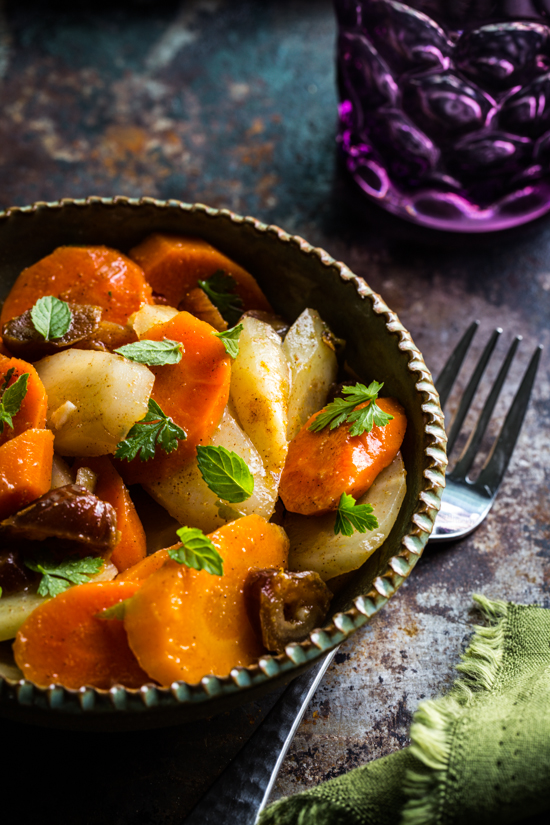 I need to talk photo props for a minute. I have a bit of a compulsion, as I'm sure many of my fellow food bloggers do, to collect, find, repurpose and create pieces and props that will work together to create a compelling final image. For a while, I've realized that the right props are key to a successful food photo (well, any photo actually), but it is recently that I've begun to really think through prop selection. Having the privelege of learning from Mindi Shapiro was a dream come true, and I have taken away a lot from my short time with her. I've learned to ask myself questions about how props work together, and with the food and to carefully and thoughtfully choose props for any particular shoot.
When perusing my prop stash (which consists of about 3 sets of shelves in my basement) I continue to have the recipe that I'm shooting in my head and the story I want to convey. It doesn't have to be a long involved story. Perhaps its a season, event, mood or feeling. Whatever the story is, I start trying to go through colors, textures and compositions that might work to showcase the food. Sometimes groups of props are bright, modern, dark, moody, rustic or cheery. Or even a combination of styles. The props truly help portray the mood – and thoughtful prop selection, and editing, can make or break a photo.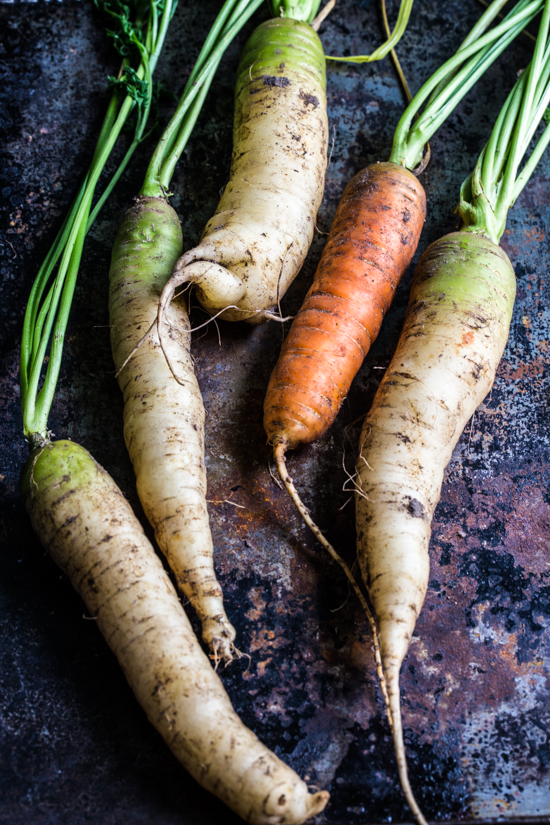 Well, I realized recently that I lacked a certain 'gritty' background that I would drool over in other photographer's photos. After shooting on this amazing background for my 'canned soup challenge', I just had to seek out a rusty, metal background for my very own. And that's where the beauty of Ebay comes into play.
Now, admittedly, I have only ever bought a few pieces from Ebay. It's not that you can't find awesome stuff there, I just hesitate over high shipping costs, and then when I do find something that I like, I select 'watch the item', and then completely forget about it. Seriously. Every single time.
Despite shooting myself in the foot, time and time again, I have managed to score several great finds. Last year, I found this lovely starburst Ovenex baking pan and most recently, I found the perfectly aged/rusted/worn baking sheet that I used in these photos. It was love at first rust spotting. I wish I was kidding.
When I told my mom about the old baking sheet, she cringed a little but I could see she had faith in the potential I saw in it. Sure enough, it arrived and I was swooning.
Yes, I realize this places me firmly into the bizarro-girls-who-would-rather-buy-weird-old-stuff-than-cute-new-jewelry club, but I'm okay with that. My only complaint about the pan is that it's not bigger. It's great for pretty tight shots, and that is about it. But oh, how beautiful those tight shots will be!
Okay, the prop chat is out of my system – for now, at least. Let's talk about this spiced carrot salad. I received a beautifully funky bunch of carrots from our CSA and wanted to create a dish that showcased them. I immediately thought of this awesome spiced carrot salad that my sister-in-law makes, and wanted to create something similar.
This Spiced Carrot Salad turned out just the way I wanted it to. It has sweetness and spice and everything nice. A bit of crunch left in the carrots keeps the salad from being overly soft and soggy – I like a little bite left in my carrots and this has the perfect amount. Serve it as the main course for a vegan lunch or alongside a simple roasted chicken or pork dish for a different twist on your 'carrots on the side' dinner.
It's a keeper.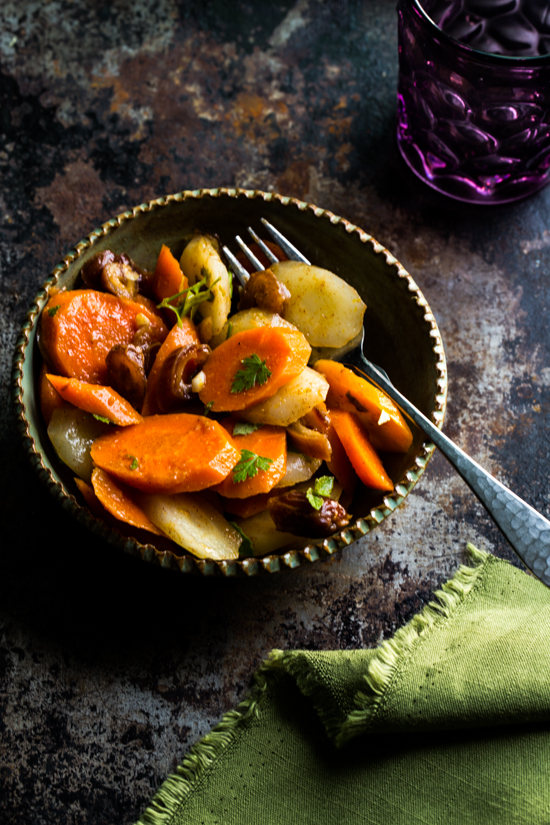 Happy Tuesday!
Spiced Carrot Salad
Yield: 4 servings
Prep Time: 20 minutes
Cook Time: 1 hour 15 minutes
Total Time: 1 hour 35 minutes
Ingredients
1 pound carrots, peeled and sliced into 1/4 inch thick slices
1/2 cup of pitted dates, chopped
2 Tablespoons lemon juice
4 Tablespoons orange juice
1 clove garlic, minced
1/4 teaspoon cinnamon
1/2 teaspoon cumin
1/2 teaspoon coriander
1/4 teaspoon sweet paprika
1/2 teaspoon coarse salt
2 Tablespoons extra virgin olive oil
2 tablespoons chopped mint leaves
1 tablespoons chopped flat-leaf parsley
Directions
To a small bowl, add dates, lemon juice and orange juice. Toss together and let dates soak for 15 minutes. Drain dates and reserve dates and juice separately.
Meanwhile, bring a large pot of water to a boil. Add carrots and boil until carrots are just fork tender, about 7-10 minutes. Drain carrots and rinse with cold water
In a large bowl, place reserved juice, garlic, cinnamon, cumin, coriander, paprika and salt . Whisk in extra virgin olive oil.
To the dressing, add carrots, dates and herbs and toss to coat. Allow carrot salad to sit at room temperature for 1 hour to allow flavors to infuse the carrots. Serve salad at room temp.
Enjoy!
Notes:
If you prefer, carrots can be steamed instead of boiled.