Strawberry Coconut Marshmallow Treats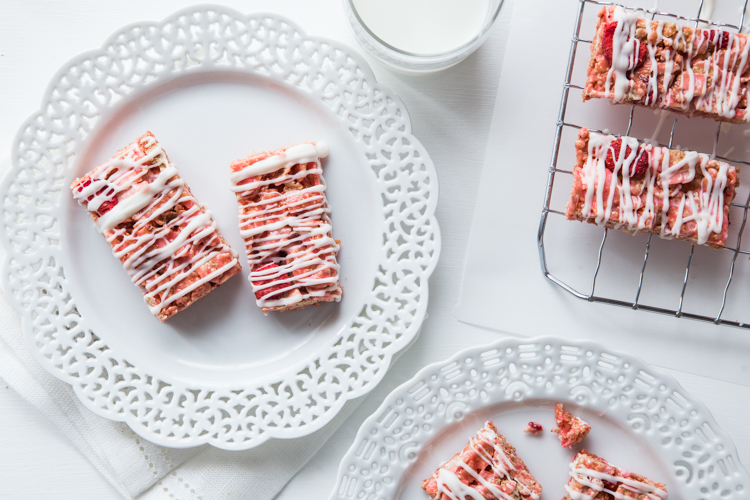 This post is sponsored on behalf of Campfire Marshmallows. All opinions are my own.
Wednesdays might just be my favorite day of the week. Er, well, perhaps my favorite weekday. I know, I should love Friday, and I do, but there is something exciting to know that you're halfway to the weekend, but still have a few more days to get a little bit of work done before the excitement of the weekend is upon you.
It's like, "Hey! Wake up! You still have a few more days to chip away at that to do list so…get moving!"
My days talk to me, don't yours?
It's also a chance to turn your week around if the beginning of your week was lousy. Don't give up on the rest of the week just because you forgot your kid's swim bag (complete with suit and towel) last night at swim lessons making you drive 30 minutes round-trip in traffic to return home to grab the bag, only to return to the lesson and realize that you've missed the class completely.
Hypothetically speaking, of course.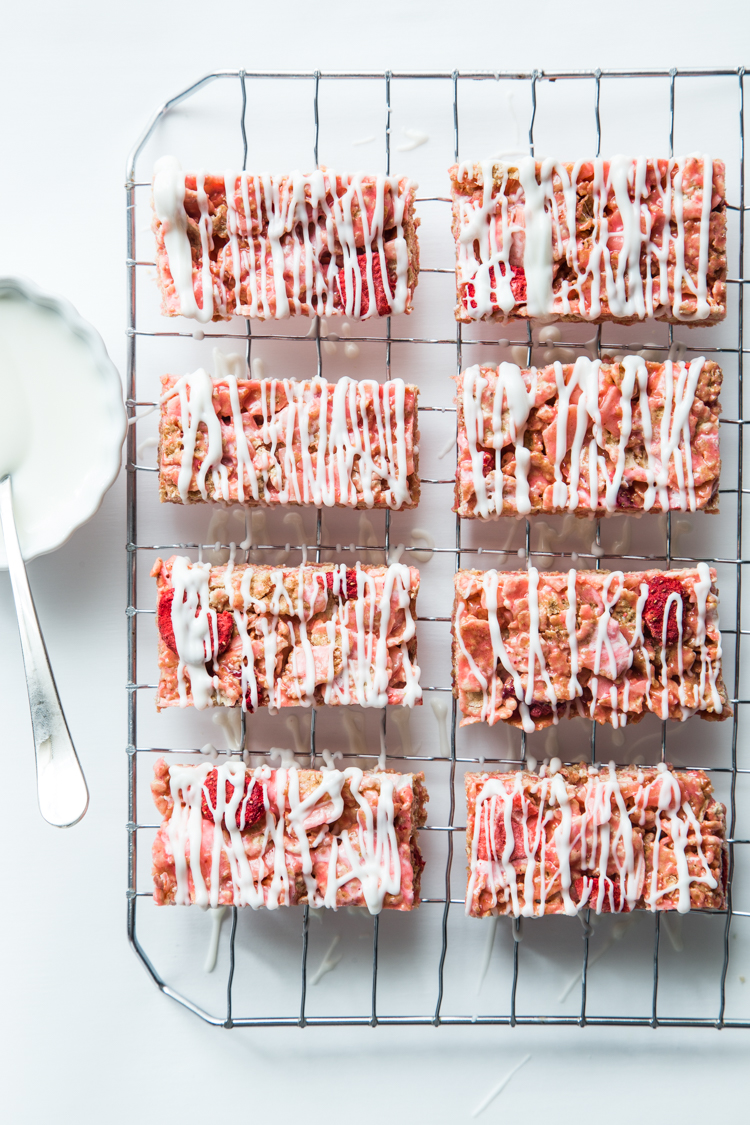 I decided to brainstorm a list of fun Wednesday activities that can help sooth your jittery nerves from rough start to the week:
Retail therapy – nothing says "happy" better than a cute new pair of shoes. Just don't go bathing suit shopping. Nobody has time for that kind of stress.
Coffee – that pretty much says it all.
Snuggles – whether it's your kiddos, your furry babies or your sweetheart, it's amazing how a little cuddle session can calm your nerves.
Baking (or in this case, not baking) – spending the morning in your kitchen, or even just a little bit of time, whether by your self or with a friend or little helper can do wonders to turn that frown upside down.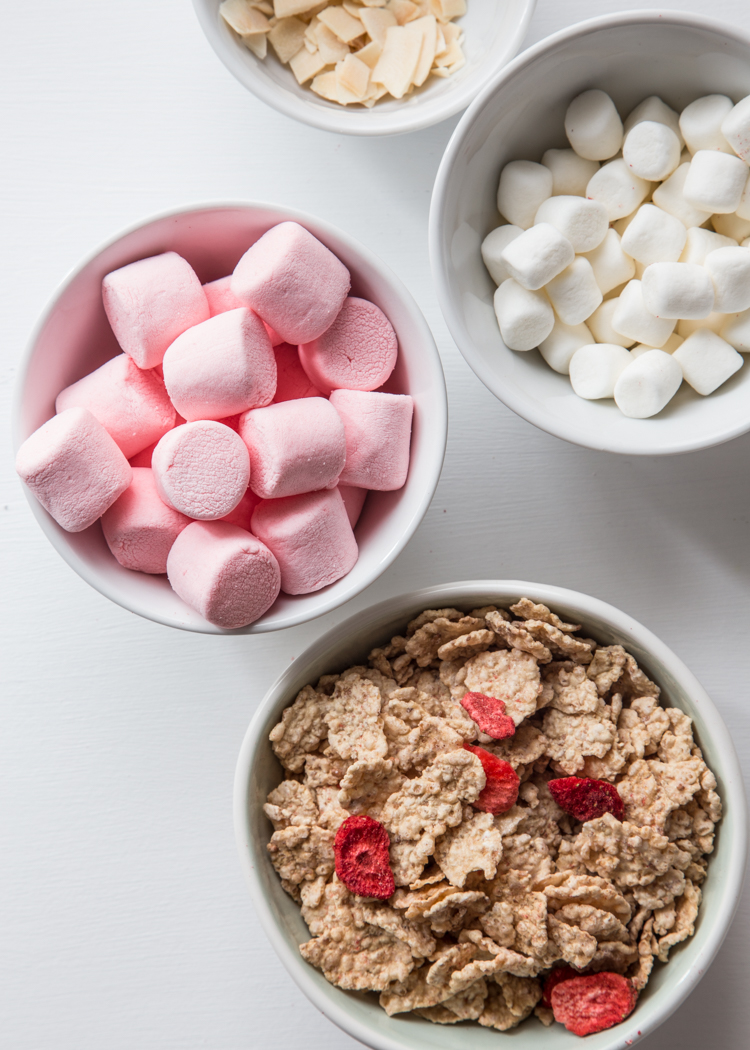 My favorite kind of baking is the non-baking kind, which is why I love anything to do with marshmallow treats. There has been such a surge of creative marshmallow/cereal treats in recent years (I'm thanking Pinterest for this) that I am always pumped to try out new combinations.
You might remember that last Spring I played around with Campfire® Mallow Bursts Pink Lemonade Marshmallows and made a Marshmallow No-churn Ice Cream with little bits of pound cake and melted mallow bursts swirled throughout the entire batch. This ice cream has been made over and over in our house. With Spring here again, I wanted to break out a new bag of these fruity, tangy mallows and turn them into a fun cereal treat.
The fluffy pink lemonade mallow bursts team up with my favorite strawberry flake cereal and some toasted coconut flakes for beautifully pink, bright flavored treat. A drizzle of white chocolate over the top dressed up these Strawberry Coconut Marshmallow treats making them something truly special, but still incredibly simple to put together. Talk about a mood boost! Plus, C had so much fun helping me with these, it's hard not to be happy when she's running around laughing and singing about strawberry desserts.
That's what she does. Runs, sings and pretty much acts wacky all day long. I love it 🙂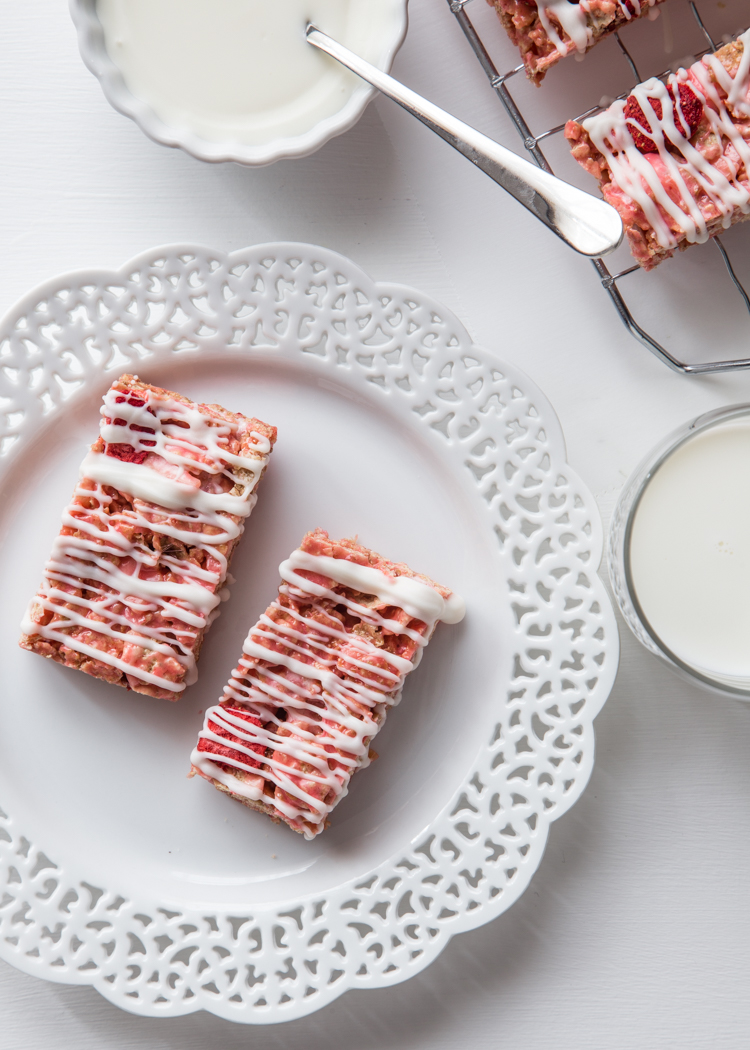 I've teamed up with Campfire® Marshmallows and My Baking Addiction for another year of seasonal, sweet treats featuring my very favorite marshmallows. If you like these Pink Lemonade Mallow Bursts, be sure to check out Jamie's Key Lime Marshmallow Milkshakes with the Key Lime Mallow Bursts. They are so dreamy! For more marshmallow goodness, be sure to follow Campfire on Facebook and Pinterest and check out our Marshmallow Madness Pinterest Board for new and seasonal marshmallow recipes all year long. But don't forget to get in the kitchen and put a little smile on your face. You deserve it 🙂
Happy Wednesday!
Strawberry Coconut Marshmallow Treats Recipe
Yield: 18 servings
Prep Time: 5 minutes
Cook Time: 10 minutes + cooling time
Total Time: 15 minutes
Ingredients
3 Tablespoons butter
1 - 8ounce package of Campfire® Mallow Bursts Pink Lemonade Marshmallows
4 1/2 cups corn flake cereal with strawberries
2/3 cup toasted coconut flakes
1 cup Campfire® mini white marshmallows
2 ounces white chocolate (or white candy melting wafers), melted according to maunfacturers instructions
Directions
Grease a square baking dish and set aside.
In a large pot, melt butter over medium heat. Stir in Campfire® Mallow Bursts Pink Lemonade Marshmallows and stir until compeltely melted. Remove pot from heat and gently fold in cereal, coconut flakes and mini white marshmallows. Press mixture into prepared pan (I like to use the butter wrapper to press mixture into the pan - it's perfectly non-stick!). Allow treats to set until firm.
Cut treats into 18 bars and drizzle with melted white chocolate.