tabouli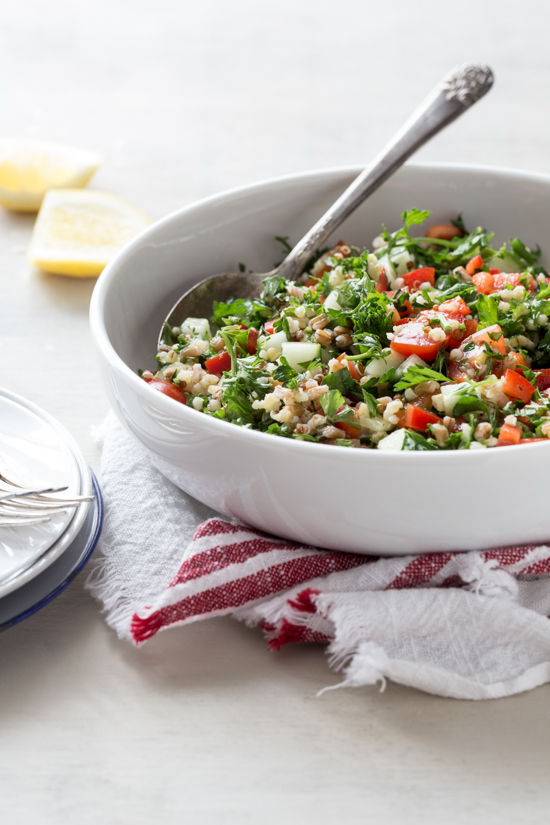 This incredibly light and refreshing Tabouli is packed full of grains and vegetables and makes a spectacular vegan lunch. 
I've been sitting on this Tabouli recipe for a week or so now, and am finally getting around to sharing it here. Maybe I just wanted a little more time with it myself, and after making it 4 times in the last week, I think it's time. Speaking of procrastination, I spent a sizable portion of my evening last night taking crazy Buzzfeed quizzes which are strangely addictive and hilarious.
So far, my answers have been: Meryl Streep, Elf, Aisha Tyler, A+, Padua, Spock and You've Got Mail.
So, yeah. It's not the most valuable use of my time, but sometimes time wasters are necessary.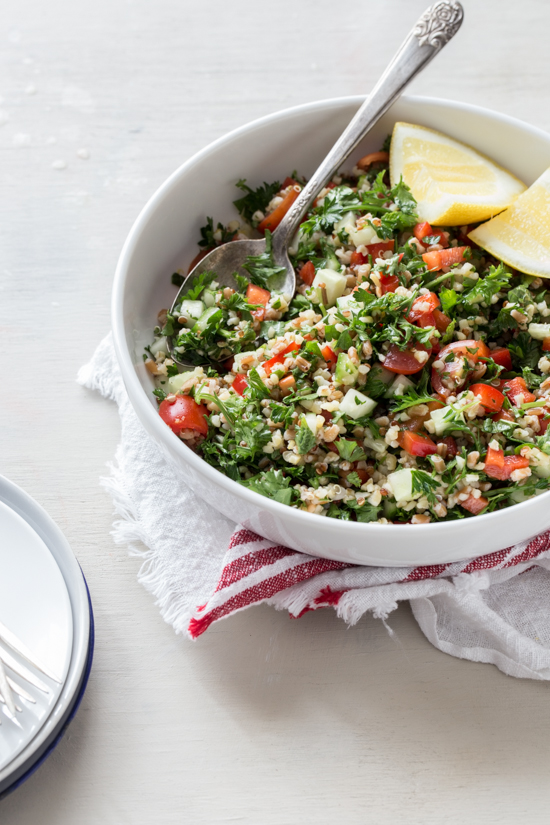 There are other things that I crave, besides random pop culture quizzes, and it might not be what you think. With all of the indulgences of sweets and heavy food of the last few months, come Spring my body needs something light. Something fresh.
I'm sure it's no real mystery that along with the slightly warmer weather (seriously, I'm talking 35 degrees instead of 5 degrees) my body just needs some vegetables.  Something fresh and simple and just real. I also think it knows I will be needing to squeeze into a swimsuit in the next few months and wants to avoid having to use a shoehorn to make that happen. Zumba can only do so much.
But anyway, two weeks ago I got such a craving. I just kept thinking about diving into a big old bowl of vegetables, and while that might not sound as compelling as diving into a big old bowl of ice cream, to me on that day, I would have passed over an entire dessert table for one big salad. Or two small salads in one big bowl. I'm flexible.
Now, I fully admit that sounds like crazy talk – but it was all I could think about.
With this urge for vegetables and lightness, came the idea of Tabouli. It's one of my favorite dishes to order when we go out, but I had never really made it at home. It's a fantastically simple combination of grains (I used bulgar, quinoa and wheat berries), fresh parsley, a few diced up veggies and a splash of lemon juice. So simple and so good.
Let's talk parsley for a minute. I chose to use curly parsley in this because lately I have been totally crushing on it. For years I felt like flat leaf was the only way to go, and after being forced to buy some curly parsley out of necessity a few weeks back, it's like my eyes have been opened. It's so substantial and has an incredible freshness to it. No more will curly parsley be banished to the side of a dinner plate like a sad little garnish.  Curly parsley is pretty fabulous, and I'm all about it.
If you're feeling the heavy winter blues and just need some honest to goodness fresh food, you can't go wrong with this simple tabouli salad.
And now I want to eat it again – possibly while taking a quiz about which character from How I Met Your Mother I am.
I'm Lily Aldrin, btw.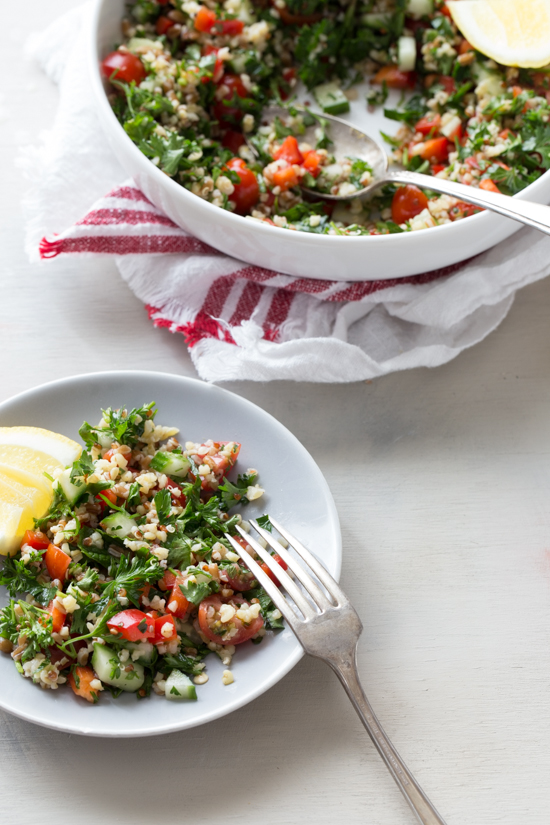 Happy Wednesday!
Tabouli Recipe
Yield: 2 servings
Prep Time: 10 minutes + time to cook grains
Ingredients
1 1/2 cups cooked grains (I used a combination of bulgar, quinoa and wheat berries)
1 1/2 cups curly parsley, chopped
2 tablespoons mint leaves, chopped
3/4 cup seedless cucumber, diced
1/2 red bell pepper, diced
10 cherry tomatoes, quartered
juice from 1/2 lemon
1-2 teaspoons olive oil
salt to taste
Directions
Combine grains, parsley, mint, cucumber, bell pepper and tomatoes in a large bowl and toss to combine. Drizzle with lemon juice and olive oil and add salt to taste. Toss to combine and serve.
Enjoy!