Sparkling Toffee Cookies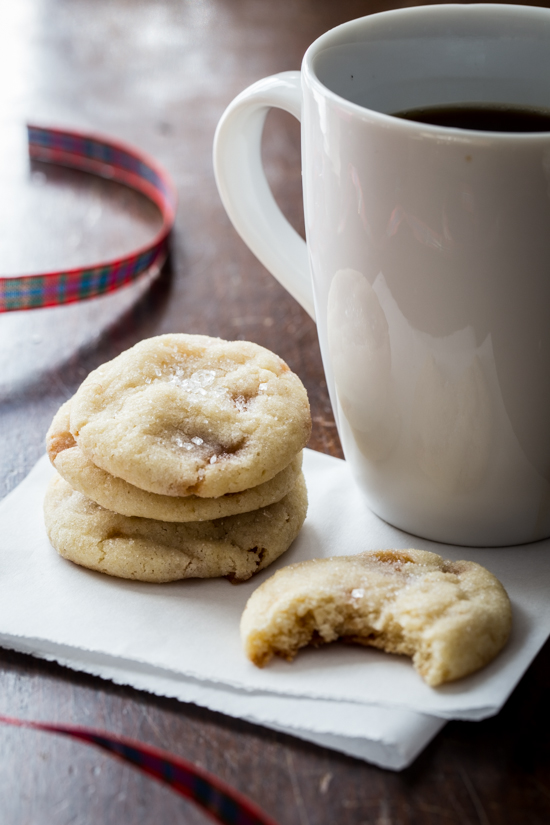 With it officially being December, I have a bunch of Christmas cookie recipes to share with you. I have several new treats on my list as well as a bunch of cookie recipes given to me by my family. This recipe for Sparkling Toffee Cookies was given to me by my great aunt – the very same aunt who gave me the recipe for Orange Cookies. And just like those sweet cake-like, citrusy cookies, these sparkling sweet toffee cookies completely stole my heart. 
When I went shopping for the ingredients for these toffee cookies, I was cruising along just fine, most of the ingredients being basic pantry staples, until I got to the toffee bits. I could not find a brand of toffee bits that was not processed with nuts. Ugh. I had heard that making your own toffee wasn't very difficult, so I figured I would just whip up a batch of my very own homemade toffee and get to work on these cookies.
Priorities, people.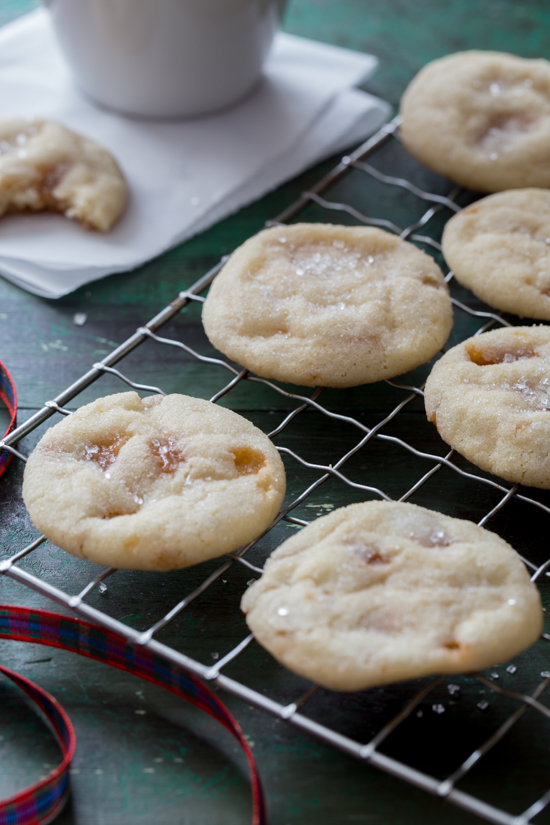 I looked around for a reputable toffee recipe and was delighted to see that there were only two ingredients in toffee: butter and sugar. "yeah", I thought. "I totally got this."
Um, I totally didn't.
You see, toffee falls under the category of 'candy', and making candy is not something that you should enter into lightly. People will tell you, "Oh, it's no big deal!" but those are the same people who grew up making candy with their grandmas every single weekend of their life. They're also the people who follow recipes perfectly and have patience with a specific process. I'm not one of those people. I like to experiment and see where ingredients will take me. Baking in general scared me off until recently and candy making…well, I'm still scared.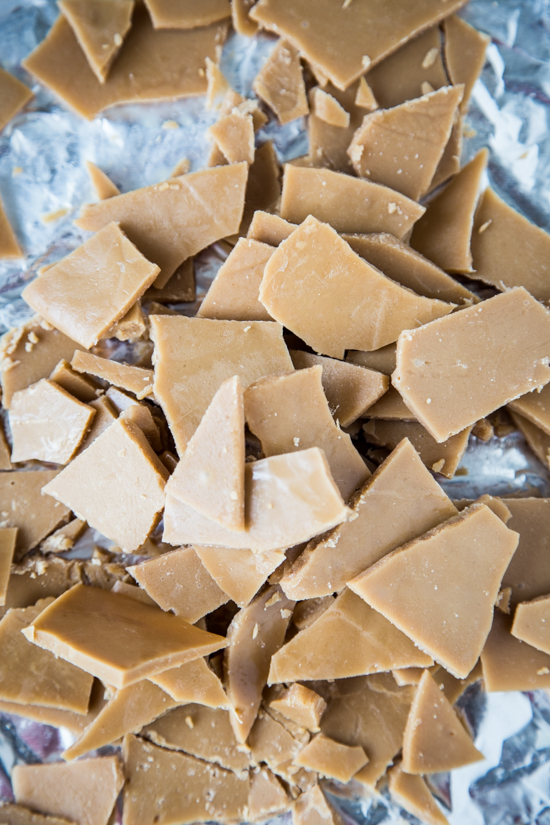 Determined not to be a complete wimp (and I also really wanted some cookies) I figured I'd give it a try. I watched a YouTube video and everything, so I was as prepared as I was gonna get.
Once I had the butter and sugar melting away, things were going pretty well, until all of a sudden, everything started happening at once. The thermometer kept popping off the edge of my sauce pan (not the kind of thing I was looking for) and the mixture just didn't want to come together.
In an attempt to get a handle on an out-of-control situation, I started whisking like a mad woman. Well, whisking melted sugar and butter in an improper sauce pan can lead to some serious splashing…and burning. So yeah, one ruined shirt and three blisters on my arm later, I haaaad toffee! And all I could think was, "this toffee better be freaking delicious".
It was, actually.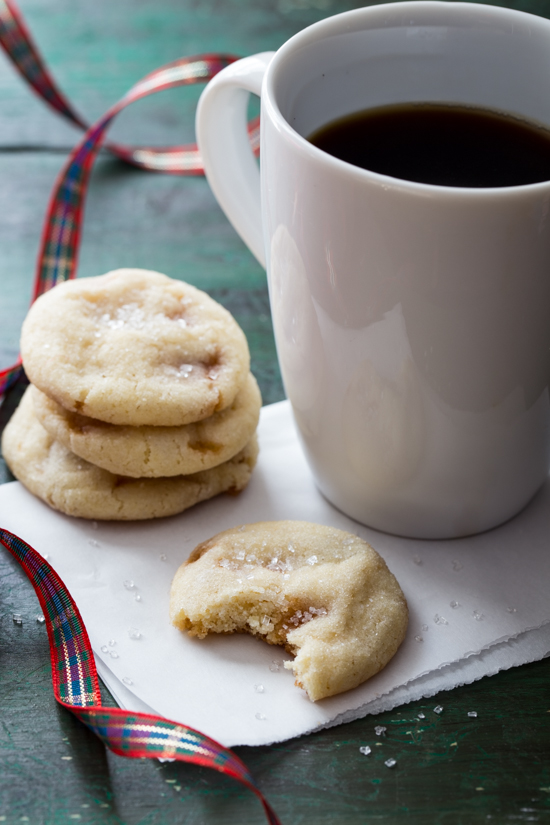 The delicious toffee led to some pretty spectacular cookies! They were soft, sweet with a bit of a caramel flavor from the toffee. My family went a bit bonkers over them, too, which just made me feel like my efforts were completely worth it. Aunt R has not steered me wrong yet, and I have one more recipe from her I need to try. I'll give you a hint: it starts with 'cinnamon' and ends in 'rolls'. If they are anything like her orange cookies and these toffee cookies, we're in for a serious treat.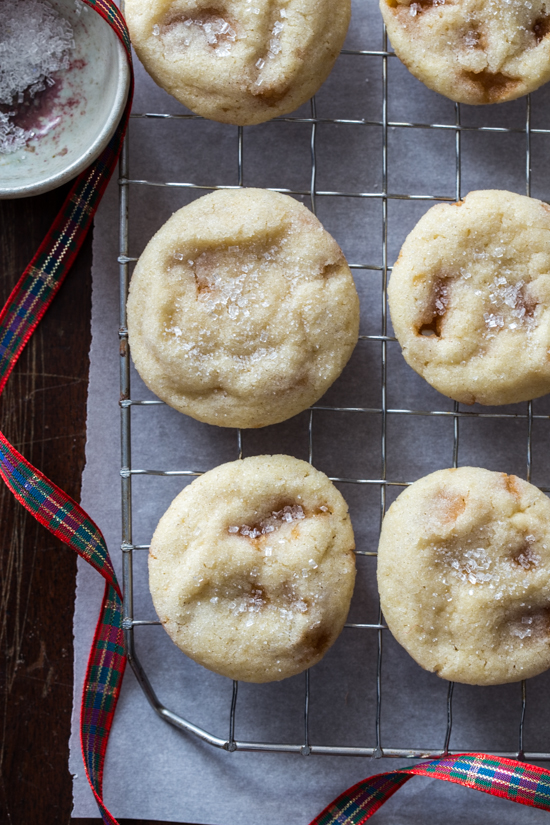 Anyway, I decided to freeze the rest of the batch of toffee, so that I could make several more batches of cookies without going through the trauma of making toffee again. So, if you are a nut-free house – I suggest wearing long sleeves and making your own toffee, the cookies are worth it. But, if you are nut and milk allergy free, just use store bought toffee bits and save your skin – literally.
Also, if any of you are toffee making experts and have any advice, I will gladly take it! I'm getting dangerously low on toffee in my freezer (turns out its also a great sweet snack at night when you're out of actual cookies) and I'm worried I will need to make another batch soon.
But seriously, you need to make these cookies. Just be careful if you're making your own toffee!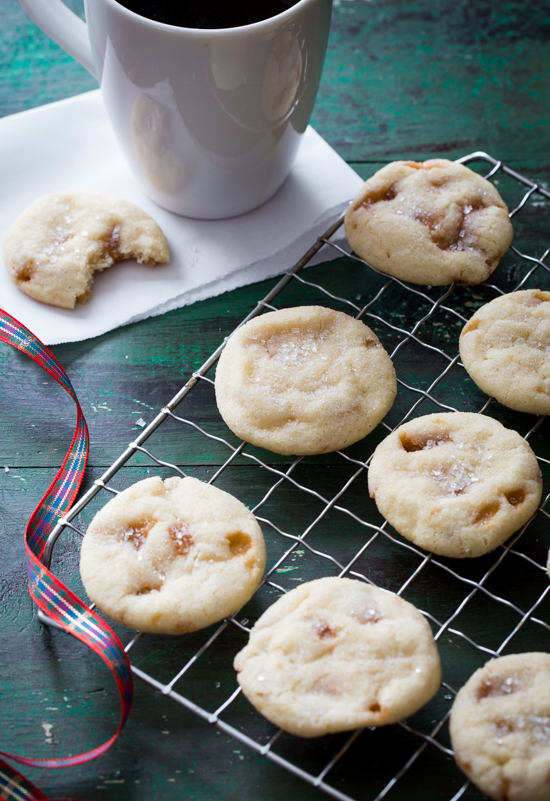 Happy Wednesday!
Toffee Cookies Recipe
Yield: 2-3 dozen cookies
Prep Time: 15 minutes
Cook Time: 10 minutes per sheet
Ingredients
1 cup granulated sugar + 1/3 cup for rolling
1 1/2 sticks unsalted butter, softened (3/4 cup)
1 large egg
1 teaspoon vanilla
2 cups all purpose flour
1/4 teaspoon baking soda
1 1/2 teaspoons baking powder
1/4 teaspoon salt
3/4 cup toffee bits (homemade or store-bought)
Directions
Preheat oven to 350 degrees. Line baking sheet with parchment paper and set aside.
In the bowl of stand mixer, cream together 1 cup of sugar and softened butter until light and fluffy. Add in egg and vanilla and beat until combined. In a medium bowl, whisk together flour, baking powder, baking soda and salt. With the mixer on low, slowly add dry ingredients into butter mixture. Beat until just combined. Fold in toffee bits.
Scoop 1-2 teaspoons of dough and roll into a ball. Roll dough ball in remaining sugar and place on prepared cookie sheet. Repeat with remaining dough. Bake cookies for 10 minutes or until just golden at the edges. Allow cookies to cool for 5 minutes on baking sheet and then transfer them to wire racks to cool completely.
Enjoy!