twice baked potato bites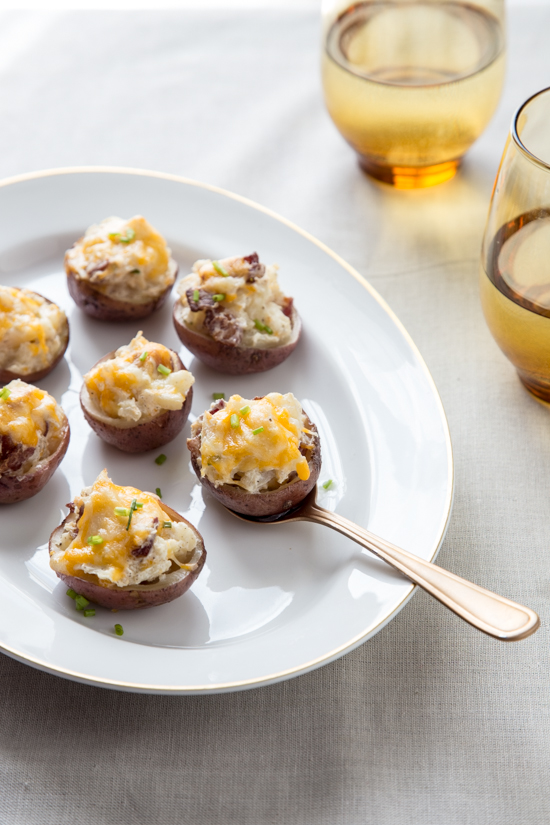 Twice Baked Potato Bites are full of sour cream, chives, bacon and loads of cheddar cheese. These little bites are perfect for both cocktail parties and after school snacks.
Happy March! For the last few months, the kiddos and I have been on a mission to make twice baked potatoes as often as we can. It's as if it's become a personal challenge. We've come up with taco twice baked potatoes, sausage twice baked potatoes and our very favorite, these bacon, sour cream and chive twice baked potato bites.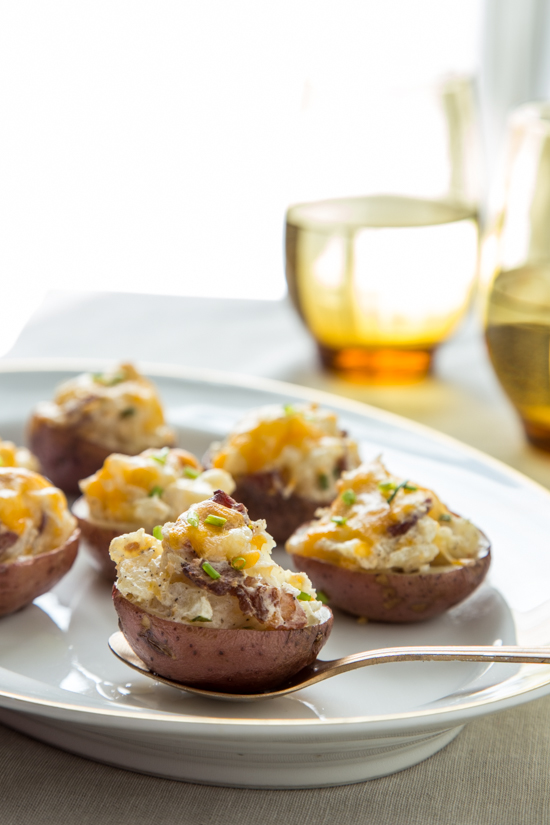 While the combination of sour cream, chive and bacon isn't exactly ground breaking, it's still just plain good. Instead of using large Russet potatoes, we went with teeny tiny red skin potatoes because, if you've been around Jelly Toast for any amount of time, you know that I am a strong believer in miniature food. I love anything made tiny. It's cute, bite sized and way too easy to eat a million of them.
Using the red skin potatoes proved to be fairly different than using a large, Russet potato. They're small and waxy, so be sure to roast them until they're tender. The sour cream really helped to make the filling mixture creamy, but it did take a few minutes with my trusty potato masher to make sure everything was nice and mixed.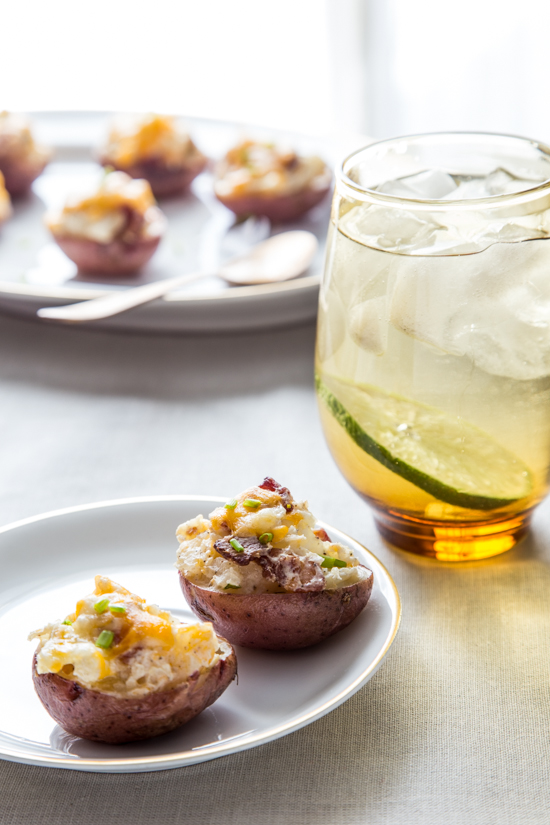 One of my favorite things about these little twice baked potato bites is their versatility. They're fancy and elegant enough to be served at a cocktail party (we munched on them while watching the Oscars last night) but easy enough to make for an after school snack. Plus, they reheat like a champ. And when you're making 20-ish of these little guys for 4 people, you're going to have a couple leftovers.
Or not.
Either way, these twice baked potato bites are rocking.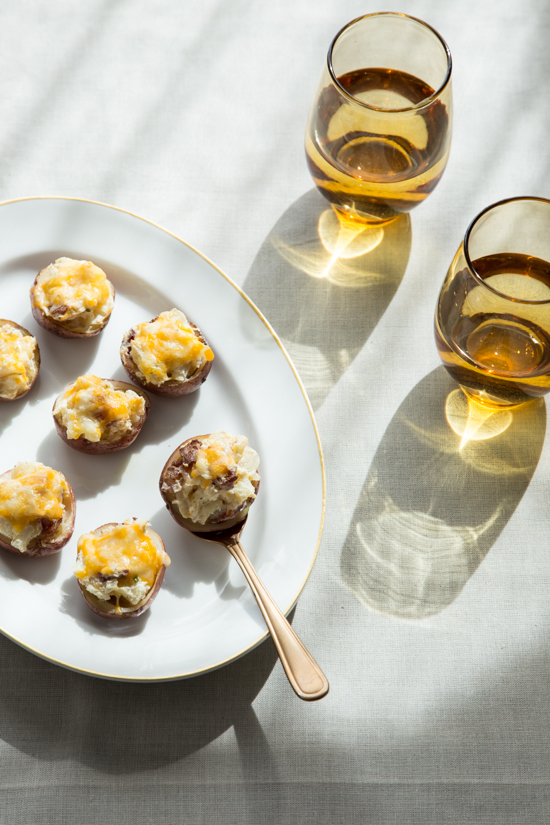 Happy Monday
Twice Baked Potato Bites
Yield: 10 servings
Prep Time: 15 minutes
Cook Time: 35 minutes
Total Time: 50 minutes
Ingredients
10-12 small red skin potatoes
1 1/2 tablespoons olive oil
salt and pepper
2/3 cup sour cream (I used light)
3 strips of bacon, cooked crisp and crumbled
1 cup cheddar cheese, shredded
1 tablespoon chives, chopped
Directions
Preheat oven to 425 degrees. Rub potatoes with olive oil and spread on a rimmed baking sheet. Roast until tender about 25 minutes. Allow to cool slightly. Lower oven temperature to 400 degrees.
Cut potatoes in half. Using a spoon or a melon baller, scoop out insides of potatoes, leaving about 1/8 inch of potato to create a shell. Reserve potato shells. Place scooped potato, sour cream, bacon, 1/2 cup of cheddar cheese and chives in a large bowl and mix to combine. Divide potato mixture between the potato skin cups and top with remaining cheese. Bake for 10 minutes or until cheese is melted and potato bites are warmed through.
Enjoy!