sausage biscuit skillet with guinness
Sausage Biscuit Skillet with Guinness is a flavor packed and easy-to-make one pot dinner that will please everyone at the table.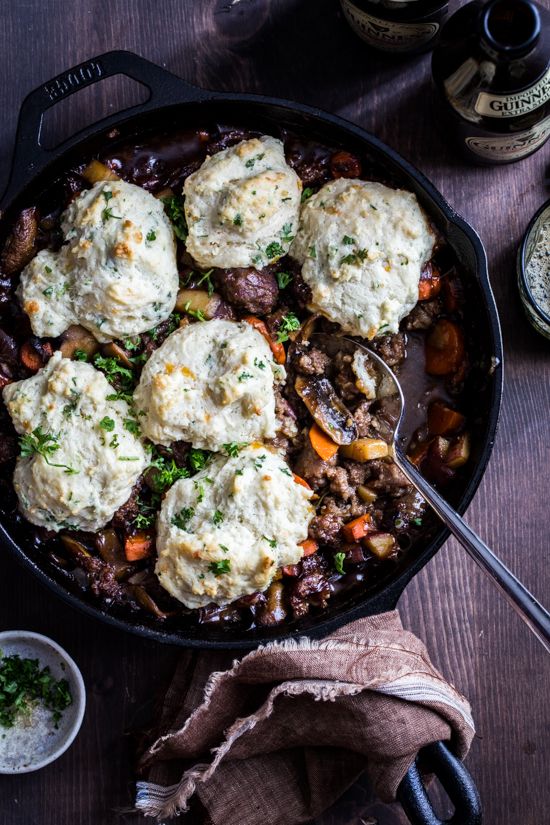 A couple of weeks ago, I was at the grocery store and perusing the sausage selection, as one does.  Yes, I realize that sounds bizarre, but I had in my mind that I wanted to create a St. Patrick's Day version of my sausage stuffed mushrooms using Guinness in place of the rum but I had no idea what type of sausage to use.
There's Polish Sausage, Italian Sausage and Chorizo but what in the world would I use for an Irish inspired dish? Well, I came across a pack of sausage links called "Irish O'Garlic" and I just giggled. First of all, I totally question the authenticity of it's Irish-ness, but authentic or not, I love me some garlic so it sounded superb.
I had myself a winning sausage!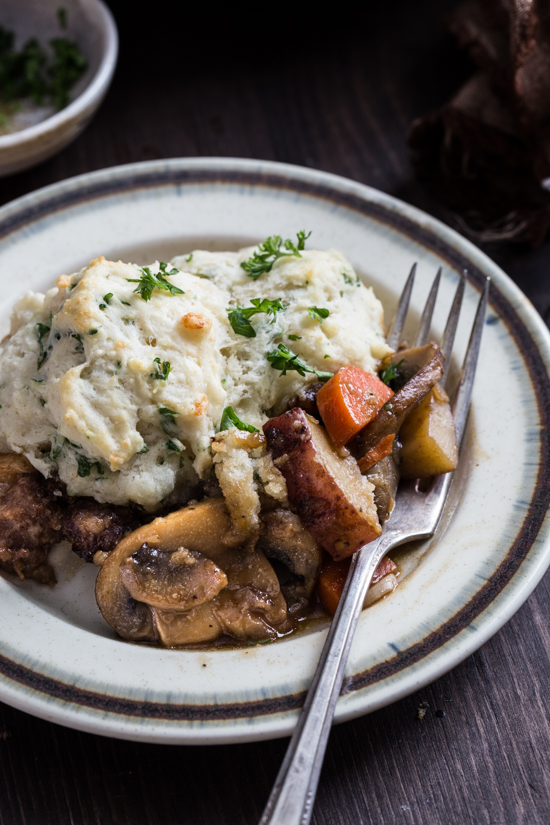 Fast forward a few days that were filled with procrastination and changed plans. Needless to say, no stuff mushrooms had been made. Come Wednesday, I needed a dinner idea more than I needed an appetizer plan, so I decided to scrap the idea and use my stuffed mushroom ingredients to make a full-on main course.
I did a quick once over my ingredients and figured it would be a pretty decent idea to through everything in a skillet, create a Guinness based gravy top it off with some sort of bread/pastry/crust and call it a day.
Well, this was the best make up meal I've made in a long time and boy was it a true make up. I had less than an hour to come up with a plan and get it on the table. As a side note, having swim lessons, soccer and piano lessons as weekly after school activities are starting to take it's toll on me. But that's a story for another time.
I love to make up recipes on the fly with very little planning, but sometimes these spur of the moment meals result in weird combinations. Not always successful by any means. Luckily, this time, I had a success.
This Sausage Biscuit Skillet dinner that's filled with sausage, mushrooms, potatoes and carrots is hearty and filling. The flavorful and savory Guinness gravy is lip smacking good and totally got me in the mood for St. Patrick's Day.
Plus, I am always on board for Guinness, it's my total favorite.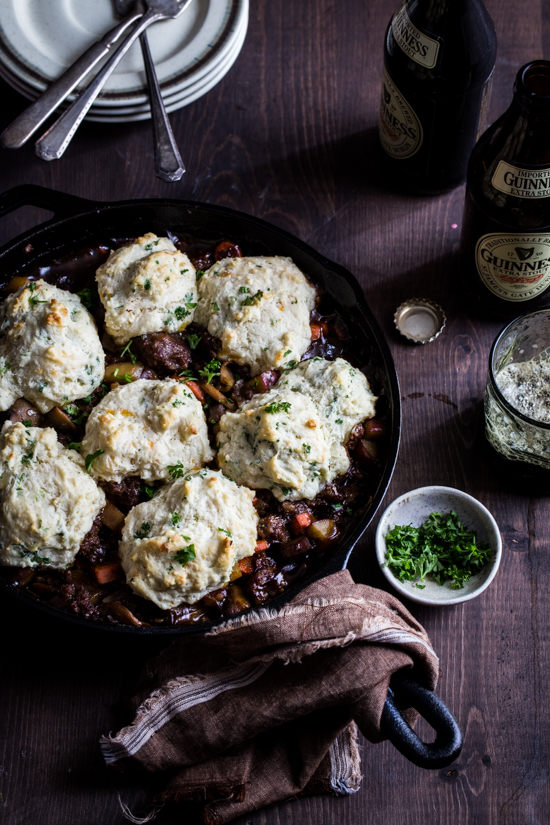 At one point I considered topping this dinner with a puff pastry crust, which I'm sure would be rocking, but I didn't have time to thaw out my frozen puff pastry. Like I said, this was a last minute meal. And yes, I need to get my act together a bit.
Well, puff pastry or no puff pastry, this quick and simple drop biscuit was a fantastic alternative and honestly, is maybe even better fit for this rustic and casual dinner.
If we're being completely honest and I'm sharing all of my ill planned dinners and mismanaged cooking time I might as well admit that I'm not a huge fan of corned beef. Some years feel obligated to make it for St. Patrick's Day but this year, I think I'll make this Sausage Biscuit Skillet. It's faster and more my style. Plus, the kiddos loved it, too.
Especially the biscuits on top. Who can blame them?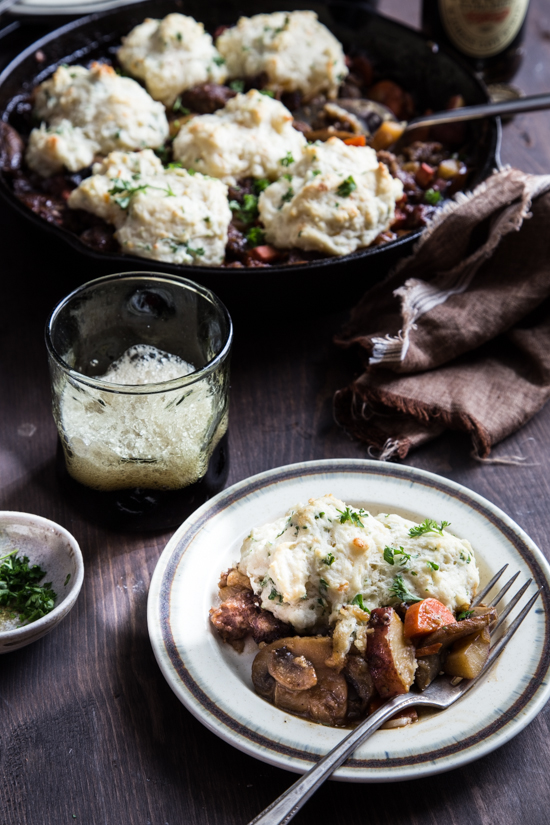 More St. Patrick's Day/Irish Inspired Recipes:
Happy Monday!
Sausage Biscuit Skillet with Guinness Recipe
Yield: 6 servings
Prep Time: 10 minutes
Cook Time: 35 minutes
Total Time: 45 minutes
Ingredients
1 teaspoon vegetable oil
1 1/3 lb sausage, removed from casings (I used Irish O'Garlic - but use whatever type you like)
2 medium carrots, peeled and sliced 1/4 inch thick (cut in half lengthwise if the carrots are fat)
2 medium red potatoes, scrubbed and diced
1/2 onion, diced
2 cloves garlic, minced
8 oz mushrooms, sliced
8 oz Guinness Extra Stout
1/2 cup water
1 1/2 tablespoons all-purpose flour
1 teaspoon Worcestershire sauce
salt and pepper to taste
1 drop biscuit recipe (see notes)
Directions
Preheat oven to 425 degrees.
Heat oil in a large cast iron skillet or other oven safe skillet. Cook sausage, breaking up with a wooden spoon, until browned and a bit crispy in spots. Remove from skillet and drain on paper towel lined plate.
Leave 1 tablespoon of fat in skillet and discard any extra. Add carrots, potatoes, onions and garlic to the skillet and cook until veggies are starting to become tender and potatoes are beginning to brown, about 3-5 minutes. Add mushrooms and cook, stirring for about 2 more minutes.
Pour in Guinness and bring mixture to a simmer. Allow veggies to continue to simmer in the Guinness for 5 minutes or until tender and just about cooked through. In a small bowl, whisk together 1/2 cup of water and flour to create a slurry. Pour slurry into skillet and stir. Add sausage back to the skillet and simmer until mixture becomes thick and gravy like. Stir in Worcestershire sauce and season with salt and pepper to taste.
Drop biscuit mixture (see notes below) in heaping tablespoons over the top of the skillet (about 6-7 biscuits) and bake for 12-15 minutes or until mixture is bubbling and biscuits are golden brown.
Enjoy!
Notes:
DROP BISCUITS
Mix 1 cup of all purpose flour, 1 1/2 tsp baking powder, 1/4 tsp cream of tartar, and 1/8 teaspoon kosher salt in a medium bowl. Pour in 1/4 cup melted unsalted butter and 1/2 cup of whole milk and stir until dry ingredients are moistened. Fold in 2 Tbs shredded cheddar cheese and 1 tbs chopped parsley. Use biscuit dough to top sausage mixture as directed.