Twix Icebox Cake
This post is sponsored by and created in partnership with Kroger Family Stores using free products provided by Kroger.
Halloween is, and will always be, one of my family's favorite holidays. Every year, we have a big family costume party where we all gather together to dress up in costume, play spooky games and eat lots of great food. And by food, I mean candy.
I am kidding. At least a little bit. It is true that there is usually a vegetable or two that sneaks into the menu, but let's face it. When it comes to eating on Halloween the focus is always on candy. It's what drives the holiday, am I right? Without candy, trick or treating would be just an awkward night of knocking on your neighbors' doors after dark dressed in a witch costume. Trust me, the candy smooths everything over.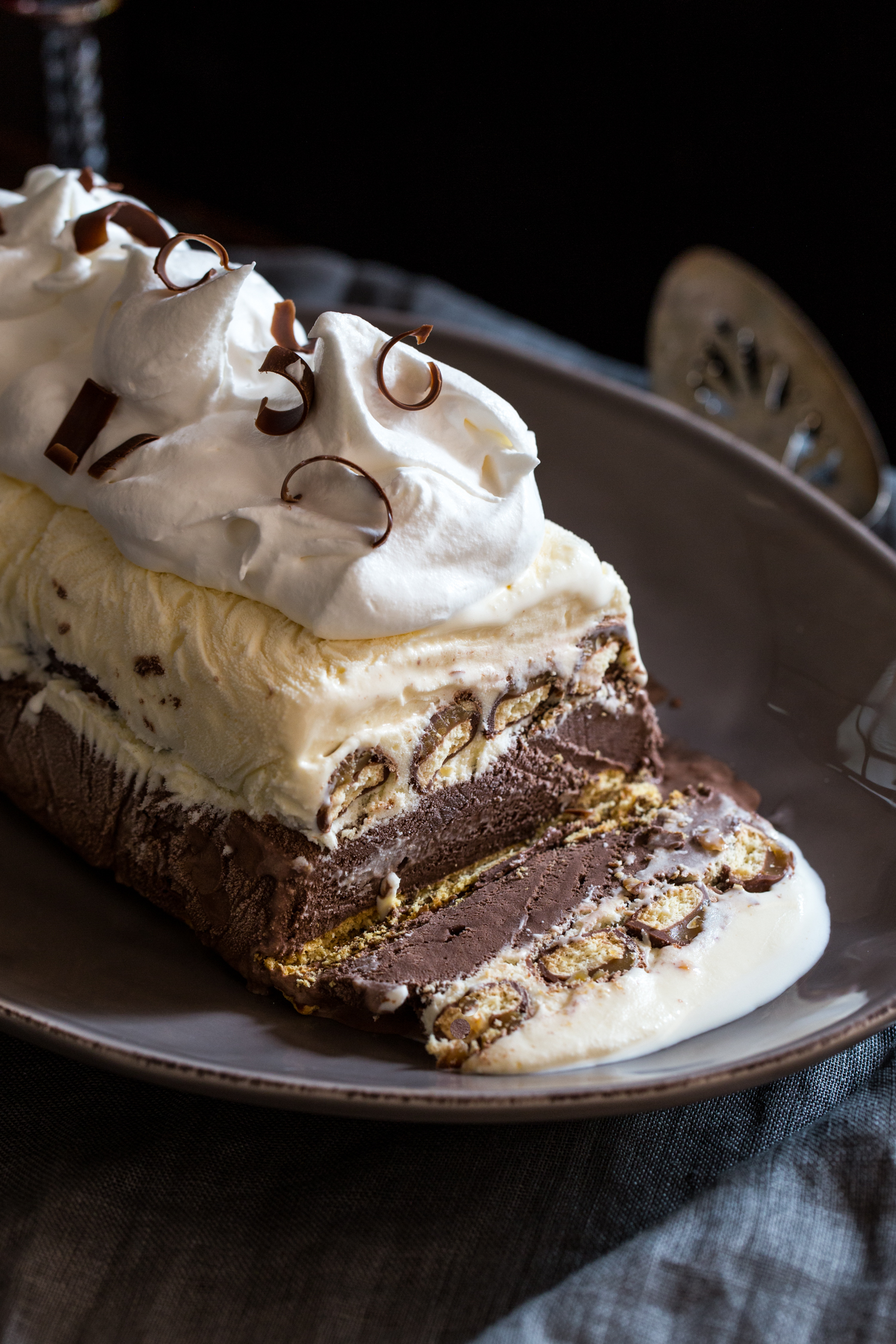 But what do you do when you are up to your eyeballs in candy and are looking for a little variety? You make icebox cake, that's what. This easy, layered icebox cake is one of my favorite ways to use up leftover candy. Twix is my favorite to use because there is a bit of chocolate, cookie and caramel all rolled into one little bar. Besides the Twix, all you need is some great vanilla and chocolate ice cream and a few graham crackers to finish this whole dessert.
If you are like me, you start your candy shopping quite early. I usually have several bags of candy that don't see the light of Halloween. I consider the entire month of October candy testing season. If you happen to have a bag of Twix lying around early, you should definitely be making this Twix Icebox Cake for your Halloween party.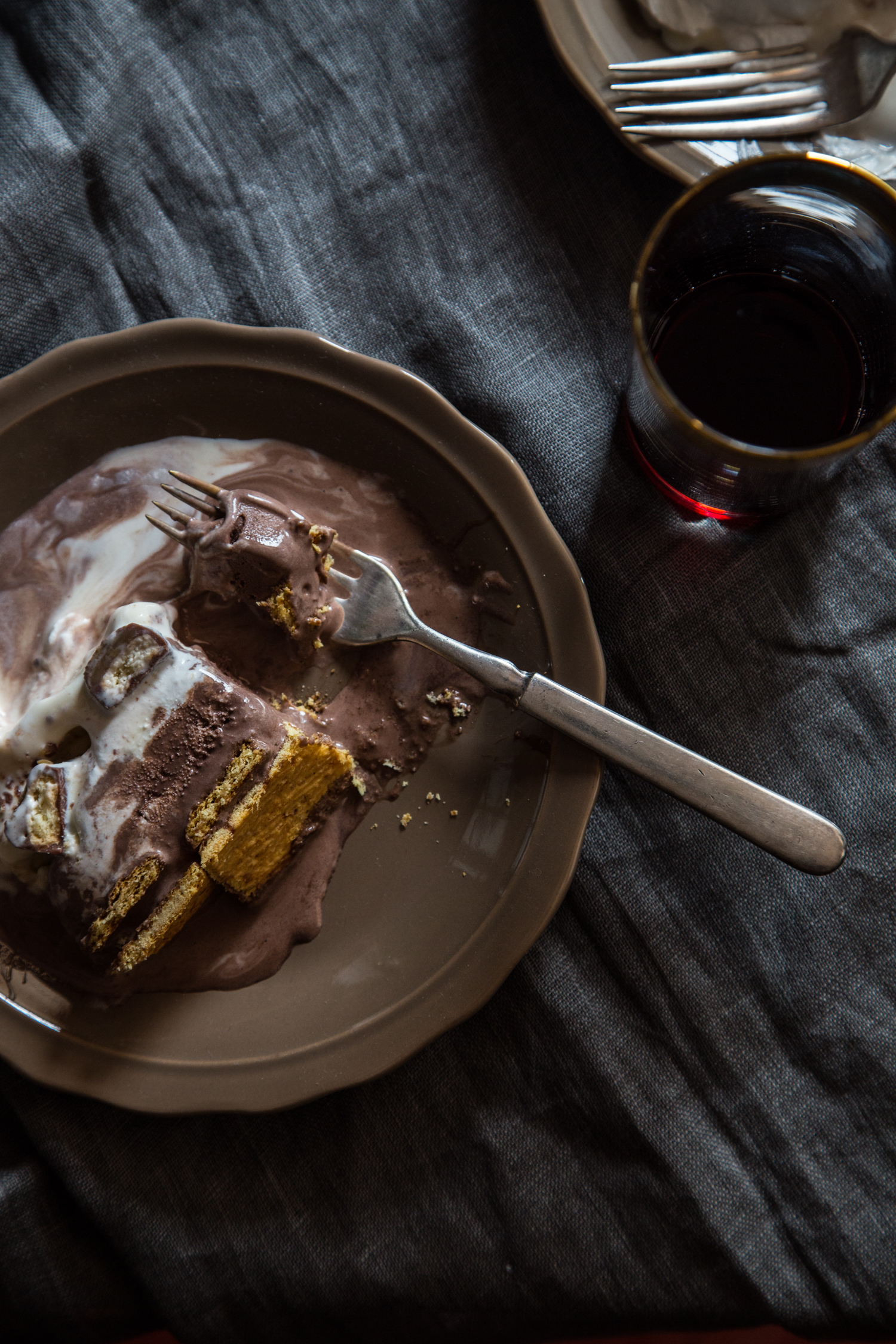 The small fun size Twix that get passed out on Halloween are perfect for this recipe. They can be layered in like a puzzle to make one solid layer of candy in this cake. Top the whole thing off with a dollop of whipped topping and some chocolate curls and your cake will be the hit of party. Don't have TWIX®? Use whatever mini candy bar you have: SNICKERS®, 3 MUSKETEERS®, MILKY WAY® – they will all be amazing.
What candy bar would you use?
Happy Wednesday!
Twix Icebox Cake Recipe
Yield: 8 servings
Prep Time: 20 minutes plus chilling time
Ingredients
1 pint Private Selection™ Double Vanilla Ice Cream, softened
12 Twix FUN SIZE
3 cups Private Selection™ Chocolate Ganache Ice Cream, softened and divided
10 Kroger Graham Cracker Squares
1½ cups frozen whipped topping, thawed
Chocolate shavings or mini chocolate chips (optional)
Directions
1. Line a glass loaf pan with plastic wrap. Spread softened vanilla ice cream in the bottom of the pan. Top the ice cream with Twix by arranging the candy bars in an even layer. Freeze for 30 minutes.
2. Spread 2 cups of softened chocolate ice cream evenly over the Twix. Freeze for 30 minutes. Place 5 graham cracker squares on top of the ice cream. Repeat with remaining ice cream and graham crackers. Freeze overnight.
3. Flip loaf pan upside down onto a platter, gently pulling on the plastic wrap to remove the cake. Remove the plastic wrap from the cake and top with whipped topping and chocolate curls, if desired.
4. Slice and serve immediately. Freeze any leftovers.