Anything Goes Summer Salad // VIDEO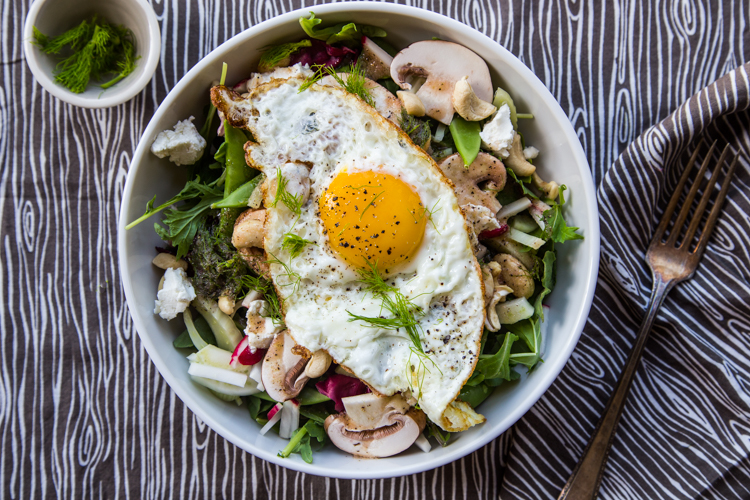 This post is sponsored by Earthbound Farm. All opinions are 100% my own.
Wow. It feels good to be back here. I've taken a bit of a hiatus the last couple of weeks. A little update for those of you who follow along here – we are all moved into our new house! Yes, it has been a serious whirlwind these last two months. From listing our house for sale, to selling, to finding our new house and moving in. It's been one of the wildest two months of my life. Wild, but good.
If you have moved before, I don't need to explain to you that amongst all the great, wonderful things that come with moving to a new house, there is a whole list of somewhat stressful tasks that go along with the actual move itself. Calling and hiring movers, dealing with the bank, changes of address EVERYWHERE, public utilities, contractors coming out to fix neglected items, waiting for people to call you back (and then not calling you back), not being able to leave the house for a week because of said contractors needing to be in and out all the time.
It's part of the deal, I know, but it's tricky none the less.
We lived in our previous home for ten years, so a lot of these tasks that come along with moving are so far back in my brain. I'm struggling a bit to make sure I haven't forgotten something major.
I'm just praying that nothing has been left by the wayside, although I'm look forward to scraping off a bit of junk mail. That I won't mind.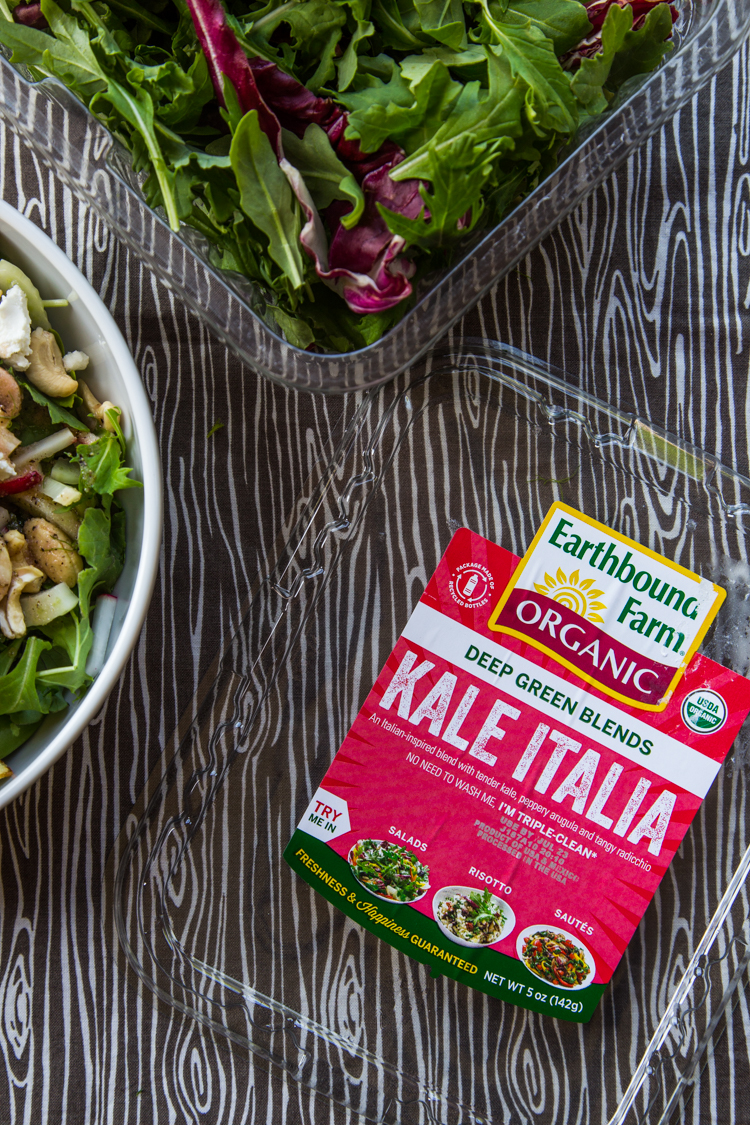 As things are coming back to normal in our world, or what our new normal is, I'm trying my best to keep up with our dinner routine. Admittedly, it's taken a bit of a hit. We have ordered pizzas a time or two and had several 'snack-y' lunches, as C calls them. But for the most part, I'm getting a meal on the table that is well balanced and delicious. In order to do that, I've been needing brush off my basics when it comes to dinner.
My go-to's.
These usually consist of frittatas, pasta or a giant "anything goes" summer salad. I love an anything goes summer salad because it's just that: anything and everything that you have in your fridge. The trick is starting with a  good base. A base that is ready to go, has a variety of greens, flavors and textures. Right now I'm totally in love with Earthbound Farm Organic Kale Italia. It's an Italian blend of peppery arugula, tender baby kale, and bright beautiful radicchio.
The versatility of this mix is what I love. It's great in a sauté or a hash mixed with other veggies or potatoes. I recently used it in a cold summer pasta salad and it was amazing. But one of my favorite ways to use it, is as a base to a big green salad with all sorts of textures and toppings. We all know kale is the superfood of the moment, and while I have come to love kale, it can be tricky in a salad. It's tough and bitter and often needs some time to marinate in a dressing to become tender and palatable.
This Kale Italia mix features baby kale, which is already tender and adorable and lovely to eat raw. In other words, it's ready to go. My Anything Goes Summer Salad is super easy and yours will for sure look different than mine. In fact, mine never looks the same way twice. I use whatever veggies I have in my fridge, some cheese, something crunchy like nuts or croutons and a pop of protein. Sometimes it's chicken, beans, or an egg.
An egg is always a solid choice.
Take a look at how simple it is. Clearly I had way to much fun with filming this Kale Italia mix channeling my inner 80's child – it just makes me happy!
Earthbound Farm wants you to be able to try
Kale Italia
, too! Just head to their website to receive a
coupon
 for Kale Italia. Whether you are already a fan of kale or have been struggling to find a way to enjoy it – you should really check out this deep green blend. It's pretty fantastic!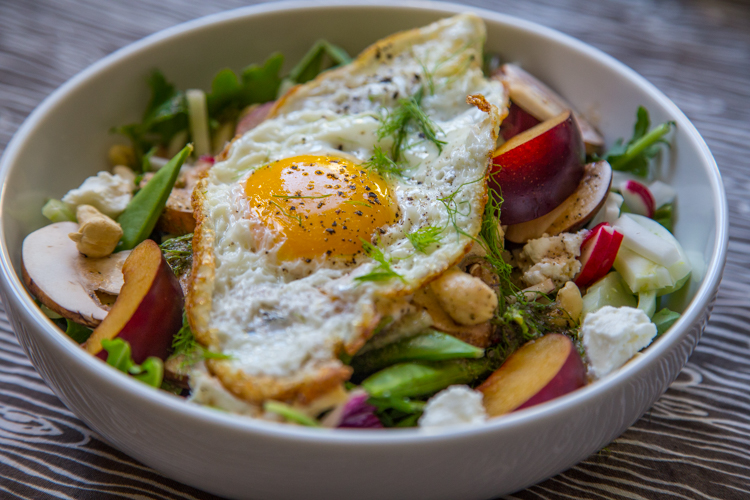 Happy Thursday!
Anything Goes Summer Salad
Yield: 1 serving
Prep Time: 10 minutes
Ingredients
1 1/2 cups Earthbound Farm Organic Kale Italia blend
1 1/2 cups fruits and vegetables of your choice (I used mushrooms, radishes, fennel, plums, and snow peas)
2 ounces cheese (I used goat cheese)
1/4 cup something crunchy (I used cashews but you can use your favorite nut, chip or crouton)
1/4 cup red wine vinegar
3 tablespoons extra virgin olive oil
1/2 teaspoon pepper (or to taste)
1/2 teaspoon sea salt (or to taste)
1 teaspoon garlic powder
2 teaspoons fresh herbs (I used fennel fronds and dill)
1 egg, fried, boiled, or poached
Directions
Add Kale Italia blend, vegetables, fruits and nuts to a bowl. Pour vinegar, olive oil, pepper, salt, garlic powder and herbs to a jar with a lid. Place on lid and shake until blended. Pour vinaigrette over salad and top with egg. Enjoy!
This conversation is sponsored by Earthbound Farm. The opinions and text are all mine.