Bloody Mary Soup + Le Creuset Giveaway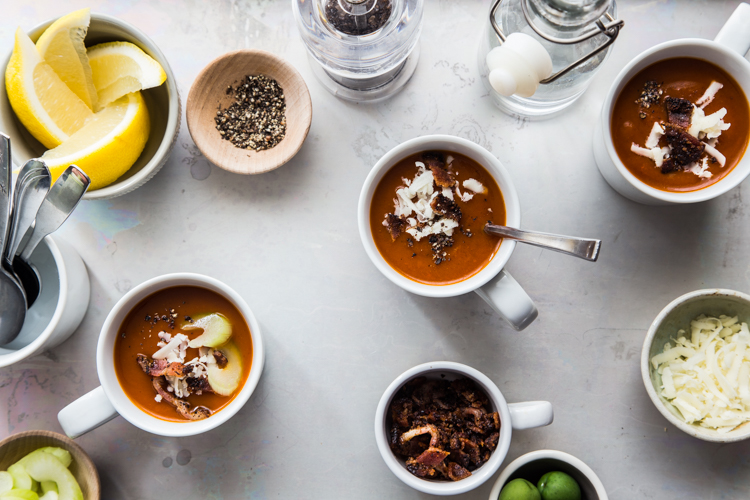 Soup week is almost over and frankly, I'm bummed. Although I think my family will be happy to be eating something other than soup after weeks of recipe testing. Not that they're actually complaining. It's Winter, after all, and soup is always one of our cold weather staples. For the very last day of this epic week of simmering merriment, I present you a combination entree and cocktail: Bloody Mary Soup! It is Friday and around here that means cocktail time. When Melanie, Courtney and I were planning this week, I started researching different options on soup cocktails. Or cocktail soups. It was an interesting afternoon in Googling, let me tell you. It turns out, a few years ago there was a period of time where it was very trendy for chefs to add a touch of liquor to their soups. At the risk of you thinking that this recipe is soooo 2012, I'm sharing this Bloody Mary Soup with you anyway. Bloody Mary's have always crossed that line between drink/snack to me, so to make it into a soup that was also a cocktail made perfect sense to me.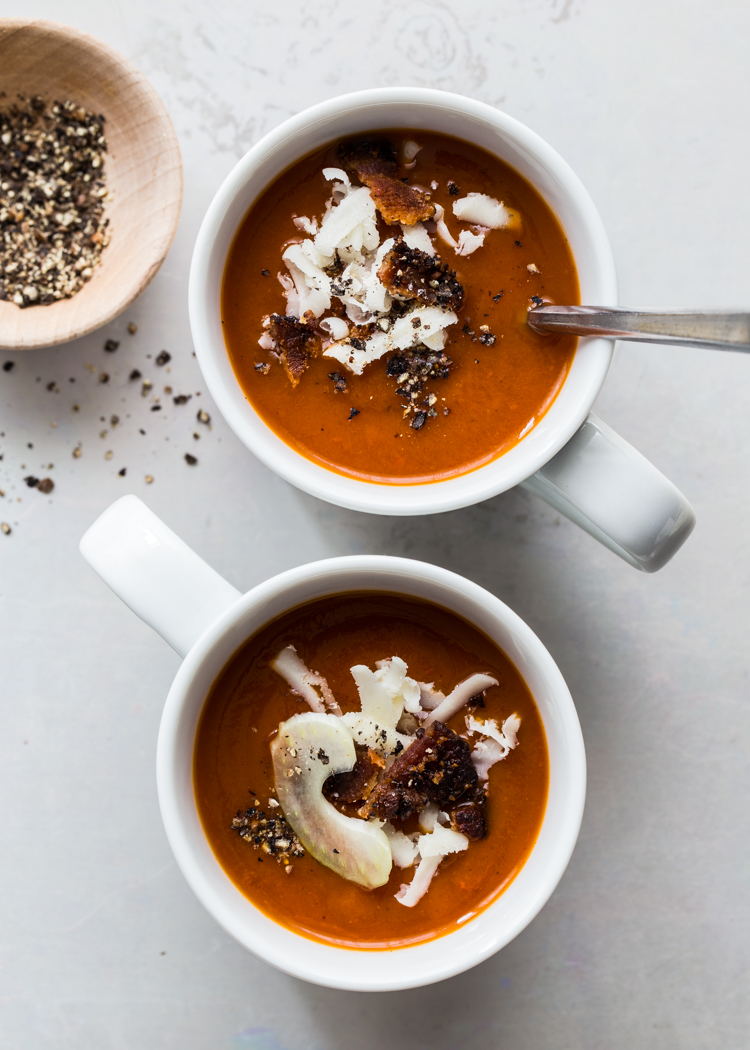 Now, if you're wondering just how this becomes a cocktail, don't worry. The base of this soup is totally non-alcoholic and therefore, family friendly. The alcohol gets added in as a 'topping' and you can adjust to taste. Or leave it out all together, because honestly, the whole thing is just so good anyway. But if we're hanging out, watching the Big Game, you can be sure that the grownups will be making this the cocktail for the evening.
In my Google research, I came across this recipe for Hot Bloody Mary Soup, and loved the idea of presenting a 'toppings' bar for the soup.  In fact, it totally reminded me of my Ultimate Bloody Mary Bar that I shared a few months ago, and I knew that this was the route I wanted to go with this recipe. I started with this basic recipe for the soup, but spiced it up with Old Bay seasoning, Worcestershire sauce and horseradish. Just like any good Bloody Mary, the toppings make the recipe. Feel free to customize your Bloody Mary Soup bar with your favorite toppings. The toppings for our soup fell naturally into place: shredded mozzarella, smoked sea salt, cracked black pepper, lemon wedges, celery and crumbled black pepper bacon. Oh, and some vodka or Mezcal. Mezcal is so smokey and awesome in a Bloody Mary and it's killer in this soup.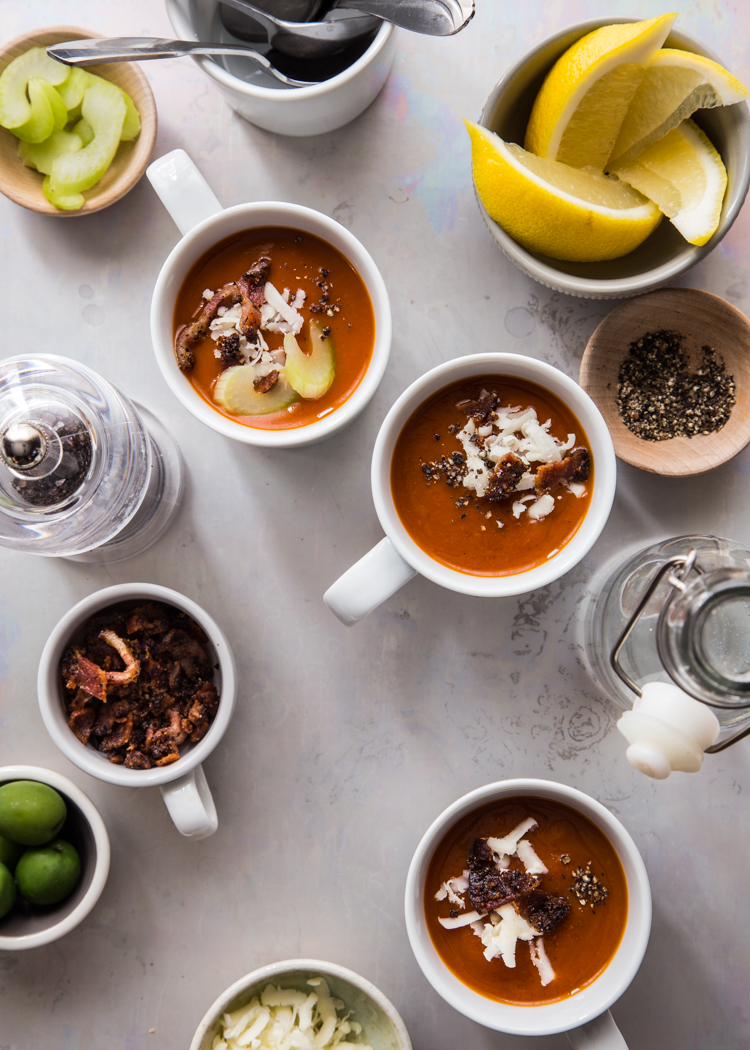 I wrote the recipe for the slow cooker, but if you're short on time, do this on the stove top and simmer until you achieve the flavor that you like. It's very adaptable! Take the time to make this recipe your own and you'll be coming back to it again and again!
And now onto one of the very best features of Soup-er Bowl Week: The Le Creuset Giveaway!! One lucky reader will win a 5 1/2 quart French Oven in the color of their choice. Be sure to fill out the widget below to enter for your chance to win. And don't forget to head over to check out Melanie's Roasted Tomato and Green Chile Soup. Another awesome tomato soup!!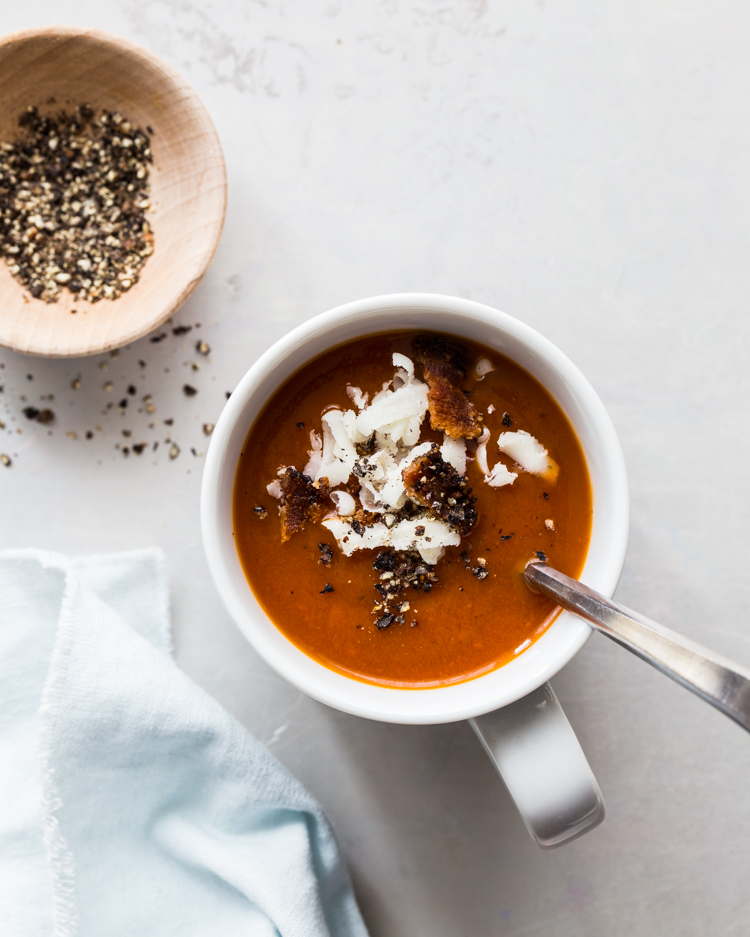 Happy Friday!
Bloody Mary Soup Recipe
Ingredients
3 - 28 ounce cans whole peeled San Marzano tomatoes
3 cups low sodium vegetable broth
1 large onion, peeled and roughly chopped
2 carrots, peeled and chopped
8 cloves roasted garlic (or 3 cloves fresh)
2 Tablespoons Worchestershire sauce
1 Tablespoons Old Bay Seasoning
1 teaspoon horseradish
kosher salt to taste
1 ounce Mezcal or Vodka per serving
Variety of Toppings such as shreddded mozarella, crispy bacon, sliced celery, olives, smoked sea salt, black pepper and hot sauce.
Directions
Make Soup
Place tomatoes, broth, onion, carrots, garlic, worchestershire sauce, Old Bay seasoning and horseradish into the slow cooker. Cover and cook on high for 2 hours. Blend soup in batches using a blender and return to the slow cooker. Cook on high for an additional 2 hours. Season with salt.
To Serve
Allow guests to ladle soup into individual mugs. Add vodka or Mezcal into the cups of soup (not to the large batch) and top with desired toppings. Enjoy!
Notes:
I had a half batch of these slow roasted winter tomatoes in my fridge and subbed them in for 1 28 ounce can of whole tomatoes. If you have a whole batch, use that and 1 - 28 ounce can of whole tomatoes.