Slow Cooker Ham and Bean Soup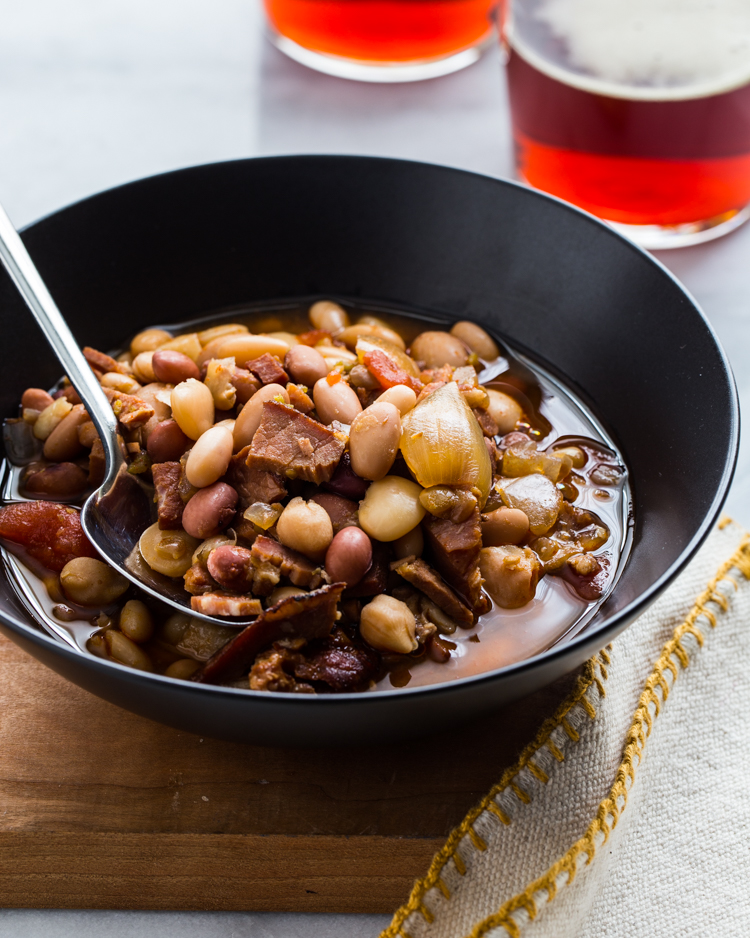 Winter and soup are a classic couple. Growing up, we had soup quite a bit, often times chili or chicken noodle. But anytime we had a holiday gathering that featured a big ham, I knew that a pot of ham and bean soup was in our near future. My mom and grandma would always use the ham bone to season what would become a fabulous pot of soup with a favor like no other.
Over Christmas, we were visiting my husband's side of the family and for our large family get together, we had my favorite: Honey Baked Ham. I just love that stuff and have never had a ham that tastes quite as good. My sweet mother-in-law wrapped up the bone, froze it and sent it home on our 8 hour long car ride home with us, telling me that she knew I would make a great pot of soup with it. That giant ham bone was precious cargo and magically stayed frozen the entire ride home. The following week I made the most delicious batch of slow cooker ham and bean soup I'd ever had. I slightly adapted this classic Hurst Beans recipe, which is the method that my family always made growing up. It fed us for a week and we talked about it for the next two. It did a lot to help us shake off the post holiday malaise that often sets in when the Christmas tree comes down and the Advent wreath gets packed up. It's comfort in a bowl to the utmost extent.
For my second Soup-er Bowl week recipe, I recreated the amazing batch ham and bean soup. I went and picked up a small 2 1/2 pound Honey Baked Ham and cut off a bit of the meat to reserve it for sandwiches. The ham featured a small bone – which is key to this soup. The bone is key. Along with the bone, you want about 2-3 cups of ham, maybe more if you like your soup extra hammy. So whether the ham is still attached to the bone or you add some in, just use your best guesstimate.  What can I say? I'm a little loose-y goose-y with recipes most of the time.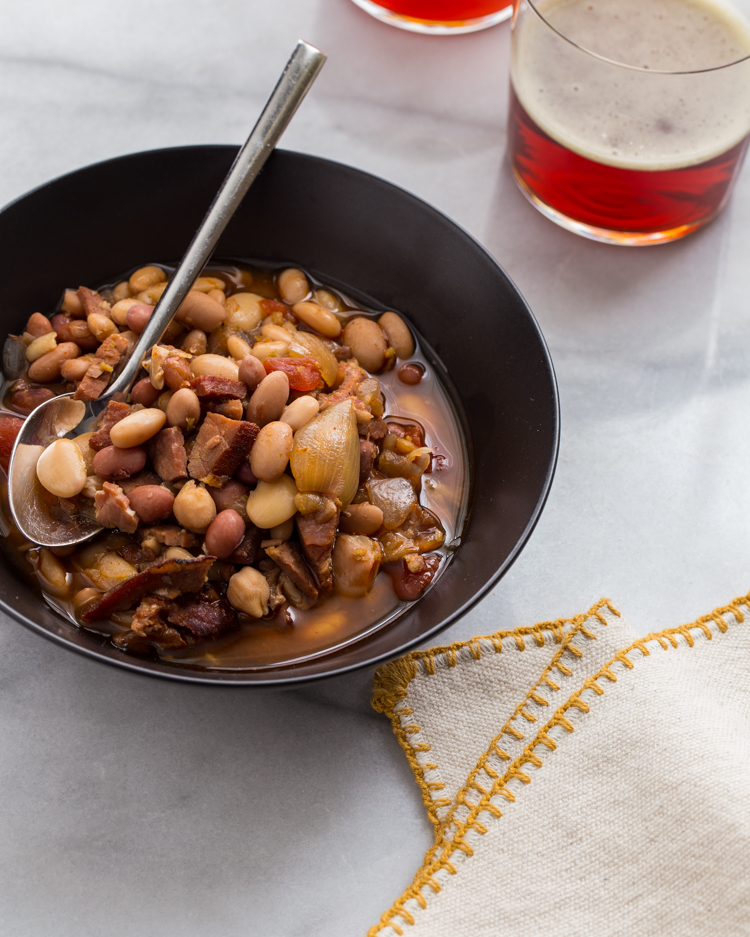 I soaked the beans in my slow cooker insert (not turned on) over night, drained them, rinsed them and then threw everything else in except for the tomatoes and vinegar. The last hour of cooking I added in the tomatoes and vinegar and by dinner time, my house smelled amazing! Don't worry, yours will too when you make this. It's such a favorite in our house that the kids were bummed out when the first batch was gone – even though we'd been eating it for four nights straight.
It's seriously that good.
Because this is Soup-er Bowl week, be sure to check out Melanie's Slow Cooker Lemon Rosemary Lentil Soup and Courtney's Slow Cooker Meatball Minestrone Soup.  Also, one of the very best features of Soup-er Bowl week is this amazing Le Creuset French Oven giveaway! Be sure to enter the widget below for your chance to win!
Good luck and I'll see you on Friday with my special cocktail soup recipe!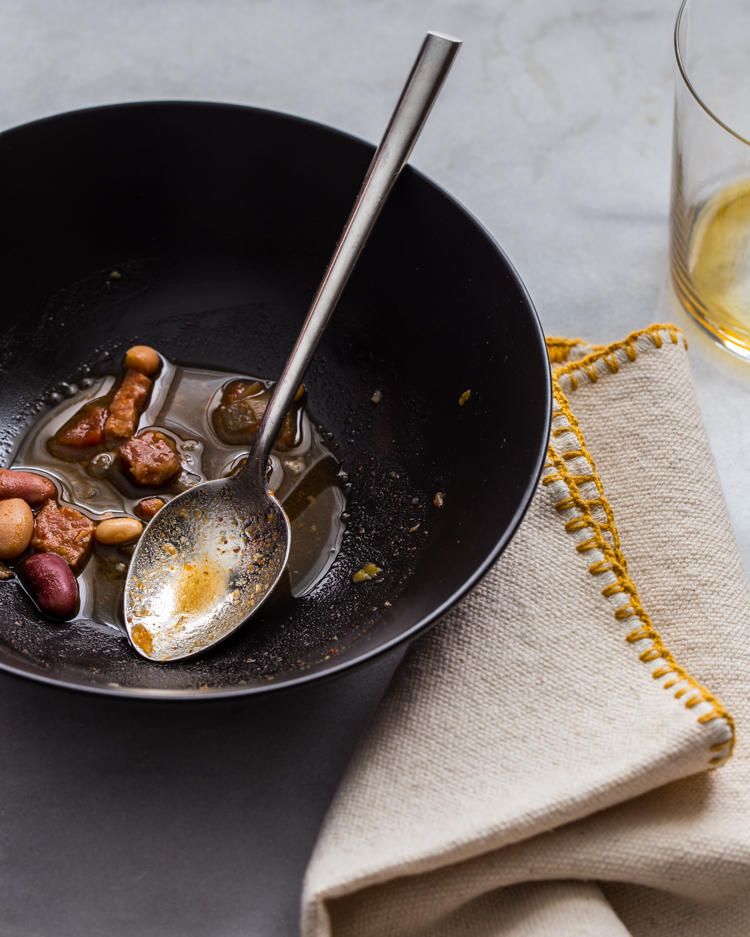 Happy Wednesday!
Slow Cooker Ham and Bean Soup
Yield: 12 servings
Prep Time: 8 hours (inactive)
Cook Time: 8 hours (mostly inactive)
Total Time: 16 hours
Ingredients
1 bag of mixed dried beans
2-3 lb honey roasted ham with bone (or about 3 cups of ham with leftover bone - I used a Honey Baked Ham, but use whatever type you like best)
6 cups chicken broth
2 cups water
1 onion, chopped
3 garlic cloves, minced
2 tablespoon chili powder
black pepper to taste
1 - 15 ounce can tomatoes, diced
2-3 tablespoons rice vinegar
Directions
Rinse beans and place them in slow cooker insert. Cover beans with 8 cups of water and allow to soak overnight. Drain beans. Add ham, chicken broth, water, onion, garlic and black  pepper. Cook in slow cooker on low for 7 hours. Add tomatoes and vinegar and cook for an additional hour. Serve soup with a chunk of bread. Enjoy!