brined pork loin roast with pineapple chutney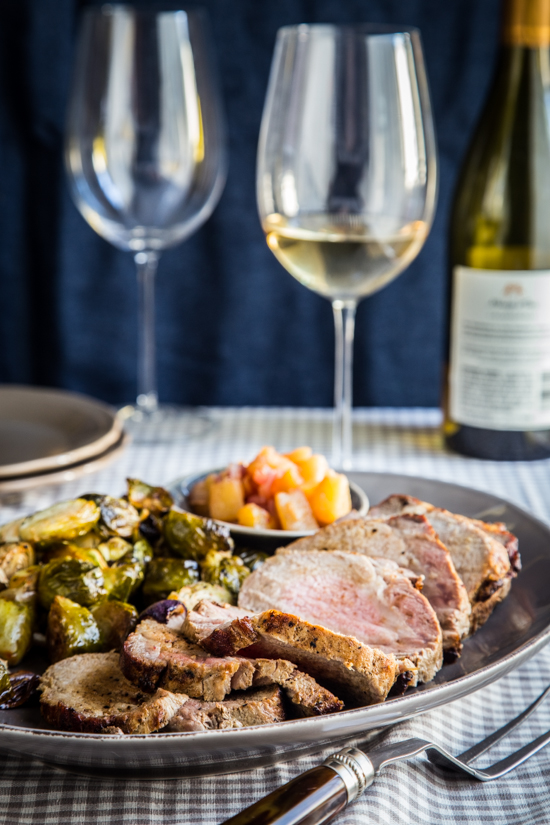 This Brined Pork Loin Roast is juicy, tender and worthy of a holiday meal. Serve it with sweet and sour fresh pineapple chutney for an unbeatable twist on the classic pineapple Easter ham.
A few weeks ago, my husband and I went out on a rare date night. With two kiddos and a crazy schedule, it just doesn't happen as often as we'd like, but when we get the chance to go out, we like to make a night of it. What's a proper date without some amazing food?When we got to the restaurant and started looking over the menu, there was one item that jumped off the page at me. It was a house brined pork chop with seasonal fruit chutney. Oh yes, that had my name written all over it and it turned out to be the best ordering decision I've made in a long time. I ordered my chop to be cooked to medium so that it had just a blush of pink. When my pork chop arrived, it was moist, juicy and unbelievably delicious!
If you're like me, then you grew up eating pork that was often dry, gray and lifeless and being told that pork had to be cooked completely. Well, I have some fantastic news to share that will change the way you eat pork. Forever:
Pork is allowed to boast a blush of pink!
When you cook your chops or pork roasts, as long as the internal temperature reaches just 145 degrees, that blush of pink ensures that your pork will remain succulent and irresistibly delicious. This whole pink pork thing is a game changer in the kitchen.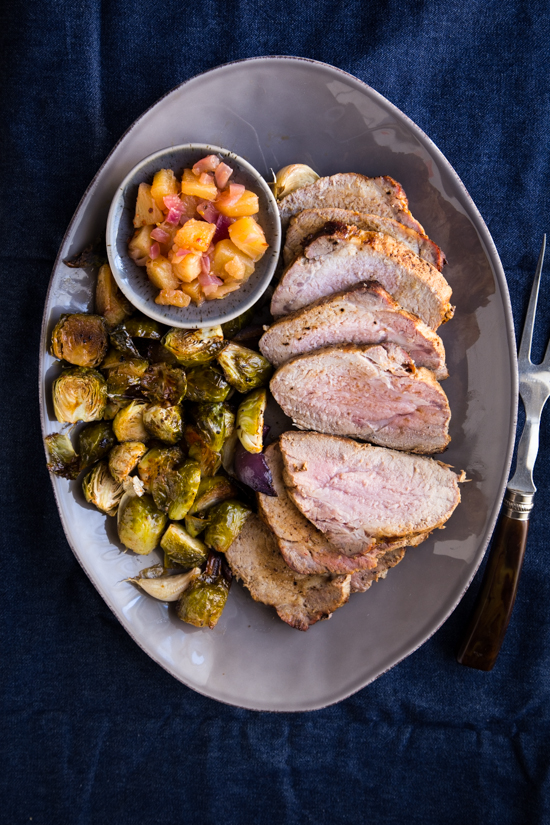 After our date night meal, I made it my mission to brine my own pork at home and cook it to the same, blushing pink perfection. Instead of a pork chop, however, I wanted to reimagine one of my favorite Easter classics: the pineapple ham.  A brined pork sirloin roast served with sweet and sour pineapple chutney would play off the flavors of those classic pineapple hams of my childhood. Just with the dial cranked up a notch. Or twenty.
The results were unbelievable! The brining left the pork full of flavor and juice. Plus, it turns out that brining is a simple, simple process and it was just a mixture of water, salt, honey and brown sugar for some sweetness and a few bay leaves and peppercorns. That's all it took. I chose to brine my roast for about 10 hours using a large food safe bucket that I will sometimes mix my bread dough in.
This juicy roast paired with the tangy chutney made from fresh pineapple was a hit with our entire family! This roast was incredibly easy to make, and needing the extra time for the brining step (which is completely worth it!), this recipe makes for a perfect Sunday supper and would even be fantastic for your Easter celebration. Your family will be thrilled with your efforts!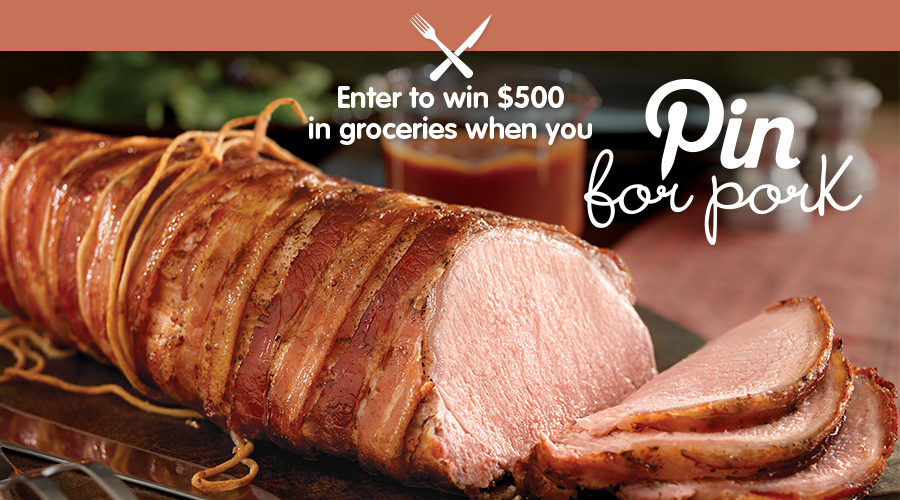 I'm so pleased to share with you that the Ohio Pork Council is celebrating the incredible donation of over 1,000,000 meals to Ohio food banks. Yes, those numbers are real.  It's times like these that I am extra proud to be an Ohioan! As a part of this celebration, they are throwing a Pin for Pork contest where participants will have the chance to earn $500 worth of groceries! Just think how much pork you could buy with that…The mind boggles.
Head on over to their contest page for details on how you can enter for a chance to win. Enter Here
For more information about juicy, delicious #PinkPork, check out the Ohio Pork Council's Facebook Page (it's full of bacon-y goodness!).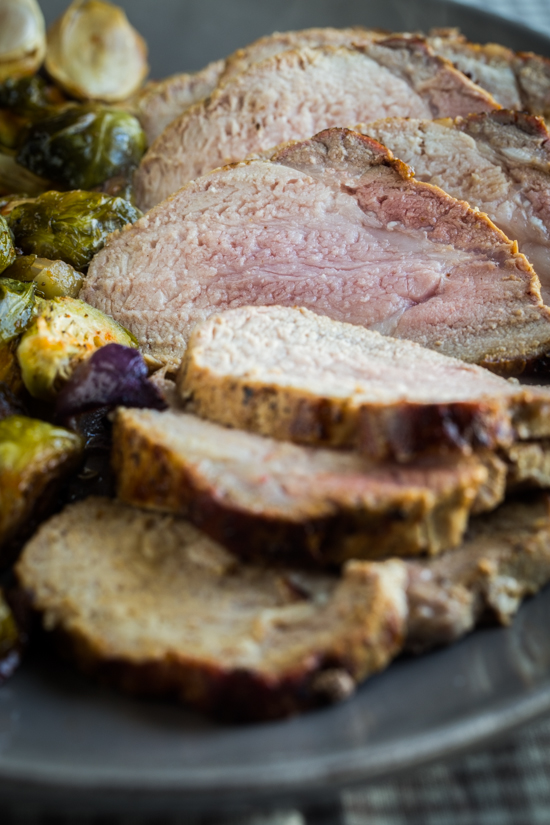 Happy Wednesday!
Brined Pork Loin Roast with Pineapple Chutney
Yield: 8-10 servings
Prep Time: 10 hours (inactive)
Cook Time: 30-40 minutes
Total Time: 11 hours
Ingredients
4 lb Pork Sirloin Roast, trimmed
3 1/3 quarts cold water
3/4 cup kosher salt
1/2 cup honey
1/4 cup brown sugar
3 bay leaves
1 1/2 tablespoon black peppercorns
Pineapple Chutney
3 cups fresh pineapple, diced
1/4 cup Courvoisier
1/4 cup apple cider vinegar
1 cup red onion, diced
1/2 teaspoon cinnamon
1/4 teaspoon crushed red pepper flakes
Directions
In a large container with lid or large bowl, mix together water, kosher salt, honey, brown sugar, bay leaves and black peppercorns and whisk together to dissolve the salt. Add the pork sirloin roast, making sure it is completely submerged in the brine. Cover and refrigerate for 10 hours (do not over brine). Remove pork from brine and pat dry. Sprinkle pork roast with salt and pepper on all sides and set aside.
Roast the pork sirloin roast in a 450 degree oven for about 45-55 minutes or until an instant read thermometer inserted into the center of the roast reads 145 degrees. Remove from oven and let rest for 3 minutes before slicing.
In the meantime, make the chutney. Place pineapple, Courvoisier, apple cider vinegar, onion, cinnamon and crushed red pepper flakes in a medium sauce pan. Cover and cook mixture over medium heat until pineapple is completely tender. Serve pineapple chutney with the brined sirloin pork roast. Enjoy!
Disclosure: This #pinkpork message and conversation were sponsored by the Ohio Pork Council and the Ohio Soybean Council. All opinions about the loveliness of pink pork are 100% my own.