crock pot chicken taco bites
Take some help from your slow cooker to create these simple and fab Crock Pot Chicken Taco bites. Great for a party or just for hanging around the house. You'll get no judgment from me!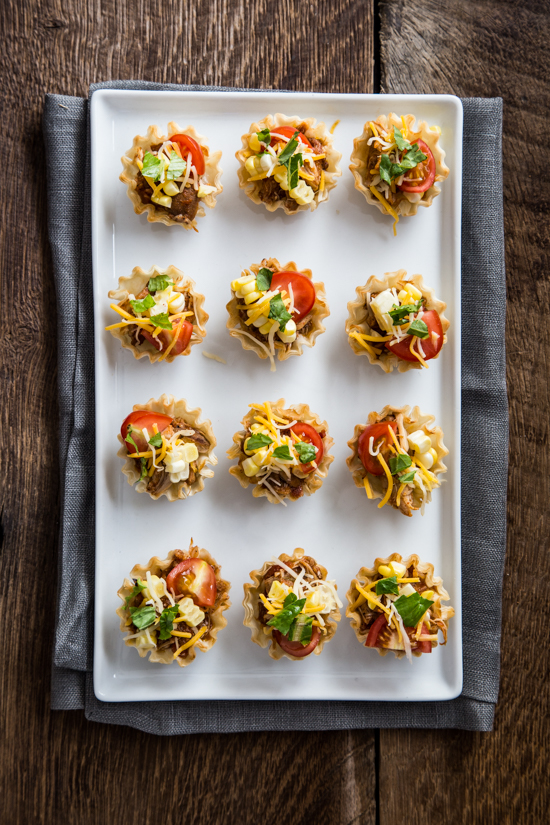 Last week there was an epic Taco Week over on Food Fanatic. Some of my fellow food fanatics were sharing their recipes for tacos. From breakfast to dinner to dessert, everything was covered!
I shared my crazy easy crock pot chicken taco bites where I took one of my favorite go to big batch chicken recipes: salsa chicken. This chicken is so easy – you literally put a can of salsa style tomatoes, a bit of salsa, some taco sauce and seasonings with boneless skinless chicken thighs in the crock pot, crank it up and in 7 hours you have the most tender chicken around. Not to mention dinner for the entire week.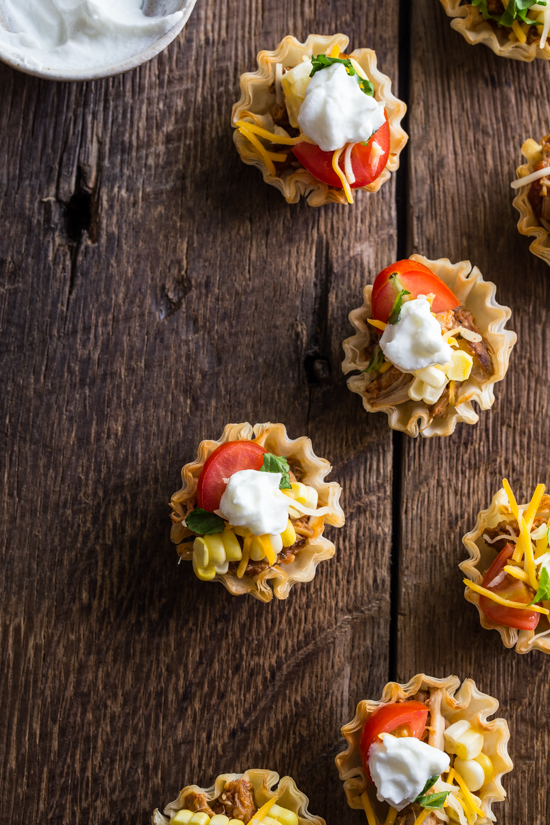 I love putting this chicken on salads, soft tortillas, nachos and of course, these teeny tiny taco bites. I made these taco bites over the weekend for our game day enjoyment. And by "game day enjoyment" I mean getting fired up over last minute switches to our Fantasy Football teams only to have our starters completely fall apart on the field. I don't know why I bother playing.
Oh right, the food. Gives me an excuse to whip up a bunch of mini party food. Seriously, I'm such a sucker for mini food. Maybe it's a complex that has to do with being barely 5'1″. Whatevs. Cute = delicious in my mind.
So this week over on good old Food Fanatic, we're running a giveaway with Kitchen IQ and Le Creuset. You definitely want to head over there (<—-click there for giveaway) to enter the giveaway for a chance to win some very awesome KitchenIQ graters and a large Le Creuset Cast Iron skillet. Perfect for shredding taco cheese and frying up some tortillas, am I right?
Happy Monday!