holiday flavor painted cookies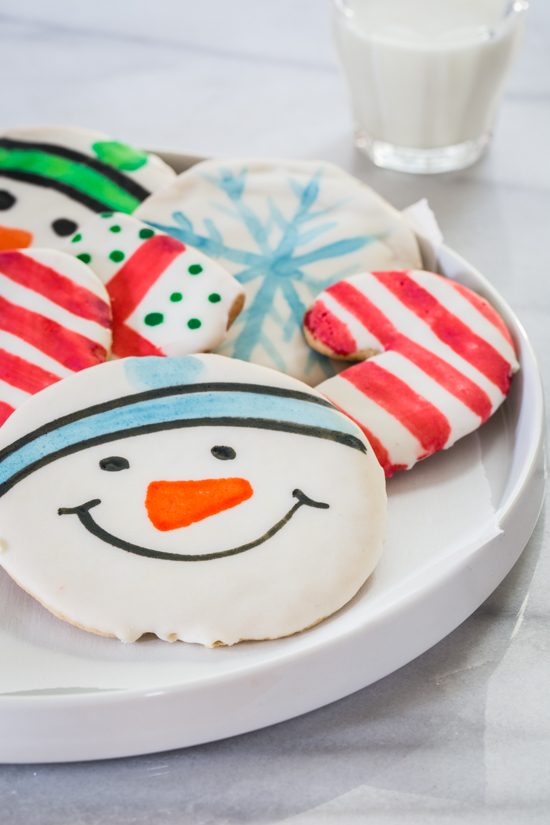 This post is sponsored by McCormick.
It is officially not too early to talk about Christmas! I love it when we reach the point when I don't have to feel guilty for singing Christmas songs and browsing the holiday baking aisles at the grocery store. All the cute packaging is too much to resist: boxes covered in snow flakes, red and green bags, and lovely ribbon. It's seriously too adorable and makes me want to get baking up a storm.
The only problem is that I'm not so much into the fussy cookie decorating. I've spoken about it in the past, but frankly I don't have a lot of patience to intricately decorate sugar cookies. I LOVE a decorated cookie, but when it comes to creating something special in my own kitchen, I like to find some alternative ways to decorate – especially when the kiddos want to help, which is always.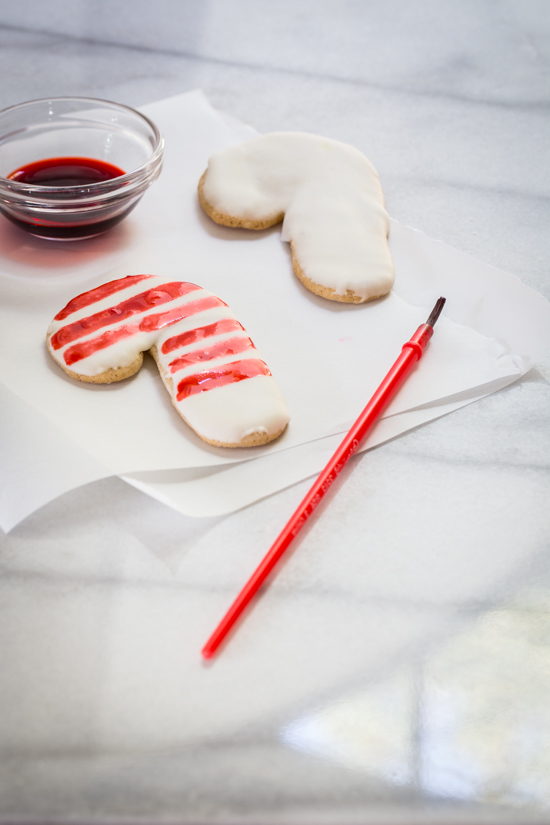 Over the summer, I shared my new and very favorite way to decorate cookies – flavor painting. The idea is that you mix 'paint' colors using a variety of flavor extracts and food color. Then simply paint onto simply frosted sugar cookies using small paint brushes. There are so many great things about this technique. First, bake your favorite recipe of sugar cookies. I used this simple, but delicious sugar cookie recipe from McCormick.  Then, microwave some store bought frosting and dip the tops of the cookies in the frosting. After the frosting is set, use your mixed flavor painting to paint on whatever designed and pictures you'd like!
My video shows what you can do with some simple cookie cutters and a bit of food color and flavor extract. It's so easy!
As you can see, it's something that the kiddos totally get into. When the painting is set and dry, you can package them up and give them as gifts to teachers and friends. Honestly, this method is so much fun. Every time we make a batch of these painted cookies, C lets out her inner artist and we end up with some very colorful, and flavorful results. The possibilities for these holiday flavor painted cookies are endless!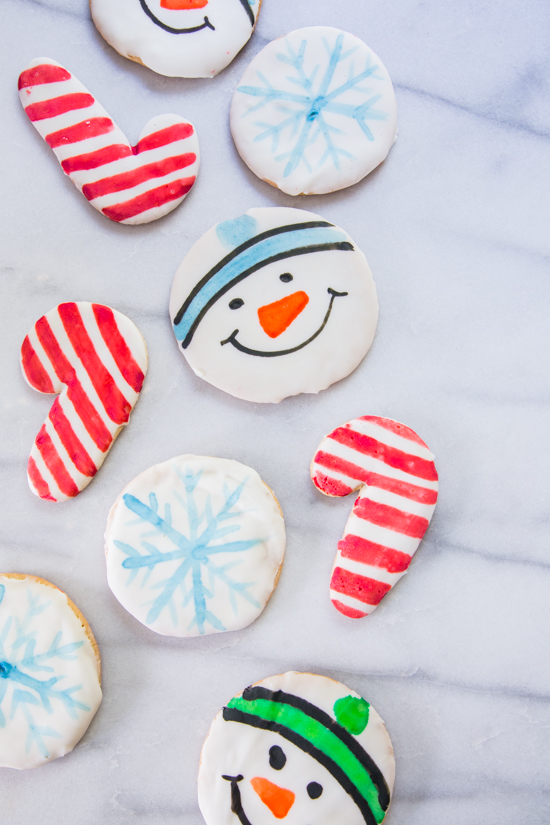 Happy Saturday!
Disclosure: This post is sponsored by McCormick. All opinions are 100% my own.
Holiday Flavor Painted Cookies Recipe
Ingredients
1 batch of sugar cookies, baked (any recipe you like)
1 can store-bought white frosting
1/2 teaspoon McCormick Flavor Extract (vanilla, raspberry, orange, etc)
1/4 teaspoon McCormick Food Color (blue, red, orange, green)
Directions
Spoon frosting into a microwave safe dish and microwave for 20-30 seconds. Stir until smooth. Dip the tops of the cookies into the frosting and set on a wire rack to set. When the frosting is set, mix your desired flavor paints (see notes below). Using a clean craft brush, paint your design onto the cookies. Allow flavor paints to dry before serving. Enjoy!
Notes:
Holiday Flavor Paints:
Winter Sky: 1/2 teaspoon McCormick® Pure Lemon Extract and 2 drops McCormick® Blue Food Color
Holly Berry: 1/2 teaspoon McCormick® Pure Vanilla Extract and 1/4 teaspoon McCormick® Red Food Color
Rosy Cheeks: 1/2 teaspoon McCormick® Pure Vanilla Extract and 5 drops McCormick® Red Food Color
Coal: 1/2 teaspoon McCormick® Pure Vanilla Extract and 1/4 teaspoon McCormick® Black Food Color
Evergreen: 1/2 teaspoon McCormick® Pure Lemon Extract and 1/4 teaspoon McCormick® Green Food Color
Candle Light Yellow: 1/2 teaspoon McCormick® Pure Lemon Extract and 1/4 teaspoon McCormick® Yellow Food Color
Tinsel: 1/2 teaspoon McCormick® Pure Vanilla Extract and 1 drop McCormick® Black Food Color