Slow Cooker Ham Noodle Soup

This post, Slow Cooker Ham Noodle Soup, and giveaway is sponsored by Reames. All opinions are, as always, my own. Thank you for supporting the brands that I love and that help make Jelly Toast possible.
My family has certain holiday traditions that I always look forward to. We tend to have a handful of gatherings throughout the holidays that vary depending on who is in town and what we're in the mood for. We often have a get together with appetizers and drinks, and sometimes we have a sit-down dinner.
The sit-down dinners involve a turkey, roast, or ham. Whenever there is a ham involved, I always claim the leftovers including the bone. It makes the very best soup in the world, and this year, my ham soup of choice is this Slow Cooker Ham Noodle Soup. It's warm, hearty, and oh-so-comforting.
Holiday leftovers transformed into a family favorite.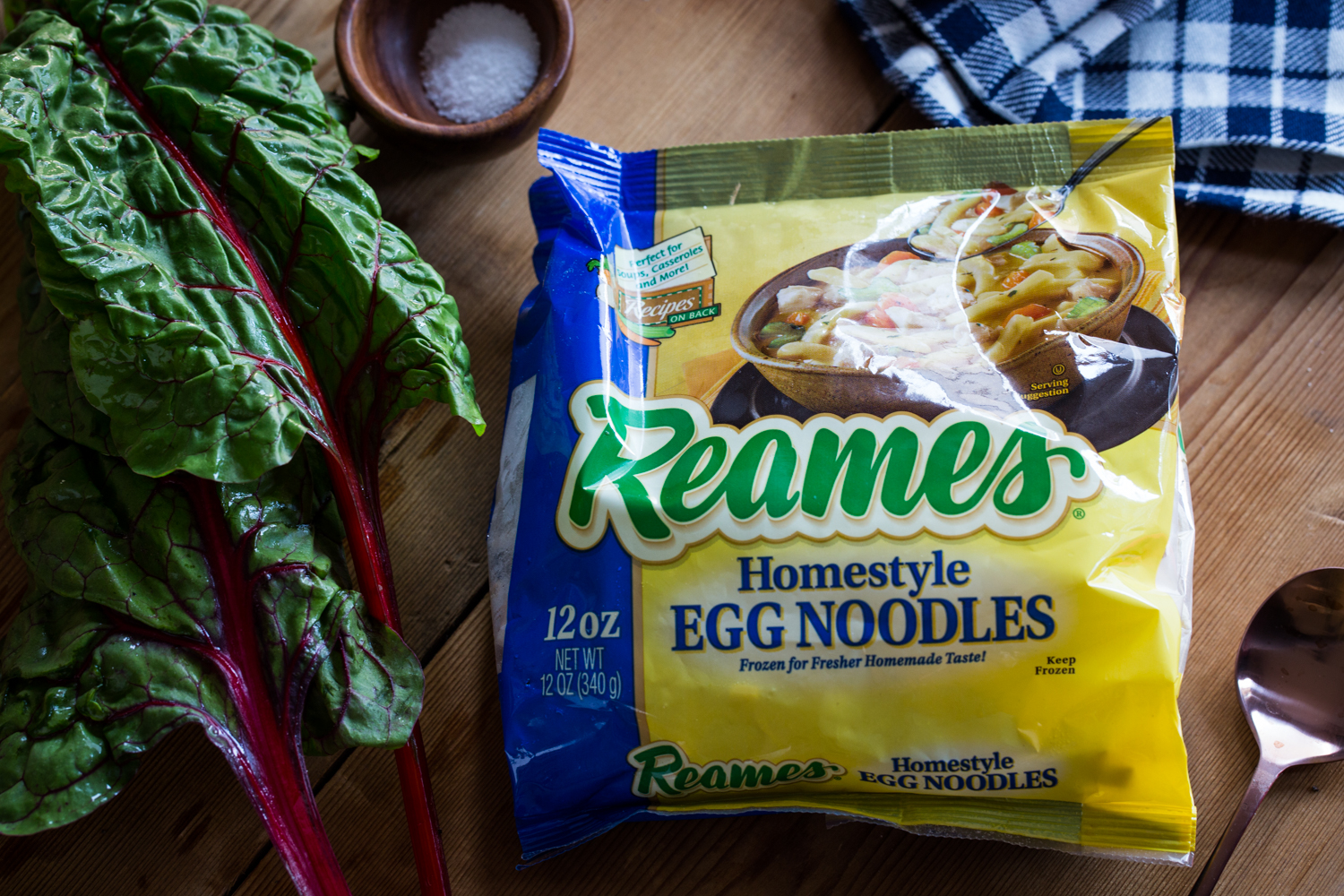 My Slow Cooker Ham Noodle Soup is a twist on the classic ham and bean soup, but instead of beans, I swapped them out for a bag of Reames Homestyle Egg Noodles. Reames homestyle egg noodles are wonderfully thick and pair perfectly with the leftover ham.
This soup is made in the slow cooker so not only does the soup promise to warm your heart and belly, it makes the entire house smell utterly delectable. I
have made enough ham soups that when A saw me wrapping up the ham bone from Thanksgiving with leftover ham and popping it in the freezer, he's eyes lit up.
His first question was, "Are you going to make soup?!" I have trained my little guy well!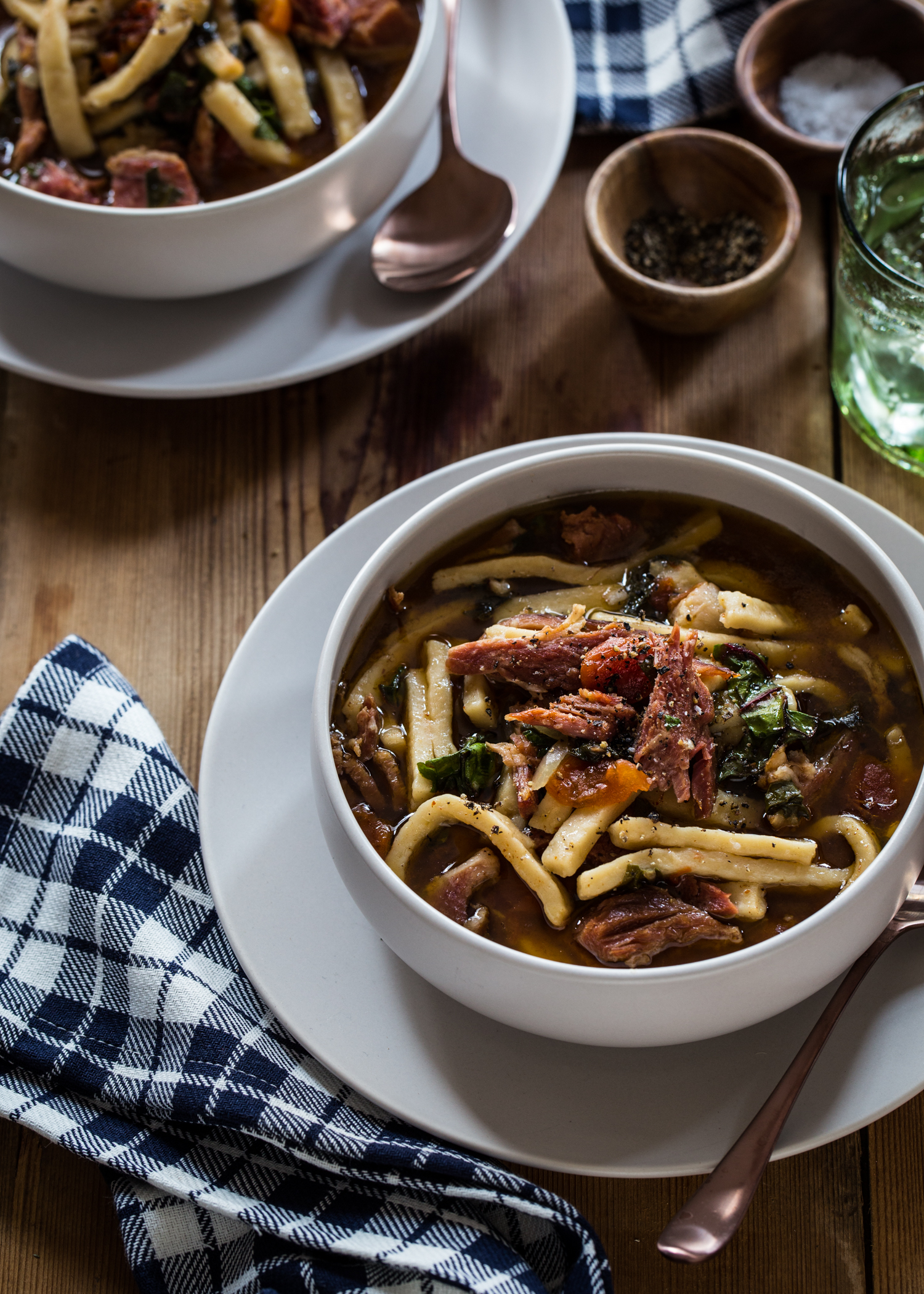 The soup itself is simple to make. Place the ham bone with leftover ham (either attached or cut off) into the slow cooker and add stock and a touch of water. Some chili powder, onion, garlic, salt, and pepper are all it needs. I added a bit of Swiss Chard and a can of diced tomatoes for color and some vegetable presence making this a complete meal.
The last hour of cooking, remove the bone and cut off the ham.
Return the ham to the slow cooker along with the frozen egg noodles to and let everything come together. I love coming back in the house after picking up the kids and having the kitchen smell incredible. It's a big hug when we come in from the cold. A big soup hug.
Happy Holidays!

Slow Cooker Ham Noodle Soup
Yield: 8-10 servings
Prep Time: 10 minutes
Cook Time: 5 hours
Total Time: 5 hours 10 minutes
Ingredients
1 leftover ham bone with some ham still attached, large pieces of fat removed
6 cups chicken broth
2 cups water
2 cups swiss chard leaves, chopped
1 can diced tomatoes (I used chili-ready tomatoes with onions and spices)
1 small red onion, chopped
3 garlic cloves, minced
1/4 teaspoon chipotle chili powder
1 12 ounce bag Reames Frozen Homestyle Egg Noodles
Black pepper to taste
Directions
Place ham bone with ham in slow cooker. Add broth, water, swiss chard, tomatoes, onion, garlic, and chili powder. Cook on high for 4 hours.
Remove ham bone from soup and cut ham from the bone. Chop any large pieces of ham and return ham to the slow cooker. Add in frozen egg noodles and stir. Cook on high for 1 more hour. Adjust seasoning with pepper and serve.
Notes:
If using a leftover ham bone, be sure that there is still about 2-3 cups of ham attached to the bone. If not, add a bit more cooked, chopped ham.
If you do not have a leftover ham bone, just use 2-3 cups of chopped, cooked ham. You may need to add a bit of salt, as well.
This is a sponsored conversation written by me on behalf of Marzetti Reames Frozen Egg Noodles. The opinions and text are all mine.