Peppermint OREO Cookie Balls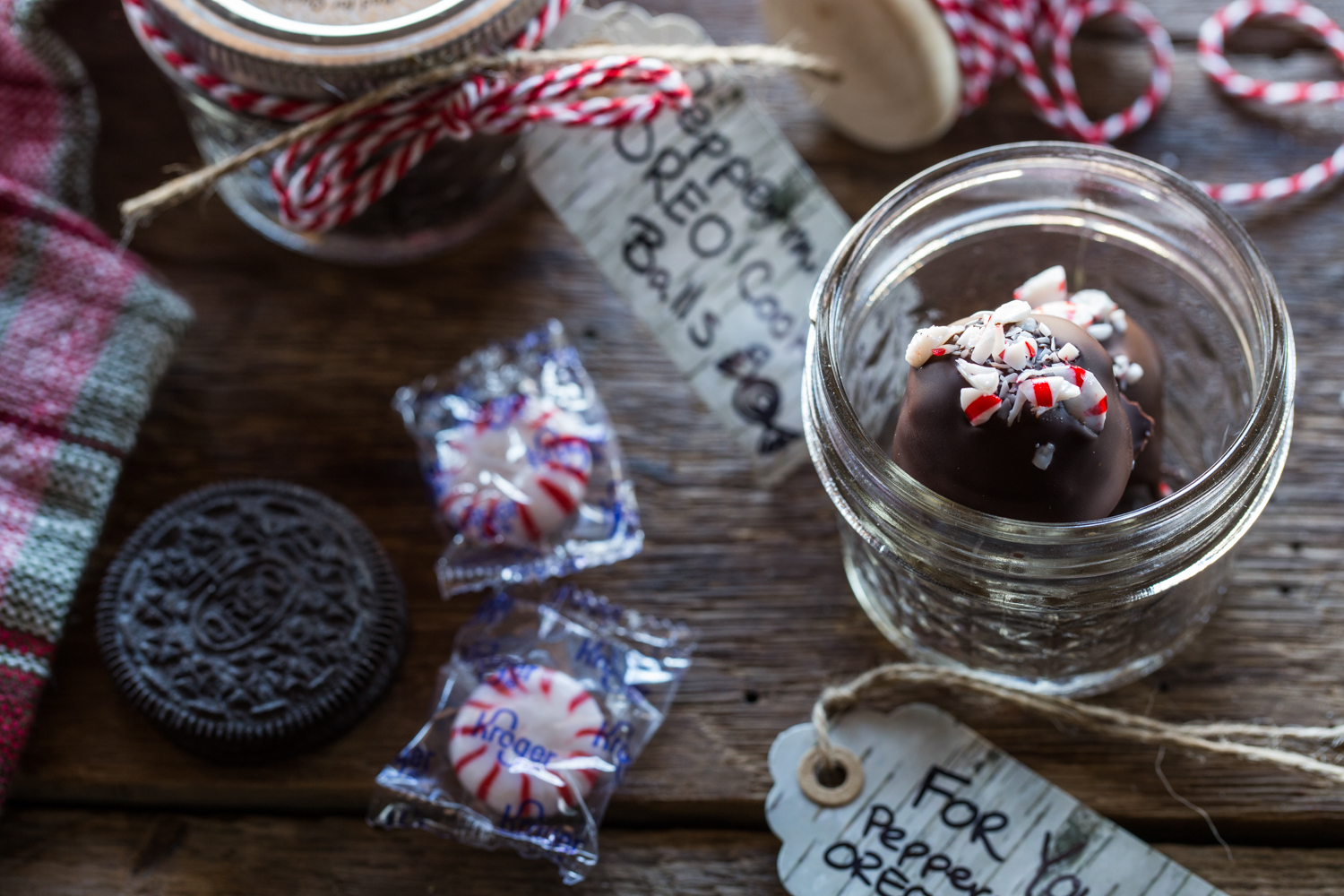 Peppermint OREO Cookie Balls are made with a few simple ingredients and will be the shining star on any cookie tray this Christmas season.
This post has been sponsored by OREO. All thoughts and opinions are my own.
December is the merriest of months. Don't you agree? It's a month full of traditions, family time, and pulling out all of the stops when it comes to holiday memories. Now, when it comes to Christmas desserts, I am hard pressed to find a dessert that pleases a crowd more than a beautiful Christmas cookie tray. You know the one I am talking about: the festive platter filled with a little bit of everything: thumb prints, sandwich cookies, sugar cookies, bar cookies, and even a Christmas candy or two.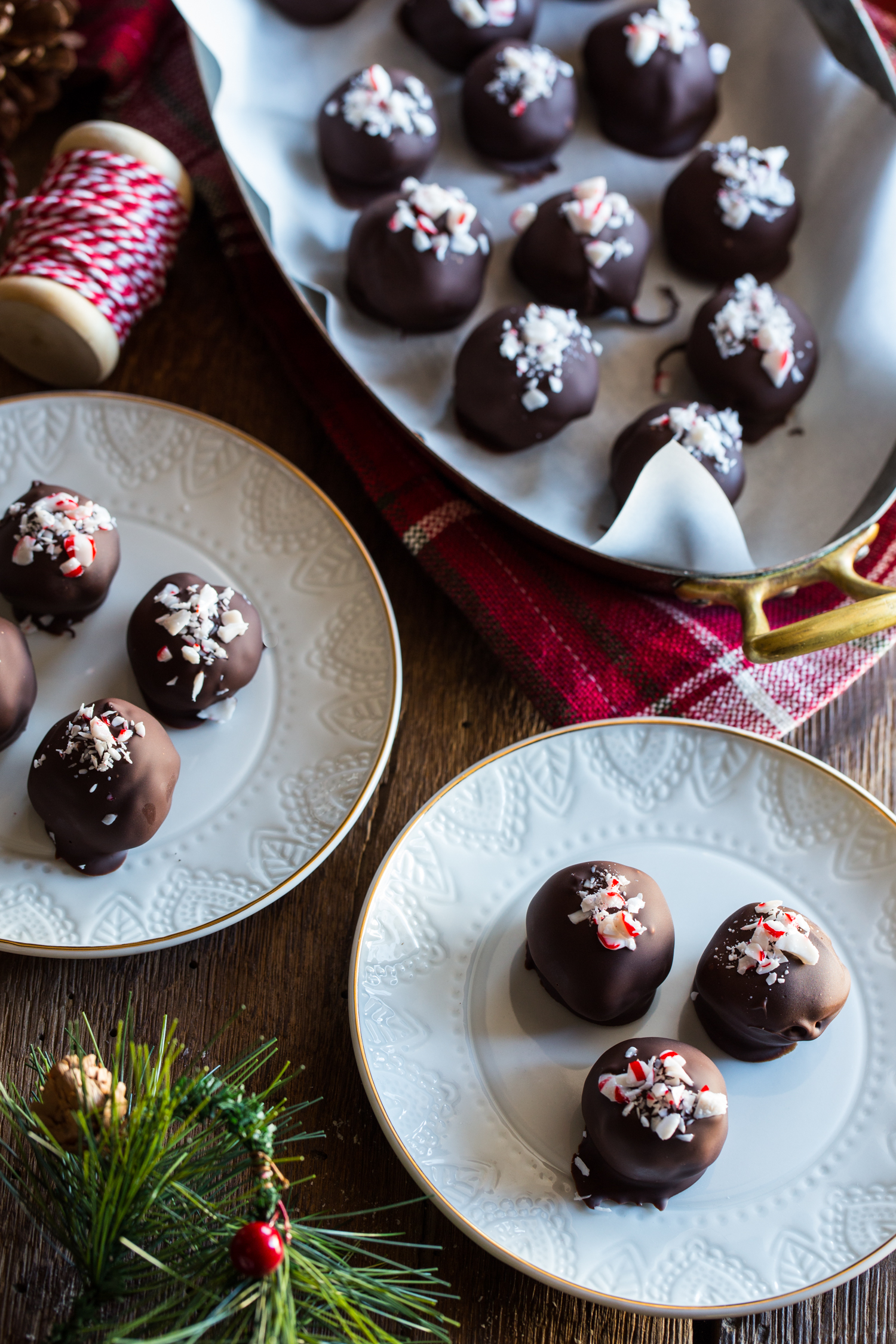 Every year my mom, sisters, and I get together for a big cookie exchange. We spend a few nights leading up to the party baking our favorite types of cookies and candies and then come together to share all that we've made. It's one of my favorite traditions in December. I love flipping through recipes and choosing the treats that I'll make. And then I get to spend the week making the cookies with the kiddos.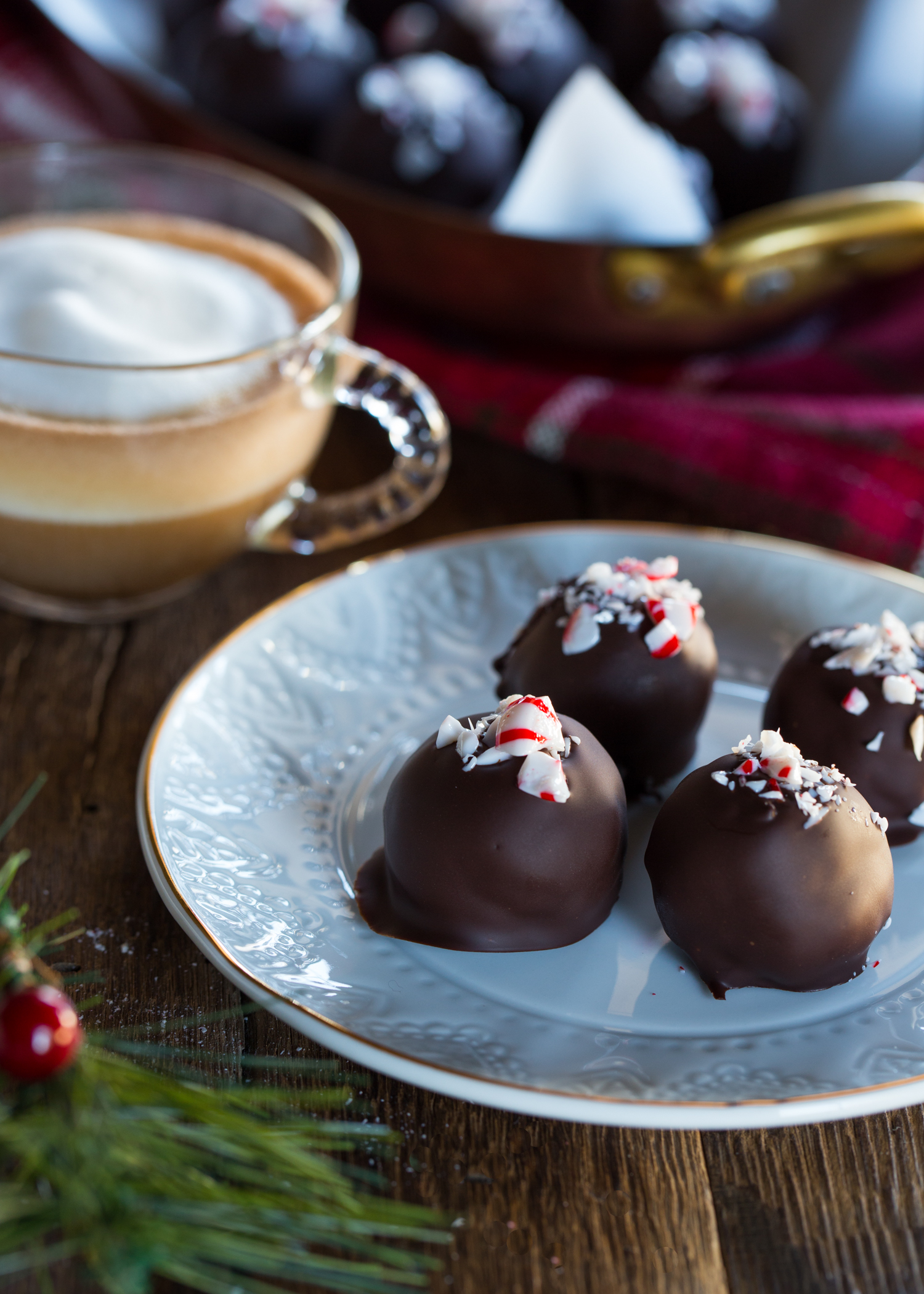 Featuring at least one no-bake item is usually my style. While one cookie recipe is baking, the kids and I can be stirring up a candy or bark to add to the tray. This year, we are planning on making these Peppermint OREO Cookie Balls. These no-bake treats are reminiscent of a decadent truffle but can be made so simply with a few ingredients, including OREO cookies. All of the ingredients can be found at the grocery store, and I picked up all of the items last time I was at Kroger.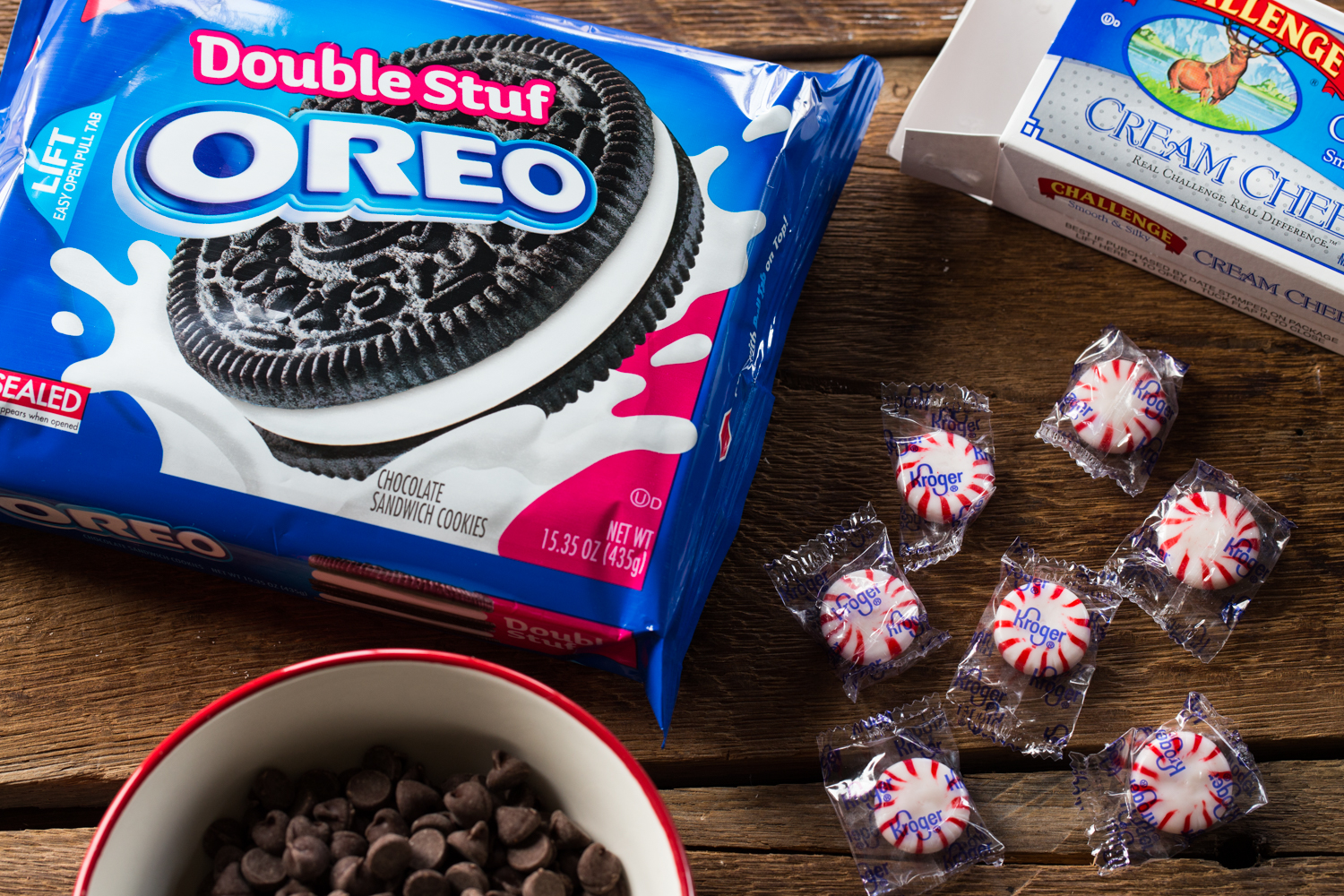 This is a great recipe to have the kids help with, and A and C both love participating in all the steps. From counting the cookies (a good task for C) to crushing the Starlight mints with a rolling pin (a good task for A) each step is easy, but the results are anything but ordinary.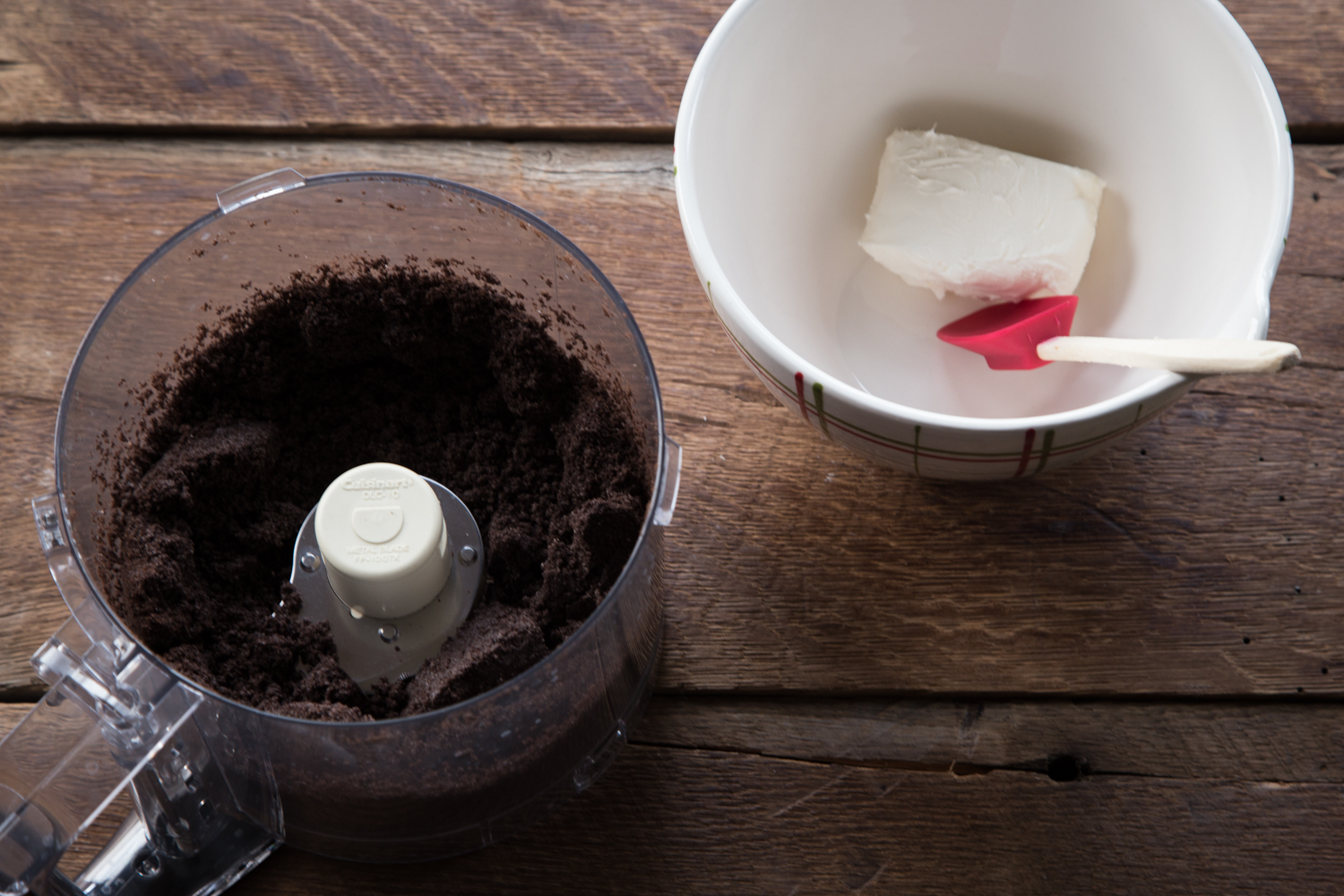 These Peppermint OREO cookie balls start with 18 OREO cookies, finely crushed. Popping them into the food processor makes quick work of this step. For this particular recipe you can use Double Stuf or Peppermint OREO cookies if you want an extra peppermint kick. We have made them both ways and if you are a peppermint fan, go with the Peppermint OREO cookies! They are incredible.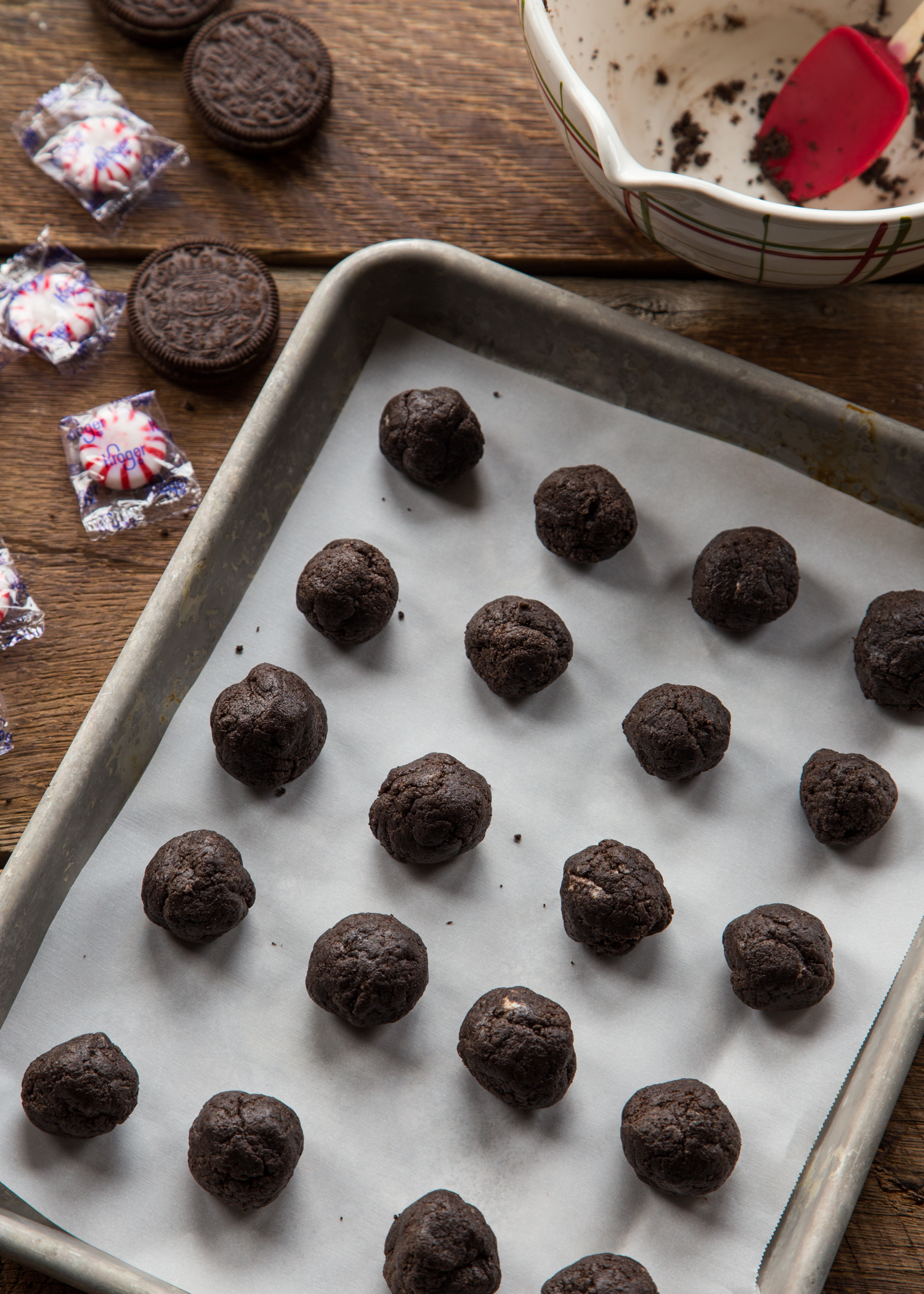 The cookie crumbs get mixed up with cream cheese and then the dough gets rolled into 20 balls.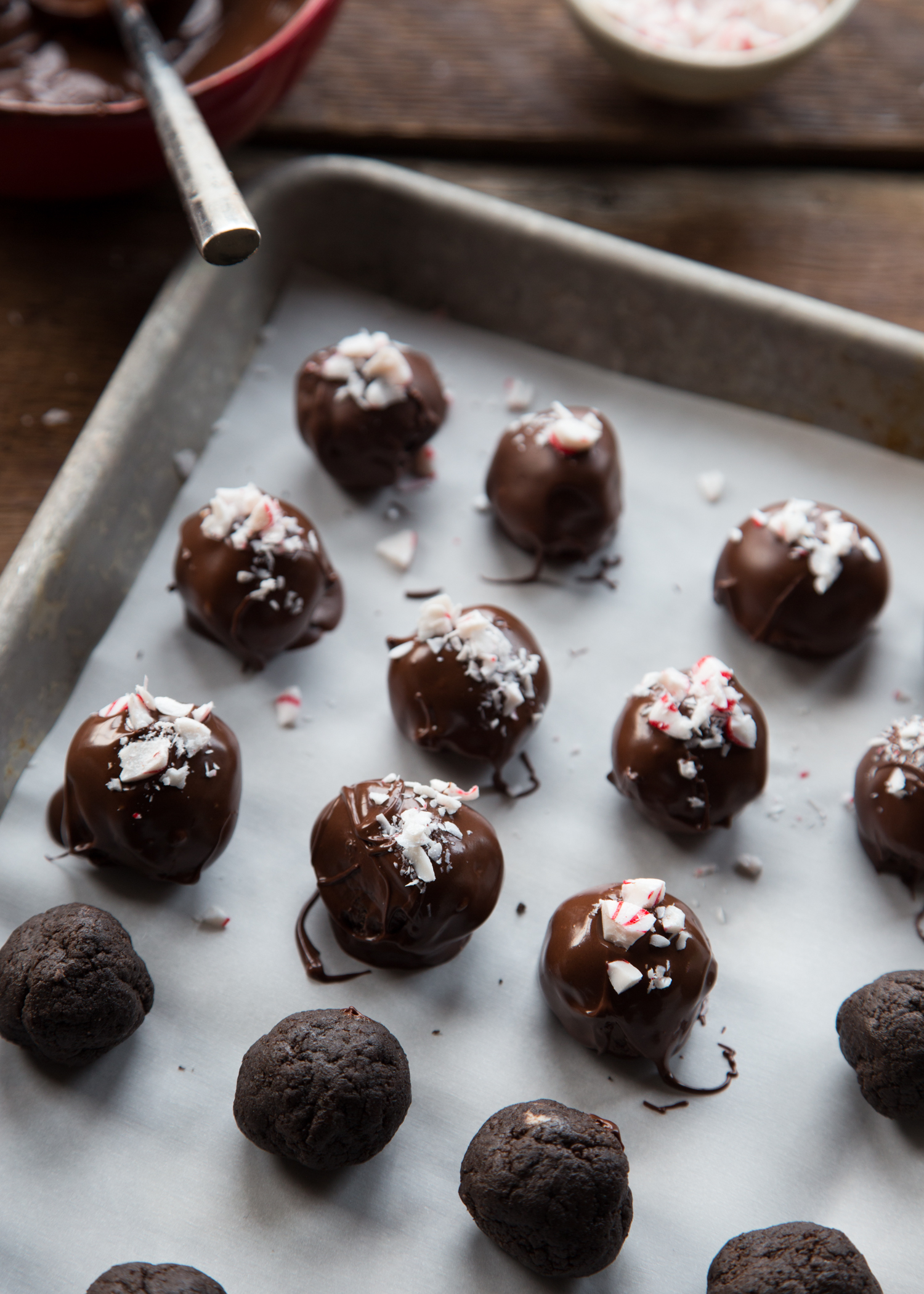 After a quick chill in the freezer, dip the balls in melted semi-sweet chocolate (or dark chocolate if you are like me) and sprinkle the tops with a few pieces of crushed Starlight mints.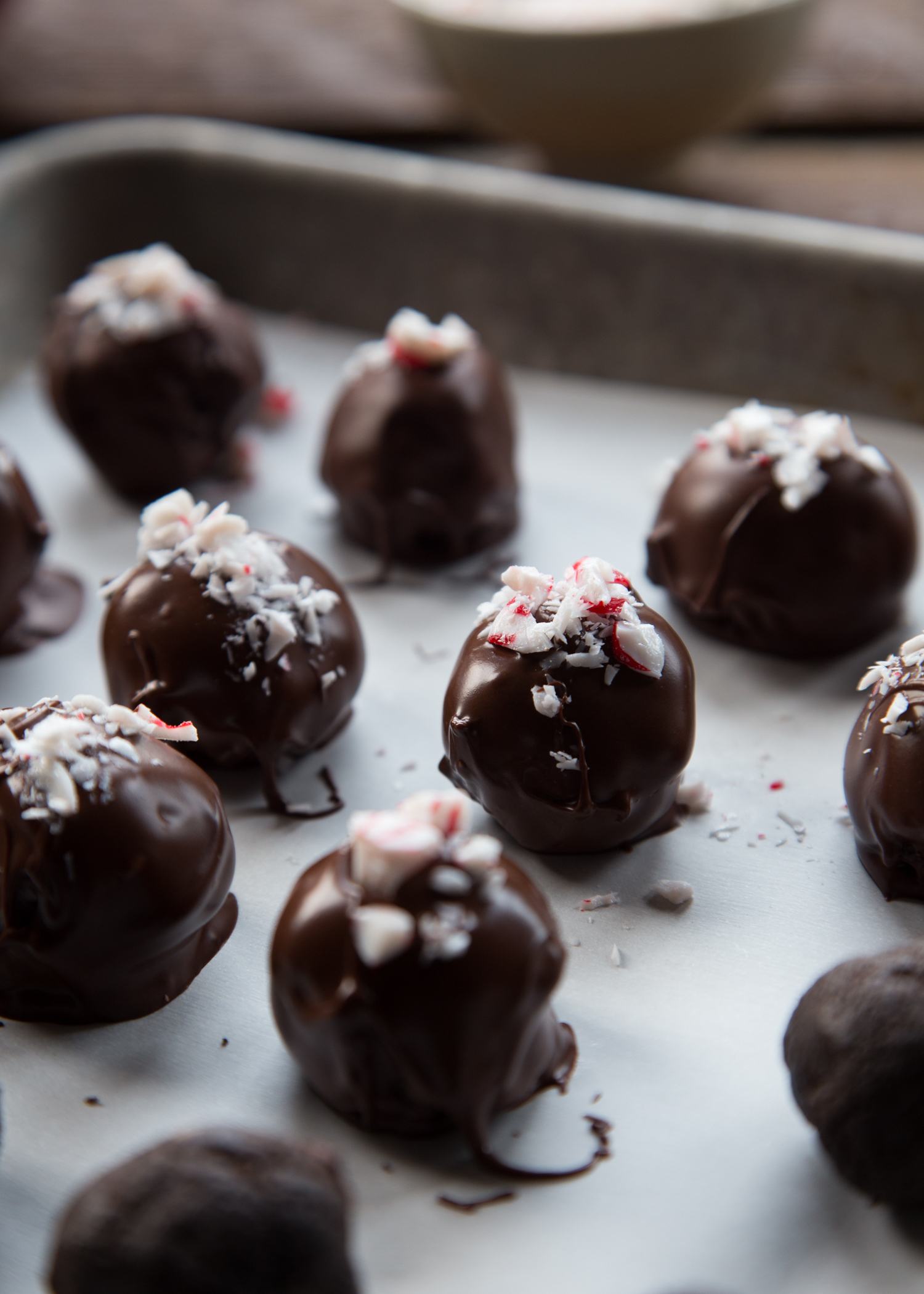 These truffle-like Peppermint OREO cookie balls are going to be a hit at our cookie exchange. A little bit of the unexpected. A special little treat that will compliment any other Christmas cookie that will be served.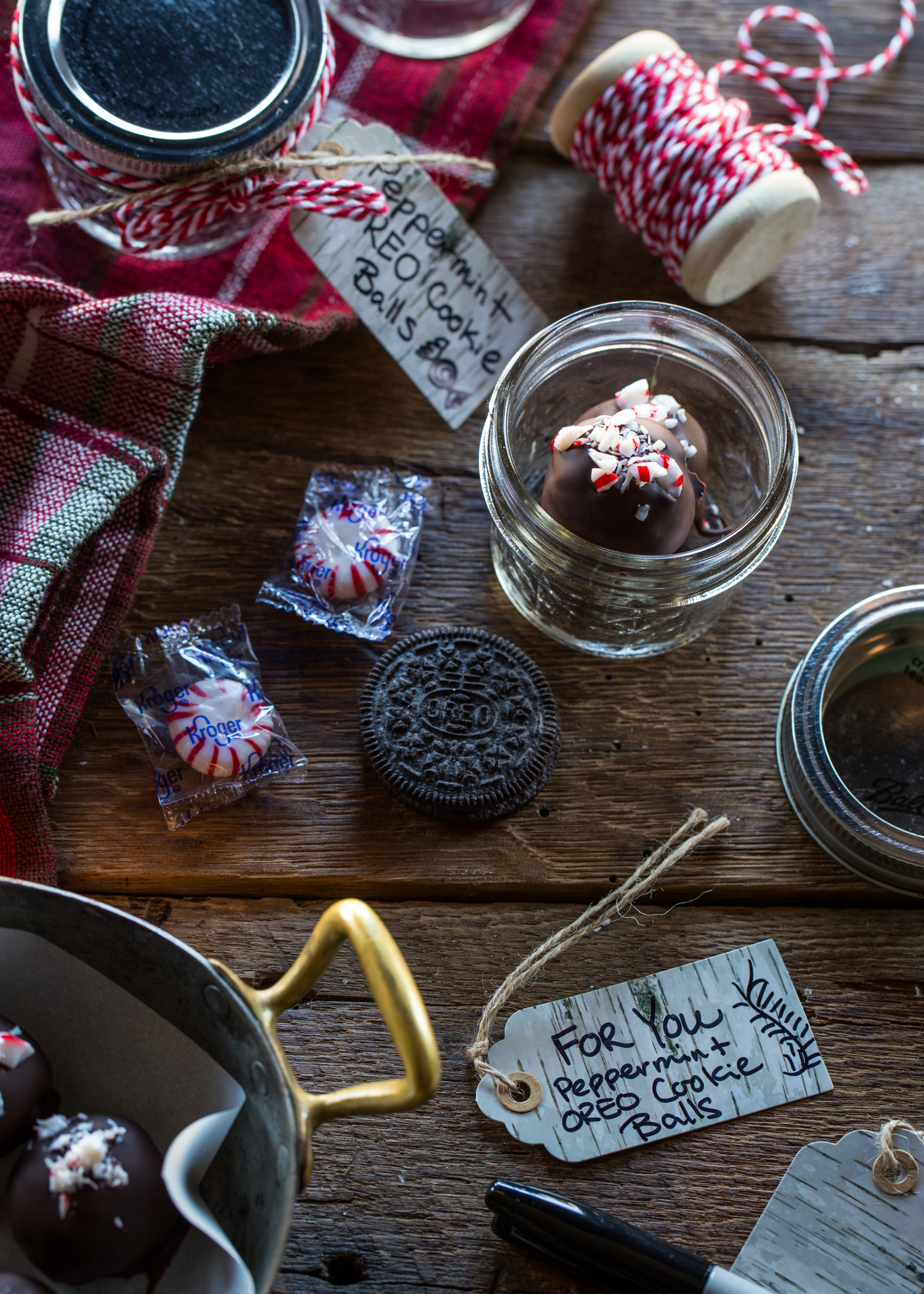 Looking for a creative teacher's gift? Try placing 1 or 2 OREO cookie balls in a small glass jar with a festive tag. Any chocolate lover will be delighted to unwrap such a sweet little treat.
You will find all of the ingredients you need for these Peppermint OREO cookie balls at a Kroger store near you.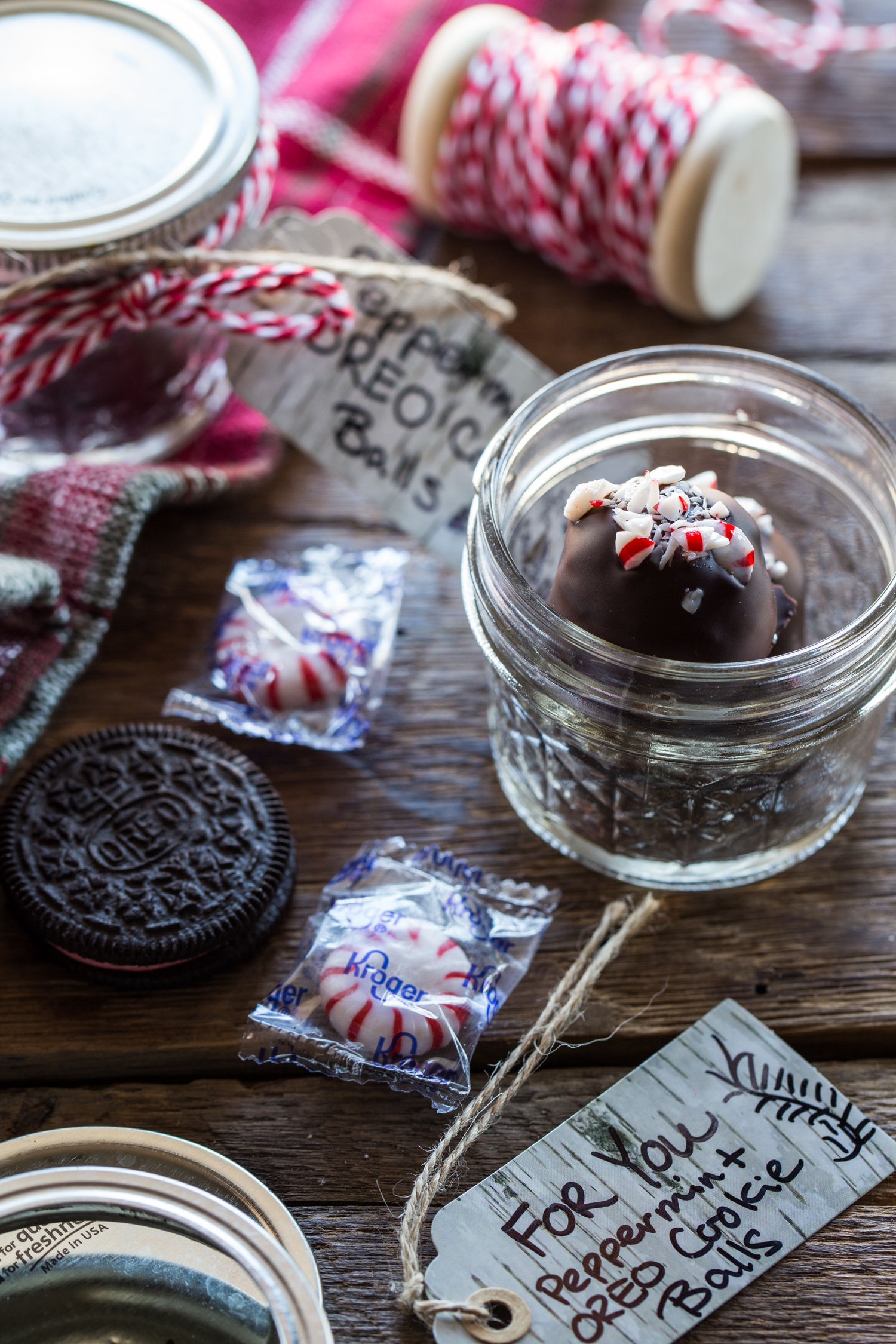 Happy Thursday!
Peppermint OREO Cookie Balls Recipe
Yield: 20 balls
Prep Time: 20 minutes
Total Time: 1 hour 40 minutes
Ingredients
3 oz. brick cream cheese, softened
18 DOUBLE STUF OREO Cookies, finely crushed
6 oz. semi-sweet baking chocolate, melted
4 starlight mints, coarsely crushed
Directions
Mix cream cheese and cookie crumbs until blended; shape into 20 (1-inch) balls.

 

Place in single layer in shallow waxed paper-lined pan.

 

Freeze 10 min.
Dip balls, 1 at a time, in chocolate, turning to evenly coat each ball. Return to baking sheet.

 

Sprinkle with candy.
Refrigerate 1 hour or until firm. Keep refrigerated.
Notes:
Substitute
Prepare using Peppermint Creme OREO Cookies.
How to Store
Store in tightly covered container in refrigerator.