summer squash tartines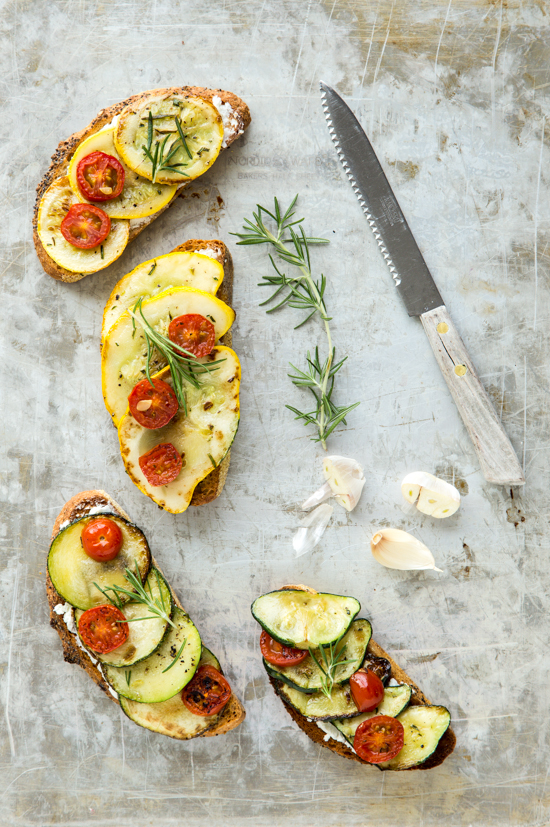 There is something I find thrilling about creating a meal in my kitchen that is basically an open faced sandwich but that I can call a name that is chic and lovely – like 'tartine'.
The word tartine is full of delicate sophistication and brings to mind airy cafes in Paris, complete with lovely company and of course, a delightful coffee. Or is it tea? We'll go with coffee, because this version of Paris is purely in my head.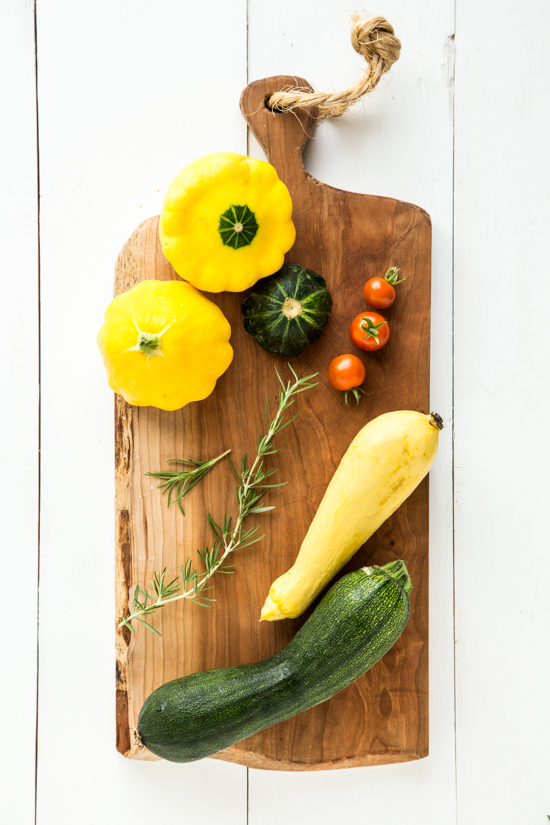 In reality, I did eat these Summer Squash Tartines in lovely company (my kiddos), but not in the airy cafe in my head. Instead I was in my (thankfully) air conditioned house, complete with coffee in my favorite Crayola crayons mug. What can I say? I'm a former art teacher and I have a soft spot for crayons. Trust me, the mug is awesome.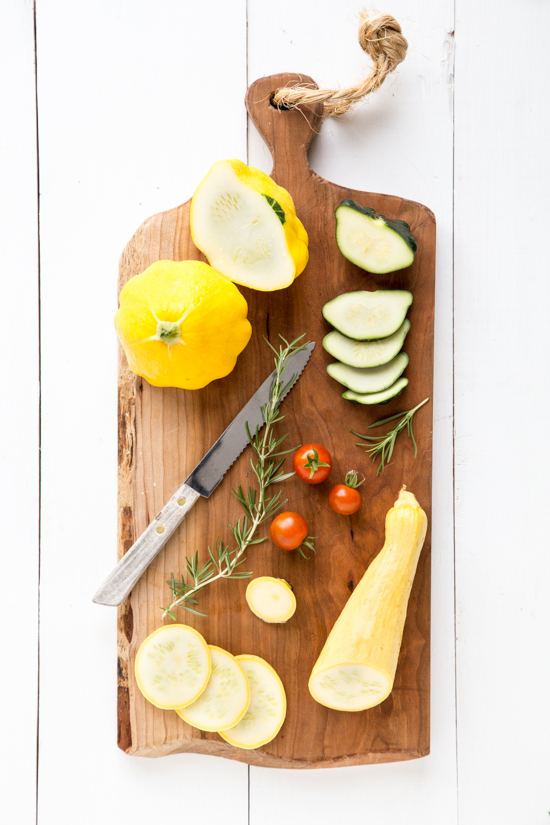 I made these Summer Squash Tartines after receiving a wide, and spectacular variety of summer squash last week from our CSA. I've waxed poetic about our CSA before, but let me just say again – I love it!
The summer squash last week was part of the 'extras' box from which we can browse and choose the vegetables that we would like to take home, on top of our usual share. I could not resist these adorable little pattypan squash as well as the more traditional zucchini and yellow squash.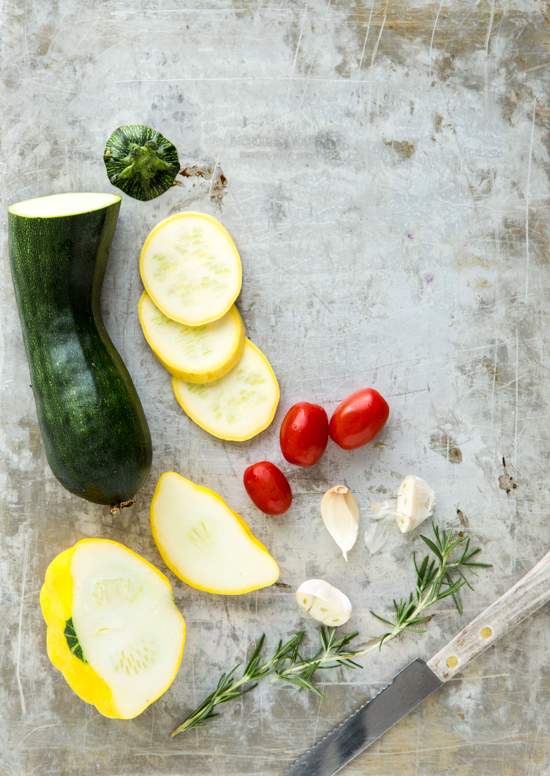 I wanted to use the squash in a way that showcased it, and didn't hide it away in a muffin or bread. Not that I have anything against muffins or bread – in fact, I quite adore muffins and bread. It's just that I actually really like zucchini and wanted it to be the star of the show. Plus, these were too beautiful to hide.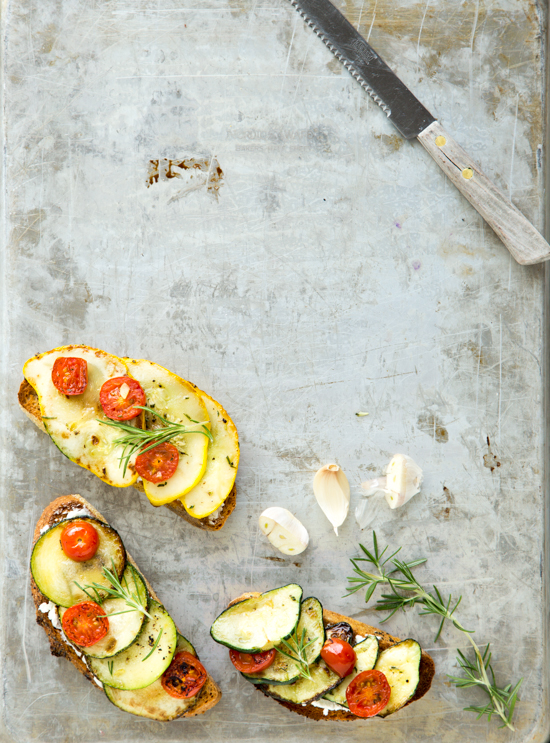 Now all of this chatter about baked goods is making me want to turn on my oven. Maybe I'll surprise you next week with a muffin or something. Any preferences? I'm thinking chocolate…
Anyhoo, while you're waiting, be sure to try these tartines. They start with whole wheat, rustic bread (I used my favorite bread) spread with tangy goat cheese and then topped with simple, sauteed summer squash, cherry tomatoes and aromatic rosemary. Delightful, I tell ya.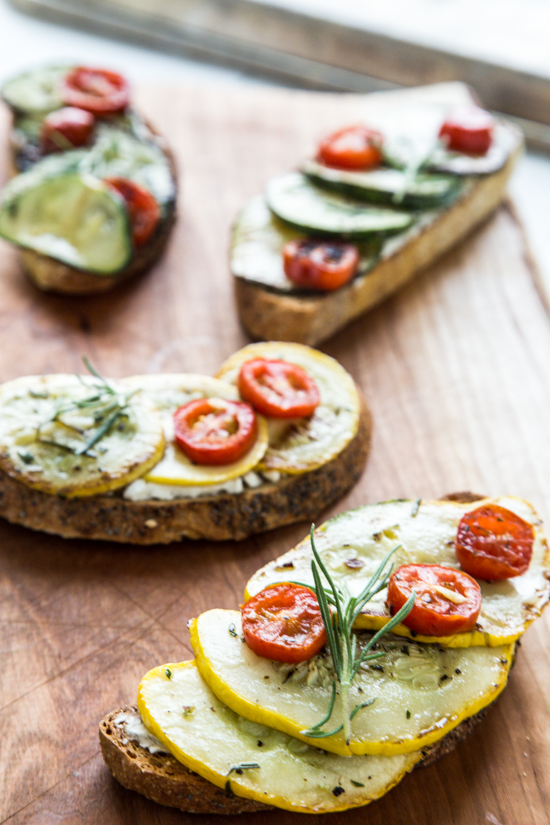 Happy Monday!
Summer Squash Tartines
Yield: 4 tartines
Prep Time: 5 minutes
Cook Time: 15 minutes
Total Time: 20 minutes
Ingredients
olive oil for brushing
1 clove garlic, peeled and cut in half
4 oz goat cheese, softened
1 Tablespoon olive oil
1 small summer squash, sliced
1/4 cup cherry tomatoes (optional)
1 Tablespoon fresh rosemary, chopped
kosher salt and freshly cracked black pepper
Directions
Preheat broiler to high. Lightly brush the four slices of bread with olive oil, and place them on a rimmed baking sheet. Broil for 2-5 minutes or until bread is toasted. Watch carefully to avoid burning the bread. Remove toasted bread from the oven, and rub each slice with the cut garlic clove.
In a large skillet, heat the remaining olive oil to medium high heat. Add summer squash, rosemary, salt and pepper and saute until squash is cooked and golden in places. Remove from pan. If using, add the tomatoes to the hot skillet and stir until tomatoes are warm and soft. Remove from heat.
Spread 1 oz of goat cheese onto each slice of bread. Arrange summer squash and tomatoes over the top of the goat cheese. Serve tartines warm.
Notes:
I have made these with and without tomatoes, and both ways are fabulous. Feel free to add your favorite vegetable or switch up the cheese to create your own version of this tartine.