blueberry peach kale chia smoothie (smoothie saturday)
This sweet and satisfying Blueberry Peach Kale Chia Smoothie is packed full of super foods to start your day off right.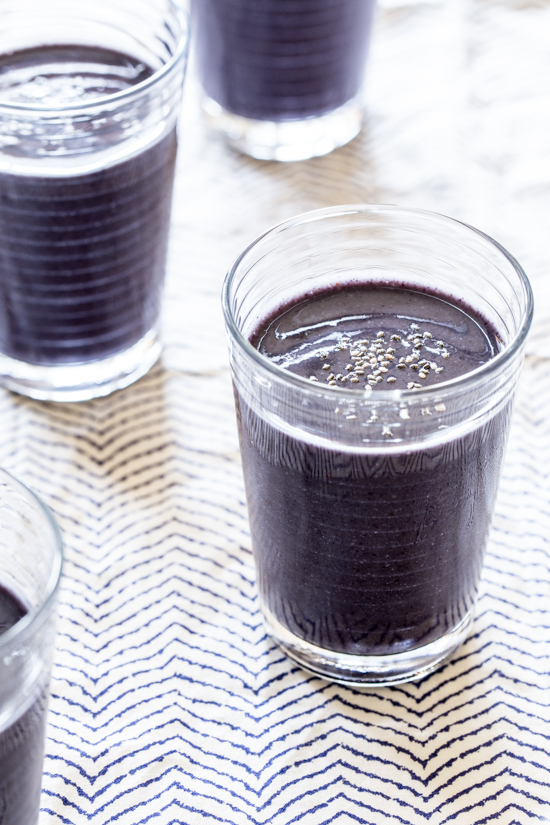 I have a weird thing that I do when I shop at Costco. I am unable to resist the enormous packages of berries that appear in June. You know the ones. They're the size of a small child and only tend to be available for two weeks. During this precious two weeks, I tend to power buy strawberries, blueberries and raspberries like my life depends on it. As if I won't be able to go on if my fridge isn't bursting at the seams with an insane amount of fruit. I'm not really sure what I think will happen if I pass them over, but I won't be foolish enough to find out, apparently.
On my most recent trip, I picked up the big thing of blueberries and strawberries. I think my urge to buy so many berries is because I know that their window of goodness is very short lived. In a mere matter of short weeks, the offerings will be less appealing. Slightly wrinkled, lack luster berries will replace the current plump and colorful ones. So every June, I find my self in the same predicament: a ridiculous ton of berries that I need to use, and use quickly.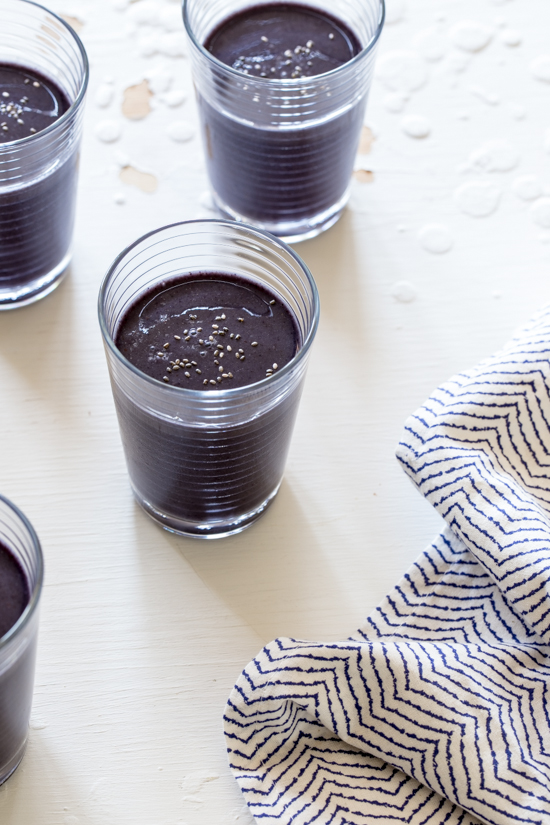 On Wednesday, I used a bunch of these berries to make my decadent Roasted Berry S'mores and last week, I whipped up some fresh Strawberry Shrub Coolers. Luckily, this year's frantic berry-buying insanity has coincided with my new green smoothie lifestyle and I found that blueberries are fantastic in green smoothies – er, blue smoothies.
Blueberries are crazy good for you and full of antioxidants and all sorts of cancer fighting properties. Today's smoothie is packed full of blueberries, kale, peaches and chia seeds. It's awesome for breakfast, lunch or even a treat on a warm summer night.
Oh, and if you're a make ahead girl like me, you need to try these Blender Bottles.

We will make our breakfast smoothies the night before, pour them in these bottles with little whisk balls inside and pop them into the fridge. In the morning, the smoothies are perfectly chilled and just a few shakes away from being ready to drink. I have four of these bottles and am strongly considering buying more.
Either way, give this blueberry packed smoothie a try and have an awesome weekend!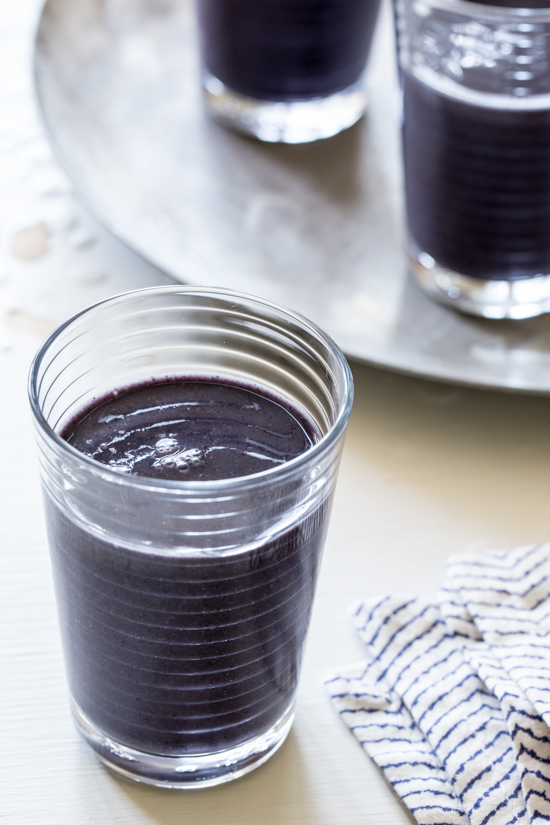 Happy Saturday!
This post contains Amazon Affiliate links
Blueberry Peach Kale Chia Smoothie Recipe
Yield: 2-3 servings
Prep Time: 10 minutes
Ingredients
2 cups coconut milk (or almond milk)
2 cups blueberries (fresh or frozen)
1 cup peaches (fresh or frozen)
1 cup kale
1 small banana (fresh or frozen)
1 Tablespoon Chia seeds
1 Tablespoon honey
1 1/2 cups ice (less if using frozen fruit)
Directions
Place ingredients in a high powered blender in the order listed or fresh fruit and kale first and frozen fruit on top. Blend until smooth. I used the soup button on my Blendtec. Enjoy!
June 7th, 2014