Toasted Coconut Marshmallow Treats & a Video
Toasted Coconut Marshmallow Treats are a gateway into Spring desserts! These simple no-bake treats are full of fruity marshmallows and toasted coconut chips making them a sweet treat for any occasion.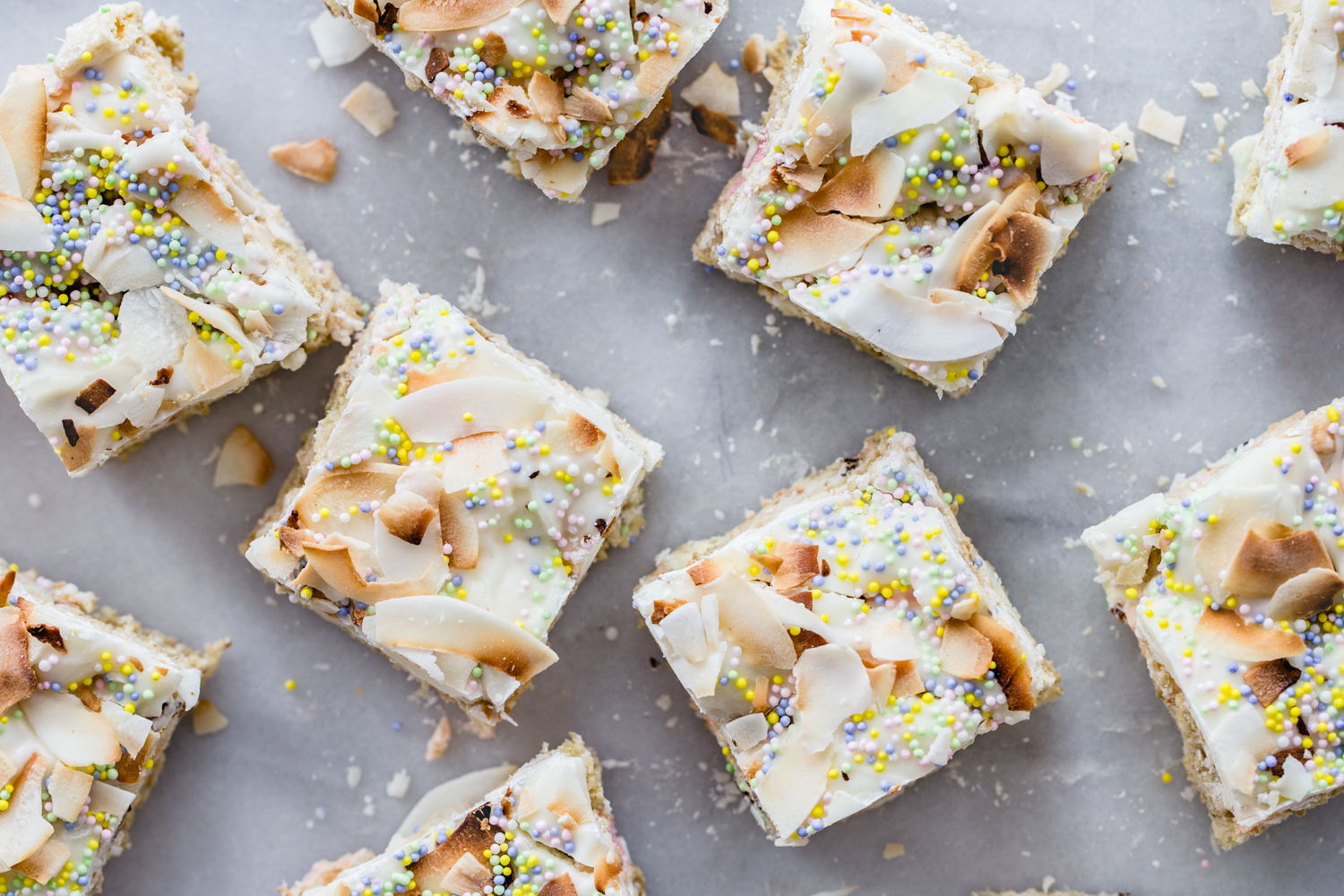 This post is sponsored on behalf of Campfire® Marshmallows.
It's Easter weekend and for me, the official start of Spring. A & C have the entire week off of school next week and I am planning on some serious chill time.
Chill time is mandatory on Spring break. Fingers crossed the weather will warm up a bit so we can get some much needed fresh air.
I am clearly on a fruity/coconut combination the last month. Remember my Tropical Fruit Marshmallow Fluff Salad?
Yeah, that fluff is awesome and should totally be on your Easter menu.
But let's talk marshmallow treats. Specifically these toasted coconut marshmallow treats. Or cereal treats.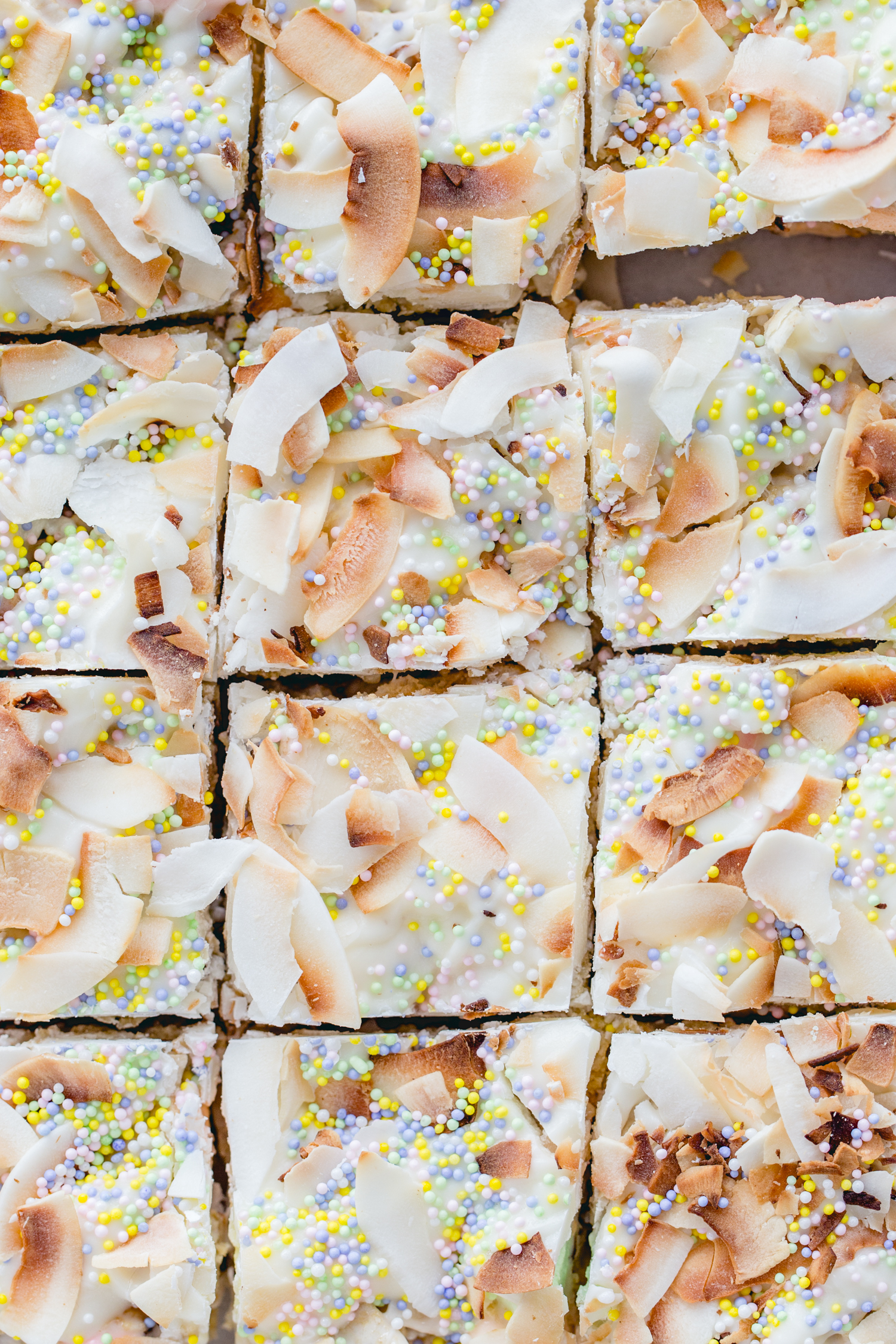 Whatever you call them, they're #1 in our house.
In fact, one of my favorite things to make with marshmallows are classic cereal treats with a big old twist.
In the case of these toasted coconut marshmallow treats, the twist is using rice squares instead of crisp rice cereal. Then adding in big toasted coconut flakes and some fruity mini marshmallows for little pockets of flavor and color.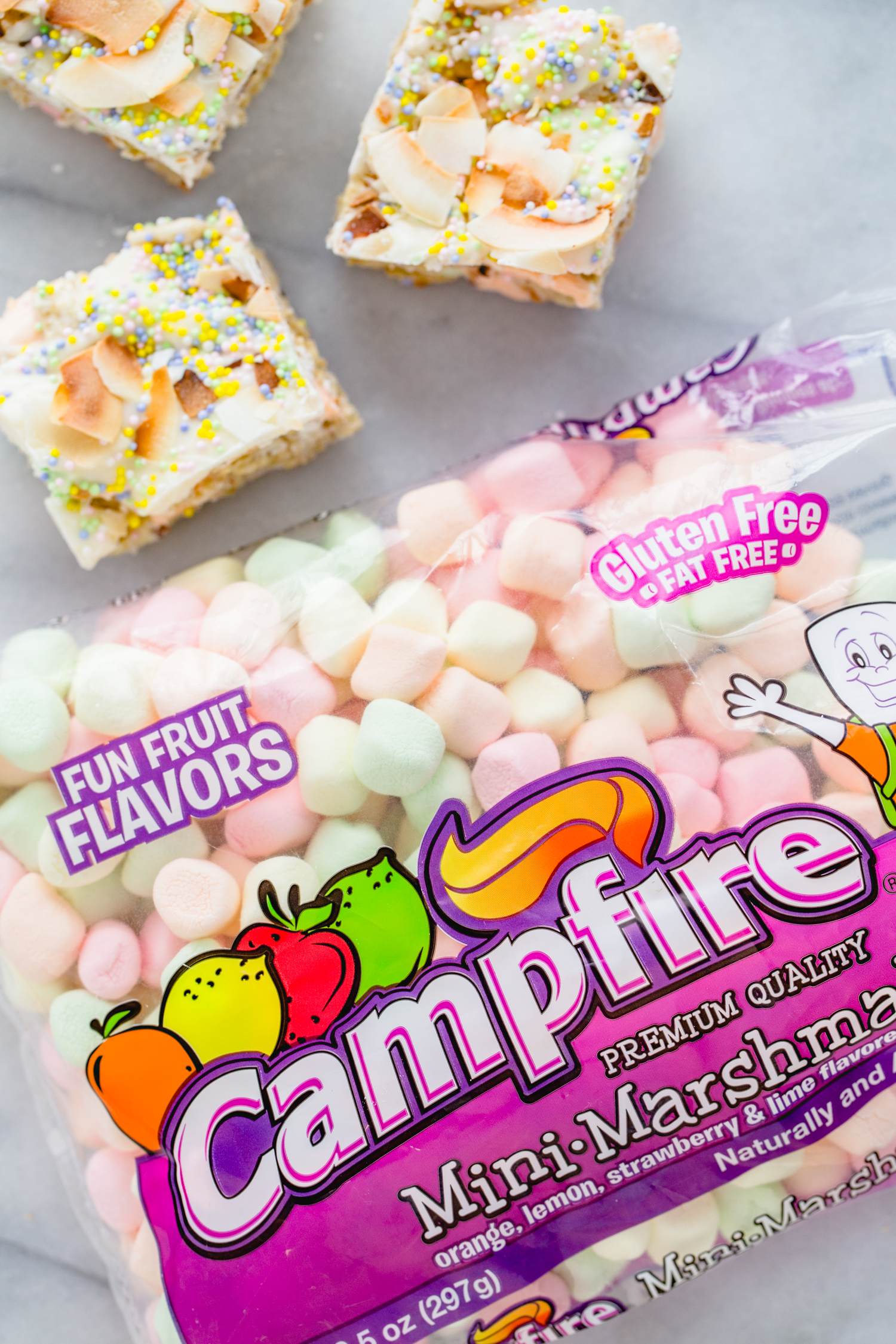 Two kinds of marshmallows mean double the fun
These toasted coconut marshmallow treats use two kinds of Campfire® Marshmallows: mini white marshmallows and mini fruit marshmallows.
The white mini marshmallows get melted with butter in order to hold these no-bake treats together. They bring a soft vanilla flavor that compliments all the other ingredients.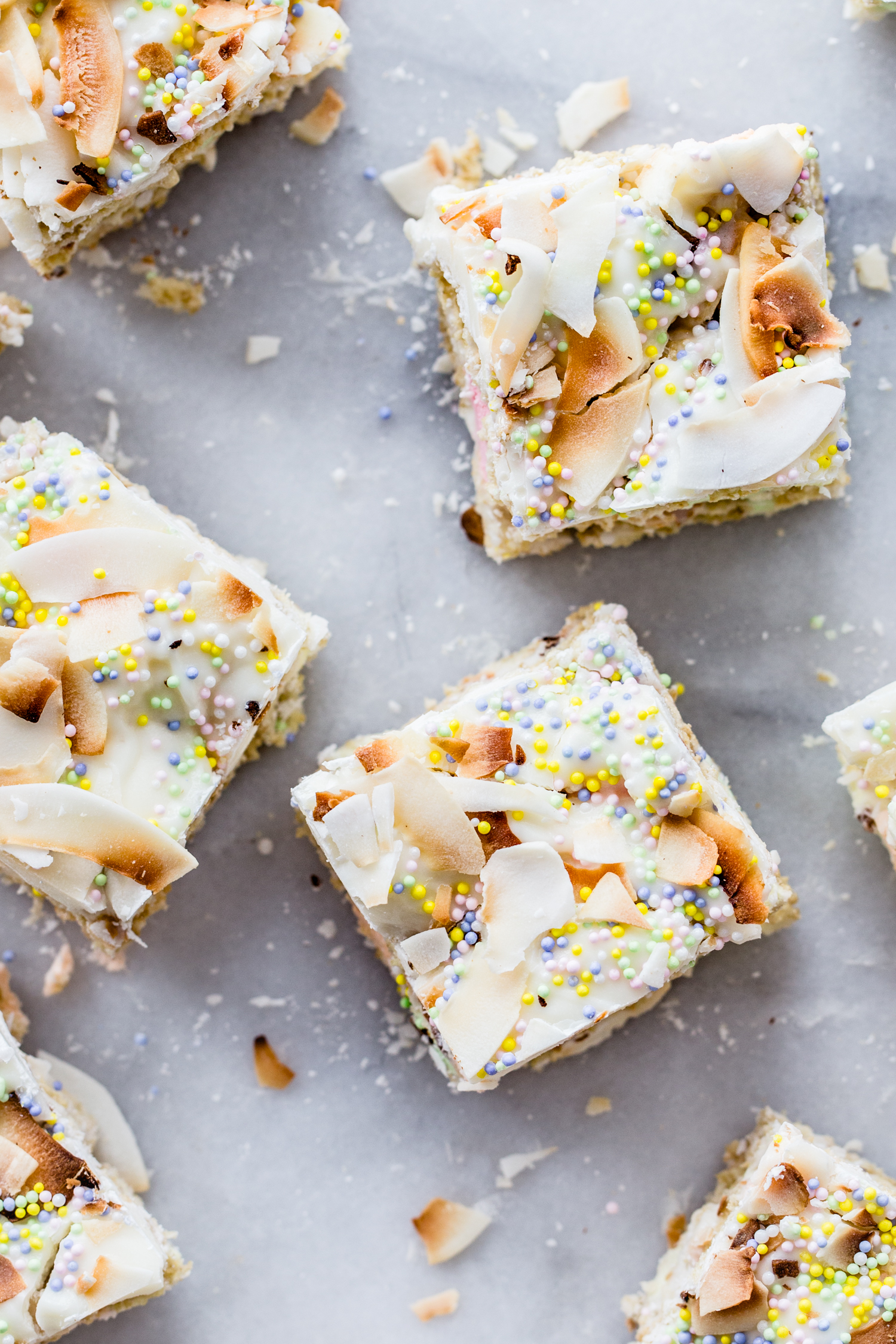 Then, a handful of colored minis adds fruity flavor while keeping the separate fruit flavors in tact.
It's my favorite way to use the colored minis in treats!
Top the entire batch off with melted white chocolate, more toasted coconut flakes, and some sprinkles.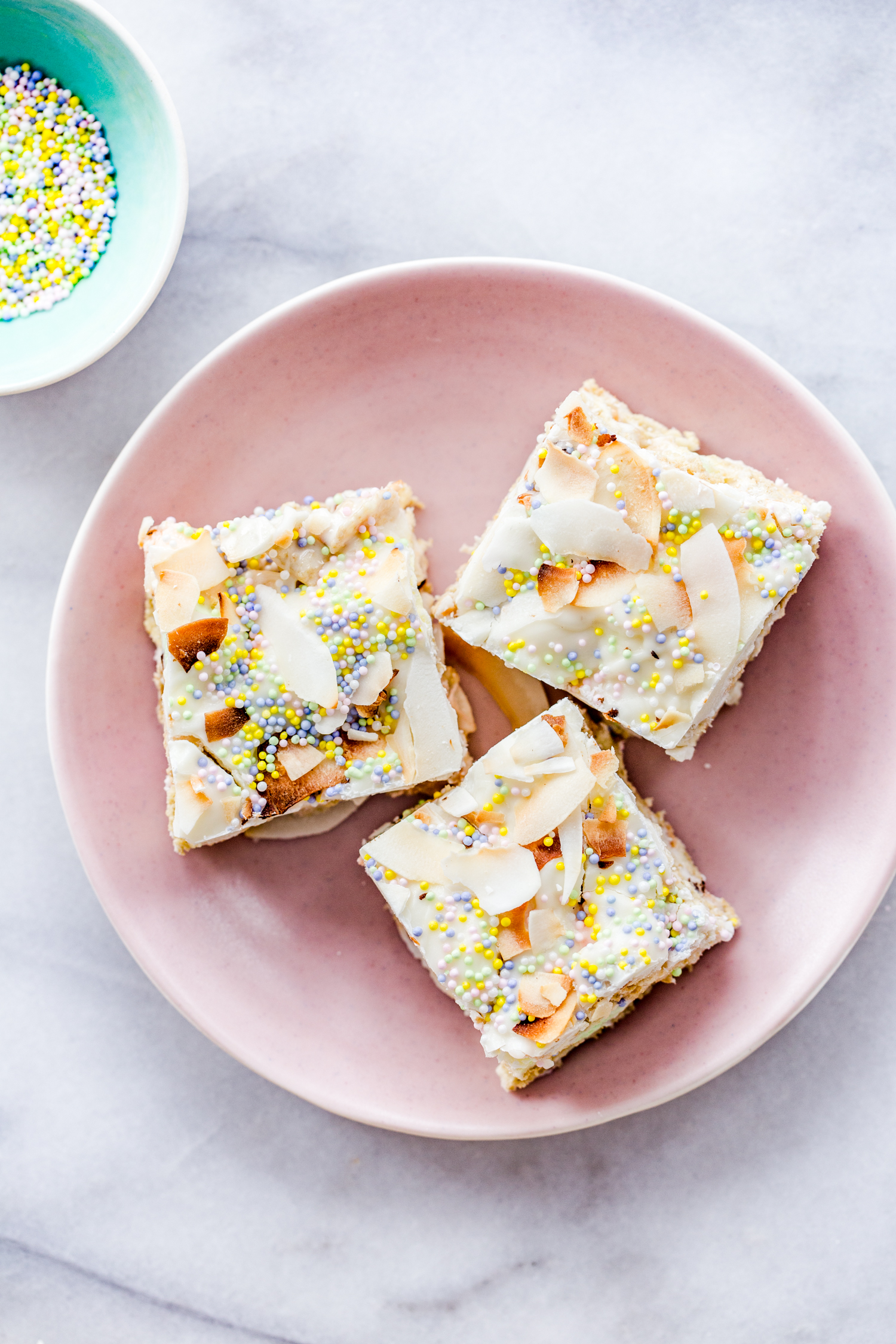 Because why the heck not? Let's go big or go home.
I have lots of no-bake goodness planned for our kitchen next week. There is something about not baking that gets me really excited.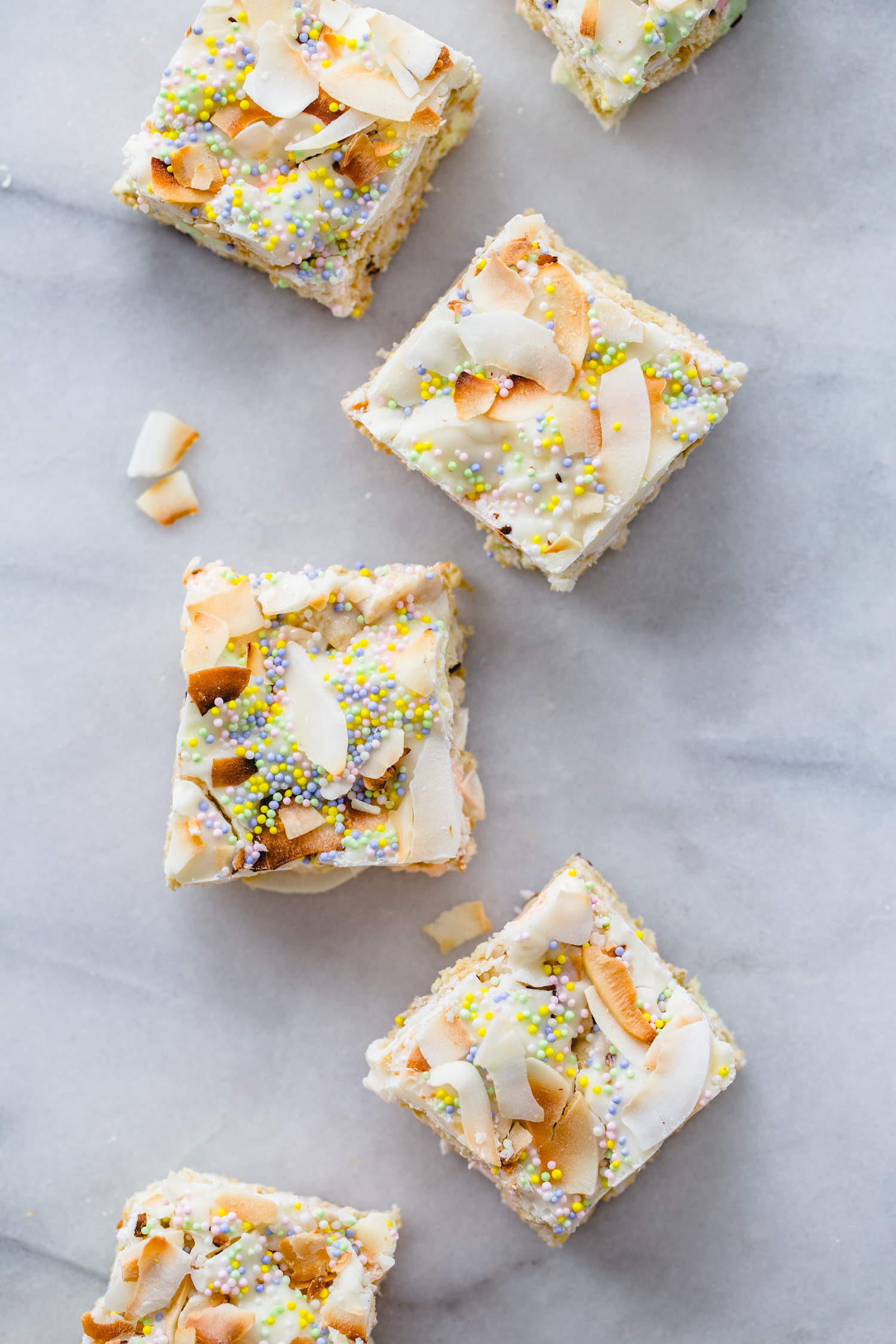 Like these Toasted Coconut Marshmallow Treats? Check out these other no-bake spring dessert recipes:
Have a very Happy Easter!
Toasted Coconut Marshmallow Treats Recipe
Yield: 16 servings
Prep Time: 15 minutes
Total Time: 15 minutes
Ingredients
1 - 10oz Campfire Mini White Marshmallows
1/4 cup butter, cut into pieces
5 cups rice square cereal
2 cups toasted coconut flakes, divided
1 cup Campfire Mini Fruit Marshmallows
4 ounces white chocolate, melted
colored sprinkles (optional, but recommended 🙂
Directions
Line an 8 inch square baking dish with foil and spray lightly with non-stick spray.
Pour white marshmallows and butter into a large microwave safe bowl. Microwave on high 1-2 minutes or until marshmallows are puffed and butter is melted. Stir until smooth.
Stir in cereal, 1 1/2 cups of the toasted coconut (reserve the rest for topping, and the mini fruit marshmallows until evenly coated. Spread mixture evenly into prepared pan. Use slightly damp fingers to spread without the sticky mess.
Spread melted white chocolate over the top of the treats and sprinkle with reserved coconut and sprinkles. Allow chocolate to set before cutting and serving.