Homemade Wonton Soup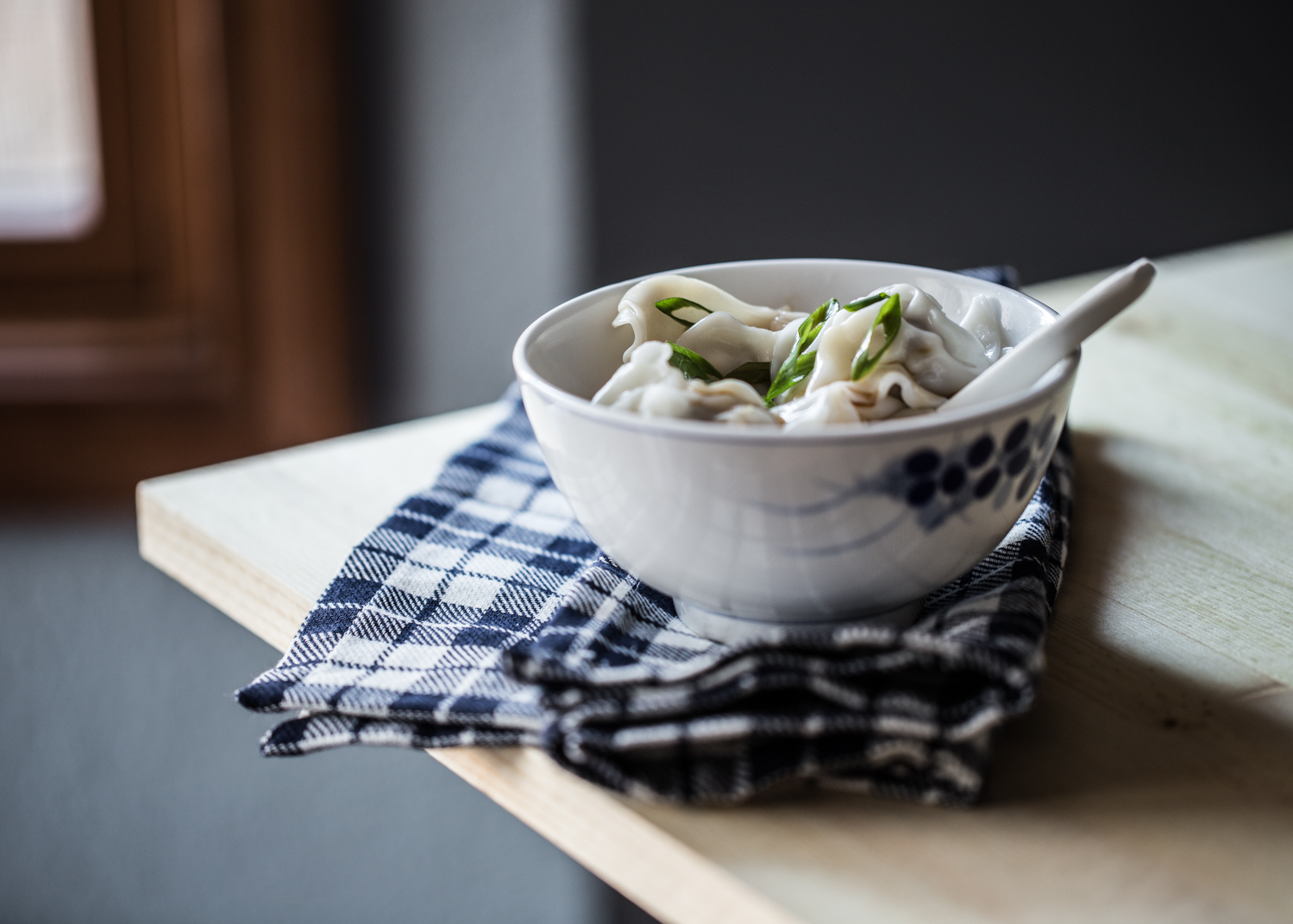 This week happens to be one of my favorite weeks of the winter: soup week! For the second year in a row I have teamed up with my friends Melanie and Courtney to share some of our favorite soup recipes. This year, I'm kicking things off with a Homemade Wonton Soup. This is a soup recipe that was given to me by a dear friend of mine, J. This week is all about soup and friends, so this soup was a must share.
J taught me how to make this recipe several months ago and I have made it several times since. She is an incredible cook and I have been so fortunate to learn some authentic Chinese cuisine from her. I also learned her version of hot and sour soup and it is out of this world. That might be one I need to share here, as well.
I will be honest in telling you that the preparation of the wontons takes a bit of time. The mixing of the filling and folding of the wontons can be a lengthy, although not difficult, process. I will pop on my headphones and just settle into a wonton wrapping session. The process is methodical, relaxing, and great for a Sunday afternoon. This recipe makes a big batch of wontons so you can freeze them and pull out small amounts for quick weeknight dinners.
The soup itself is a breeze to make. The wontons are boiled in a large pot of water for about 10-15 minutes. The wonton can be cooked from fresh or straight out of the freezer. Boil as many or as few as you'd like. The broth for the soup is made by combining the starchy cooking liquid from the wonton with some soy sauce, ginger, garlic, rice vinegar, broth powder, and salt. Just prepare one bowl for each person you are cooking for. Then add the cooked wontons and top with some scallions and cilantro.
That's it. It's so simple and has become a favorite in our house. My kids both love it, and each bowl can be customized with flavors. C loves hers with extra soy sauce, and I like mine with extra ginger. Play around with the amounts to suit your own taste. The kids like getting their own bowls ready with the seasonings of their choice. I love having a bag of the frozen wonton ready to go in the freezer, especially on a night that we have a piano lesson or a scout meeting. Those are the busy nights when a speedy soup is just about the best thing ever.
And because this week is all about soup, be sure to take a look at Melanie's Orange Beef Teriyaki Soup and Courtney's Slow Cooker Asian Beef and Mushroom Noodle Soup – they both look wonderful! We will all be back on Thursday with a new soup recipe, so be sure to pop back over later in the week. In the mean time, don't hesitate to check out last year's Slow Cooker Ham and Bean Soup, Bloody Mary Soup, and Slow Cooker Pork Ramen Soup.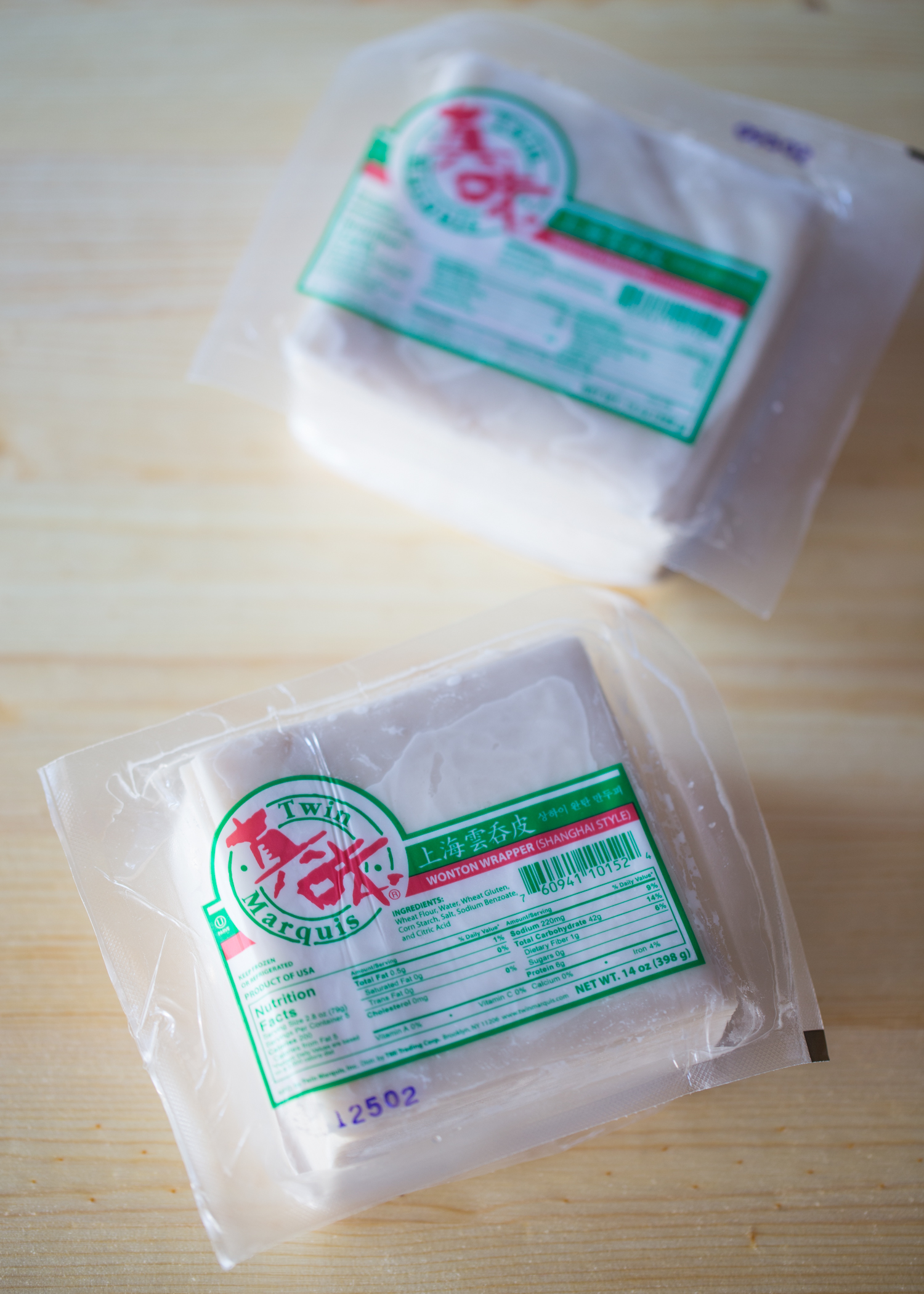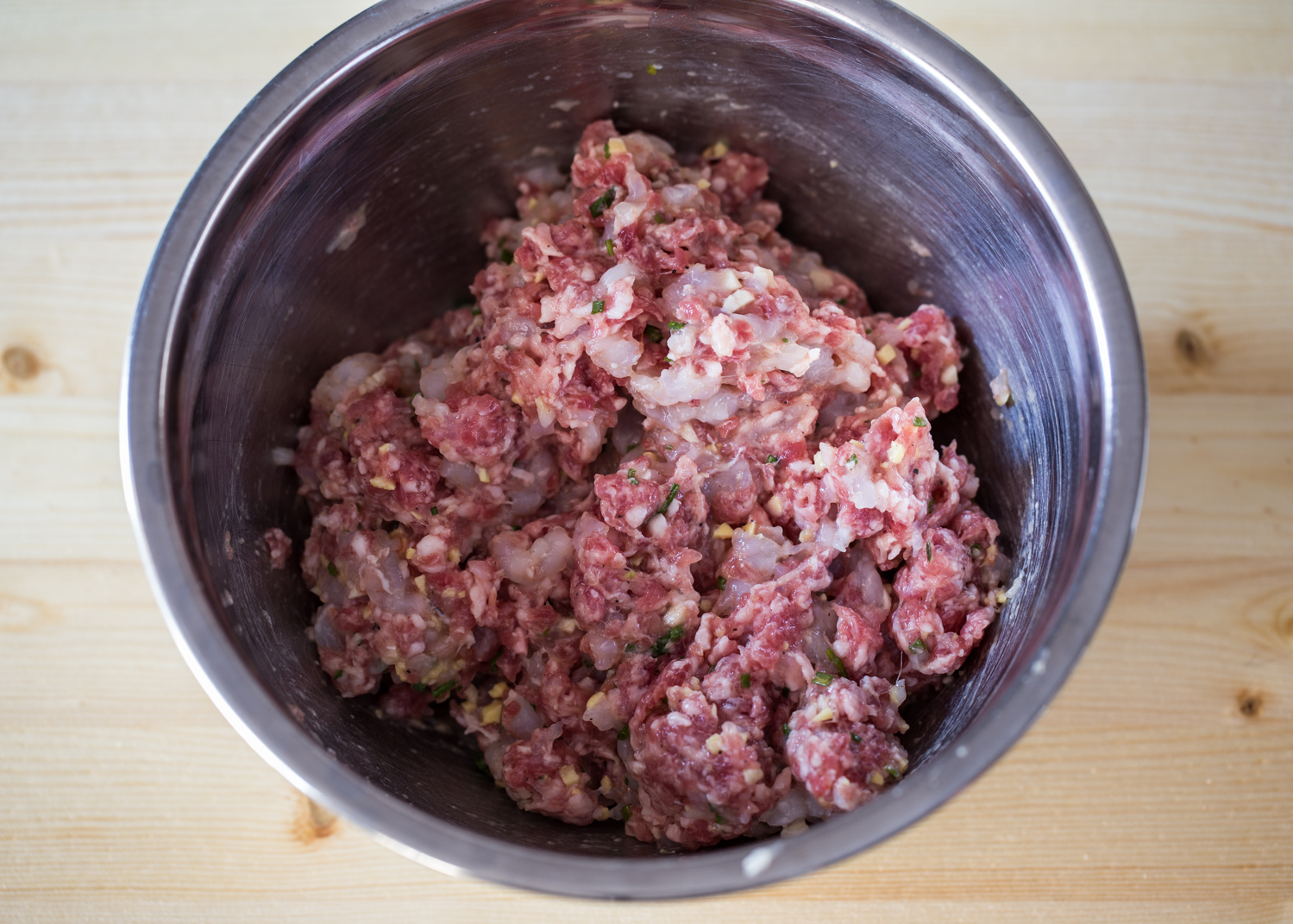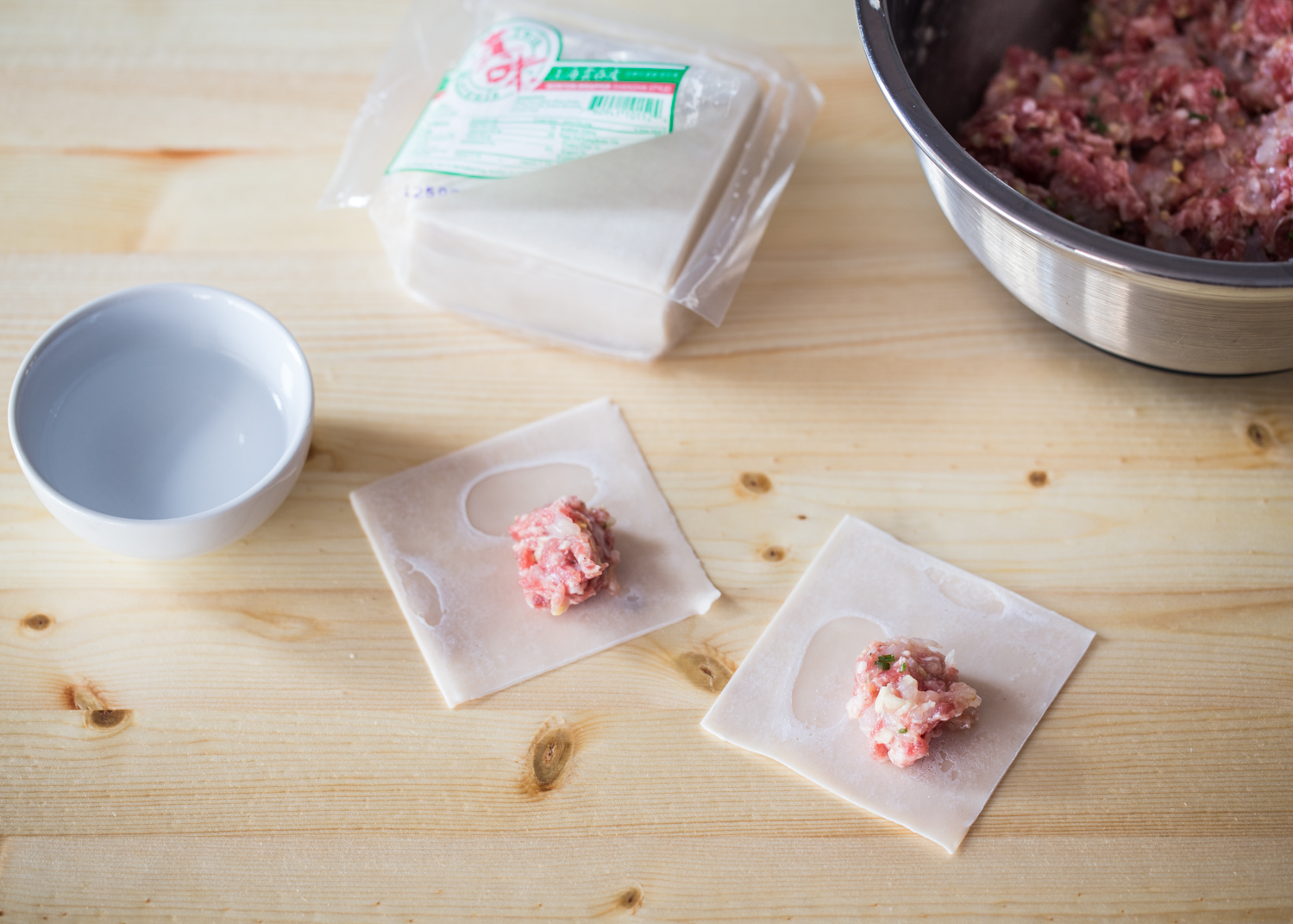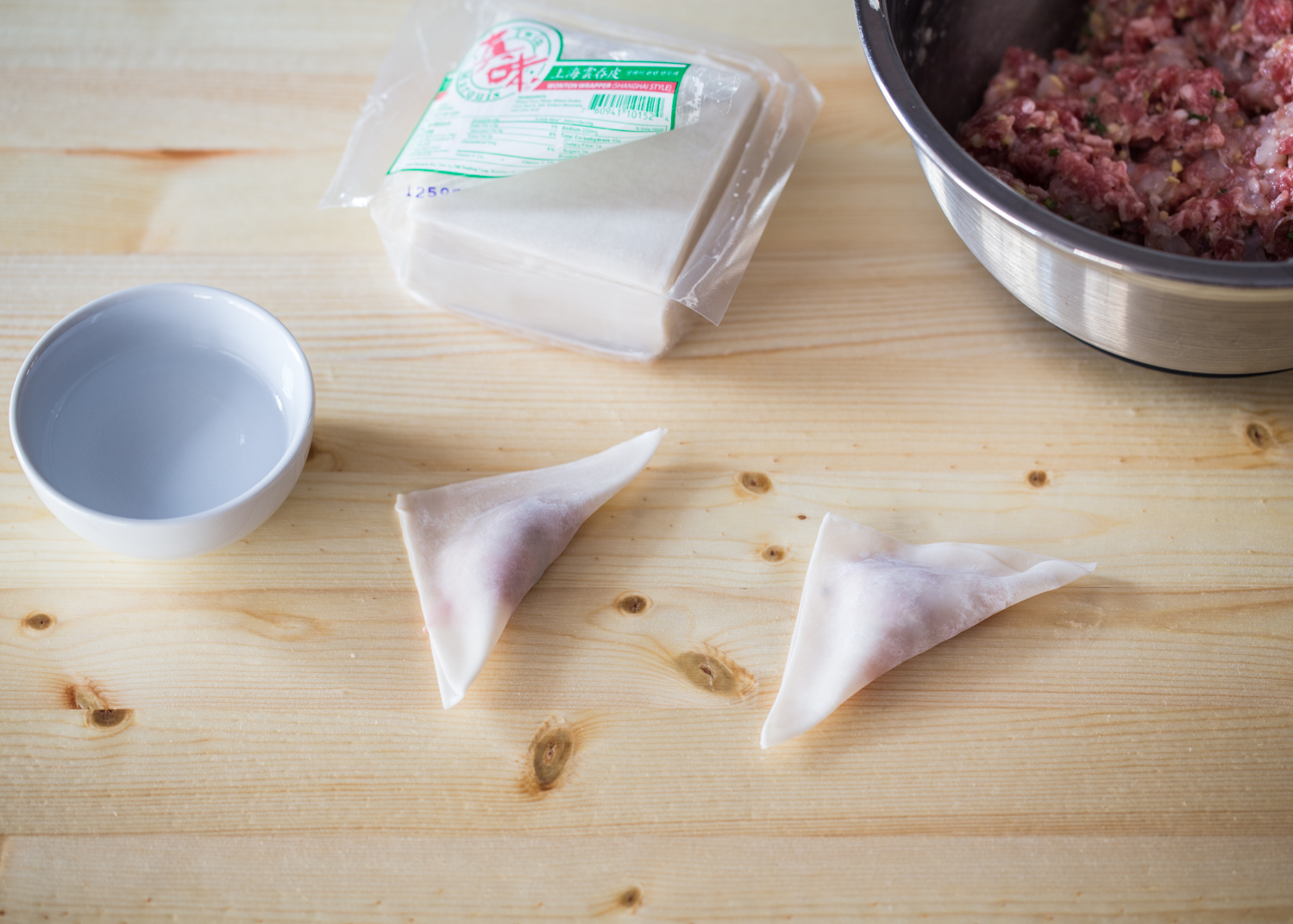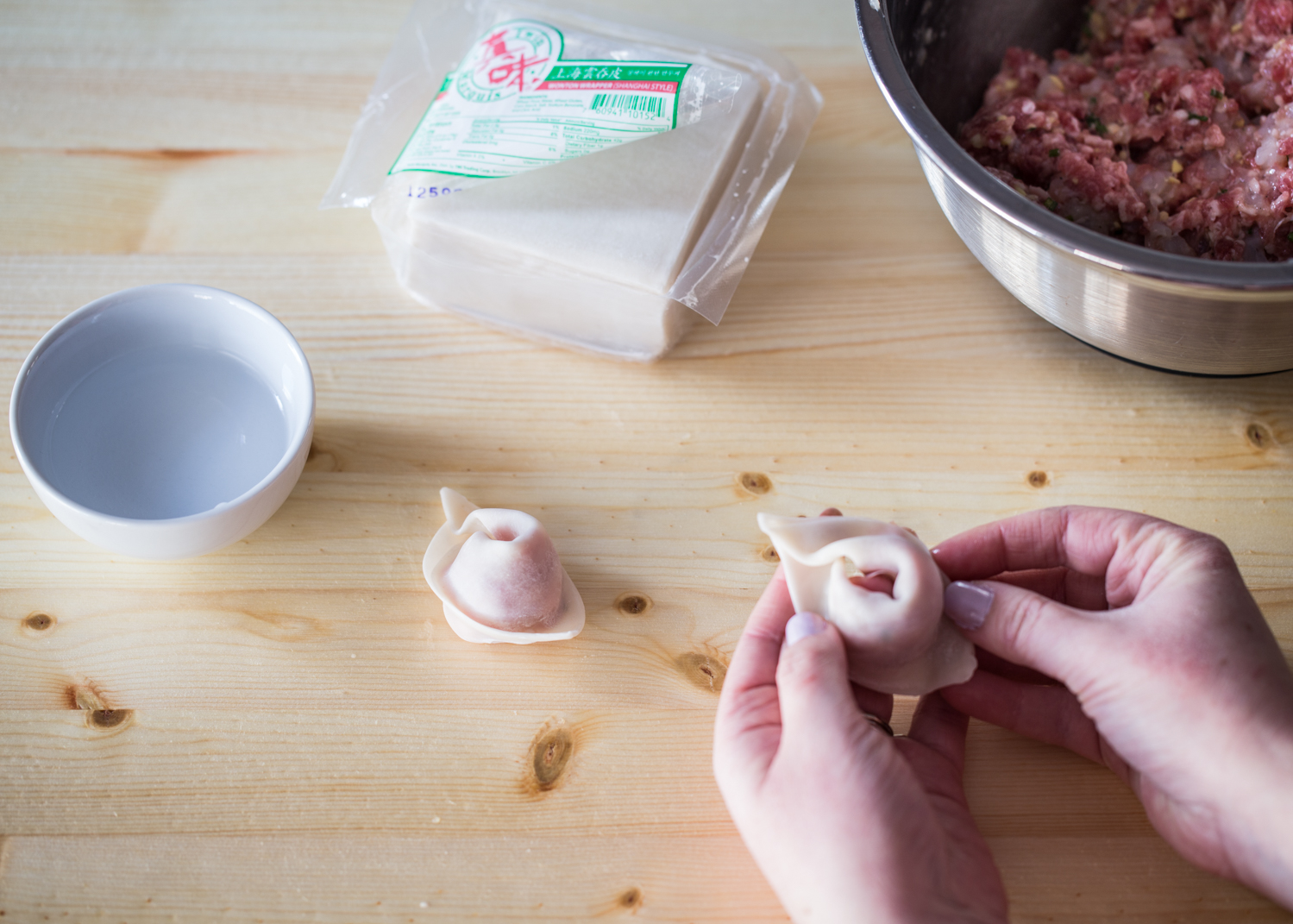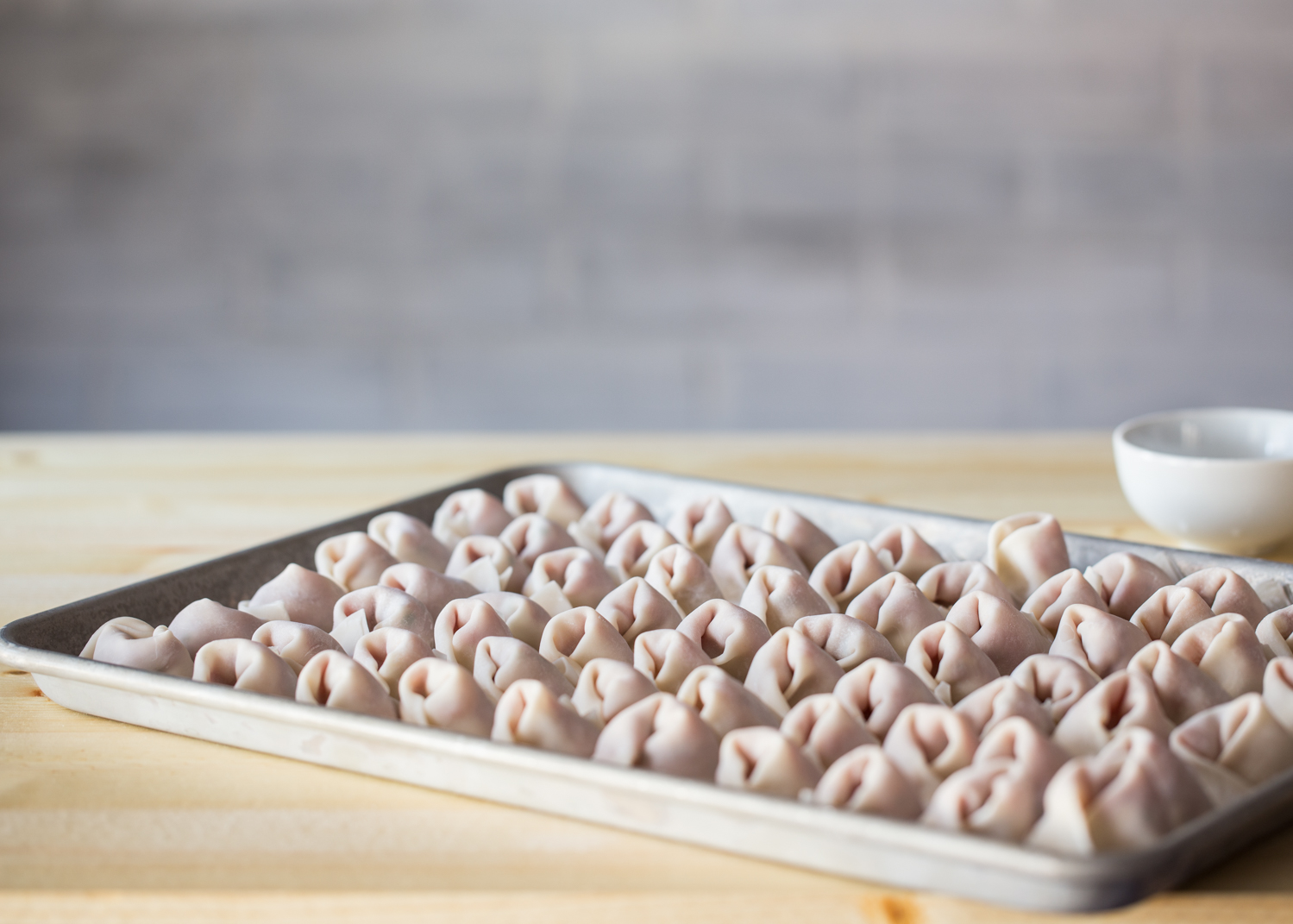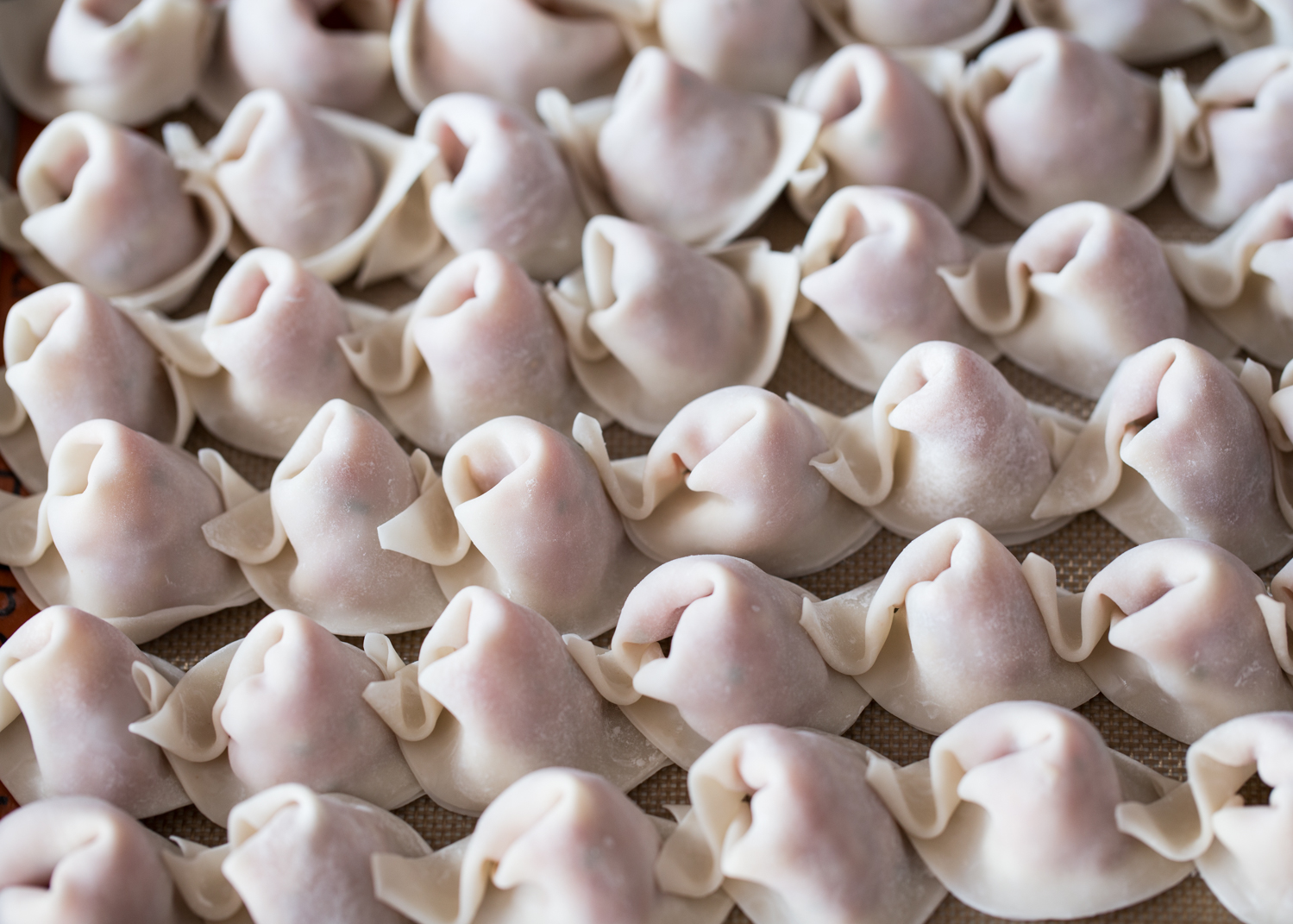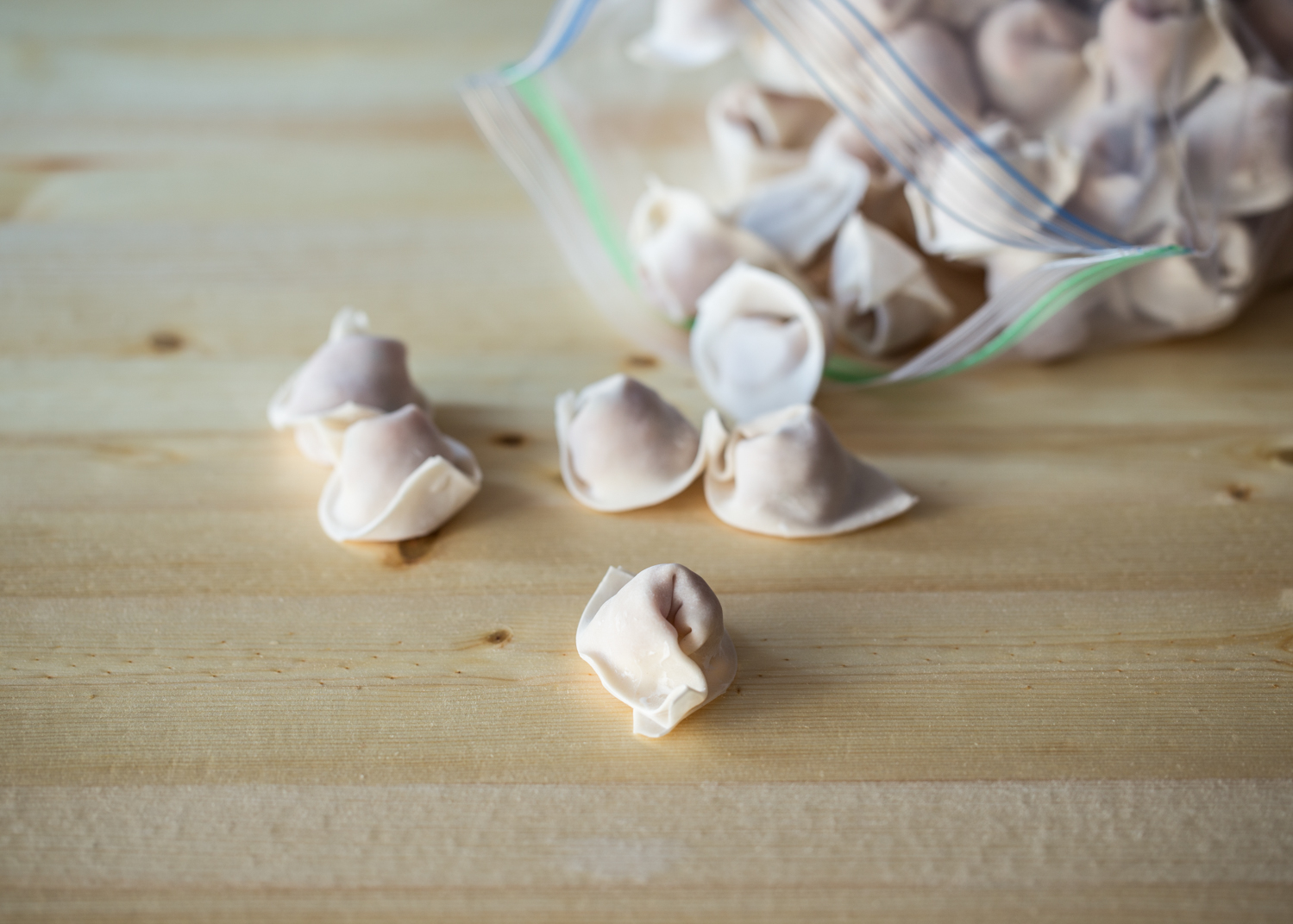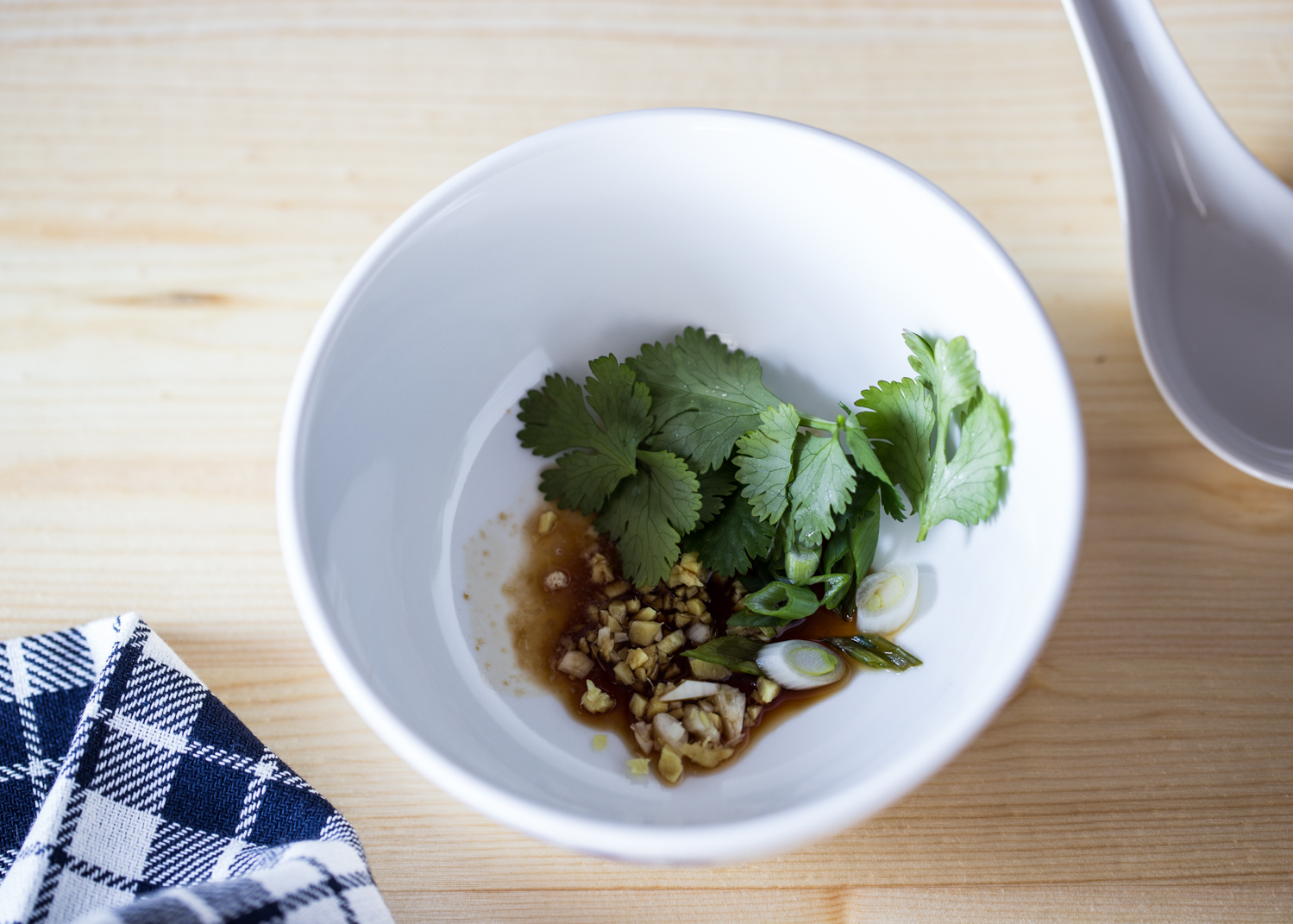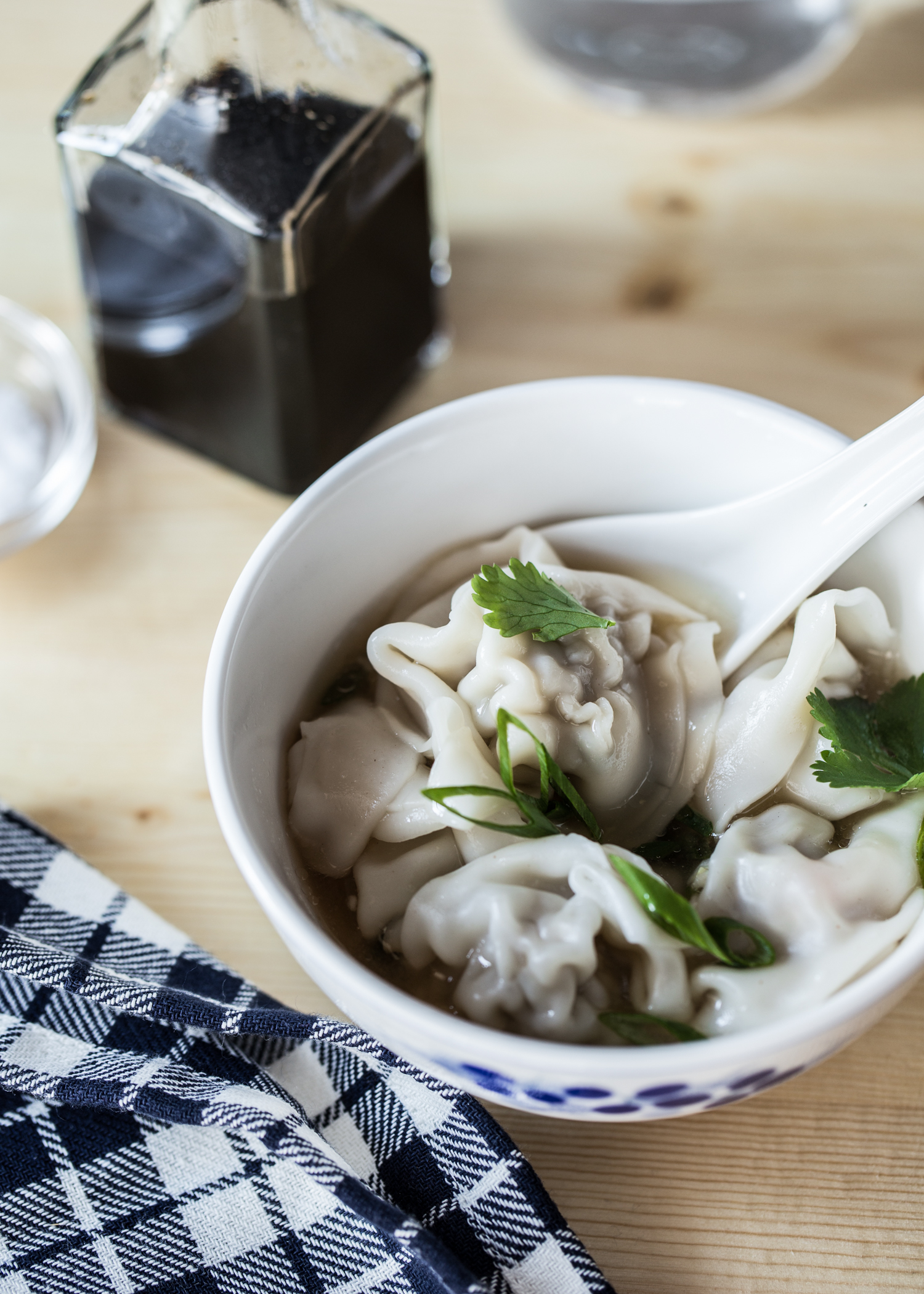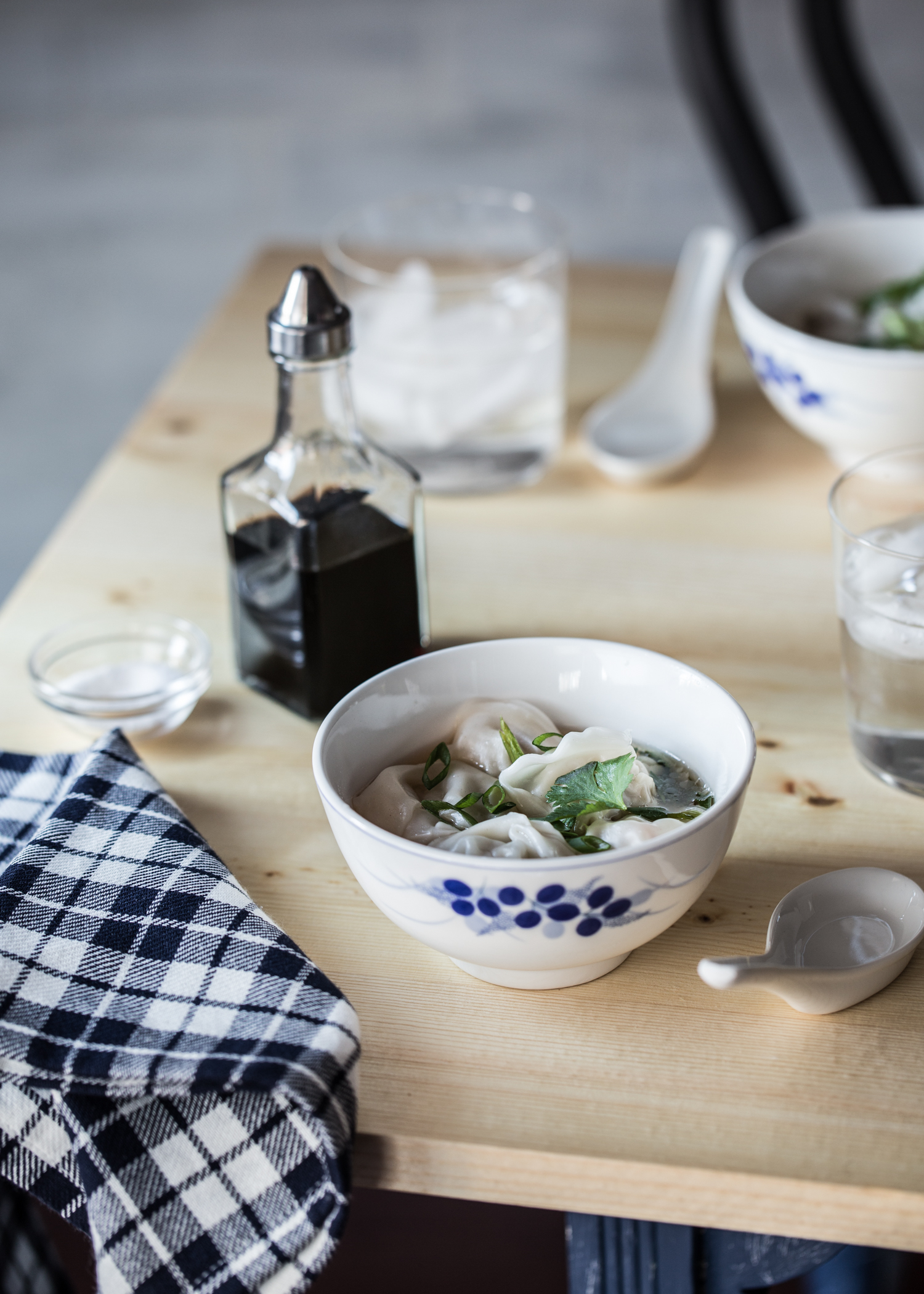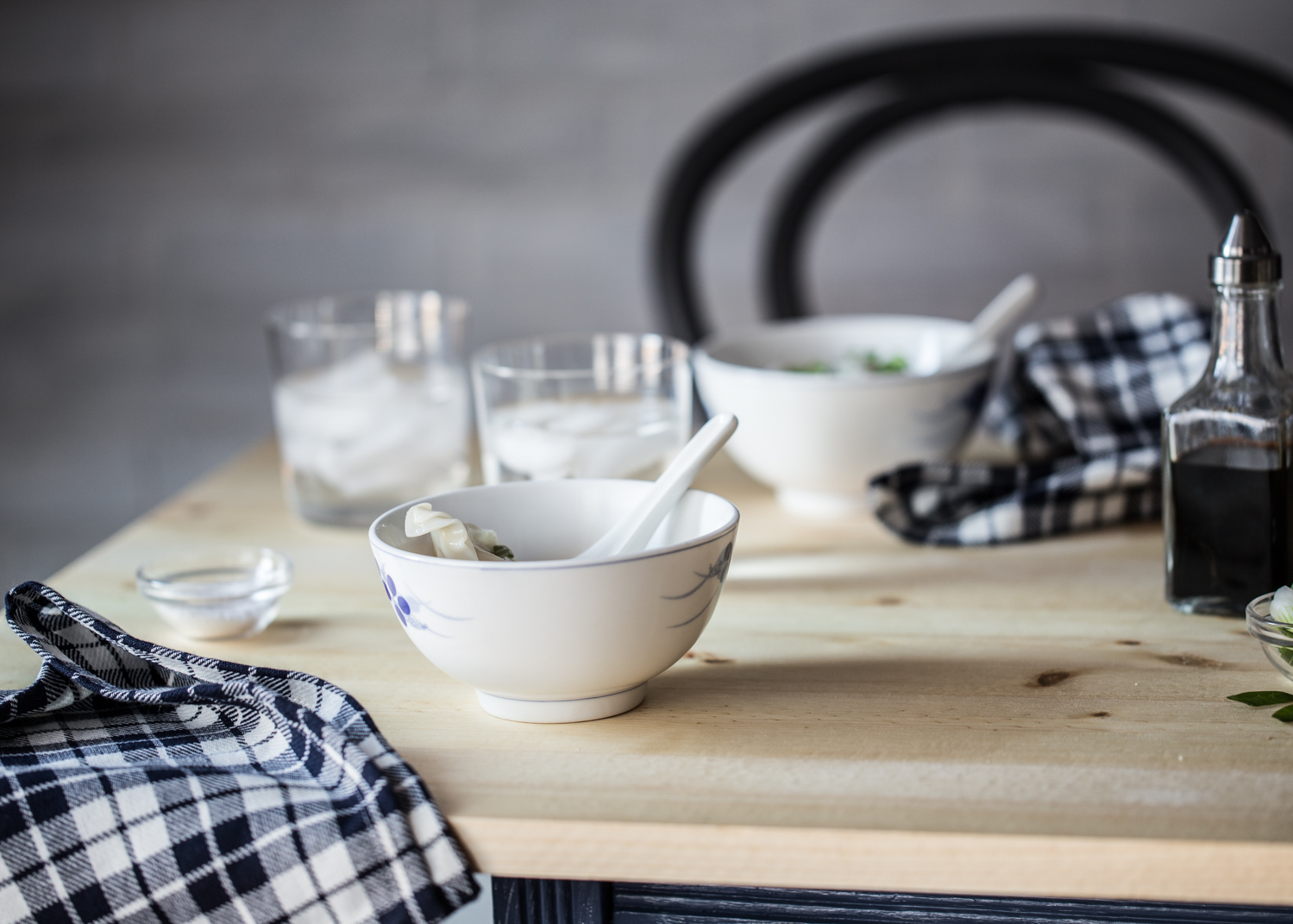 Happy Tuesday!
Homemade Wonton Soup
Yield: 70-80 wonton
Prep Time: 1 hour
Cook Time: 15 minutes
Total Time: 1 hour 15 minutes
Ingredients
For the Wonton
1 lb ground pork
10 oz shrimp (if frozen, thawed and then peeled/deveined), finely chopped
2 inches fresh ginger, peeled, minced; divided (1 1/2 tbs in filling, rest for soup bowls)
2 tablespoons chives, minced
2 cloves garlic
1 teaspoon chicken flavored broth powder (bullion powder)
1 teaspoon kosher salt
2 teaspoons soy sauce
Black pepper to taste
2 packages Shanghai style wonton wrappers (found at Asian markets)
For the Wonton Soup (per serving)
5-6 wonton (frozen or fresh)
3/4 teaspoon soy sauce plus more for serving
3/4 teaspoon rice vinegar
1/2 teaspoon minced ginger
1/4 teaspoon minced garlic
1/4 teaspoon chicken flavored broth powder
sliced scallions for serving
cilantro leaves for serving
Directions
In a large bowl, mix together pork, shrimp, ginger, chives, garlic, broth powder, kosher salt, soy sauce, and black pepper with a spoon or fork until well combined.
Lay one wonton wrapper on the work surface. Add 1 scant teaspoon of filling mixture in the center of the wrapper, erring slightly toward one corner. Wet the edge of the wrapper with water. Fold opposite corner over to meet the edge and press to seal. The wrapper will now look like a triangle. Take the wide corners of the triangle, wet them with water, and curve them around to meet each other, forming a wonton shape.
Place finished wontons on a parchment or baking mat lined baking sheet. Repeat with remaining filling and wonton wrappers.
To Freeze:
Place baking sheet in freezer for 1-2 hours or until wonton are frozen through. Transfer frozen wonton to ziplock freezer bags and freeze for up to 3 months.
Make Wonton Soup:
Bring a large pot of water to a boil. Place desired amount of wonton (fresh or frozen) in the boiling water (5-6 per person) and boil until wonton float to the top and filling is cooked through, about 10-15 minutes. While wonton cook, prepare the soup bowls.
In one soup bowl, mix together soy sauce, rice vinegar, ginger, garlic, and broth powder. Repeat for each bowl you are preparing. When wonton are cooked, use a ladle to add 1 cup of starchy, cooking water to each soup bowl. Stir to combine ingredients. Use a slotted spoon to add wonton to the soup bowls. Top each bowl with scallions and cilantro leaves then serve with more soy sauce if desired.
Notes:
Shanghai style wonton wrappers can be found at Asian grocery stores, and some specialty grocery stores. Leftover wonton wrappers can be frozen for later use.