Quick Chicken Ramen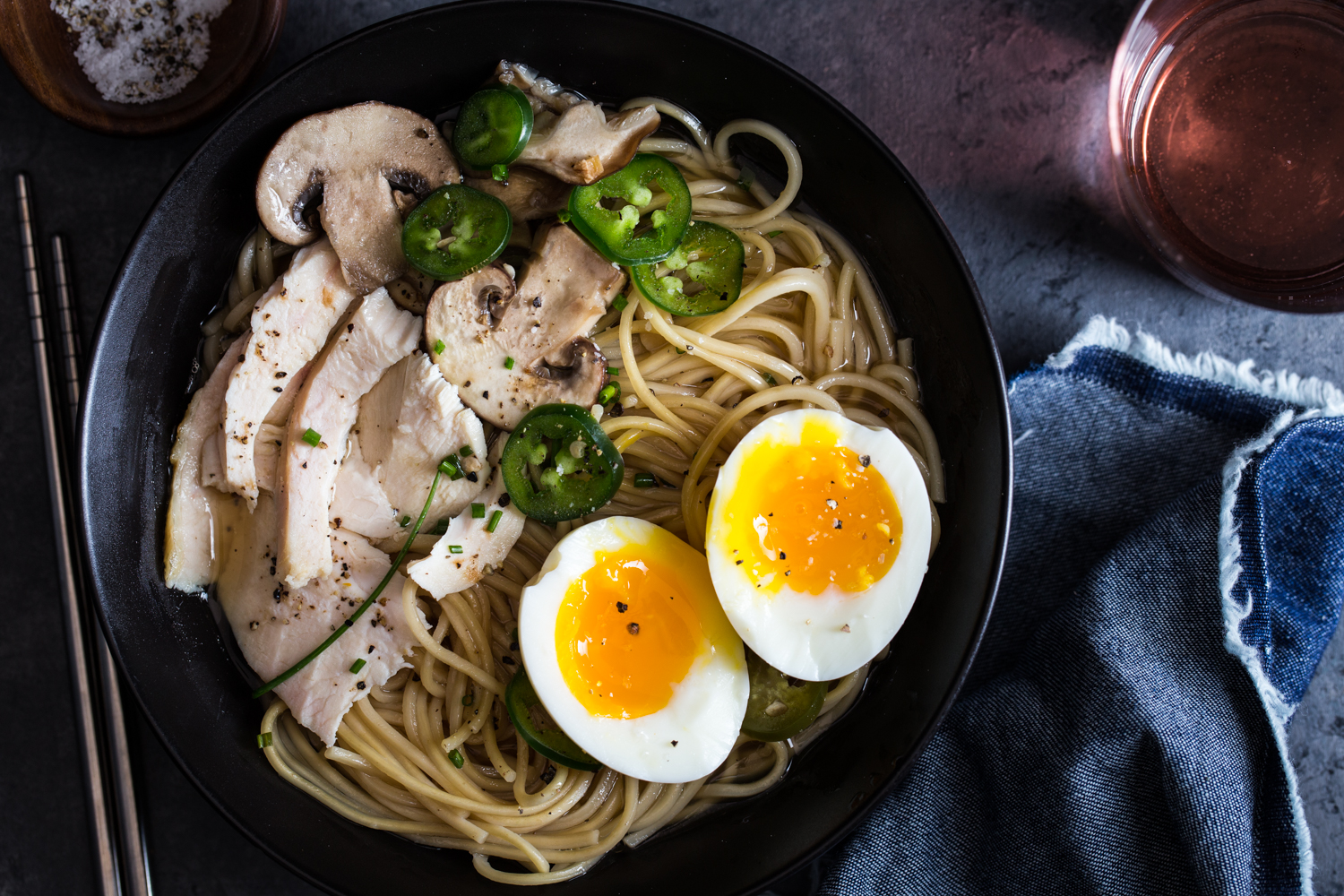 Soup in January is quite possibly one of my favorite food/season pairings. They go hand in hand, don't they? It's no surprise that I like soup in January, as you might remember the soup week that my friends and I put together last year. Last January, I shared my Slow Cooker Ham and Bean Soup, Bloody Mary Soup, and Slow Cooker Pork Ramen. While Melanie, Courtney and I are teaming up at the end of the month for another great soup week, I couldn't wait until then to start sharing some of my family's favorite soups. This Quick Chicken Ramen is a speedy twist on traditional ramen, and with the help of Swanson® Unsalted Chicken Broth, it's ready to enjoy in just 30 minutes.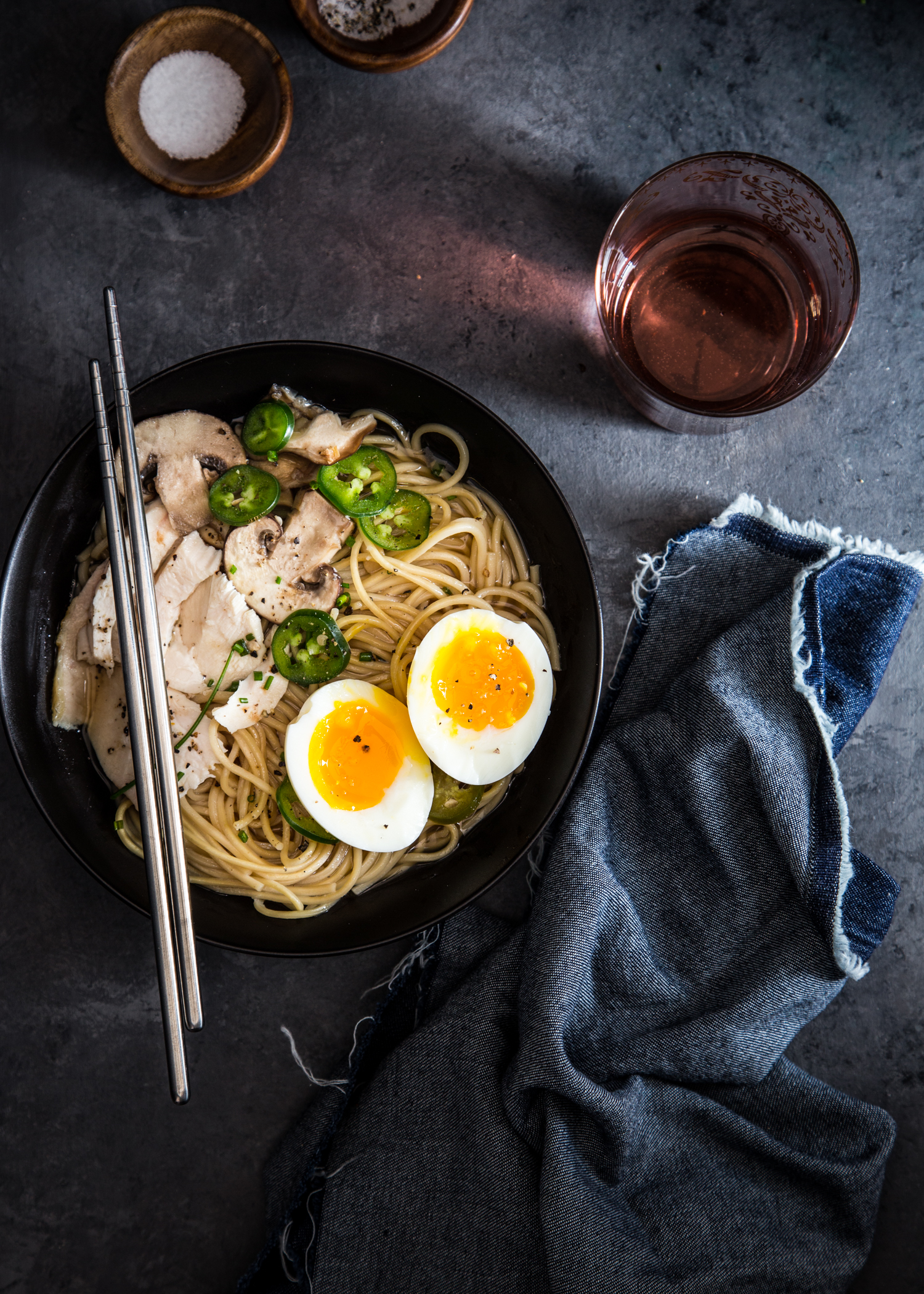 Let's be honest. Some nights I don't have the forethought to get a dinner ready in the slow cooker or prep ingredients early in the day. That leaves me with the necessity of having quick dinners in the back of my mind. Meals that require ingredients that I have on hand, or ones that I can pick up easily on the way home and get cooking.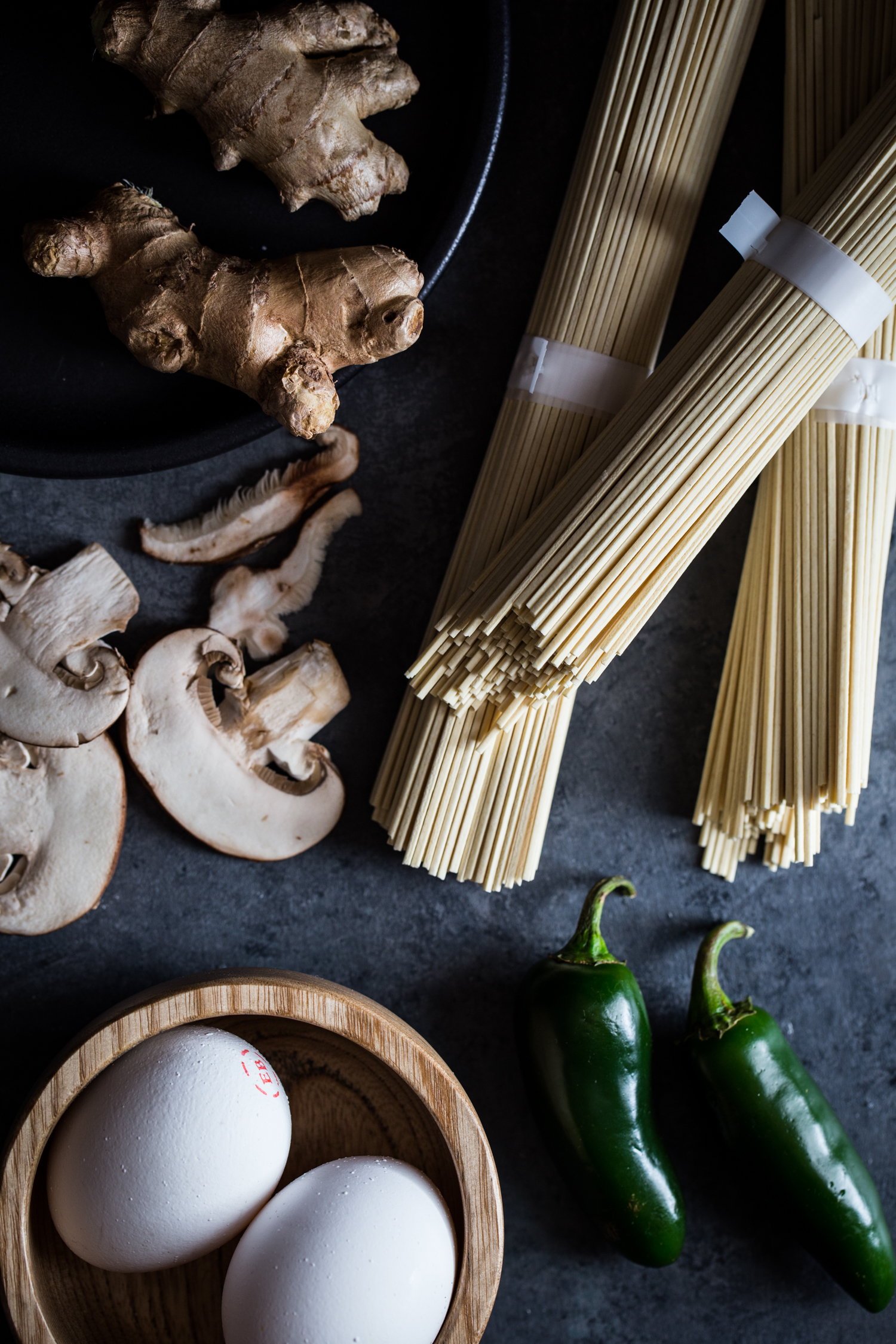 This Quick Chicken Ramen is very customizable with different vegetables and even the type of chicken you have on hand. Some weekends I make a batch of oven roasted chicken to have for quick meals, but this recipe works just as well using a store-bought rotisserie chicken. Don't have mushrooms? Try adding broccoli or green beans.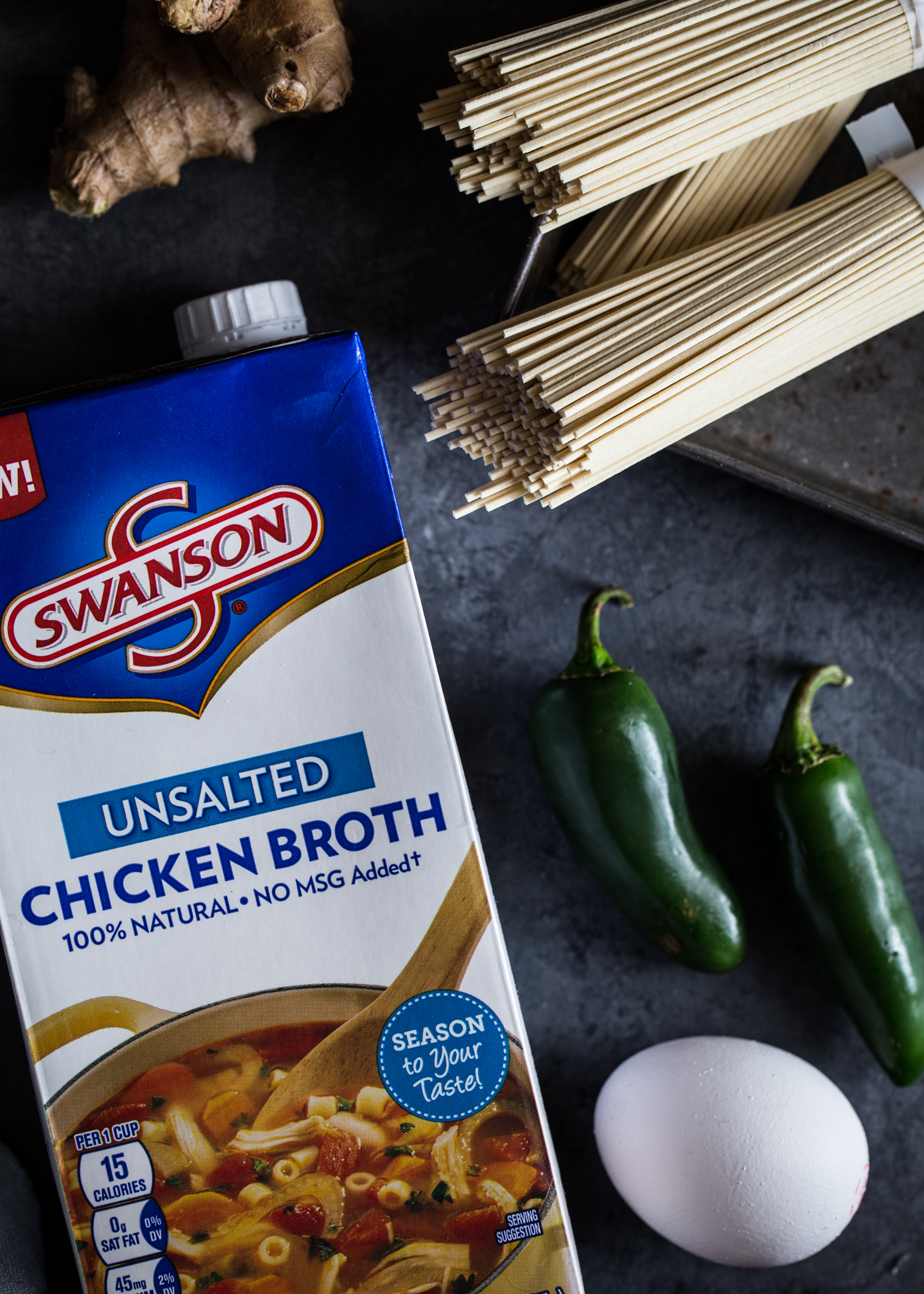 The process of making this soup is quite simple and with two pots you can be preparing all the components of the soup at once. In one pot, you cook the noodles followed by the 6 minute soft boiled eggs. In the other saucepan, you simmer the Swanson® Unsalted Chicken Broth with the ginger, jalapeño, and mushrooms. Put it all together in wide bowls, top with a few slices of chicken, and garnish with some chopped chives or scallions.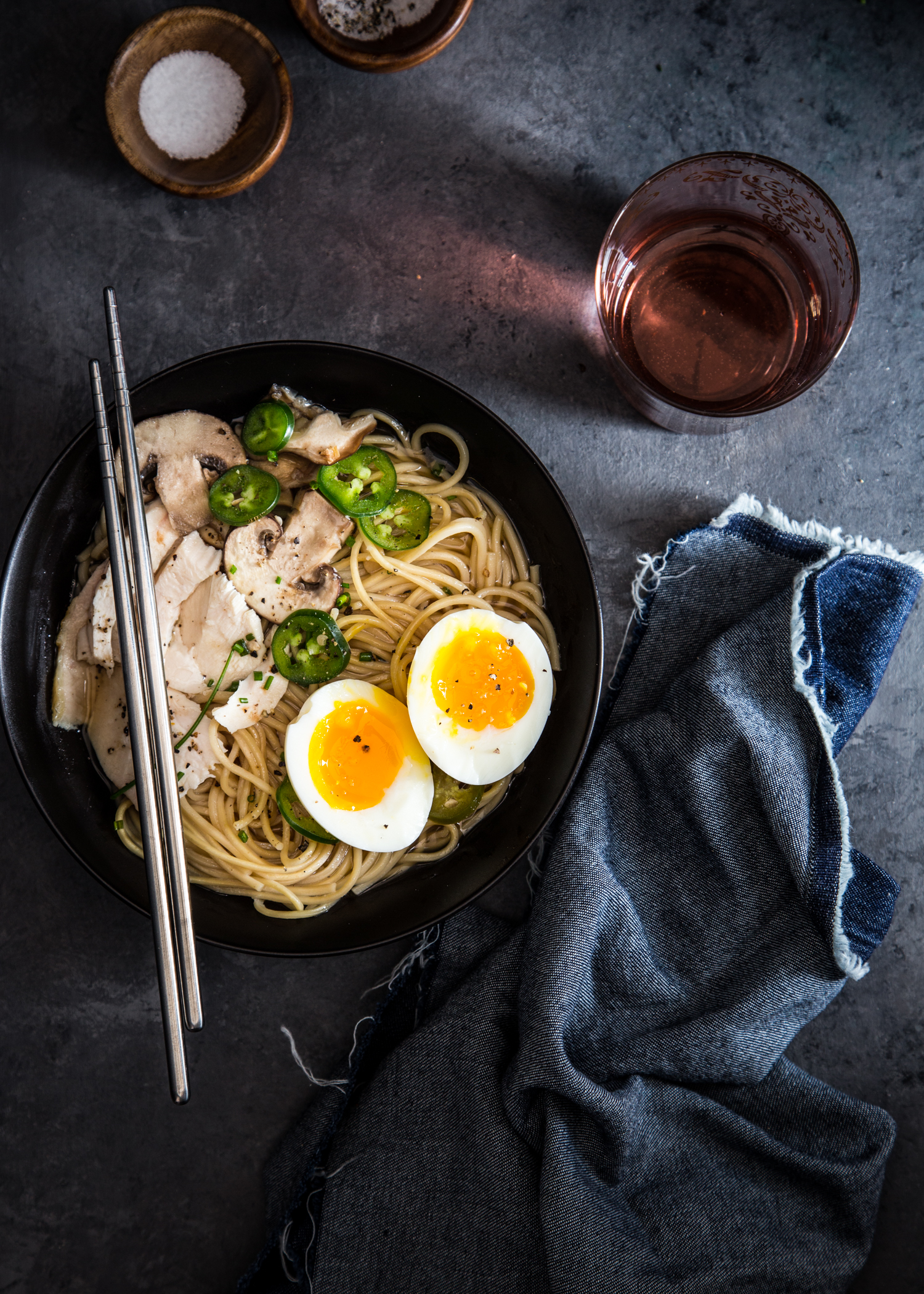 Variations on this soup have been a staple in our house for a while, but the combination of the mushrooms and chicken are one of my favorites. So on a night when you are stuck without a dinner idea, a warm, comforting soup is completely within reach. You got this.
Happy Friday!
This post is part of an ongoing partnership with Swanson®. Thank you for reading and supporting the brands that I love and that help make Jelly Toast possible.
Quick Chicken Ramen Recipe
Yield: 4 servings
Prep Time: 10 minutes
Cook Time: 20 minutes
Total Time: 30 minutes
Ingredients
2 teaspoons canola or vegetable oil
2 inch piece of ginger, peeled and minced
4 cups Swanson® Unsalted Chicken Broth (1 carton)
3/4 cup sliced mushrooms (any mixture of baby bella, shiitake or oyster)
3 Tablespoons soy sauce
1 small jalapeño, thinly sliced (seeds and ribs removed to control spice level, if desired)
1/2 teaspoon kosher salt (or to taste)
5 ounces ramen noodles
4 eggs
6-8 ounces cooked chicken, sliced (either oven roasted or store-bought rotisserie)
chives, minced for garnish
Directions
Fill a medium to large pot of water and set it over high heat to bring to a boil.
While waiting for the water to boil, heat oil in a medium sauce pan set over medium/high heat. Add ginger and stir briefly until ginger is fragrant. Add Swanson® Unsalted Chicken Broth, mushrooms, soy sauce, and jalapeño. Bring broth to a boil and reduce to a simmer. Add salt and simmer until mushrooms are tender, about 10 minutes.
When water in the large pot is boiling, add ramen noodles and cook according to package directions. Use a slotted spoon to remove the cooked noodles from the boiling water and set them aside, keeping them warm.
Gently lower eggs into the still boiling water. Cook eggs for 6 minutes and remove them to a bowl of ice water until ready to serve.
Divide noodles between four bowls. Spoon broth and mushrooms into each bowl then top each bowl with several slices of chicken. Gently peel eggs and cut them in half. Add one soft boiled egg to each bowl and garnish with chives. Serve immediately.