roasted tomato soup with garlic croutons | Le Creuset Giveaway!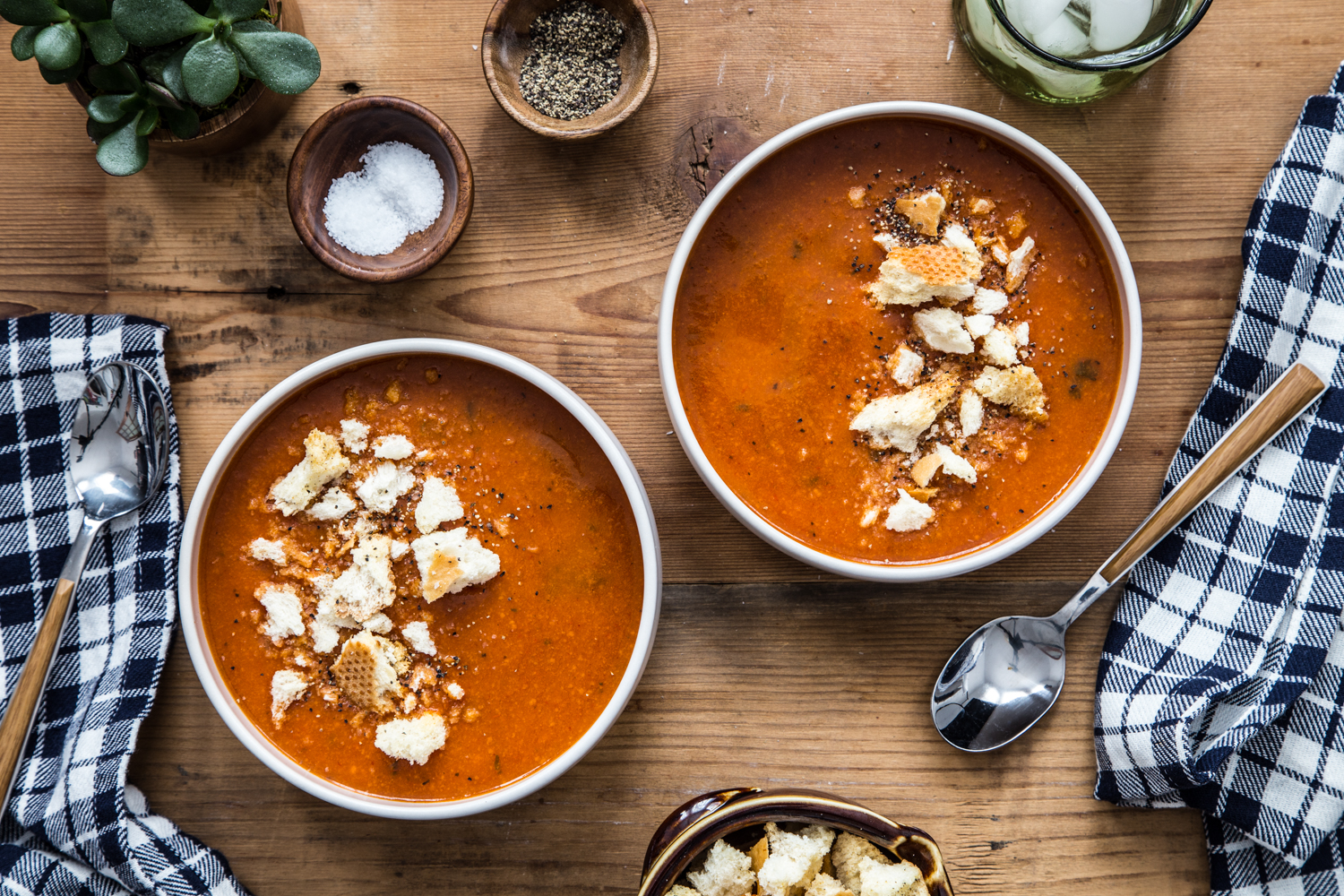 If you're a fan of good ol' classic tomato soup let me offer you something in the way of a roasted tomato soup with garlic croutons. Yes, indeed, making tomato soup at home is so worth the effort! But the truth is, it takes very little effort. We are smack dab in the middle of winter and this time of year is certainly not known for it's abundance of juicy, sweet tomatoes. In fact, winter tomatoes are usually pretty crappy. But, I have found the trick to making lame winter tomatoes into something lip-smackingly sweet.
Roasting!
That's right, a long, slow roast in the oven turns winter tomatoes into freaking awesome tomatoes. My recipe for slow roasted winter tomatoes is a touch time consuming (almost entirely hands off) but is beyond simple. The tomatoes can definitely be eaten on their own, but I encourage you to make a double batch and turn half of them into this cozy roasted tomato soup. Then you can serve it with either a classic grilled cheese sandwich or some quick garlic croutons for a bit of crunch.
You won't regret it.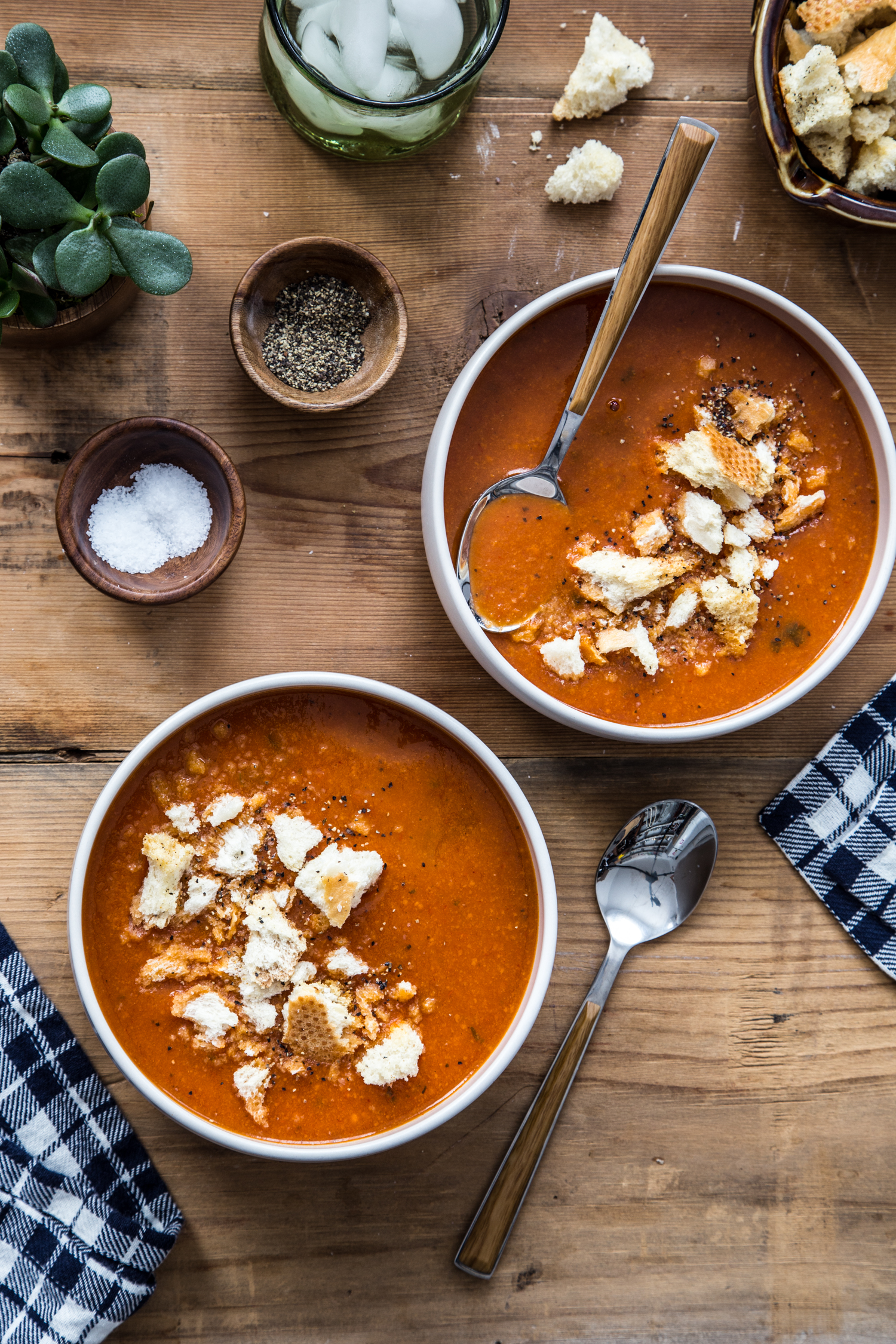 This roasted tomato soup is my first soup of Soup-er Bowl Week 2017! My friends Melanie and Courtney are going for our third year straight in celebrating the big game our own way: surrounded by bowls of soup. Be sure to check out Melanie's Meatball Pizza Soup and Courtney's Creamy Orange Carrot Soup. On Thursday we'll be sharing 3 more awesome soup recipes so stay tuned!
Here's a quick video showing how simple today's Roasted Tomato Soup is to make:
Interested in checking out my soups from 2015 & 2016? Take a peek:
Bloody Mary Soup, Slow Cooker Ham and Bean Soup, Slow Cooker Pork Ramen, Homemade Wonton Soup, Slow Cooker Minestrone Soup.
We also have a fantastic Le Creuset 5.5 Quart Dutch Oven Giveaway going on that you can enter below:
Have fun and Good Luck!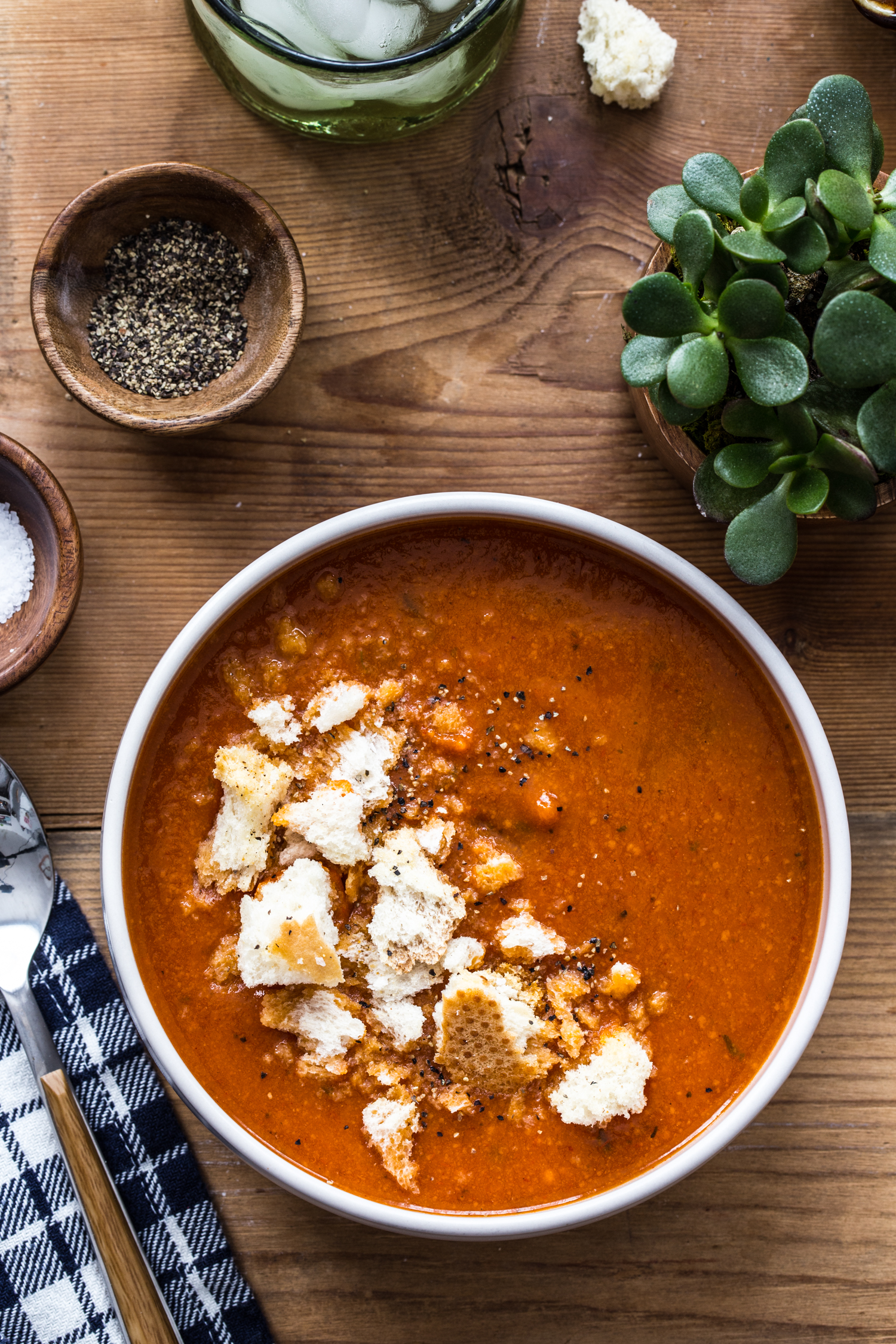 Happy Tuesday!
This is an updated post and recipe that was originally published in 2013.
Roasted Tomato Soup with Garlic Croutons Recipe
Yield: 6 servings
Prep Time: 10 minutes
Cook Time: 30 minutes
Total Time: 40 minutes
Ingredients
For the Soup:
2 teaspoons olive oil
1 onion, chopped
2 medium carrots, peeled and sliced
2 celery stalks, sliced
1 batch slow roasted winter tomatoes (or 2-28 ounce cans good quality whole tomatoes in puree)
2 heads roasted garlic, peeled (or 4 fresh cloves, chopped)
4 cups broth (chicken or vegetable)
6 whole basil leaves
kosher salt and black pepper to taste
For the Croutons:
10 ounces Italian bread, torn into small pieces
olive oil spray
2 teaspoons garlic powder
kosher salt and black pepper to taste
Directions
For the Soup:
In a large pot, heat olive oil over medium heat. Add onion, carrots, and celery and cook until beginning to soften, about 5 minutes.
Add tomatoes, garlic, broth, basil, salt and pepper. Bring to boil.
Reduce heat to a simmer and cook until carrots and celery are tender and flavors have blended, about 15-20 minutes.
Remove from heat and allow to cool for about 5 minutes.
Use and immersion blender to blend soup to desired consistency. A standard blender can be used and soup can be blended in small batches.
Return soup to the pot over low heat and adjust seasonings to taste.
Serve soup with croutons and enjoy!
For the Croutons:
Preheat oven to 375° F.
Spread bread pieces out onto a rimmed baking sheet. Spray with olive oil spray and sprinkle evenly with garlic powder and salt.
Bake for about 15 or until croutons are dried and golden brown.
Disclaimer: Thank you to Le Creuset for offering the giveaway!